PARTNER POST: We've teamed up with Bonne Maman to bring you the best homemade breakfast and brunch recipes to show Mom you care this Mother's Day and all spring long.
Thin, sweet crepes are filled with fluffy, whipped mascarpone that and layered with apricot preserves for a truly decadent-tasting bite. Serve with a splash of rum or brandy and a sprinkling of nuts and you are in business.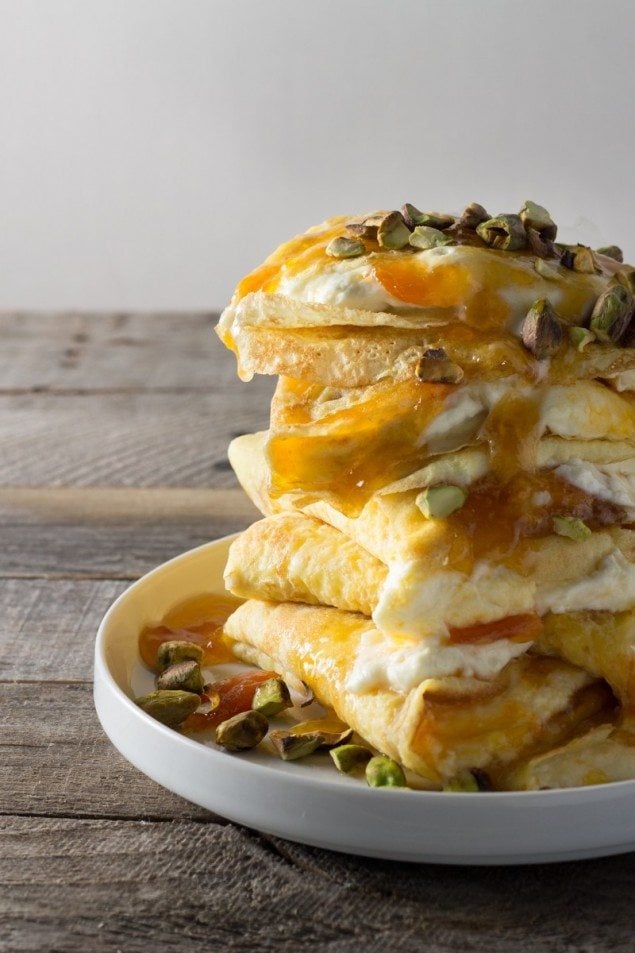 Mother's Day might be a month away, but I've already got some brunch ideas brewing. Crepes anyone?
The inspiration? Bonne Maman's apricot preserves. I'm thrilled to share this recipe and talk about this product, as Bonne Maman is my absolute favorite brand of preserves. Just check my fridge and pantry. On top of apricot, I have blueberry, fig and peach currently in stock. I've tried a huge variety of their preserves. Love them all. The quality of ingredients is very apparent. It really feels like homemade.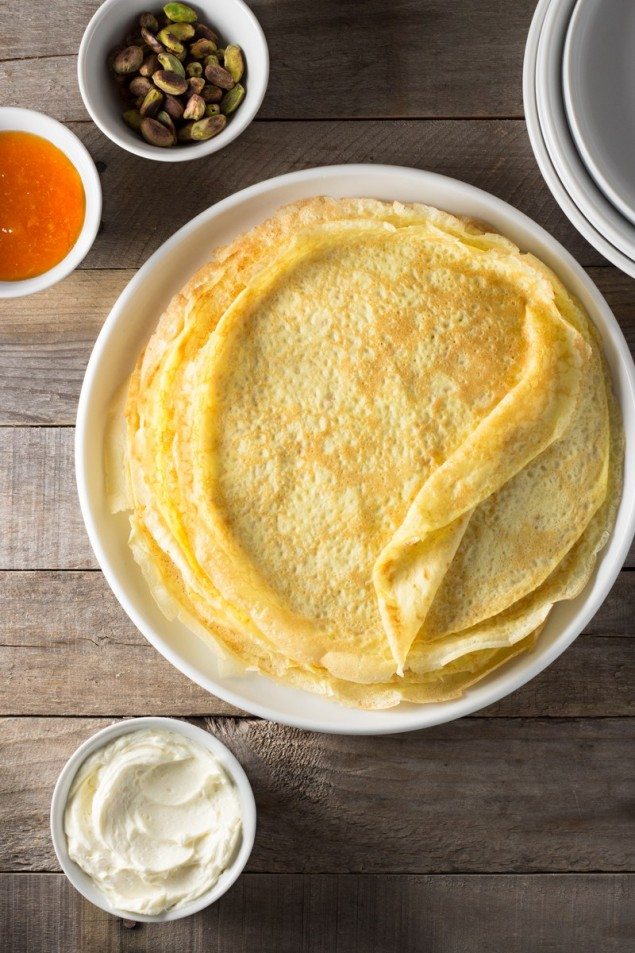 These thin, French pancakes are so versatile and fun for breakfast or brunch. I think they're specifically great for Mother's Day, because they appear fancy and refined, yet they're really easy to make. And even if the first few don't come out so great, just keep trying and you'll get the hang of it.

The filling to these crepes is to-die-for. So yum. First, I start off with a healthy layer of apricot preserves, and then comes the mascarpone filling. This mascarpone filling is light, fluffy and mildly sweet. The trick to the airy texture is folding in some whipped cream. I personally think the apricot preserves and mascarpone make a wonderful pair in these crepes, but feel free to substitute your favorite Bonne Maman preserves.
Now, there isn't just apricot preserves in the filling. You hafta drizzle more preserves on top. Trust me. To jazz the topping up a bit, I throw in a pinch of salt and a little rum. The booze is completely optional, but who doesn't love a boozy brunch? Salty, toasted pistachios add some needed crunch and flavor contrast. Again, feel free to make a substitution if you'd like. Almonds, hazelnuts or pecans would all be great here too.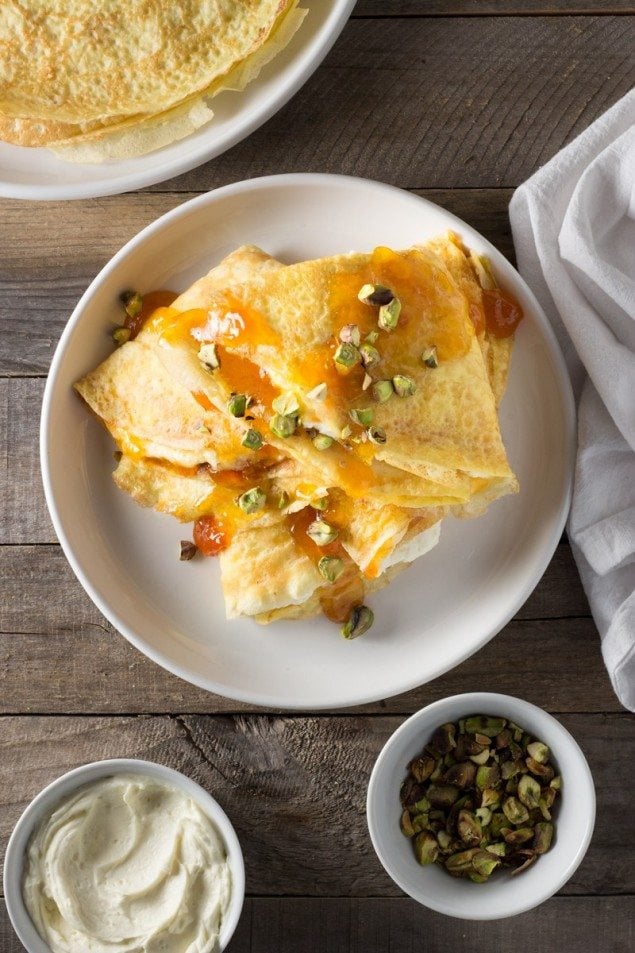 Make sure you check out Bonne Maman's sweepstakes, for a chance to win a complete Le Creuset cookware set and more.
For another recipe idea, check out these strawberry muffins.
Click here for the written recipe.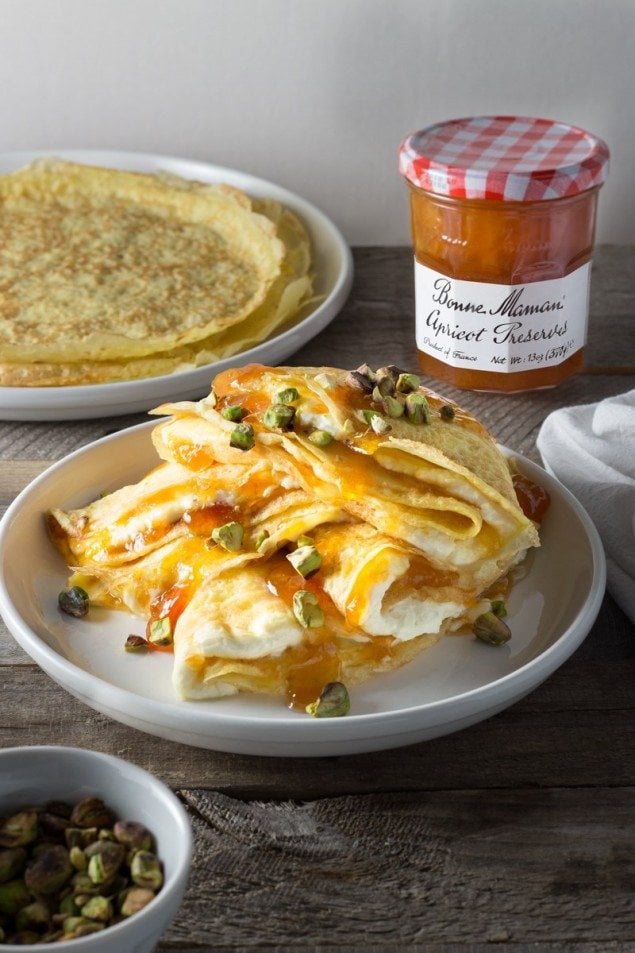 Whipped Mascarpone and Apricot Crepes
Thin, sweet crepes are filled with fluffy, whipped mascarpone that and layered with apricot preserves for a truly decadent-tasting bite. Serve with a splash of rum or brandy and a sprinkling of nuts and you are in business.
Recipe Type:
Breakfast, Dessert
Ingredients
For the crepes
1C flour
1C milk
¾ C water
3 large eggs
3T unsalted butter, melted
1 tsp sugar
¼ tsp kosher salt
For the mascarpone filling
2C mascarpone cheese
½ C heavy cream
1T powdered sugar (or 2 tsp granulated sugar)
⅛ tsp kosher salt
For the rest
13oz Jar of Bonne Maman Apricot Preserves
1T dark rum or brandy (optional)
Pinch of salt
¼ cup toasted, salted pistachios, roughly chopped
Instructions
For the crepes, combine all ingredients into a blender. Process until combined. Do not overmix. Rest for 1 hour at room temperature or for up to 24 hours in the fridge.
For the mascarpone filling, chill the bowl and whisk attachment of a standing mixer in the freezer for 5 minutes. Add cream to bowl and whisk over high speed for about 1 ½ minutes, or until soft peaks are formed. Transfer whipped cream to another bowl. Remove whisk attachment and insert paddle attachment. Add mascarpone, sugar and salt to bowl. Whip for about 1-2 minutes over medium-high speed, or until all ingredients are combined and cheese is slightly more airy. Fold whipped cream into mascarpone mixture. Refrigerate until ready to use.
For the apricot topping, add ½ cup of preserves to a small sauce pan with the rum, salt and about 1 teaspoon of water. Bring to a simmer for about 3-4 minutes or until alcohol is somewhat cooked out. Add additional water, as needed, if mixture becomes too thick. Reheat before using.
To cook the crepes, warm a 10-inch nonstick pan over medium heat. Lightly grease the pan with butter. Pour ¼ cup of batter into the pan. Immediately lift the pan and rotate it in a circular motion to coat the bottom evenly with batter. Cook the crepe about 1- 1 ½ minutes on the first side, or until the top is dry and bottom side is lightly browned. Flip and cook on the opposite side for about 30-60 seconds or until lightly browned. Repeat with the remaining batter.
To serve the crepes, first spread about 1 tablespoon of the apricot preserves onto a crepe. Top it with about 3 tablespoons of the mascarpone filling, and spread evenly (do not blend the layers). Fold the crepe in half, and then in half again into a triangle. Alternatively, you can roll the crepes into a cigar shape. Drizzle with the apricot-rum topping and scatter over pistachios. Enjoy.