Turn an inexpensive cut of meat into a delicious meal. Lamb shoulder chops are so underestimated, and braising them turns them incredibly tender and juicy.
When it comes to choosing cuts of meat I'm honestly not that great. Okay, okay I do know breast, thighs, loins and minced meat, that's a start no? But hear me out before you judge please, I promise I have good excuses. First excuse, language barrier. I have yet to learn all the cut names in Czech, they just don't stick in my brain. Excuse number 2, I never learned about cuts and their names in either English or Spanish. That is because I only started cooking since we moved to Prague. Last excuse is that the cuts are different in Prague than they are in the states, and I think Mexico. My husband who worked at a butcher shop as a teenager, in the states, verified that the cuts are indeed different. See all good excuses and now you can judge me for not working harder at learning the names in Czech.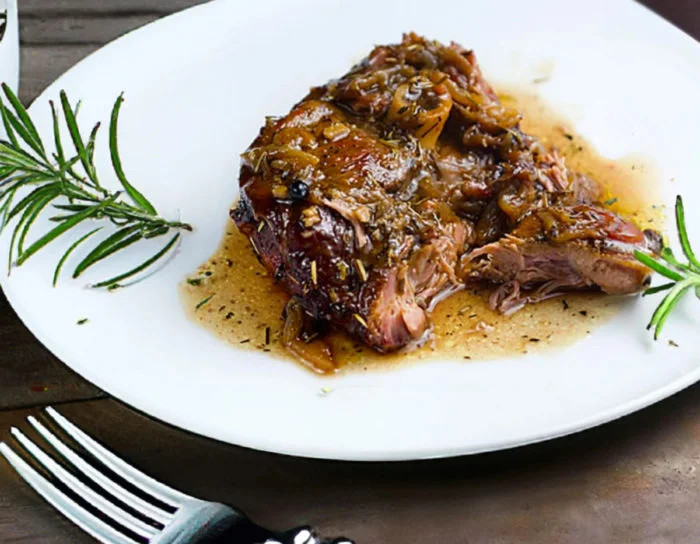 You can imagine that one of the good reasons my husband and I do our grocery shopping together is to make sure we have decent cuts of meat to eat. When I go off by myself to pick up some meat its best to stick with fish and the few cuts I know, unless I'm feeling adventurous. Sadly for my husband I'm very curious about food. The other day I saw lamb at the grocery store and it's not an every day occurrence, woohoo happy dance! Plus it was organic meat, double happy dance! Without much more thinking I took the lamb home. On the walk home I was daydreaming about how soft, tender and juicy it was going to be. I showed my hubby what I bought and he broke the news to me that is was Lamb shoulder. Of course I looked at him completely perplexed and said yeah but it's going to be good right? Oh.
See Also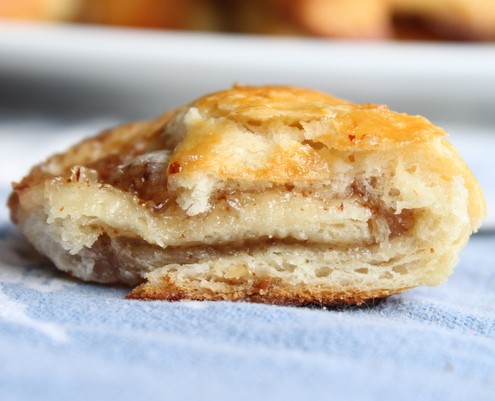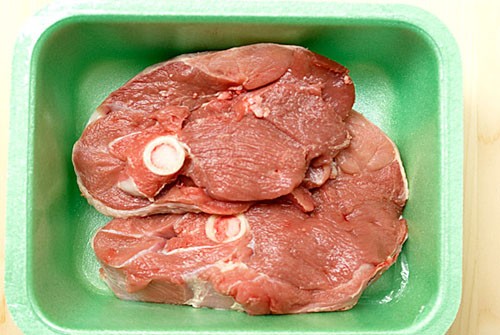 We both started doing some research online about the best methods to prepare this cut and site after site suggested braising. Braising is a great technique to use on cuts that are tougher or chewier, aka cheaper cuts. But it is also a technique I like to use with other more expensive cuts. Of course good spices must be used and the results are always tender and juicy meat. We ended up with succulent lamb shoulder chops that were so tender, juicy, and the meat just fell off the bone. No chewy or fatty taste at all, Just awesome!
Print

Braised Rosemary Lamb Shoulder Chops
---
Author:

Nancy Lopez-McHugh

Total Time:

3 hours 10 minutes

Yield:

2

1

x
Description
Turn an inexpensive cut of meat into a delicious meal. Lamb shoulder chops are so underestimated, and braising them turns them incredibly tender and juicy.
---
2

lamb shoulder chops, weighed 550 grams or

1.20

lb

1

medium onion, cut into

1/8

ths

3

large garlic cloves, thinly sliced

2 tbsp

butter

1 tsp

dried thyme

1 1/2 tbsp

dried rosemary

6

whole allspice, crushed
salt and pepper to taste

1/2

cup

or

118

ml

vegetable broth
fresh rosemary for serving
---
Instructions
Preheat the oven to 150c / 300f. Over medium heat melt the butter in a frying pan, saute the onion and garlic for 5 minutes then add the spices and cook for another 2 minutes. Remove the pan contents and set aside. Turn heat to high, Pat dry the lamb then place in frying pan. Brown on both sides. Turn heat off. Mix the onion spice mixture back with the lamb.
Place the lamb and pan contents into a baking dish and pour the broth over the lamb then place the dish into the oven. The lamb will need to cook for 3 – 4 hours or until the meat is very tender and breaks up easily. Do not let the baking dish dry out and add a little more water or broth as needed.
Reserve the pan juices and serve as a sauce over the meat.
Serve with fresh rosemary sprigs
Prep Time:

10 mins

Cook Time:

3 hours

Category:

main course

Method:

braising

Cuisine:

italian
Keywords: lamb, braising, chops, stew,
I served our lamb with some mashed potatoes, from scratch, and so wilted baby spinach. Enjoy and try my recipe with any lamb cut of your choice. See mistakes always have a way of working themselves out and a cheap cut of meat can still be tasty.
Nancy Lopez-McHugh
Nancy Lopez-McHugh is a food blogger, photographer and published author. Most recently she has published "Yummy Pics: A Food Blogger's Guide To Better Photos".