A simple but authentic and legendary recipe that is found on many Mexican tables and at any Mexican or Tex-Mex restaurant around the world for Cinco de Mayo.
Text And Photo By Nancy Lopez McHugh
Cinco de Mayo or 5th of May is a Mexican holiday celebrating the victory of the Mexican army over the French army in the battle of Puebla on the 5th of May 1862. Contrary to popular belief in America and other parts, this is not the celebration of Mexican Independence from Spain, that happened on September 16 1810. Even though the meaning of the holiday is misunderstood by many people outside of Mexico, as a Mexican I find it very flattering and intriguing that this holiday is celebrated by so many people around the world.
Cinco de Mayo is a holiday that is important and mostly celebrated in certain regions of Mexico, like Puebla where the battle took place. My family is from another region on the opposite side of Mexico, so for us this was not a holiday we celebrated. I can remember being in America during this holiday and seeing and hearing my friends and local businesses getting both excited and ready for Cinco de Mayo celebrations. To me this was a bit funny and a little strange but very flattering that non-Mexicans were wanting to celebrate.
As for my family it was just another day with no special plans or thoughts. This melting and welcoming of different traditions is one of the things that make America unique. There are so many people from so many different backgrounds and eventually peoples traditions, celebrations and foods just become part of the mainstream norm in the US. In all of the different countries I have traveled to I have yet to see this melting of the different celebrations and traditions.
Wondering what the French think about this holiday? They don't! A couple of Cinco de Mayos ago we were in Paris and I was giving our French friend a hard time about how the (underdog) Mexican army kicked the French army's butt. He looked at me plainly and said "What are you talking about?" we gave him a quick history lesson and he said, "Funny, is not something we really learn our know about here", Too bad for me because I wanted to rub it in.
See Also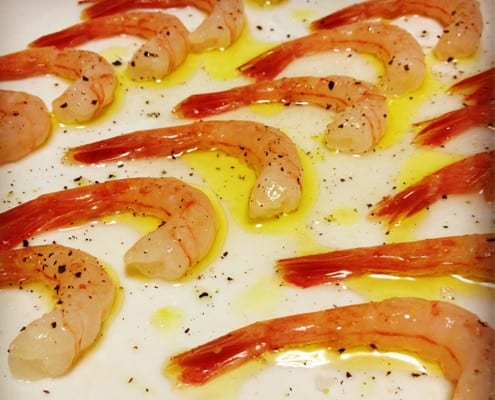 In my our house it is my anglo husband that reminds me Cinco de Mayo is coming up. Even with the reminder I have yet to make some special Cinco de Mayo dinner. But this year I have some authentic Mexican products on their way, so as soon as they arrive I'll give my husband his first Cindo de Mayo dinner. I am going to share a simple but authentic recipe that is found on many Mexican tables and at any Mexican or Tex-Mex restaurant around the world. Guacamole, so easy to prepare yet so easily messed up, not anymore! Guacamole is used as a dip to snack with corn chips, as a topping or spread. Enjoy it and get ready to impress your family and friends.
Print
Authentic Guacamole for Cinco de Mayo
---
Author:

Nancy Lopez-McHugh

Total Time:

10 minutes

Yield:

2

-3

1

x
Description
An authentic recipe for Guacamole, healthy and delicious!
---
3

ripe Haas Avocados

1

large Roma Tomato, finely chopped

1

small white Onion (can substitute with yellow onion), finely chopped

1

small lime (or substitute with lemon for a tart-ier taste), juiced

1

fresh green Jalapeño pepper or Serrano or green cayenne ( add more for spicier version)
big handful of Fresh Cilantro, finely chopped
salt and pepper to taste
Large bowl and fork or traditional Mexican Molcajete
---
Instructions
Prepare the tomatoes, onion, chili pepper and cilantro by chopping all of them into small even bits, set aside. Peel and core the avocado then scoop out into a large bowl, next evenly pour the lime juice over the avocado and begin to mash the avocado with a fork. Continue mashing until it has broken down into a smooth consistency.
Mix in the tomato, onion, chili pepper and cilantro until all the ingredients have combined well. Lastly sprinkle in some salt and a little black pepper, again mix the guacamole to combine all of the ingredients. Done!
Notes
** For a chunky Guacamole, cube the avocado and mix with the rest of the ingredients.**
For more Cinco de Mayo recipes take a look around here on Honest Cooking or visit my archives on Spicie Foodie. Where ever you are in the world I wish you a Feliz Cinco de Mayo!!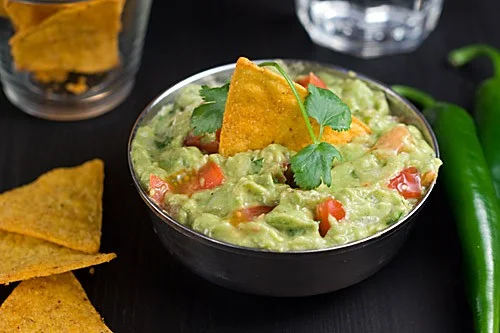 Nancy Lopez-McHugh
Nancy Lopez-McHugh is a food blogger, photographer and published author. Most recently she has published "Yummy Pics: A Food Blogger's Guide To Better Photos".