A rich soup made with fresh English peas, cream and fresh mint. Created by restaurateur and All-Clad Chef Ambassador Thomas Keller.

Chef Thomas Keller's English Pea Soup
Ingredients
8 pounds of fresh English peas, shelled (7 cups)
1 cup double cream
1 cup water, chicken stock, or vegetable stock
1 cup loosely packed fresh mint leaves, plus about 1 tablespoon fine julienne for the croutons
2 tablespoons unsalted butter
1 cup ¼-inch diced brioche (crusts removed)
½ teaspoon white wine vinegar
Coarse salt
Tiny mint leaves for garnishing
Instructions
Bring a large pot of salted water to a boil. Prepare an ice bath.
Add the peas to the salted water and cook for 8 to 10 minutes, or until the peas are almost tender.
Add the mint leaves and continue to boil until the peas are completely tender.
Strain and chill the peas and mint in the ice bath.
Transfer to a paper towel lined bowl to drain.
Set up the food mill with the fine disc and place over a large saucepan.
Puree the peas and mint.
Whisk in the cream and stock or water, then the vinegar and salt to taste.
Place over medium heat and bring to a simmer to heat the soup.
Meanwhile, melt the butter in a frying pan over medium heat.
Add the diced brioche and sauté, stirring often for about 3 minutes to brown the croutons on all sides.
Toss in the julienne of mint leaves.
Ladle into soup plates and garnish with the croutons and small mint leaves.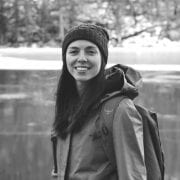 Annelise McAuliffe
Mandatory family outings to the Detroit farmers' market and nightly home-cooked meals cultivated Annelise's respect and curiosity for food. A graduate of The Culinary Institute of America, she spends her free time in New York City recipe testing, eating breakfast all day, and dreaming up international culinary adventures.