Semolina Halva or "Sujir Mohonbhog" is immensely popular in Bangladesh. It's good enough to enjoy as breakfast or serve at elegant brunch for both adults and kids.The traditional Halva adds nuts and raisins, as well as spices like cinnamon and cardamom. This deliciously simple version has orange juice and is served with a dollop of Nutella.
By Lail Hossain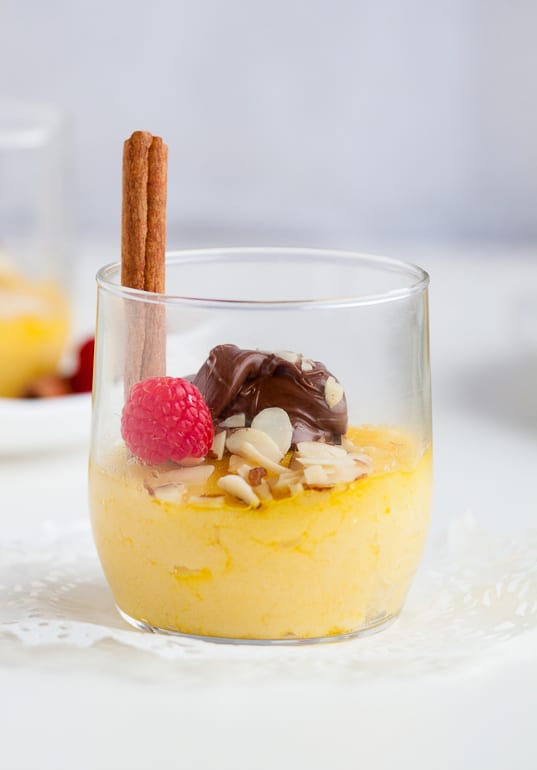 You'll find version of this soft, succulent and rich halva in Greek and Middle Eastern cuisine also. If you have never tried semolina (a.k.a farina, cream of wheat, Malt-O-Meal, suji, sooji) halva before, you will be surprised by the scrumptiousness of this simple dessert.

Deliciously Simple Orange flavored Semolina Halva
To achieve the traditional suji/semolina halva flavor, substitute orange juice with water and add more sugar/honey. Depending on the sweetness of your orange juice, you may need to adjust quantity. This version of the halva has very mild sweetness. If you prefer your desserts to be very sweet, increase sugar quantity. You may use ghee or canola oil to make the halva as well.
Ingredients
4 tablespoons butter or ghee or oil
3 green cardamom
2-3 cinnamon sticks, each about 1 inch long
1 cup semolina
3 tablespoons sugar
1 cup orange juice
1 cup water
For garnish:
4 teaspoon Nutella
2 teaspoon nuts (almonds, cashews, pistachios)
Berries
Instructions
On low heat, melt spread in a pan. Add cardamom and cinnamon.
Add semolina in the pan and sauté until slightly golden, about 3-4 minutes.
Add sugar and mix well.
Increase the heat to medium and add the orange juice. Stir constantly and add water.
Constantly stir until sticky and a mass pulls away from the pan.
Let cool a little and ladle on 4 serving bowls.
Serve with a dollop of Nutella, nuts and berries.