Give some honey a good whip this weekend, and you'll end up with a new favorite breakfast spread.
By Tamara Novacoviç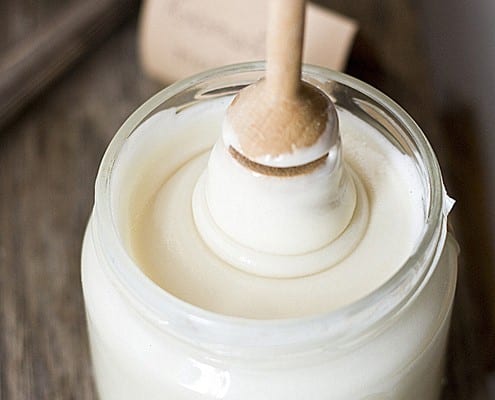 Have you ever heard of creamed honey? My family owns a beekeeping farm and we use honey on daily basis. Having a beekeeping farm consumes almost all your time. Bees are extraordinary, hard-working creatures and at the same time request you to be the same if you want to benefit from their work and magical creations. And when you have eco-certification, like our farm does, it means mantaining the highest environmental standard possible. And here's when we again come back to labor, hard labor. But even the slightest look at honey, product above all natural products makes it worth all the effort. Yes, very rewarding.
I put honey in coffee and tea, like to use it in sweets, basically, like to use it whenever and wherever.
Honey jar by honey jar and so came this creamy goodness. Creamed honey, also called whipped honey, spun honey, churned honey.  My dad made it a couple of days ago and my favorite breakfast was born. Well, actually bees made it, but dad creamed it. It is 100 % natural honey with no additives, only in different "state". The procedure is quite simple and you can try it at home. Take some liquid honey and crystallized honey (1:1 or use less crystallized honey) and put it into your stand mixer, turn on low/medium speed and let it work its magic…for about 20 minutes. You will want to mix it a few more times (2-3 intervals). The more you mix it, the creamier and more stable it becomes. Its color becomes pale (almost white) and texture creamy. It has smooth spreadable consistency, which is very convenient if you like to eat your honey with a spoon and it also makes a great spread on (home made) bread, on top of butter, sprinkled with some cinnamon… Hello, my favorite breakfast.
Crystallization is a natural process and by whipping crystallized honey with honey in "normal" (liquid) state, you break up large crystals formed in crystallized honey and make its texture creamy and smooth. You will want to whip it until all the tiny crystals disappear. Keep it in jars at room temperature.


How to Make Creamed Honey at Home
How to make this deliciously smooth breakfast condiment
Ingredients
1 Cup Crystalized Honey
1 Cup Liquid Honey
Instructions
Blend 1:1 ratio of crystallized and liquid honey in a blender or with a stand mixer for 20 minutes.
Remove, and blend again. Add more liquid honey if needed.
When the honey has an almost whipped cream consistency, it is done.
Enjoy with toast or on pancakes