Giulia Scarpaleggia shares her family's secret Carnival cenci recipe.
By Giulia Scarpaleggia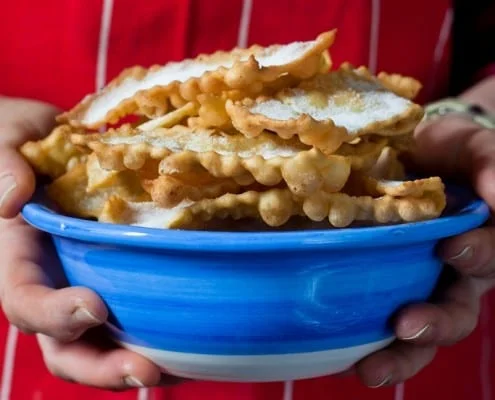 I knew that sooner or later I'd have to talk about Carnival. Carnival parades, more or less successful fancy dresses and colourful confetti that will sneak into your dresses worse than the sea sand into your swimming costumes, well, they are really not my cup of tea. The Carnival is the last obstacle before spring and I am really looking forward to the day when the snow will finally melt, giving way to all the warm temperatures expectations.
Though, it would be unfair to affirm that I do not like Carnival as a whole. Actually, on a second thought, there is something I appreciate. First thing, I have fond memories of the Carnival tales my teacher used to tell us during winter days at the elementary school, with that fun and irriverent traditional masks: Columbine, Harlequin, Punchinello, Pantaloon and Balanzone, and our Stenterello from Florence… I still love their vintage and romantic allure.
Then there are the Carnival sweet treats.
Now we are talking business, Carnival sweets constitute a valid reason to appreciate this time of the year! In Tuscany during Carnival days we traditionally eat cenci (litteraly rugs, fried dough) and rice fritters, and I really wouldn't be able to choose which one I prefer. This year, feeling brave, I sat mum and grandma at a table with two significant Tuscan cookbooks, Pellegrino Artusi and Giovanni Righi Parenti, to scribble down two valid recipes for our traditional Carnival sweet treats, in order to give grams and steps to our a little bit of this and a little bit of that procedure.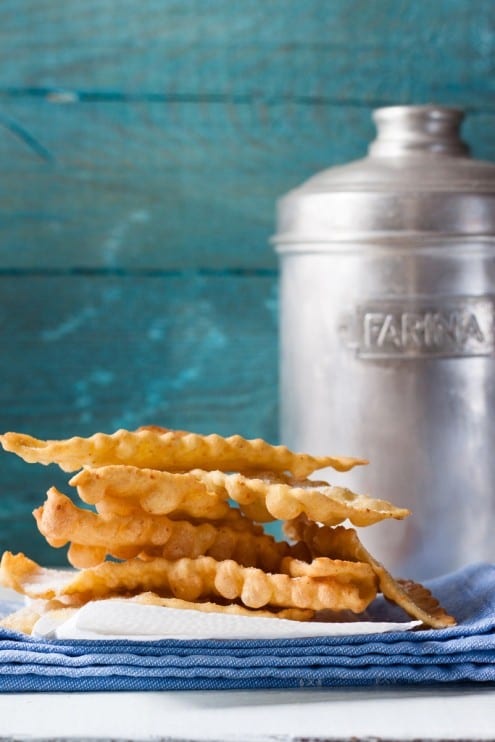 Working on the cenci recipe, I took notes from Artusi's 453. Cenci recipe for what regards ingredients quantities and from Giovanni Righi Parenti's recipe for flavours and aromas, with the addition of orange zest and vin santo.
First with my grandma and then on Sunday afternoon with mum, we tried to give to the cenci the traditional crispness that makes them melt in your mouth and the fruity orange scent that mum remembered from her childhood.
A teaspoon of baking soda will help the cenci to be light and develop those airy bubbles on the surface, a sign that you knead the dough, rolled it out and fried cenci perfectly, or, at least, it's like this according to my parents' childhood memories!
Anyway, this is the recipe of our family Carnival cenci, but I'm pretty sure that every family in Italy has it's own secret recipe, along with a special and different name for this carnival fried dough, since they are a cross cultural element.
Print
Cenci – Italian Carnival fried dough
Giulia Scarpaleggia shares her family's secret Carnival sweet treat recipes.
Author:

Giulia Scarpaleggia

Prep Time:

15 mins

Cook Time:

10 mins

Total Time:

25 minutes

Yield:

4

1

x
240 g

plain flour

20 g

butter

20 g

powdered sugar

2

free range eggs

1 teaspoon

baking soda

1

orange, peel grated

1

pinch salt

2 tablespoons

vin santo (or vodka, grappa, brandy…)
about

500

ml of vegetable oil for deep frying (I used vegetable oil, but would be fine extra virgin olive oil as well)
Instructions
Pour the flour onto a wooden pastry board or on a large working surface, make a well in the centre and put all the other ingredients there.
Knead all the ingredients with your hands, as if to make homemade pasta. Knead it at least for 10 minutes, until the dough becomes very elastic and smooth, and it no longer sticks to your hands. Let the dough rest for about 30 minutes, dusted with flour and wrapped in a kitchen towel.
Roll out the dough with a rolling pin or with the pasta machine to make long and paper thin sheets of pasta, about 1 or 2 mm thick, so that the cenci will be feather light when fried. Use a tiny amount of flour to help rolling out the dough, but try to dust it off or shake it off from the cenci, because it will be the first thing to burn in the hot frying oil, giving an unpleasant burnt flour taste to our cenci.
Cut the pasta sheets with a knife or a wheel in strips about a span long and 3 inches in width.
Heat the vegetable oil in a large skillet and when it reaches 180°C deep fry the cenci. If you don't have a cooking thermometer, use some dough scraps to check when the oil is ready: it will be hot enough when, dipping a thin scrap, this will be immediately surrounded by many tiny bubbles.
Fry the cenci in batches for about 30 seconds per side, checking them often and turning them with two forks or a pair of pliers.
Carefully remove the cenci from the oil and drain them for a few minutes on a dish lined with kitchen paper, then dust them with caster sugar or powdered sugar. They are delicious warm, but, believe me, you will recognize all the flavours and aromas just when cold!
Giulia Scarpaleggia
Giulia Scarpaleggia, Juls to friends and readers, is a Tuscany based and world oriented food blogger, writer and photographer. Her first passion was English and foreign countries: now she has deeply fallen in love with the vision that foreigners have of Tuscany. Simple and sunny, she has an insane passion for cooking.