Strawberry Basil Window Cookies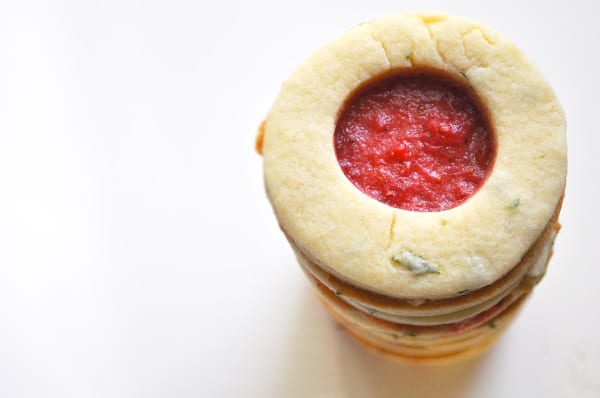 The filling for these cookies is made from fresh strawberries which makes it even more mind blowing than it already is.
By Liz Swartz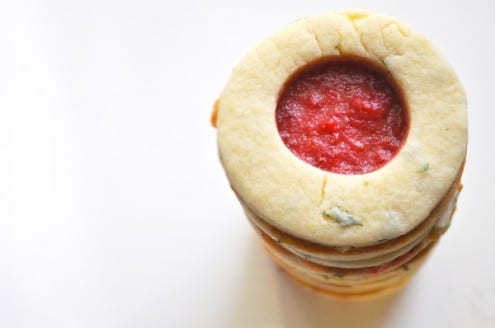 I have always loved window cookies, but instead of traditional short bread, I used my favorite sugar cookie recipe and simply added minced, fresh basil.

Strawberry Basil Window Cookies
The filling for these cookies is made from fresh strawberries which makes it even more mind blowing than it already is.
Ingredients
12 tbsp butter, room temperature (1½ sticks)
1 cup sugar
2 eggs
2½ cups flour
for the strawberry filling
2 cups fresh strawberries, stems removed
2 tbsp corn starch
2 cups sugar
Instructions
for the cookies
In the bowl of an electric mixer fitted with the paddle attachment, cream the butter and sugar together on high speed until light and fluffy.
Add the egg and any flavorings and mix on medium speed to incorporate.
Add the flour and mix on low speed until the dough comes together.
Bake at 350 degrees F until the edges start to turn golden.
for the filling
Use a hand or stand mixer to somewhat blend chopped strawberries together.
Put in a small pot over medium heat and add sugar and cornstarch. Let it come to a boil, then remove it from heat and stir vigorously with a whisk for two minutes.
Cool the filling in the refrigerator (or freezer) until it thickens. Mix it with a whisk to smooth it out before putting it between the cooled cookies.
Lizzy Wolff
Lizzy Wolff, creator of Sugar + Butter, loves to make you drool on your keyboard. It's a real thrill for her. For more recipes, click 'website' below.