These shortbread cookies will satisfy all of your sweet and spicy cravings. You will love the crumbly, melt in your mouth shortbread flavoured with spicy cayenne pepper and zingy lime. Then you dip the cookies in chocolate to really indulge your taste buds. Sprinkle with lime zest for an extra tasty kick. Chocolate dipped chili and lime shortbread cookies are so quick and easy to make, you'll love making them and you'll love eating them even more!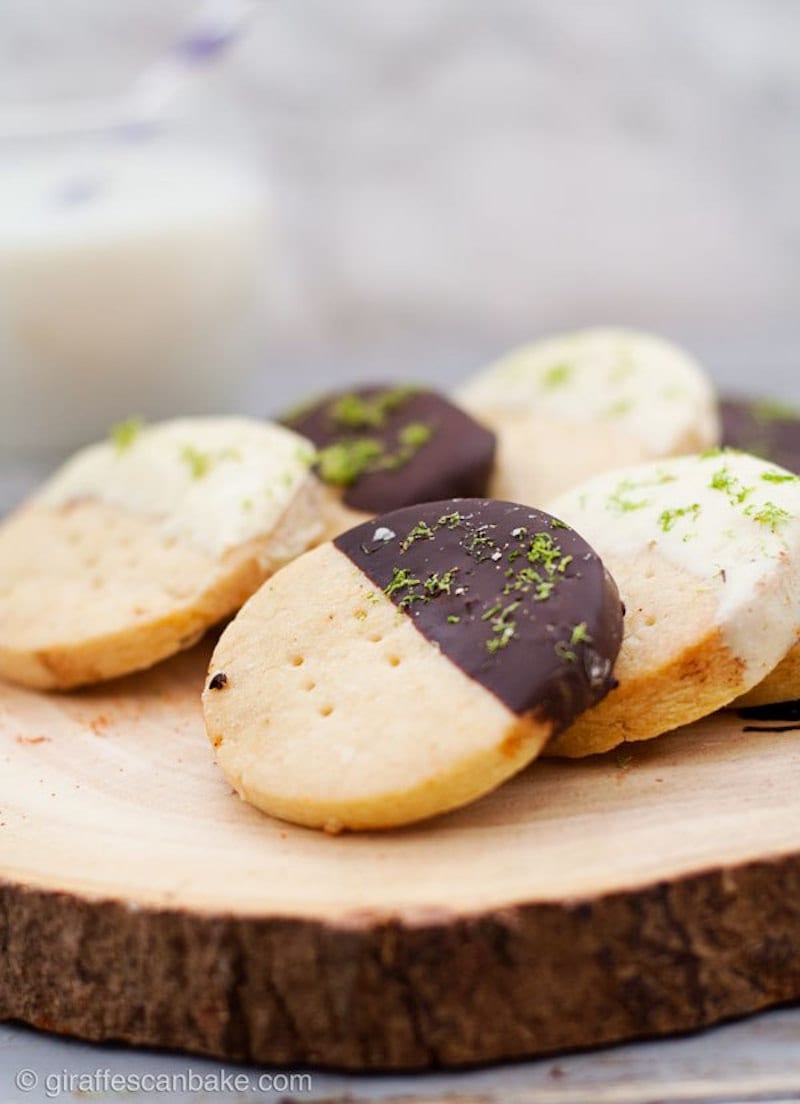 The sweet and spicy combination still seems to throw some people off, I'm not sure why because it's all over the place. But when you tell people you're putting chili in a cookie, they tend to give you weird looks! My mum finally came around to the idea of sweet and spicy, and she's a huge fan of the cookies too! Chili and lime is a very popular combination, lending itself very well to lots of delicious savoury dishes.
That flavour combo works just as yummily (totally a word) to sweet dishes too! Cayenne pepper is my favourite chili to work within both sweet and savoury, I just love the flavour and you only need a little for a good kick. I put a sprinkle in almost everything I cook and it will definitely be making more of an appearance in my baking from now on too (I put a pinch in my smoothies sometimes too, for the health benefits!). The lime flavour is nice and subtle, just enough so you can taste it alongside the chili, and the flavours blend perfectly with the sweet, buttery texture of the shortbread.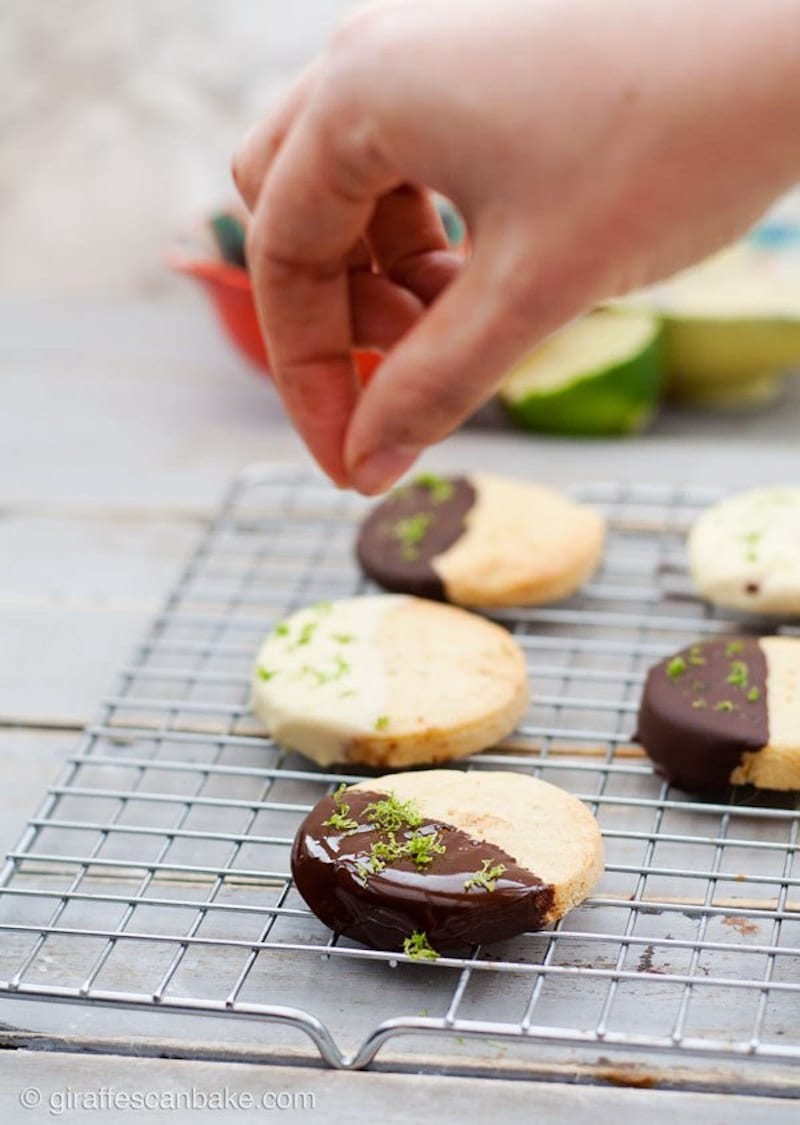 For extra indulgence, I dipped these sweet and spicy shortbread cookies in chocolate – because chocolate makes everything better. Personally, I like to use dark chocolate (at least 74% cocoa) as I don't want them to be overly sweet. But as you can see, I also used white chocolate and they were just as delicious and a little sweeter for those big sweet tooths! The recipe specifies dark chocolate, but go with your favourite – these are your shortbread cookies, make them your way! I sprinkled extra lime zest on top, I really love that extra kick of lime flavour!
Something else I love about these cookies, and shortbread in general, is they're so easy to make! The only equipment you need is a mixing bowl and a wooden spoon, the last thing you want to do is overwork these bad boys. Making the shortbread by hand means it will come out so tender and just melt in your mouth!
The term "short" in baking generally means a high butter to flour ratio and that's what gives them their wonderful texture. These cookies are just over a 1:2 ratio, with 115g butter and 215g flour. I did a lot of experimenting with the ratio of these shortbread cookies to get the melty, crumbly texture with a cookie that doesn't spread, and I found this ratio works perfectly. I have another favourite shortbread recipe in the form of Viennese Whirls, which has a much higher butter to flour ratio – absolutely delicious, but not ideal for this recipe at all if you want thick cookies that don't spread. Which you totally do!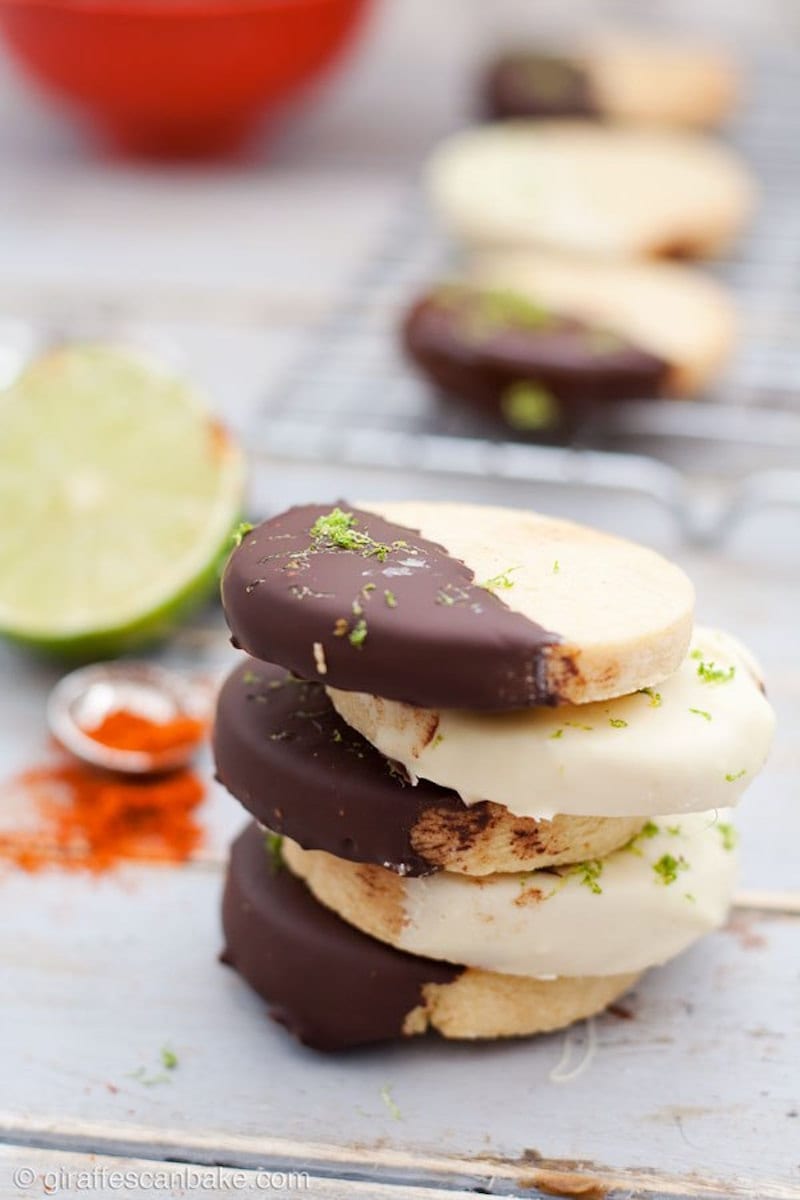 There are two important things you need to know before we get to the recipe. The first is I really urge you to use good quality butter, the best your budget/local store will allow. Butter is a major flavour component in these shortbread cookies, so this not an ingredient you want to skimp on. My favourite is Lurpak or any Danish butter, it just has an unparalleled taste in my opinion. Any European butter is good though. I know that European butter is expensive and difficult to find in the US, so go ahead and use the best quality brand you can get your hands on.
See Also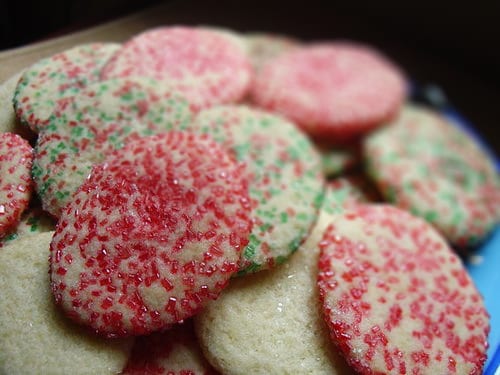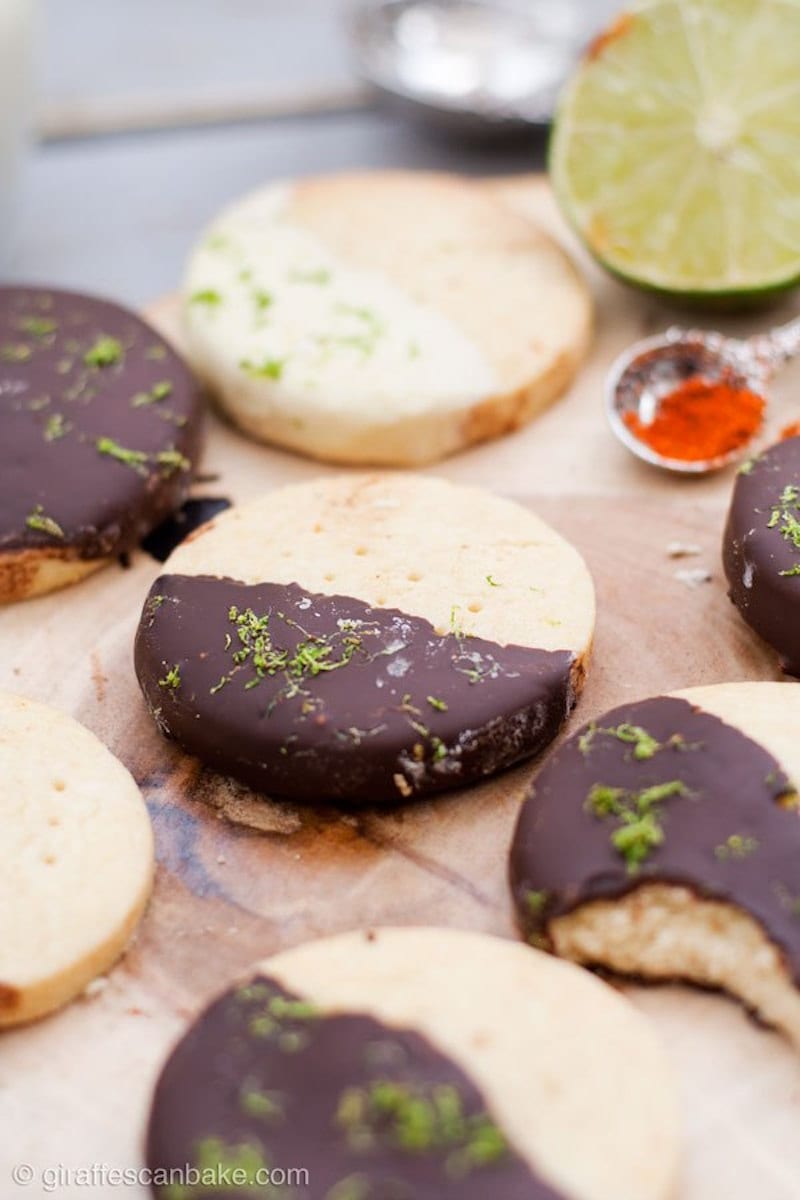 The other important note is on the dough, it's very crumbly! You're gonna be rolling it out and thinking "Michelle! This is never going to work, what have you done to me?!" but just trust me, crumbly dough that only just sticks together is exactly what you want. The dough can be a pain to start rolling out, but once you do it will form a dough with only the edges being crumbly. And the cookies hold shape perfectly when baking. You're going to have to trust me on this one, you can thank me after your first bite! Now, on to the recipe!

Ingredients
For the shortbread:
115

g

good quality butter

unsalted and softened to room temperature

70

g

caster sugar

superfine granulated

215

g

plain flour

AP, plus extra for dusting)

pinch

of salt

1/4

tsp

cayenne chili powder

1/2

tsp

lime zest

1

tbsp

lime juice

about half a lime
For the chocolate dip and garnish:
150

g

dark chocolate

or chocolate of your choice

1

tsp

very fine grated lime zest
Instructions
Put the butter and sugar in a mixing bowl, and beat until fluffy. You can do this part with a mixer if you like, or just use your wooden spoon.

Add the flour, salt, cayenne, lime zest and juice. Beat with a wooden spoon until combined.

Turn dough out onto a lightly floured surface, and gently form into a ball, it will be very crumbly, that is what you want! Flatten to a disc and wrap in plastic wrap, chill in the fridge for 30 minutes.

Line two baking sheets parchment paper.

Remove dough from fridge and roll out to about 5mm thick. Use a 2"-3" cutter to cut out circles, place on prepared baking sheets. They won't spread so you can put them fairly close together.

Prick tops with the tines of a fork (three or four times should do it. Chill cookies in the fridge for another 30-60 minutes.

Heat oven to 180C/350F. Bake chilled cookies for 13-15 minutes, until a light golden brown.

Leave to cool completely on a wire rack.

Melt your chosen chocolate in the microwave in 30 second intervals, stirring in between. Or in a double boiler.

Dip one half of each cookie into the chocolate, while it's still wet sprinkle some lime zest on top.

Chill for 10 minutes to let the chocolate set, if you can wait!
Notes
Use the best quality butter for the best taste.
The dough is very crumbly, but it will come together as you roll it.
Store in an airtight container for 3-5 days.
Michelle McVeigh
Michelle is a self taught home baker who loves to experiment with flavours and teach herself new skills in the kitchen. She is based in the UK but travels to Atlanta, GA often and bakes wherever she goes!