Zita Nagy shares the recipe for Kalács, a classic sweet Hungarian holiday bread.
By Zita Nagy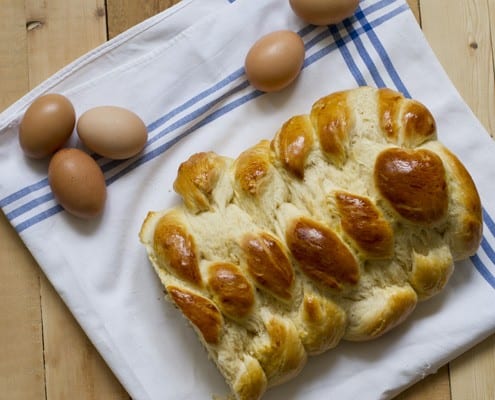 I'm sharing a traditional sweet braided bread family recipe with you. Mothers passed the recipe to their daughters. I don't remember when I ate it for the first time but I remember where… at my grandmother's place (my mom's mother). That time I didn't know that she owns a special recipe. Special because she baked her heart and soul in it, that is why this sweet braided bread is so tender. Whenever I eat kalács (pronounced [ko-laach]) I always look for this texture but I never find it.
Kalács can be made for any holiday, but it has the most symbolism on Easter.
Print
Kalács, the Hungarian Sweet Braided Braid
---
Author:

Zita Nagy

Total Time:

2 hours 10 minutes

Yield:

6

-8

1

x
Description
Traditionally kalács is made with milk and butter to create its brioche-like texture and is braided with three or four strands. The kalács dough needs special care. Prewarm the oven, shut it off, and use it as the place to let the dough rise. Use the stovetop as a warm spot to let the yeast proof. Also depending on the weather, the dough may require more or less flour. This recipe can make one medium-size loaf and eight pieces of brioches.
---
400

ml (1 and 3/4 cups) lukewarm milk

4

,2 g (1/2 teaspoon) granulated sugar (to rise the yeast)

25 g

(

1/3 cup

) fresh yeast

60 g

(

1/2 cup

) butter, melted

650 g

(22,

93 ounce

) all-purpose wheat flour, sifted

1

organic egg +1 for the egg wash

46

,2 g (11 teaspoon) granulated sugar

1

,05 g (1/4 teaspoon) salt
---
Instructions
One hour before starting, place everything on the table and keep them on room temperature.
In a small bowl crumble the yeast with 100 ml lukewarm milk and 1/2 teaspoon sugar. Allow yeast to proof.
In another bowl whisk the egg with the remaining sugar (11 teaspoon) and salt. Add the proofed yeast mixture, the reamining milk (300 ml) and about 430 g flour. Mix everything with a wooden spoon until just combined. Start adding the melted butter step by step and work it in the dough with the wooden spoon until the dough comes off (pull away) the bowl and gets very shiny (about 10 minutes). It is not easy to work with your hands instead of a standing mixer but you will appreciate the end result. :)
Now change the wooden spoon into your hands. Start adding the remaining flour (220 g) step by step while kneading the dough until it gets moist, shiny but not sticky (about 10-15 minutes). Leave the dough in the bowl, cover with a clean cloth and let it rise for 30-40 minutes or until it has doubled in bulk.
Punch down the risen dough and turn out onto floured board. Divide in half and knead each half for 5 minutes, then divide one half into thirds and roll into long snake (set the other half aside). Pinch the ends of the three snakes together firmly and start breading with the pinched end across from you, work from left to righ, moving the left outermost strand over the second strand, under the third strand. Then start from the left again (the second strand in the previous braid is now the first strand). Repeat until the braided bread is complete. Press braided ends tightly and tuck them under the dough.
Grease a baking tray with butter and carefully place finished braid on it. Set aside.
Divide the other half dough into 8 equal pieces. Divide each piece into thirds and roll into snakes again. Form braid into a round braided loaf by bringing ends together, curving braid into a circle, pinch ends together. Repeat with the 7 remaining pieces then place them onto the baking tray next to the kalács. Cover with the cloth and let rise about 15-20 minutes.
Meanwhile preheat the oven to 180-190C (360-375F).
Beat the egg and brush a generous amount over the kalács and brioches.
Bake at 180-190C (360-375F) for about 30-40 minutes or until golden brown. Let cool before slicing.
Prep Time:

90 mins

Cook Time:

40 mins
Zita Nagy
Zita's love for cookbooks and delicious food started at the age of 9. Whenever she went home from school her little brother and she would wait for mom to make dinner for them. Until the dinner was ready, she was turning the pages back and forth and was staring at photographs of amazingly looking dishes in mom's cookbooks to kill her appetite somehow. She couldn't have known then, that she would be collecting cookbooks after reaching adulthood and would still be, just like in her childhood, staring at awesome photos of delicious dishes. The only difference is that she does the cooking now. She loves traveling, going to the organic market and browsing foodblogs. Her vegetarian food and travelblog is Zizi's Adventures.