Think chorizo is the same thing in Mexico as in Spain? Think again. Nancy Lopez McHugh sets the record straight, and shows us how to make the Mexican version.
By Nancy Lopez-McHugh
Today I will be sharing one of my favorite Mexican recipes with you, Chorizo. When Europeans hear this word they think of a fermented cured red sausage (Spanish chorizo). But when North Americans hear chorizo they think of a spicy, crumbly meat, red sausage (Mexican chorizo). Spanish chorizo and Mexican chorizo are very different from each other in looks, texture and taste. Since the Spanish chorizo is cured it can just be sliced and eaten. Mexican chorizo must first be removed from its casings then cooked before eating. No matter what you may find on the Internet the two are not interchangeable. I love both types of chorizo but for very different reasons and to eat or cook with in different ways. This recipe is my own trusted recipe, one I've been using for a long time, one I love so much that I included it in my cookbook.
The key ingredient that gives Mexican chorizo its red color and spiciness is the Ancho chile powder. But depending on where you live Ancho chile may or may not be available. Below I have listed a way of substituting the Ancho chile with other chile powders. Using the substitute will yield a slightly different tasting chorizo but it will still be very close in taste and can be used just the same. Another great thing about this recipe is that it doesn't use sausage casings, you only need to cook it before enjoying it.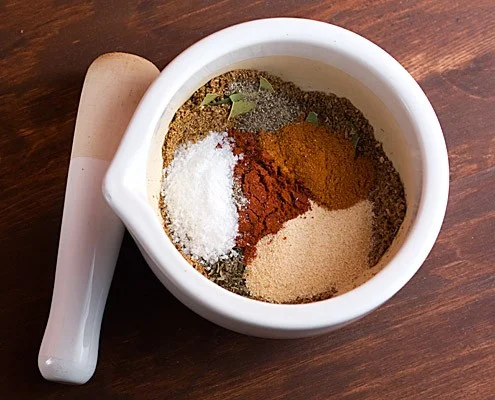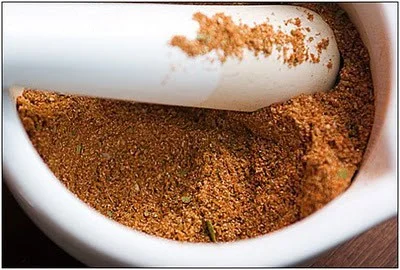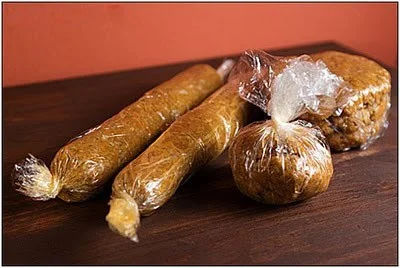 Print
Authentic Homemade Mexican Chorizo
How to make authentic Mexican chorizo at home.
Author:

Nancy Lopez McHugh

Prep Time:

30 mins

Total Time:

30 mins

Category:

Main

Cuisine:

Mexican
1.10

lb. or

500 grams

of ground pork

1 tbsp

. cumin seed

1 tsp

. coriander seed

5

whole cloves

2

bay leaves

1/4 tsp

. ground cinnamon

1/2 tsp

. oregano

1/2 tsp

. thyme

1 tbsp

. granulated garlic

1 tsp

. sea salt

5

whole peppercorns (or

1/2 tsp

. ground black pepper)

2 tbsp

. Ancho chile powder OR substitute with a combination of

2 tbsp

. paprika mixed with 1/2 tsp. cayenne powder OR

2 tbsp

. paprika mixed with 1 tsp. red chili powder

3 tbsp

. apple cider vinegar (can substitute with
red wine vinegar)
Instructions
Handling chili powders can cause burning to your hands. I highly advice to use plastic gloves for handling the chili and chorizo.
In a mortar and pestle grind the cumin seed, coriander seed and cloves. Break up the bay leaves with your hands as much as possible and add them to the spices in mortar and pestle, grind until you have a fine powder. Next add the remaining spices to the mortar and pestle and grind/mix until everything is well combined.
In a large glass bowl using your hands break up the the ground pork. Next you may want to put on some plastic gloves to prevent burning and staining to your hands. Pour in the vinegar and half the spices, spread them evenly on the pork, and start working it into the ground pork. Adding more of the spice mixture until it has all been used up. Keep working the meat until it turns red (from the chile) and all the spices have been well combined into the meat.
It is best to let the chorizo sit overnight before cooking with it. This will allow all of the flavors to come together and make for a better tasting chorizo.
Alternatively you can freeze the chorizo until you are ready to use it. Since this chorizo does not have casings you can form or shape sausages or patties and keep their form by wrapping them in plastic kitchen wrap. Another way to store the chorizo in the freezer is by portioning out amounts and storing it inside plastic bags. This way you defrost what you need or want without having to use the whole large batch.
Now you are ready to use the chorizo in all of your favorite Mexican recipes like tacos, sopes, frijoles charros, chiles rellenos or any of your other favorite fusion recipes.
Nancy Lopez-McHugh
Nancy Lopez-McHugh is a food blogger, photographer and published author. Most recently she has published "Yummy Pics: A Food Blogger's Guide To Better Photos".