As spring vegetables appear on the stands of the Greenmarket, Laura is purchasing as many of them as she possibly can eat.
By Laura Loesch-Quintin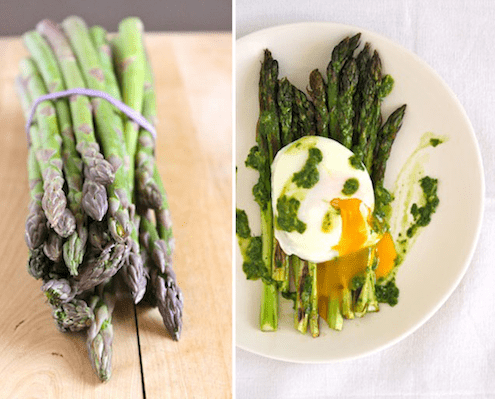 As much as I love root vegetables, I'm over them – temporarily, of course, but I'm over them. My taste buds are in search of something new, delicate and spring-y.
Last week, I satisfied my spring vegetable craving with spring onions. They were a wonderful addition to this green swirl in David Tanis' fennel soup. And, they were also a lovely addition to salads and scrambled eggs.
This week, I've been filling up on asparagus, those beautiful green, white, or purple spears which belong to the Lily family. (Did you know that an asparagus plant will typically produce spears for about 15 years?) Since the weather has been somewhat chillier, I've been roasting my asparagus at 475°F for 12 minutes. However, I'm eager to try this shaved asparagus and mint salad, perfect for a balmy spring day. And, I've been known to mix asparagus into creamy risottos and puree it for this delicate flan. There are numerous uses for asparagus, so take advantage of them while they're here. They won't last forever!

Roasted Asparagus with Poached Eggs and Arugula Pistou
Author:
Laura Loesch-Quintin
Recipe Type:
entree, main
Ingredients
1 bunch asparagus, tough ends removed and stalks peeled
Pinch of red pepper flakes
½ cup (118 ml) plus 2 tbsp extra virgin olive oil
1 cup (25 g) arugula
½ cup (10 g) basil leaves
1 garlic clove
¼ lemon
2 eggs
Salt and pepper
Instructions
Preheat oven to 475°F.
Toss asparagus in 2 tbsp olive oil, red pepper flakes, and salt and pepper lightly. Lay asparagus on on a baking sheet and roast for 12 minutes.
Meanwhile, put all the ingredients for the arugula pistou into a blender or food processor. Blend until you have a smooth green puree. Transfer to a small bowl.
Poach eggs using Thomas Keller's whirlpool method on bonappetit.com.
Arrange the asparagus on a plate, top with the poached eggs, and garnish with the arugula pistou. Serve with a warm, crusty piece of bread.
Notes
Note: The best way to remove the tough ends from asparagus is to bend the ends until the tough section snaps off naturally. Save the ends for making a vegetable stock.
Laura Loesch-Quintin
Laura Loesch-Quintin is a food writer and photographer, as well as the voice behind the recipe blog gourmette•nyc. When not cooking, writing, or photographing, she can be found exploring the food markets of New York City.