When one thinks of Italian food it is often of pasta, but don't forget risotto. Risotto is versatile to use to welcome many flavors and produce, like ramps.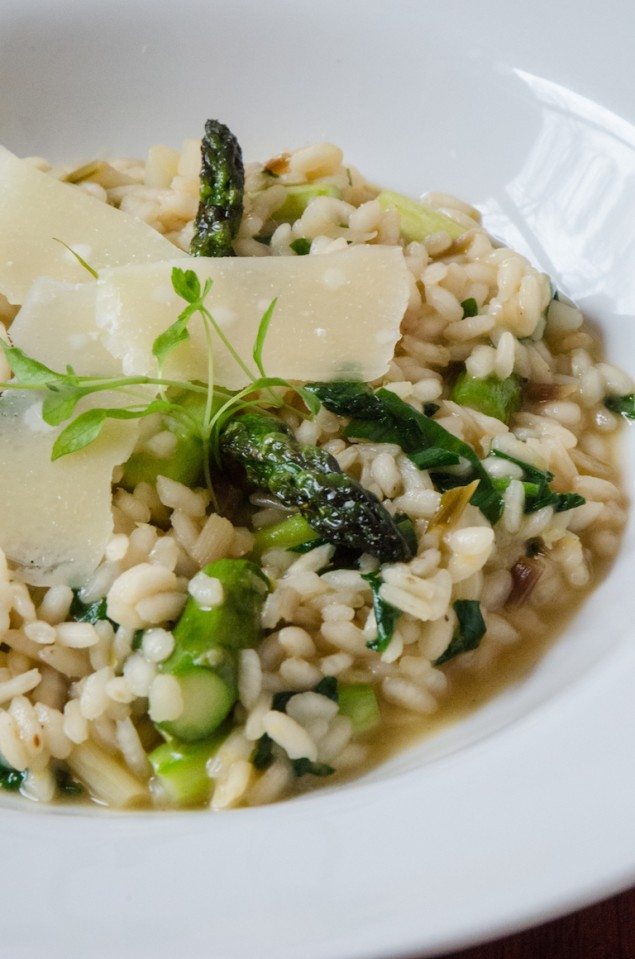 When referring to Italian food, most people immediately think of pasta. But Italy is the greatest rice producing nation in Europe, and the Po River valley in Northern Italy is the largest rice producing region in Italy. We enjoy risotto dishes on our summer cycling tours and winter ski adventures; with each region we visit expressing their culinary history with their own unique variations.
Most US chefs are familiar with the use of two strains of rice for risotto, Arborio and Carnaroli. When we cook together on our Italy tours, however, we use the unique regional strain, Vialone Nano. Developed in 1937 by crossing the Vialone strain with the Nano, it is considered by many to be the premier risotto rice produced in Italy. It is the only European rice with its own IGP quality designation.
I use Vialone Nano rice when in Italy, and when I can find it here in the US. Arborio and Carnaroli are pretty readily available here, and using one of these three varieties is crucial to a successful risotto. These particular strains have shorter, rounder kernels that retain their consistency during cooking, and release the starch that contributes to a nice, creamy risotto.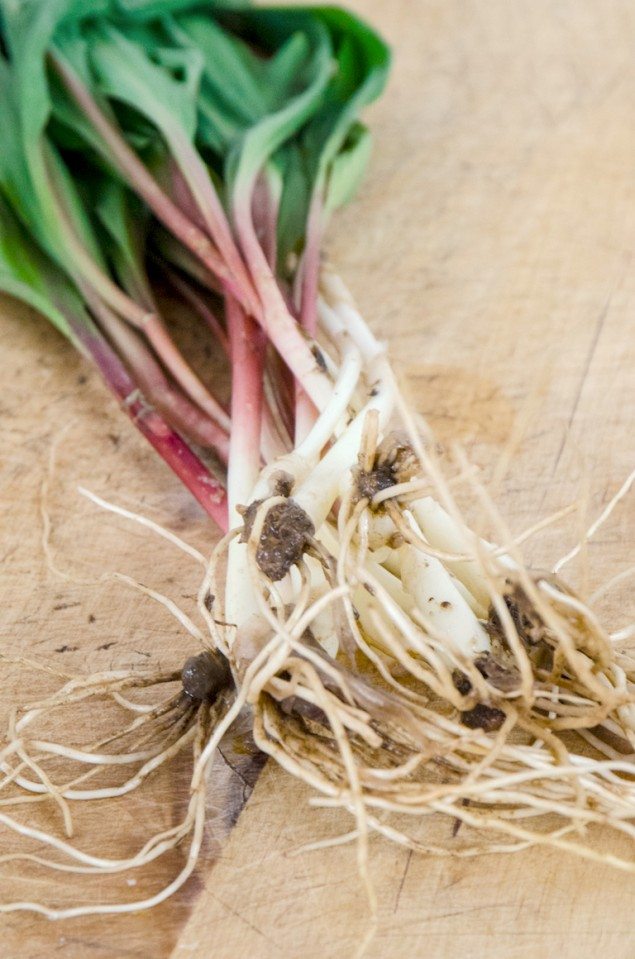 I always enjoy welcoming fresh spring produce with a new risotto recipe. I came across ramps recently, and of course had to use those during their brief annual appearance. Allium tricoccum (commonly known as ramps, or wild leeks) is a member of the allium family, which includes leeks, onions, shallots and garlic. Ramps are found across much of the eastern US and Canada. They are similar in appearance to scallions, but with broader green leaves on top, and often a purplish tint to the lower stems. The flavor is more pungent, closer to shallots or a strong garlic. Both the stalks and the leaves are edible. They can be sautéed, grilled, deep fried, even pickled. In Italy, we can find similar wild members of the allium family, wild garlic, or aglio selvatico.
See Also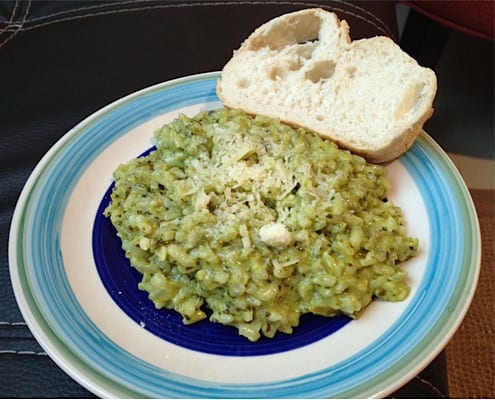 When ramps are not available, substitute another member of the allium family, like leeks, onions, shallots and/or garlic. A combination of a couple of these would best match the complexity of the ramps. If using garlic, only saute for a minute or so before adding the rice, to keep it from overcooking.
A great wine to enjoy with this would be a Garganega from the Gambellara wine zone, near the Colli Berici, or a Vespaiolo from Breganze, just west of Bassano.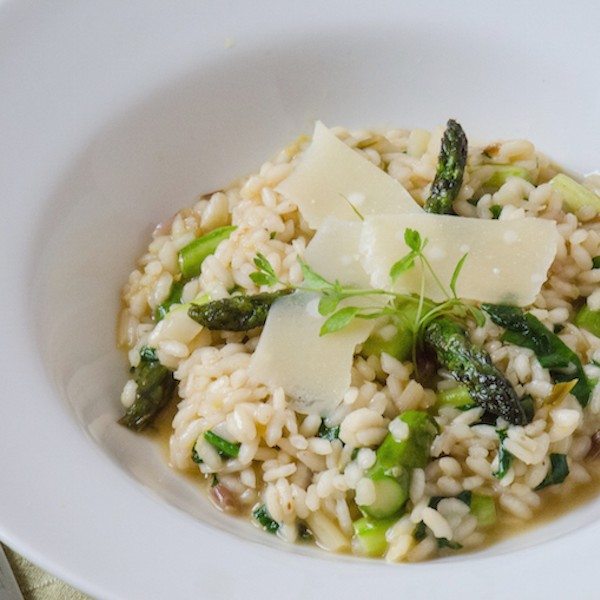 Risotto with Asparagus and Ramps
Kathy Bechtel
When one thinks of Italian food the first item to mind is often pasta, but don't forget risotto. Risotto is a versatile grain to use to welcome spring flavors and produce, like pungent ramps.
Ingredients
2

tablespoons

unsalted butter

12

stalks of asparagus

peeled and cut into 1 inch pieces

Kosher salt and freshly ground pepper

1

tablespoon

extra virgin olive oil

4

cups

low salt chicken or vegetable broth

1

small bunch of ramps – about 12 or so

cleaned and roots trimmed, stalks chopped and leaves sliced, separated

1 1/2

cups

risotto rice

such as vialone nano, arborio or carnaroli

1

cup

dry white wine

1/2

cup

grated Parmigiano-Reggiano

zest of one lemon
Instructions
In a large sauté pan, heat the butter until foaming, then add the asparagus and sauté until softened, about 3-4 minutes, depending on thickness. Season with salt and pepper. Remove from pan and set aside.

Bring the broth to a boil in a large pot. Reduce the heat to very low; the broth should stay hot but not simmer and reduce.

Add the olive oil to the large sauté pan, and place over medium heat. Add a handful of the chopped ramp stalks, and cook slowly, stirring frequently until softened, 1 to 2 minutes. Keep the remainder of the leaves for another use.

Add the risotto rice to the pan. Cook, stirring constantly to coat the rice with the oil, about 3 minutes.

Pour in the wine and cook, stirring constantly, until it's mostly absorbed, about 4 minutes.

Ladle in 1/2 cups of the broth, and stir. Adjust the heat to maintain a gentle simmer, and stir occasionally. When very little of the liquid remains, and the rice is dry enough that your stirring spoon leaves a trail showing the bottom of the pot, add in another 1/2 cup of broth, again stirring until it's all absorbed. Continue adding broth in 1/2 cup increments, stirring, until the rice is nearly al dente; this is usually 12 to 16 minutes after the first addition of liquid.

Stir in the ramp leaves and reserved asparagus. Add a bit more broth, and cook until al dente; do not overcook, and don't feel you need to use all the stock. Add the lemon zest, cheese, and season with salt and pepper. Serve immediately.
Kathy Bechtel
Kathy Bechtel's obsession with food and cooking began as a teenager. After years following a traditional career path as a telecommunications engineer, she left to attend culinary school and wine training, and is now combining her passions for food and wine, the outdoors, and travel as owner and Culinary Tour Director of Italiaoutdoors. In this role, Kathy leads small bicycle, skiing and walking tours that explore the authentic regional cuisines, local products and undiscovered wines of Northeastern Italy.