What will the new royal prince eat? If you are caught up in all the royal baby frenzy of Duke and Duchess of Cambridge's child Prince George Alexander Louis, you may be wondering about the minutiae of a royal baby's life.
By Michelle M. Winner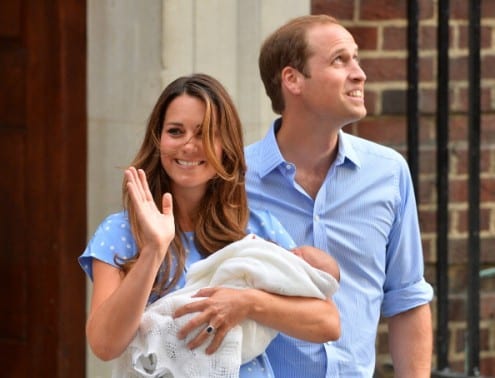 Items like which car seat he went home in are already in the news. No doubt the nursery room colors and his public all-too-cute outfits will soon surface. But since our beat is food we reached out to our friend the former personal chef to Princes William and Harry and Princess Diana at Kensington Palace and chef to Queen Elizabeth II for 11 years at Buckingham Palace, Darren McGrady.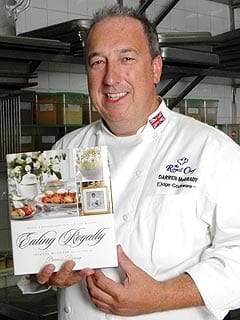 British Chef McGrady who traveled from his home in Texas to be on Royal Baby watch in London speculates that many of his father Prince William' s favorites may make their way onto the baby's plate but under the watchful eye of mom Kate. He also thinks Kate and the royal nanny will introduce more veggies and natural foods into the baby's diet.
Fine  when you are in your own palace but when  visiting the 'Royal Granny' who will "rule" the baby's diet?  "In the Queen's kitchen, the chefs will be at the mercy of the royal nanny who will send down a menu each day for 'Royal Baby', " McGrady says.
Just a few decades ago in the royal kitchens, Chef McGrady held both Prince William and Prince Harry as babies while chatting with Princess Diana. "William and Harry started off on fruit purees that I used to make fresh each day in the royal pastry. Pureed apple and Pear were favorites. The vegetable section were responsible for the entrees… carrot, cauliflower and pea puree, … sieved twice to ensure no lumps. As the boys got older we added chicken, lamb and beef and pureed that into the vegetables. My favorite memories were when Diana would bring the little princes into the kitchen, sit at the table and feed them yoghurt."
As they grew their preferences changed as Chef McGrady shares, "Although 'the boys' were royal princes they still had children's palates and so any chance they had to get cheeseburgers, chicken nuggets, macaroni cheese, loaded potato skins on the menu they went for it. Of course Nanny made sure they also ate their green 'healthy' vegetables too." Prince William so enjoyed chef's Chocolate Biscuit Cake ( in McGrady's cookbook 'Eating Royally' ) he chose as his Grooms' cake. So will the baby prince inherit his father Will's' sweet tooth? Chef McGrady thinks so., " Both boys loved ice cream… chocolate chip, and as much of it as you would let them have without Nanny finding out. I used to make them poached pears to go with it… at least they were getting fruit as well. Banana flan was a favorite of Prince William as was any of the traditional British nursery comfort foods like bread and butter pudding, pear and banana crumble, banana custard and rice pudding." Find out more about the Royal Chef, his cookbooks and anecdotes on royal family life during Diana's time www.theroyalchef.com.
PHOTO CREDIT : Chef Darren McGrady
Michelle M. Winner
Michelle was born with a fork in her hand. As a culinary travel writer and confirmed foodophile she delights in the world-wide discovery of new flavor profiles, spices, salts and herbs. Based in one of the world's foodie meccas; Portland, Oregon, not far from "Pinot Noir Heaven" Michelle shares culinary travel and chef's recipes. Her photography has appeared in Saveur Magazine and she has contributed culinary travel articles to Forbes online, WSJ online, Business Insider, Condé Nast Digital Media, Islands magazine and many others. A confirmed globetrotter, she still keeps her bags packed and fork in hand (well . . . except through airport security.)