Currant studded griddle cakes, dusted with vanilla sugar, perfect for breakfast, especially when spread with butter and topped with jam.
By Carol Egbert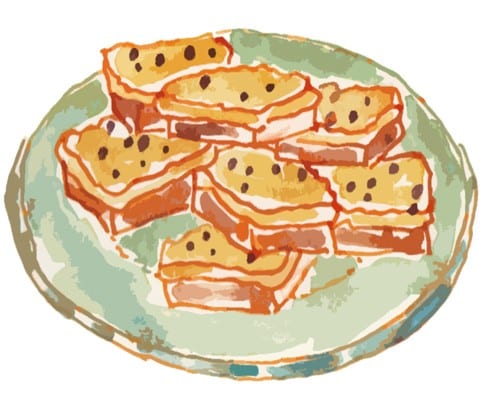 When I returned  from visiting my son in England, the trees in Vermont were wearing white. The only shopping I did in Brighton was at small, medium and large grocery stores and at a weekly farmers' market in the center of the university campus. Welsh cakes, from the Marks & Spencer market in the Brighton train station, along with a bowl of stewed red plums and a pot of Earl Grey tea were my standard breakfast in England.
Aside from two packages of chocolate covered ginger cookies, two packages of Welsh cakes were the only souvenirs I brought home. After Charles and I had breakfast on Saturday there were only two Welsh cakes left. The  closest Welsh cakes involved a two-hour bus ride to Boston, a seven-hour plane ride to London, another two-hour bus ride to Brighton and a five-minute taxi ride to Marks & Spencer; I had to figure out how to make them. I began with the label. It listed wheat flour, sugar, currants, free range eggs, milk and baking powder. I did a bit of research and learned that traditional Welsh cakes are cooked on a griddle rather than baked in the oven.
I used a box grater because the butter was frozen and I didn't want to use a food processor. If you prefer to use a food processor, start by whizzing all of the dry ingredients together, cut the butter into eight chunks and add it to the flour mixture and pulse it five times or until the mixture looks like coarse crumbs. Add the egg and then add milk slowly, while machine is running until dough begins to form a mass. It's best to err on the side of too little rather than too much milk. Tip dough out onto a floured surface, add currants and cherries or dried fruit of your choice and knead it all together.
Homemade Welsh cakes have a much lower carbon footprint than the ones from Marks & Spencer and are absolutely smashing with a steamy pot of tea. Here's my recipe for 'No Travel Necessary' (Vermont) Welsh Cakes.

Welsh Cakes from a Vermont Kitchen
Currant studded griddle cakes, dusted with vanilla sugar, perfect for breakfast, especially when spread with butter and topped with jam.
Ingredients
2 cups (120g) plain flour
⅓ cup (65g) castor sugar
2½ teaspoons baking powder
¼ teaspoon kosher salt
½ cup (120g) unsalted butter, cold
½ cup (50g) currants
¼ cup (25g) dried cherries, minced
1 egg
2 Tablespoons milk
Butter for griddle
Instructions
Combine flour, sugar, baking powder and salt in medium mixing bowl.
Use largest holes box grater to grate cold butter into flour mixture or use pastry blender or two knives to cut butter into flour mixture.
When mixture looks like coarse crumbs, stir in currants and dry cherries.
Use a fork to combine egg and milk in a small bowl and stir it into flour/butter mixture.
Knead dough on lightly floured board to form dough.
Roll dough to a thickness of ¼ inch (.6 cm). Cut rounds with 2½ inch (6.5 cm) biscuit cutter.
Heat griddle or cast iron skillet over medium low heat for ten minutes, add a teaspoon of butter to hot griddle, cook Welsh cakes for 5 minutes on each side.
Remove from griddle and sprinkle with vanilla sugar.
Serve warm.
Notes
Welsh cakes may be stored in a air tight tin for up to 5 days or frozen and reheated in a toaster before being served. Dry cherries can be omitted or replaced with minced crystallized ginger, minced dried figs or additional currants. Welsh cakes may be baked rather than cooked on a griddle. Put unbaked rounds on a parchment lined baking sheet and bake in a pre-heated 350º (175º C) oven for about eight minutes, or until set, then turn them over and bake for eight minutes more. Baked Welsh cakes will not be as brown as those cooked on a buttered griddle.
Carol Egbert
Carol Egbert is a writer, painter, graphic designer and cook. Her studio is on a country lane in rural Vermont. During mud season she escapes, for a couple of months, to a flat in Sicily overlooking the Ionia Sea. Her newspaper columns, magazine articles and blog are illustrated with her watercolor paintings – Honest Cooking means beautiful food.