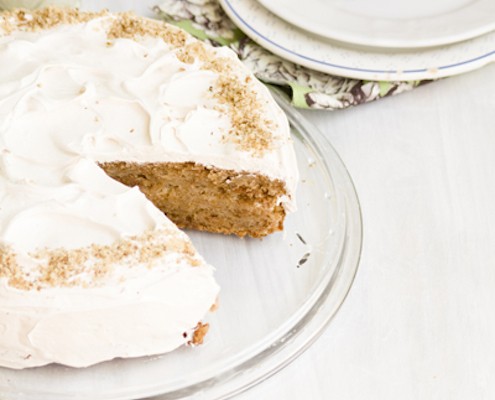 This beautiful seasonal cake will sweep you off your feet: moist, full of cinnamon and juicy apples with brown sugar and Swiss meringue frosting.
By Tamara Novacoviç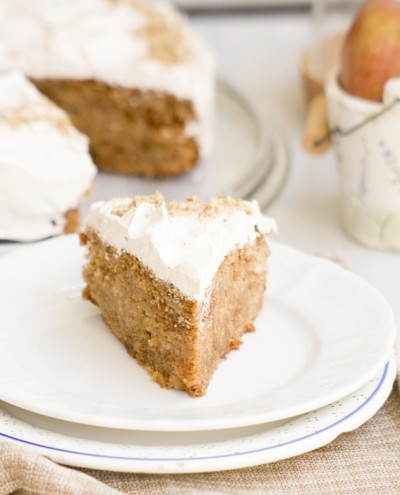 Beautiful bright orange pumpkin has been sitting on my table for days, taunting me to use it in a cake or creamy soup. However, I decided to ignore it. I welcomed this fall with different fruit instead: apples. I welcomed it open hearted and with open arms, the way you welcome an old friend into your home, a friend who brings gifts, pumpkin soups, apple pies, plum jams and carrot cakes. I am a summer person, but this fall has been so beautiful I am slowly starting to convert into a fall type. No rains, sunny days, nice temperatures, warm colors. There is something melancholic in this season.
My pantry is packed with sweet plum jams my mom made, traditional pepper and aubergine spreads we call "ajvar", spices like cinnamon, cardamom, ginger and nutmeg. This is the time when we drink young wine called "mosht", eat baked chestnuts, indulge in pancakes filled with plum jam, apple pies and everything smells of cinnamon.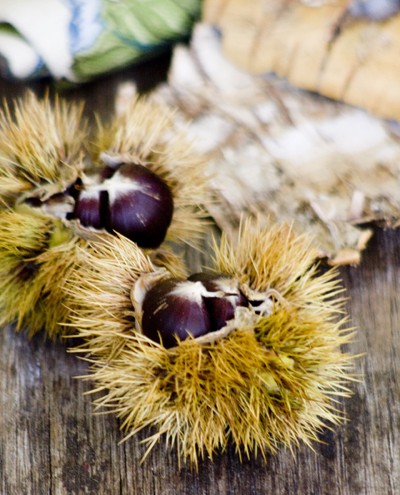 Before I gave pumpkins the right to rule my kitchen and daily meals, I had taken 4 juicy apples I picked myself in our garden and turned them into the most beautiful autumn cake, the one with which I welcomed this season into my kitchen, home, heart, onto my plate.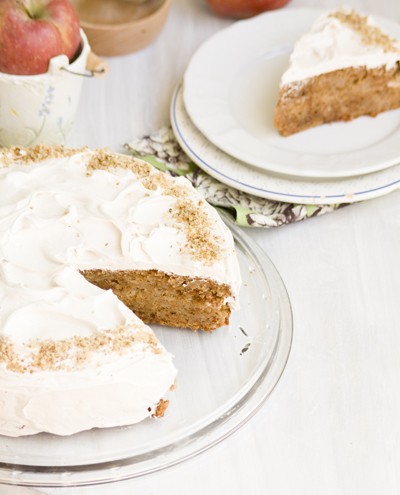 This cake can be whatever you want it to be. You can bake it in a rectangular pan, you can cut it in half and fill with cream and thus turn into a celebration cake, you can add some nuts or raisins to it…many possibilities. It is a combination of moist cake filled with cinnamon and apples and Swiss meringue frosting.
This beautiful seasonal cake will sweep you off your feet: moist, full of cinnamon and juicy apples with brown sugar and Swiss meringue frosting.
Ingredients
For the cake batter:
½ cup (115 ml) vegetable oil (you can use melted butter instead)
2 tsp baking soda
½ tsp baking powder
2 tsp powdered cinnamon
½ tsp powdered ginger
pinch of salt
some lemon zest (to taste)
2 eggs
4 apples
¾ cup (150 g) brown sugar
2¼ cups (250 g) all purpose flour
For the frosting:
4 egg whites
pinch of salt
1 cup (215 g) brown sugar
Instructions
Preheat oven to 356 F (180 Celsius).
Combine flour with salt, soda, baking powder and spices. In a separate bowl, mix eggs with brown sugar until pale and fluffy. Add oil and lemon zest. Combine with the previous batter. Add washed, peeled and grated apples.
Pour the batter into a prepared baking pan (greased and bottom lined with parchment paper). Bake for about 45 minutes (test with skewer).
Make the frosting: Leave egg whites outside the fridge, let them get to room temperature, they will make a nicer frosting.
Combine egg whites with brown sugar and put it in a heatproof bowl. Set it over simmering water and whisk for a few minutes, just until sugar has dissolved. Remove from heat, add a pinch of salt and beat mixture until fluffy and stiff and cool, for about 10 minutes.
Frost the cake. You can cut it in half and frost between the layers too.
Tamara Novakoviç
Tamara Novakovic is a passionate self-taught cook, food blogger, freelance food writer and photographer behind bite-my-cake.blogspot.com. Her life journey has led her through Faculty of Humanities in Zagreb, Croatia to discovering passion for making cakes. She is currently a weekly food columnist for Croatian newspaper V magazine and food magazine Repete.