Spending a weekend at the beach in Santa Monica is always a good idea, now more than ever with an expanding roster of great restaurants to keep your tastebuds stimulated during your stay.
By Kalle Bergman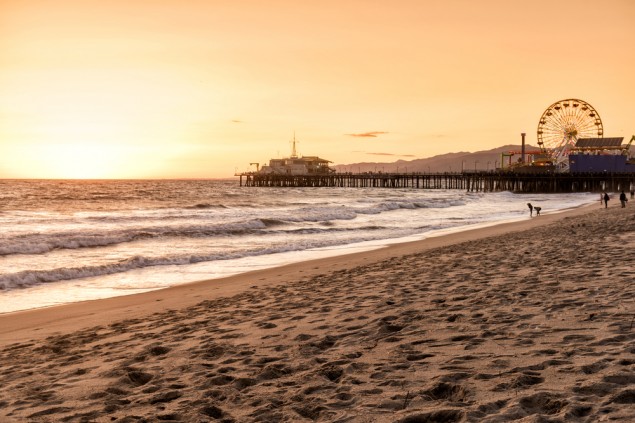 Photo from Shutterstock
The food scene in Los Angeles is bubbling. From being a city that was almost never mentioned in terms of having a "great culinary scene" just a few years back to being seen by many as the "the next great food city" – L.A. is nowadays close to being just as much a taste destination as a sun destination.
Santa Monica, perhaps one of the places most evidently defined by the recent boom in everything from tech to fashion companies, as well as an exodus of East Coasters looking for a change of lifestyle – has been lagging a little bit behind in culinary development, but things are changing rapidly. Now, a weekend spent by the beach has the potential of being just as much a few days of great food as of sun and surf. So without further ado, here is our guide to the best restaurants in Santa Monica for a taste-filled sunny weekend.
Where to stay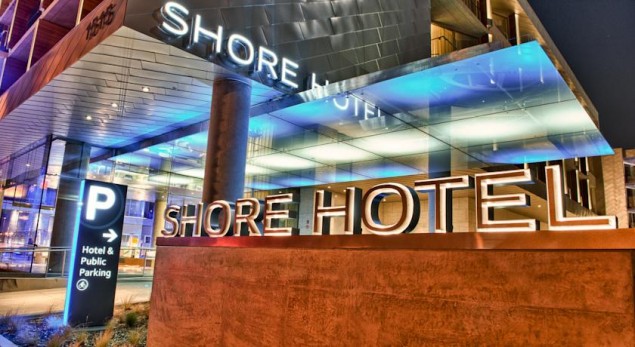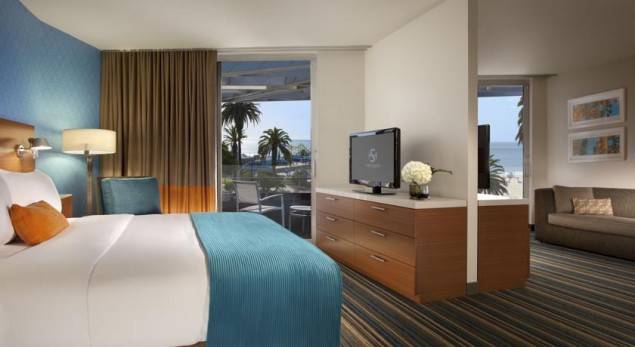 If you want to stay in downtown Santa Monica, the past few years have added a couple of interesting alternatives. One of the better ones is Shore Hotel, a hotel blessed with the almost ultimate location – just across the street from the Santa Monica pier, on Ocean Avenue and overlooking the Pacific Ocean. When you find yourself sipping a cold glass of Champagne on your balcony at the end of the day and watching the sun set in the Pacific, it really is hard to imagine a better place to be.
The hotel's contemporary design is not only pretty, but super functional, and the 164 rooms range from small singels and doubles to large suites. Try to get an ocean front room, and it will feel like you are sleeping on the beach.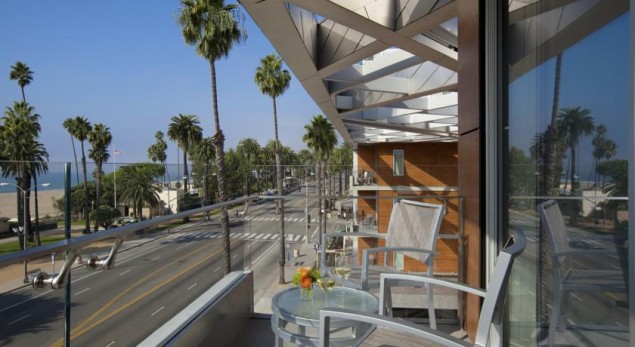 The Shore Hotel is in the process of getting its own restaurant, but until then you can still enjoy a fresh a la carte breakfast – Los Angeles style – by the pool before kicking off your day. And in the evening, you can slip in next door at Blue Plate Taco, who has set up shop outside the hotel (but in the actual hotel building) if you do not feel like venturing too far from your ocean side balcony.
Shore Hotel, 1515 Ocean Ave, Santa Monica, CA 90401
Where to eat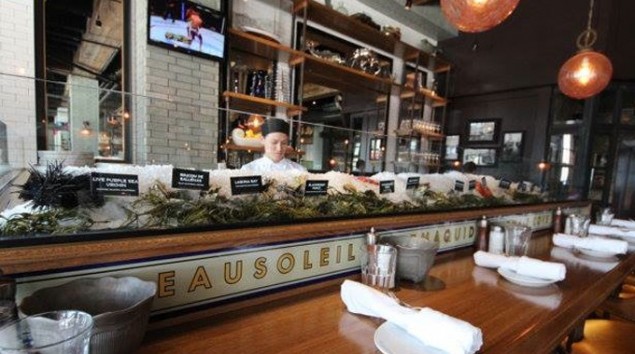 Photo by nightout.com
Water Grill has been firmly rooted on Ocean Ave. since the late 80's and must today be considered one of the most classic L.A. restaurants period. Expensive, yes, but Water Grill delivers some of the most perfectly cooked seafood you will get anywhere in the city. So sit down by the open windows, feel the ocean breeze, order a grand shellfish platter and a glass of chilled Chablis – and just enjoy.
Water Grill, 1401 Ocean Ave, Santa Monica, CA 90401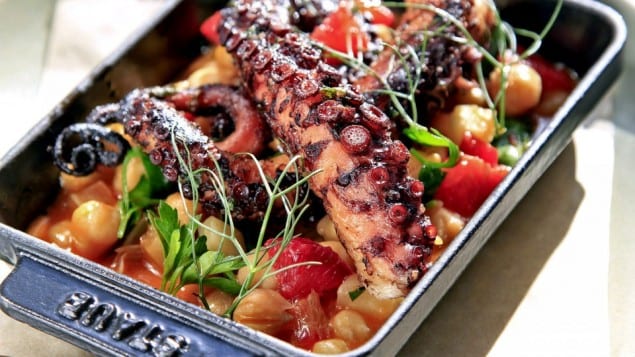 Ever since it first arrived in 2012, Tar & Roses has been one of the most celebrated and popular restaurants in Los Angeles. With a creative menu focused on anything wood fired, this dim lit establishment is one of the more exciting on the west coast. Highly seasonal ingredients, and a non-conceptual focus on local and sustainable sourcing come together in a menu that circles around small and shared plates. Take a seat at the bar, where no reservations are taken, and try the shishito peppers, the sumer squash and the fiddle head ferns from the veggies part of the menu. From the snacks part, dive headfirst into the amazing lamb tartar with banana raita and grilled naan, or the wood roasted english peas with mint and sea salt. From the small plates, the braised lamb belly, the bone marrow and the soft shell crab are all dishes that would be stars of almost any "new American" restaurant in the country. Pair the dishes with an interesting wine list, and voila – you have a restaurant to come back to time and time again.
Tar & Roses, 602 Santa Monica Blvd, Santa Monica, CA 90401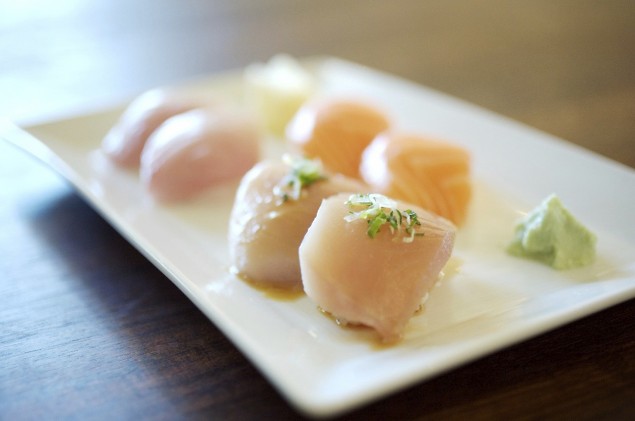 Yes, Sugarfish By Sushi Nozawa is a small chain of restaurants – they have 8 locations scattered around the city – but it is also one of the best sushi deals in the nation. Sit down at this "no-reservations" joint and order a Trust Me menu that will take you through an 8 course tasting of some pretty great nigiri, sashimi and temaki for just 30 dollars. The service is slightly rushed, but always friendly – and the ingredients are always perfect. If you want to splurge, go for the 40 dollar Nozawa Trust Me menu, for 10 courses – a total steal and a menu that would cost you two to three times more in most other cities. Sugarfish By Sushi Nozawa might not be Masa or Nakazawa, and the wine, sake and beer lists are not exactly extensive – but for sheer price/quality ratio, there are very few sushi joints in the country that can play along.
Sugarfish by Sushi Nozawa, 1345 2nd St, Santa Monica, CA 90401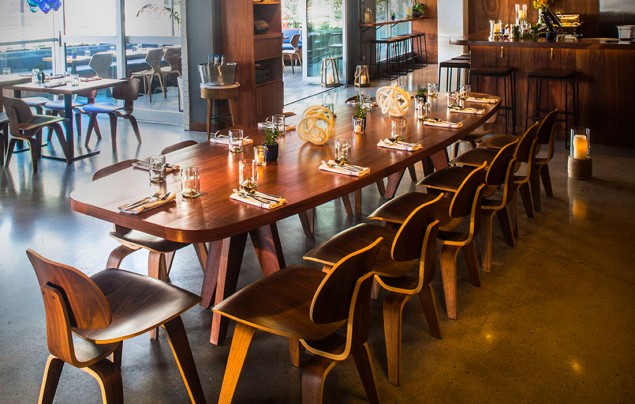 Tar & Roses' younger sister restaurant is just around the corner from the mothership. Santa Monica Yacht Club is seafood centric with sleek interiors and surprisingly friendly prices. Try the sea urchin toast, the charred octopus, shrimp skewers or the decadent lobster and burrata toast for great value and big flavors – but the menu is very much hit and hit all across the board.
Santa Monica Yacht Club, 620 Santa Monica Blvd, Santa Monica, CA 90401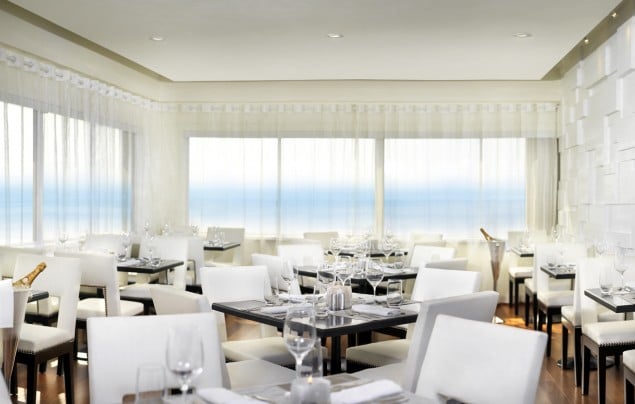 Although the cooking is pretty competent at The Penthouse, you don't primarily come here for the food. This place is first and foremost about the scene and the scenery. Like taken out of a design hotel manual from the late 90's, The Penthouse is white, funky and filled with people who are rich and beautiful or would really like to be rich and beautiful. The ambience is "Nikki Beach", as is the music. Some might loathe the scene, while others will love it – but regardless of what side of that fence you are on, there is no denying that the view from this top floor restaurant is absolutely stunning.
The Huntley Hotel, 1111 2nd St, Santa Monica, CA 90403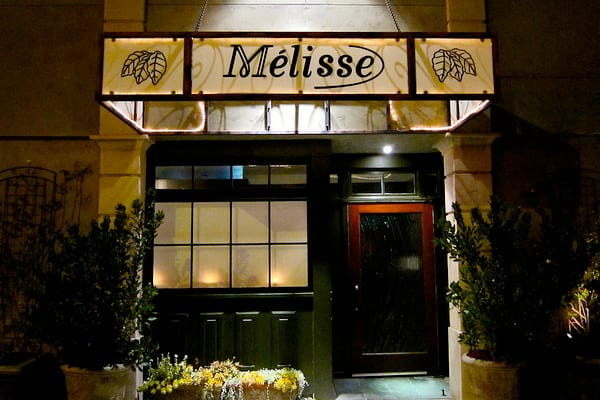 Photo from dininginfrance.com
Welcome to France on the West Coast, and welcome to the two Michelin star winning Mélisse Restaurant. This is fine dining at its most classic interpretation, with serious but friendly servers and a wine list that is as serious. Mélisse is onboard the veggie train, with a vegetarian tasting menu served at 135 dollars – a strong challenge for anyone who claims a meal can never be complete without some animal proteins. But if you don't want to go all in on chlorophyll – don't despair. There are a couple of opulent choices for you as well. The Carte Blanche and Ten menus are both showcasing a combination of seasonal and local delicacies in addition to world class ingredients from across the globe. Mélisse is a place to go for any kind of celebration – perhaps just a celebration of fantastic food.
Mélisse, 1104 Wilshire Blvd, Santa Monica, CA 90401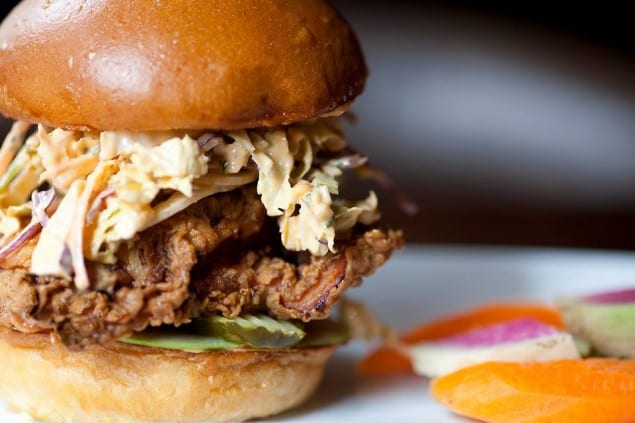 Perhaps a place to go even more for the cocktails than the food – even if the creative and upgraded pub grub served is absolutely more than decent. The Misfit is the craft cocktail bar brought to the Westside, and its central location in downtown Santa Monica makes it the almost ideal pre- or post dinner libation destination in the area. As expected from a "gastro cocktail pub", both the cocktail list and the draft beer list are both extensive and interesting – but surprisingly, so is the wine list with a fun selection of local and international wines served by the glass.
The Misfit Bar, Third Street Promenade, 225 Santa Monica Blvd, Santa Monica, CA 90401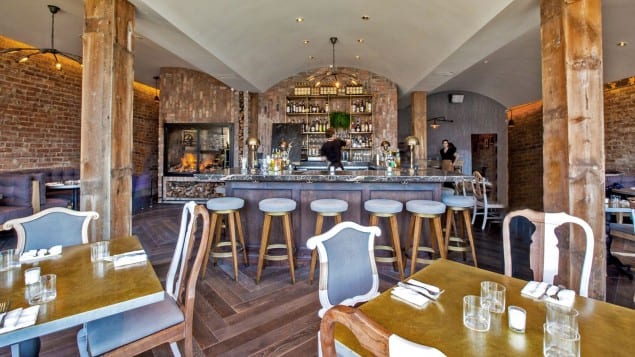 Photo from Eater.com
Another Santa Monica restaurant that focuses on wood fired food – this one with Gallic inspirations. Cadet has made quite a splash in the market since opening in late 2014. Try the creative tartines, like the White Anchovy, Radish and Butter Chives, before moving on to the Ember Roasted Black Cod with Garlic, Chives, Beech Mushroom and Butter or the Wood Grilled Shrimp, Octopus and Swordfish with Spring Onions, Marjoram and Vinaigrette. Pair with one of the fun bottles of bubbly that is always available.
Cadet, 2518 Wilshire Boulevard, Santa Monica, CA 90403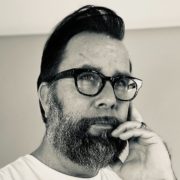 Kalle Bergman
Kalle Bergman is a food writer and media entrepreneur who is the founder of Honest Cooking and PAIR Magazine. As a food writer, his writing has been regularly featured in publications like Gourmet, Los Angeles Times, Huffington Post and Serious Eats. He is obsessed with simple food, more often than not from his native Scandinavia.