Time to chill out and chill yourself with a lovely refreshing watermelon strawberry granita.
By Nancy Lopez-McHugh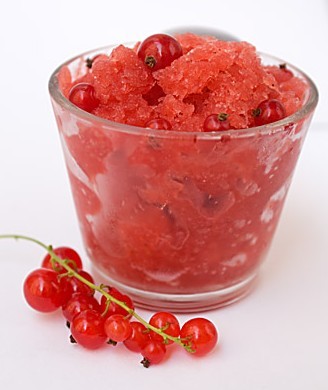 Are you tired of watermelon yet? I'm not, can never get enough during the summer. But when it is just two people in a house buying large food items means having to be creative with ways of using up the food. Wasting or throwing out food is not an option, there is no good reason for discarding perfectly edible food. As our mothers always told us there are children starving all over the world. That is something that is something I try to be mindful of, after all Waste Not Want Not!
Watermelons are huge and even buying just a half or quarter can sometimes be too much for a small family. This recipe is a fantastic way of using extra watermelon before it losses its flavors and needs to be thrown out. Of course it can also be made with watermelon bought for the sole purpose of this refreshing summer treat.
What is a Granita you ask? Granita is an Italian semi-frozen dessert made from water, different flavorings, and sweetened with sugar. Think a slushy or sorbet. Flavors vary intensely and pretty much this is the perfect treat to experiment with. Just like a sorbet can be served as a way of cleansing the palette after a meal so can a granita. If you don't have an ice cream maker than granita is perfect for helping you keep cool this summer. Enjoy!

Watermelon Strawberry Granita
Stay cool this summer with a refreshing and healthy treat.
Author:
Nancy Lopez-McHugh
Ingredients
360 grams or ¾ lb. of watermelon (weight after skin & rind removed)
250 or ½ lb. strawberries, stem removed
1 medium orange
pinch of salt
118 ml or ½ cup water
55 gm or ¼ cup brown sugar, can adjust to taste
decorate with red currants, optional
Instructions
In a sauce pan mix the water and sugar and cook over low heat until the sugar has completely dissolved. Set aside.
Wash and prepare the fruit by removing the stems from strawberries and green rind off the watermelon, then juice the orange. Place the fruit and juice inside a blender with a pinch of salt. Purree until all the fruit has completly broken down.
Place the seive over a freezer safe container and pour the fruit puree through the seive. Using the back of a spoon swril around to help most of the pulp pass through. The seeds and a bit of the pulp will be left over, remove the seive then place the continer in the freezer. Freeze the mixture for at least 4 hours before serving, stirring every 30 minutes.
Don't fancy watermelon flavored granita? Try one of these great recipes:
Mango & Mangosteen: A Tropical Granita
by Jessie Chien ,
Cucumber Mojito "The Sorbet"
by Alisha Randell,
Mango Mint Rose Sorbet
by SriVani Ganti
Artusi's Sour Cherry And Cinnamon Sorbet
by Emiko Davies.
Nancy Lopez-McHugh
Nancy Lopez-McHugh is a food blogger, photographer and published author. Most recently she has published "Yummy Pics: A Food Blogger's Guide To Better Photos".