Tamara Novacoviç takes us on a photo tour of the Croatian peninsula of Istria.
By Tamara Novacoviç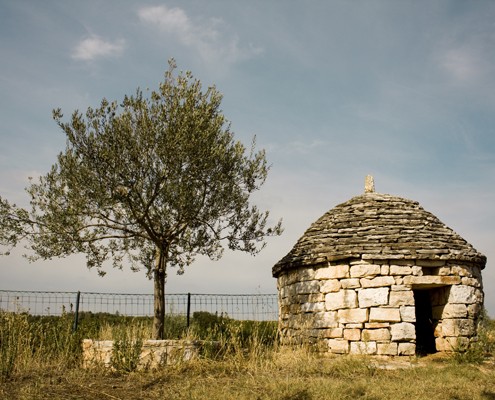 I returned from my vacation several days ago. We visited Istria, a beautiful Croatian peninsula, the largest one in the Adriatic sea.

First off, I would like to state that we were really lucky to have had this long summer.  I wasn't able to go to the sea and take a break this season until September. Usually this means autumn, rain and lower temperatures. But not this time. This year, summer decided to stay a lot longer and I am beyond glad it did. Not only did we have beautiful weather, all 10 days of hot summer, but the sea was so warm. We swam every day, we fished, we lay and slept under the hot sun, visited historic sightings, ate great food and drank beautiful Istrian wines.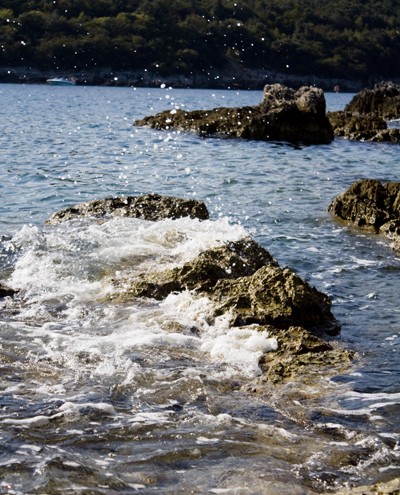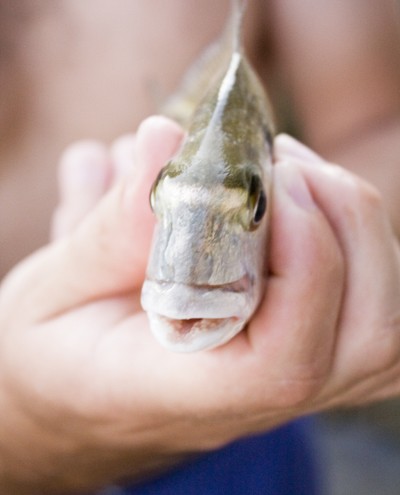 Istria is known as the land of great wines and olive oil. There are several wine roads, so called "La Strada del vino" that will lead you to heavenly places of renowned wine makers and their wines. The domestic wine here is Malvazija, a beautiful white wine. We visited several wineries, one of them being Siljan winery in Segotici (near Marcana and Pula). There we bought Pinot gris and wonderful Merlot, one of my favorites. They also offer home made liquors and olive oil. I have a feeling that almost every house in Istria produces its own olive oil, appreciated by tourists worldwide. It is definitely one of the best products Istria has to offer, together with wines.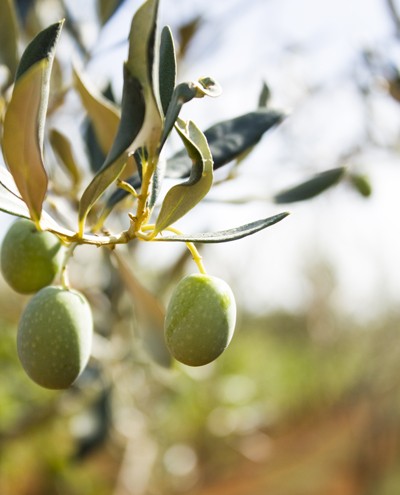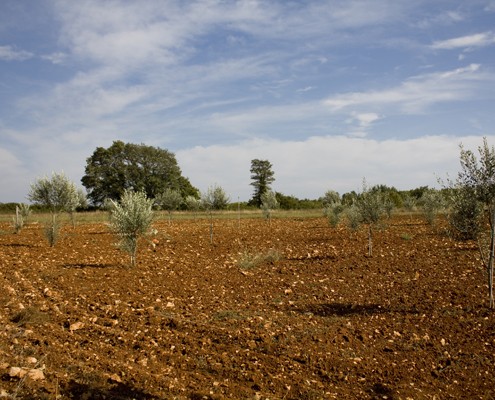 Another beautiful wine tasting experience took place in the town of Marcana (also near Pula). Mr Darko Jukica, a renowned Istrian wine maker, kindly greeted us and invited to a wine tasting. This is one of the best part and peaks of visiting wineries. After talking to these renowned wine makers, looking around the property and the very grapes their wines are made of, taking a tour through wine cellars, enjoying their earthy and fruity scents, you get to sit down on lovely wooden bench in a beautiful stone -built wine tastery and try different wines. Plus hear a story about each sort.
You can find the list of all renowned wine makers and more at vinistra.com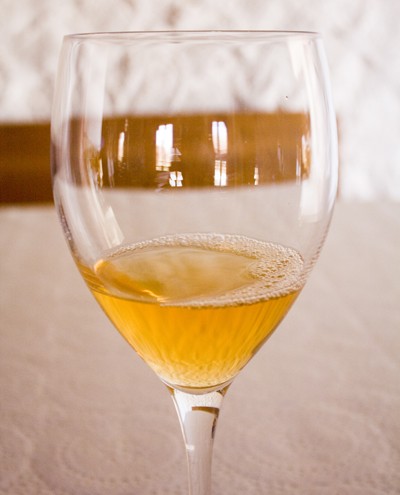 We were stationed in an apartment in Duga Uvala, tourist place near Pula, and visited several towns around it. One of my favorites was definitely Vodnjan, also called Dignano. When you look at the architecture and streets of Istrian towns and cities, you get a feeling you are in Italy. Buildings and a way of life are very similar to the Italian ones.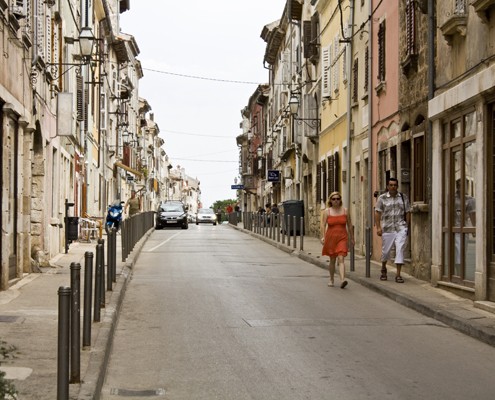 Inside the historic nucleus, the town preserved its characteristic Medieval look with atria and narrow streets, irregularly winding among houses, with facades made of stone, old streets recognizable by their Gothic, Venetian, Renaissance and Baroque style and many churches rich with memories and art.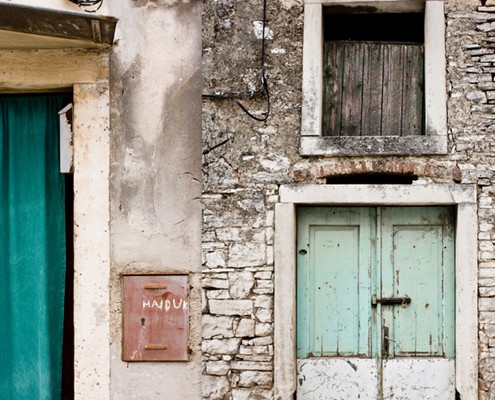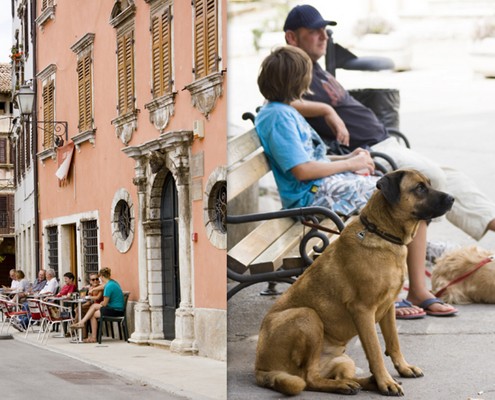 This is an area of ancient traditions developing on the remnants of the prehistoric forts. Its wide area is rich with numerous characteristic kazuni or casite ( little stone houses) built in the technique of dry-stone walls. Each stands as a witness to a millennium of its inhabitants being engaged in agriculture, especially olive-growing and wine-growing. Vodnjan is famous for its exquisite wines and renowned olive oil that have been produced for centuries.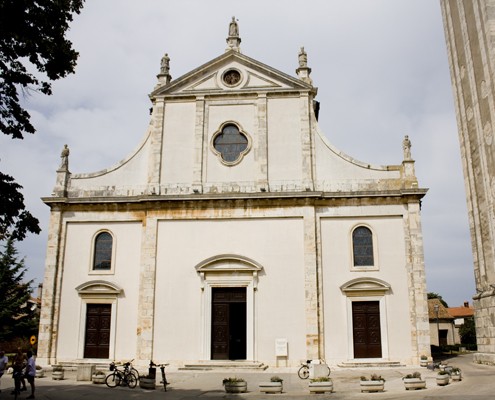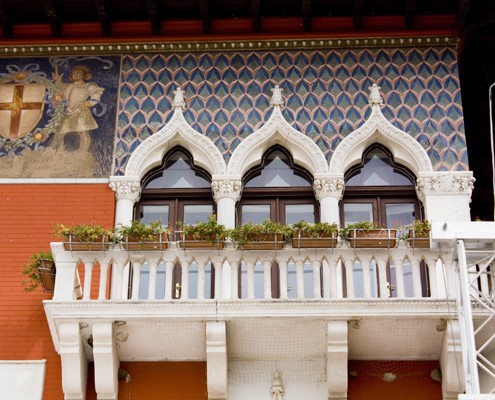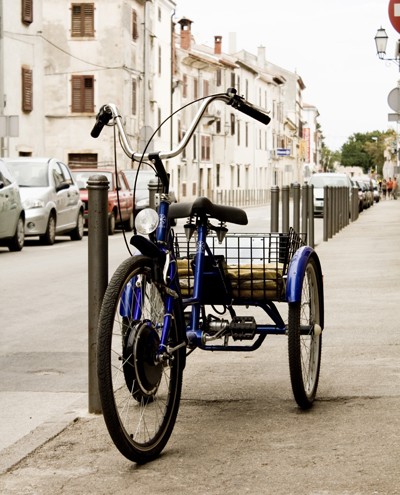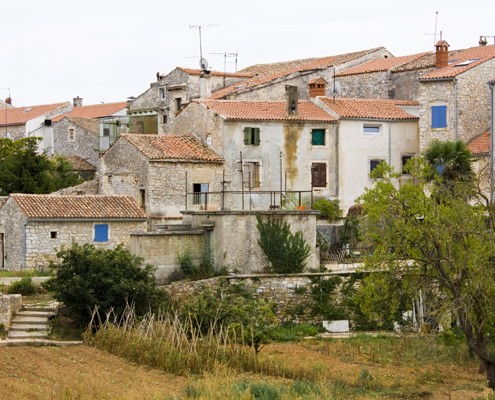 The trip would be incomplete without a visit to the largest Istrian city, Pula. It's a true historical gem, rich with architectural witnesses of the ancient Roman times. Famous for its Roman Amphitheatre and numerous historical structures, it stands to show us the beauty and resourcefulness of ancient times. It feels magical to stroll around this big complex and look at the stone architecture, think about the Romans, emperors, gladiators, lions and shows that were staged in the middle of it. Or sit on a large complex of stone blocks, in the middle of this huge venue, in peace and quiet, under the clear sky.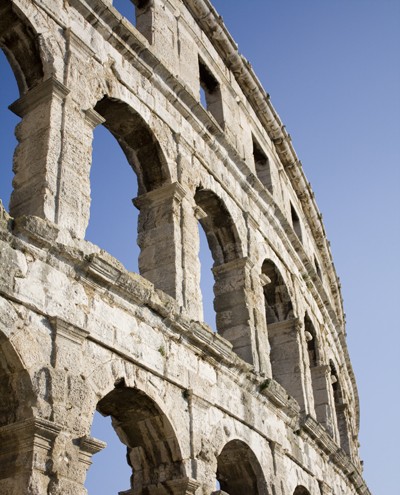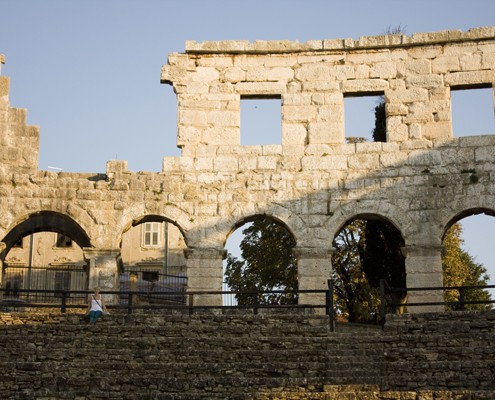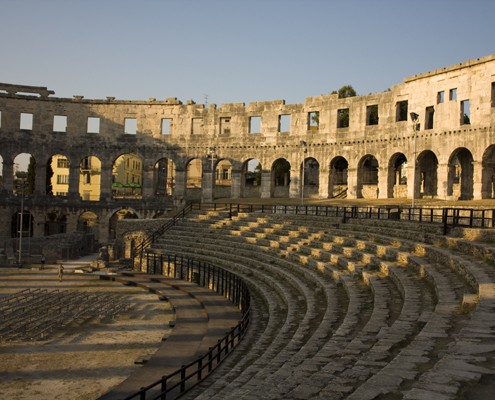 You can see so many remnants of the ancient Romans in Pula. Besides Amphiteatre, you should take a look at the beautiful Temple of Roma and Augusts, as well as The Arch of the Sergii.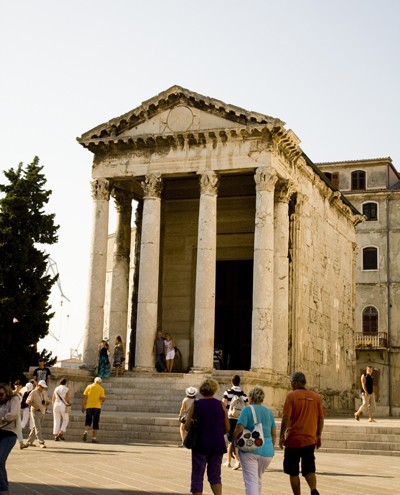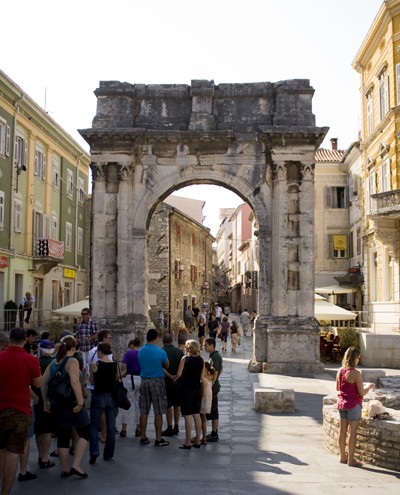 A break had to be made, and what a better way to recollect photos and ponder on the beautiful architecture you had just seen than grab a quick bite at a local bistro. We chose the one near Amphitheatre,  Colosseum. We had seafood risotto with vegetable salad and a refreshingly cold glass of beer.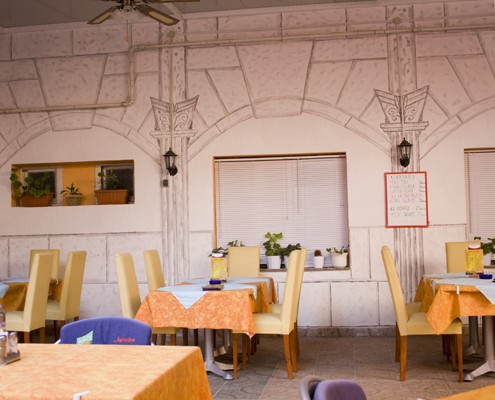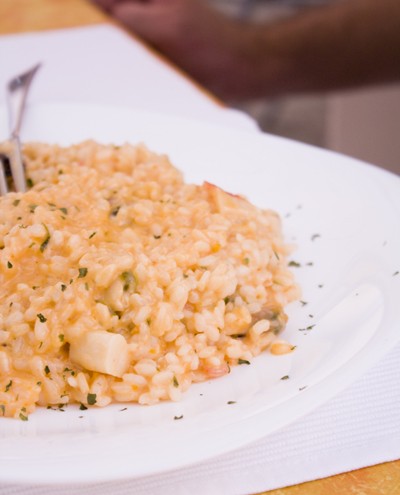 The food was good, but a bit pricey. I would say the price did not quite match the quality, but I guess it is based on the attractive  location-just next to the Amphitheatre.
On the way back to the car, we took a chance to glance at the local products fair that was held on the main square. People displayed stands filled with home made goods and edible souvenirs.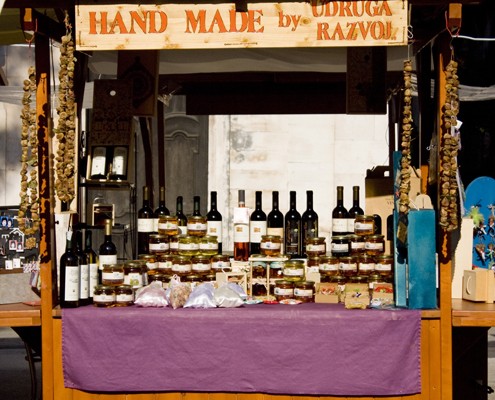 I was offered to try excellent fig liquers, the best honey in the whole world-lavender honey and traditional fruit jams. I ended up buying a jar of lovely fig spread and the so called smokvenjak.
It is a round-shaped fig cake made of dried figs, spices and fig liquer. It is a traditional food of coastal Croatian area, packed with nutritive values that fisherman, farmers and sheperds used to snack to give them strength and as a reward for their hard work. Smokvenjak is one of the most popular traditional Istrian products. Serve it with a sweet fruit liquer as an appetizer or with some goat's cheese as a perfect healthy ending to a meal. The month of September is actually known as the fig month in Istria.
We ended our trip with a visit to two beautiful towns called Rabac and Labin and a great restaurant nearby called "Due Fratelli".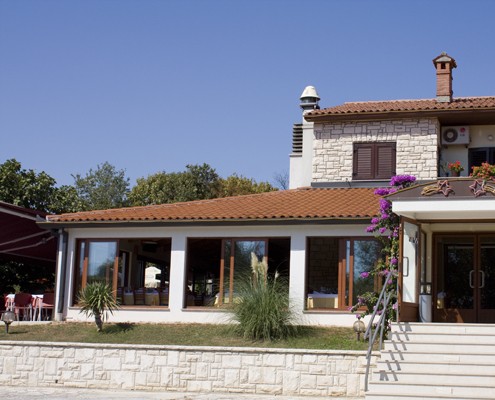 This was on of my favorite parts of the trip, a perfect way to end a vacation-with great food. This restaurant represents authentic Istrian cuisine. When you enter, you are greeted with pleasant smiles of the staff and beautiful interior of bright, soothing colors. You simply feel welcome, happy and calm. And excited about the great food you're about to taste.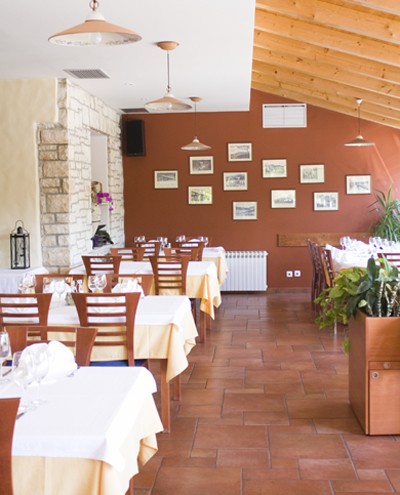 A big stone barbecue is the center of a large area filled with tables. You basically get to watch the food being grilled in front of you. A bottle of olive oil, a sprig of fresh rosemary, sea salt and barbecue tools are placed by the grill.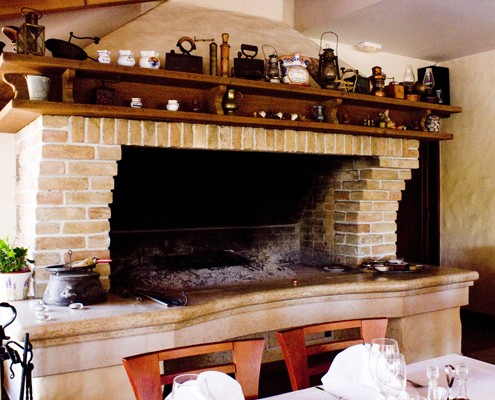 Fresh fish displayed on ice is something that will definitely catch your eye, as well as a lovely selection of excellent wines. I was so appreciative of the fact that this is a family restaurant and they own a fishing boat, so all the fish on the menu is the very fish they catch on their own.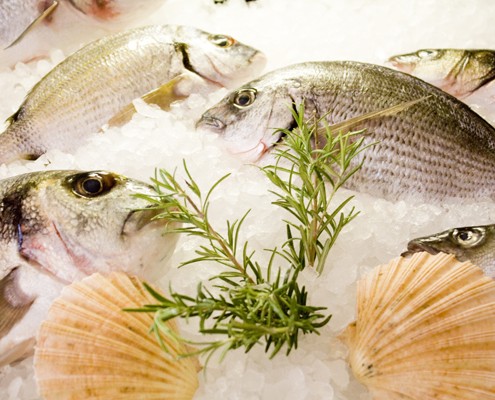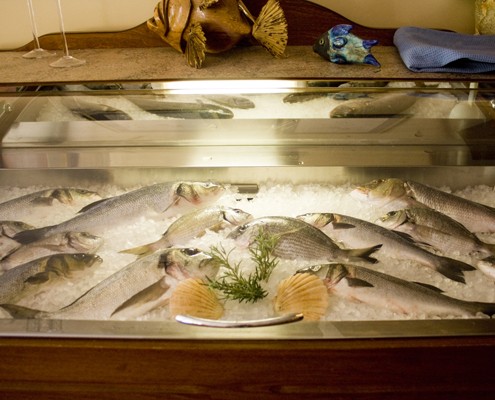 We went with Istrian specialties like fuzi and gnocchi with wildgame. Istrian fuzi is a traditional pasta made with basic pasta dough ingredients and covered with meat sauce. Gnocchi are also very popular here and are originally served with meat sauce from deer, rabbit or boar.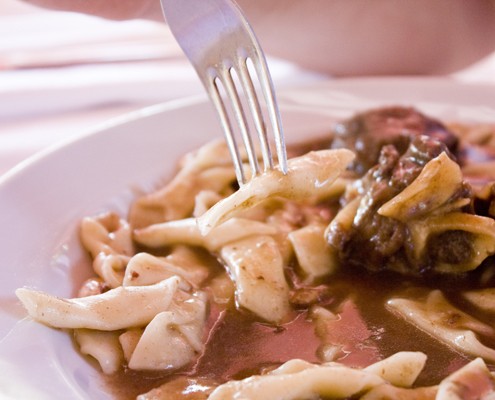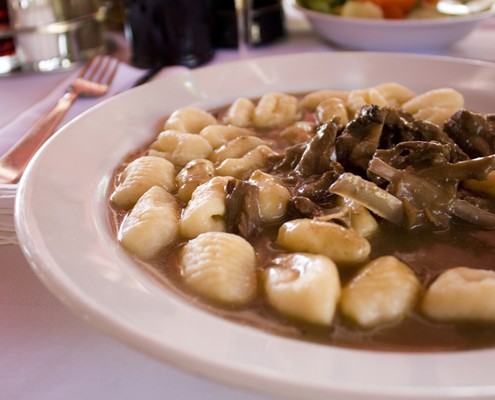 You can check out their website here.
Restaurant "Due Fratelli"
Montozi 6, 52220 Labin, Croatia
Tel.   ++ 385 52 853 577
Gsm. ++385 98 366 498
Gsm. ++385 98 334 030
e-mail: due-fratelli@pu.t-com.hr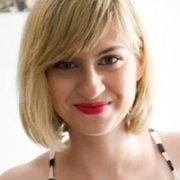 Tamara Novakoviç
Tamara Novakovic is a passionate self-taught cook, food blogger, freelance food writer and photographer behind bite-my-cake.blogspot.com. Her life journey has led her through Faculty of Humanities in Zagreb, Croatia to discovering passion for making cakes. She is currently a weekly food columnist for Croatian newspaper V magazine and food magazine Repete.