Vietnamese Grilled Lemongrass Beef – Served 3 Ways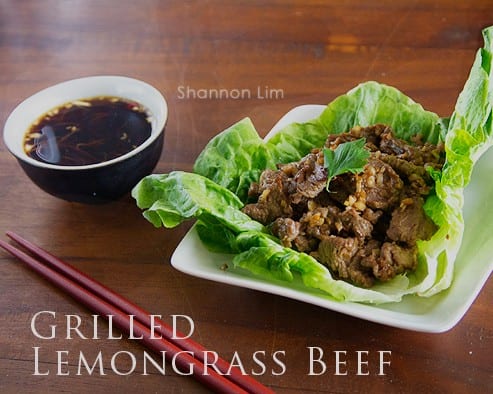 Vietnamese Grilled Lemongrass Beef – tangy delicacy seared beef, tender and fragrant with smoky char from the grill.
By Shannon Lim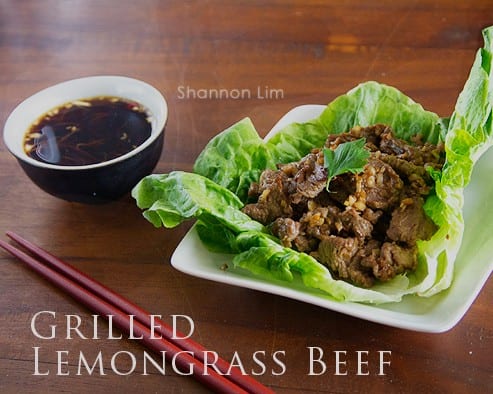 Vietnamese cuisine has a feel and a rhythm of its own. A sublime tone of delicious, delicate, calmly satisfying flavors, whether in their soothing Pho soup or these pretty rice paper wrap rolls. Years ago, a Vietnamese friend came for a visit and her mom prepared us an unforgettable Vietnamese meal. One of the dishes she made is the easy mouth-watering Grilled Lemongrass Beef that can be made into 3 signature Vietnamese dishes in a jiffy.
In Vietnamese homes, these tangy delicacy of seared beef are grilled at the table over a clay charcoal stove. They were tender and fragrant with a little bit of smoky char from the grill.  No worries if you do not have a grill. The marinated meat is also great grilled on toaster oven or pan seared in a pan. The whiff of lemongrass from the grill is simply irresistable!
If you are not a fan of beef, this lemongrass marinate works amazingly with chicken and pork as well. These beef strips is great as appetiser by itself or served with a plate of steamed rice.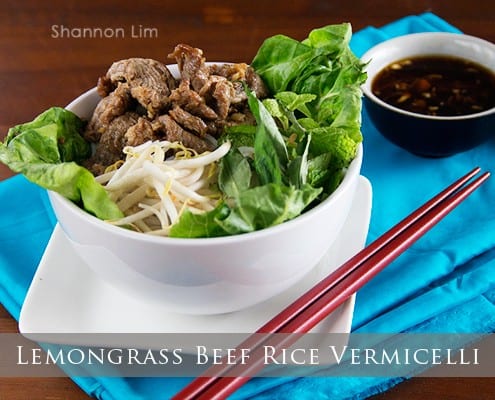 Or as a topping for cold noodles named Bun (dry rice vermicelli in Vietnamese dipping sauce). This dish is a signature dish of Vietnam. It's so versatile and easy to prepare, the savory grilled lemongrass beef with refreshing herbs and vermicelli is refreshing and appetizing. It's not only tasty, but very healthy and comes with all sorts of vegetables and herbs. This is a noodle dish that is both filling and satisfying.
See Also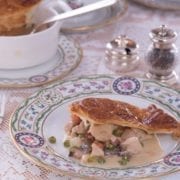 Or can be served in Rice Paper Roll. If you've never wrapped with Vietnamese rice paper, don't be daunted. Wrapping rice paper rolls is like making a spring roll or burrito and you don't have to make it perfect.
Whether it's dining with family or having friends over, rice paper roll DIY makes a fun social activity at the dining table. Place salad, beef, rice paper, and dipping sauce on the table. Prepare a few deep plates or large bowl deep enough to drip the rice paper in, filled them with hot water. Invite guests to dip the edge of the rice paper in the water and turn to wet evenly. Place the salad and beef and roll up like a spring roll.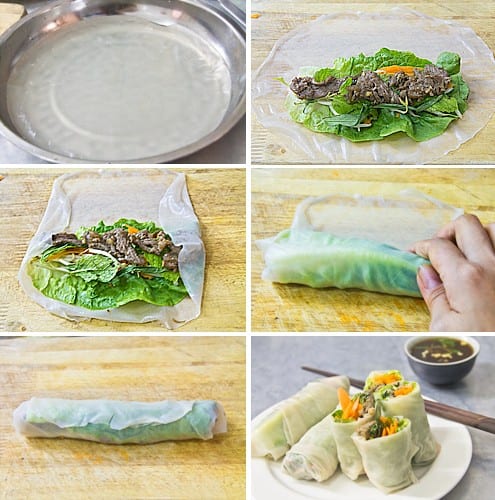 3 Signature Vietnamese Dishes with Grilled Lemongrass Beef
Vietnamese Grilled Lemongrass Beef - tangy delicacy seared beef, tender and fragrant with smoky char from the grill. Great as appetiser by itself; or served or over a plate of steamed rice; or over cold rice vermicelli; or wrapped in rice paper rolls
Recipe Type:
Appetiser, Main
Ingredients
Grilled Lemongrass Beef
400g Beef Chuck or Flank - slice thinly against the grain
1 teaspoon Sugar
3-4 large cloves Garlic - finely minced
2 stalks Lemongrass - finely minced
1 tablespoon Fish Sauce
1 tablespoon Soya Sauce
2 tablespoon Vegetable Oil
Vietnamese Dipping Sauce
½ Red Bird Chili - thinly sliced
½ tablespoon Minced Garlic
2 tablespoons Fish Sauce
1 juice of large Lime
Rice Paper Rolls with Grilled Lemongrass Beef
400g Grilled Lemongrass Beef
12 Rice Paper Rounds (Large)
12 sprigs fresh Mint Leaves
1½ cups (120g) Bean Sprouts
1 large Carrot - Grated
12 sprigs fresh Sweet Basil
1 head Lettuce - leaf separated and tear of stiff spine
Vietnamese Dipping Sauce
Vermicelli with Grilled Lemongrass Beef
200g Rice Vermicelli
1 cup Fresh Mint
1 cup Sweet Basil
1 cup Cilantro
1 large Cucumber - peeled, halved, seeded and sliced into 1 inch matchsticks
1 cup Bean Sprouts
1 Lime - cut in wedges
Grilled Lemongrass Beef
Vietnamese Dipping Sauce
3 tablespoons crushed unsalted Roasted Peanuts
Instructions
Grilled Lemongrass Beef
In a wide, shallow bowl, whisk together sugar, pepper, garlic, lemon grass, fish sauce, and 2 tbsp. olive oil.
Add beef, toss to coat, and refrigerate 2 hours.
Grill the beef, or pan-sear in an oiled pan, until just done, about 20 seconds on each side or to desired doneness.
Serve garnish with cilantro and Vietnamese dipping sauce.
Vietnamese Dipping Sauce
Add all ingredients to a small bowl and whisk to combine.
Rice Paper Rolls with Grilled Lemongrass Beef
Place grated carrots in a bowl of dipping sauce.
Prepare a deep plate or large bowl deep enough to dip filled with hot water. Dip one rice paper round into bowl of warm water until soft (it takes a minute or two). It's ready for wrapping and rolling when it's pliable and slightly tacky – like a Post-it note.
Place lettuce leaf horizontally on the edge of rice paper near to you. Top with 2-3 mint leaves, grated carrots, sprouts, basil and beef. Don't over stuff or the roll may burst, just have a bit of each ingredient for the flavour.
Fold in the two side flaps, and then roll the entire thing up. This is for close ended roll.
Repeat Step 3 to make a total of 12 rolls.
Serve with Dipping Sauce.
Vermicelli with Grilled Lemongrass Beef
Boil vermicelli according to package instructions. Drain and rinse with cool water.
To assemble: First noodles; then herbs (loosely torn), cucumber and sprouts; then garnish with crushed peanuts. Squeeze lime juice, add dipping sauce into the bowl and toss all the ingredients.
Shannon Lim-de Rooy
Shannon's kitchen is her playground and creative outlet, where she loves to experiment with recipes. As a Malaysian, her food influences are mainly Malay, Chinese and Indian cuisine but her curiousity in other culture lead to cross cultural cooking. On her blog JustAsDelish.com, she pursue her mission in creating healthy and delish food.