You won't even miss the meat in these jackfruit enchiladas that are filled with spiced and pulled jackfruit with a homemade chipotle enchilada sauce.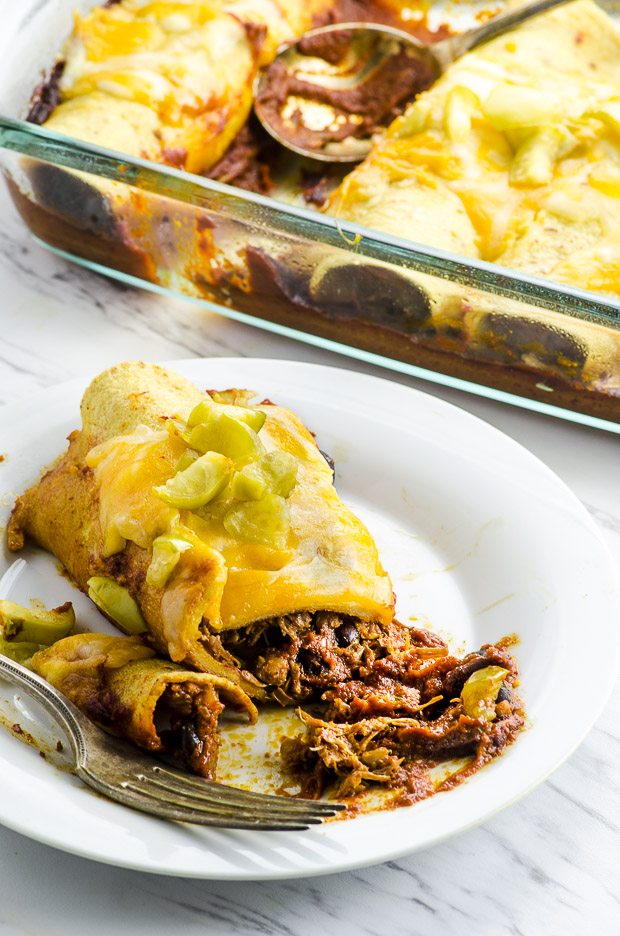 Most of you have probably heard/eaten/cooked with jackfruit by now, right? My question is, how many of you have actually prepared it from scratch? I mean, buying it fresh at the store, prepping it at home and cooking it. If you have, you probably know where I'm going with this….
Removing the flesh is a little bit time consuming, but not a big deal overall. Cooking it however, that's where the challenge is. And not because it's difficult, or takes a long time. It's the SMELL.
I always thought Durian (jackfruit's almost identical twin) was the smelly one… I was totally wrong. And I learned that the hard way. I could smell it a little bit while prepping it, but it wasn't too bad. But the second it hit the pan, OH MY GOODNESS. I know I'm more sensitive to smells than most people. But believe me when I tell you, this was BAD. The best way I can describe is a combination of trash left outside on a hot day and dirty gym clothes. And not only it invaded the entire first floor of my house, but it lasted for days. I could not get rid of it!
Needless to say, that was the end of jackfruit for me. Fresh, anyway. Of course I've seen it packaged in the store many times, but I've never found a brand that's kosher, so I just gave up on it.
Until we received some from our friends at Edward & Sons. I have to admit, I was a little bit skeptical at first. I did not want to open that package, afraid it would stink up my kitchen again once I started cooking it… But I put on my big girl pants and opened it anyway. And I'm really glad I did because I was pleasantly surprised. No funky smell, at all. And the texture and flavor were great!
See Also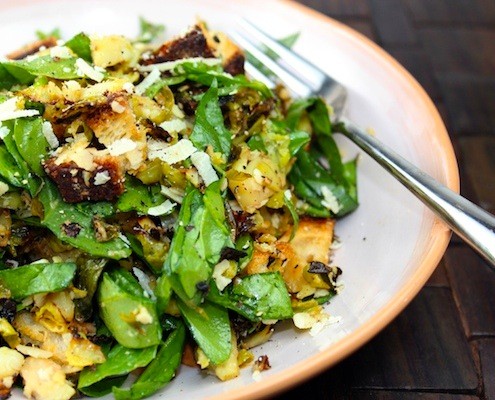 We made these Pulled Jackfruit Enchiladas with it and they turned out delicious. You can make them vegan or vegetarian, using dairy or vegan cheese, and gluten free by using corn tortillas. Just a warning though: this chipotle enchilada sauce is HOT. For a milder version, cut t he amount of chipotle pepper in half, or omit it altogether.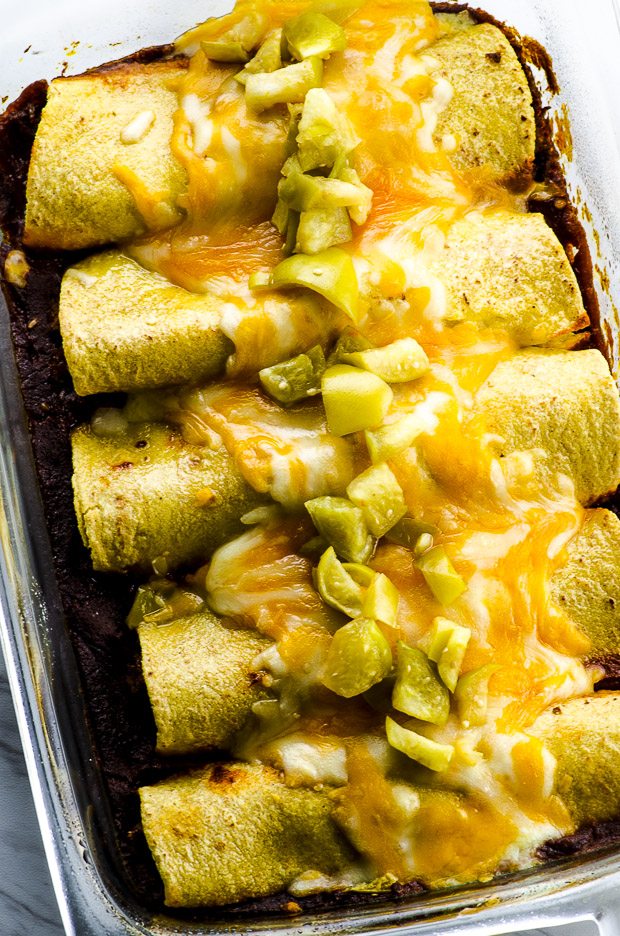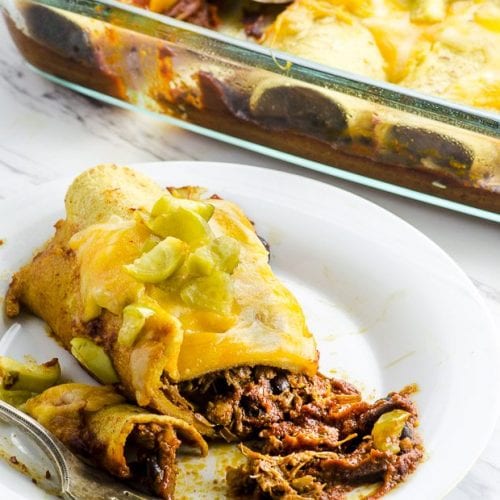 Vegetarian Jackfruit Enchiladas
Vicky Cohen and Ruth Fox
You won't even miss the meat in these jackfruit enchiladas that are filled with spiced and pulled jackfruit with a homemade chipotle enchilada sauce.
Cuisine
Mexican, Vegetarian
Ingredients
½

tbsp

olive oil

7

oz

packaged unseasoned shredded jackfruit

1

tbsp

chopped cilantro

1

garlic clove

crushed

¼

tsp

smoked paprika

¼

tsp

salt

? cup canned black beans

5

corn and wheat tortilas

1

cup

regular or vegan Mexican blend shredded cheese

2 to

matillos

chopped
For the Chipotle Sauce:
1

tbsp

olive oil

6

oz

tomato paste

2

tsp

chili powder

½

tsp

smoked paprika

½

tsp

garlic powder

½

tsp

cumin

¼

tsp

salt

¼

tsp

cinnamon

1

cup

water

2

tsp

agave

2

chipotle peppers in adobo

SEE NOTE
Instructions
Preheat the oven to 350F. Coat an 11x7x2-inch baking dish with cooking spray.

To prepare the jackfruit, heat the olive oil in a large non stick skillet. Add the jackfruit, cilantro, garlic, smoked paprika and salt and cook ever medium heat for 3-4 minutes. Stirring occasionally. Remove from heat, add t he black beans, mix well and set aside

To prepare the sauce, heat the olive oil in a medium sauce pan. Add the tomato paste, chili powder, smoked paprika, garlic, cumin, salt and cinnamon and cook over medium heat for 2 minutes, stirring constantly. Add the water and agave, reduce the heat to medium-low and cook for 3 minutes

Transfer the sauce to a blender, add the chipotle peppers and blend until smooth. Add 2 tablespoon of sauce to the jackfuit and mix well. Spread the remaining sauce on the bottom of the baking dish.

Fill each tortilla with 2 heaping tablespoons of the jackfruit mixture. Roll them and place them seam side down on the baking dish. Cover with aluminum foil and bake for 30 minutes. Remove the aluminum foil, sprinkle the cheese and tomatillos on top and bake, uncovered, for another 5 minutes. Serve warm
Notes
This amount of chipotle peppers yields a hot enchilada sauce. For a milder option, use half of the amount or omit it altogether.
Vicky Cohen and Ruth Fox
We are two sisters born and raised in Barcelona, Spain, with Sephardic and Middle Eastern roots. We grew up eating the best, most flavorful, comforting home-cooked meals prepared by our mom, who taught us everything we know about cooking. When we moved here to the U.S. we felt it was really important to keep our traditions and background alive, and we've done so by sharing it with everyone we've met throughout the years. After all, what better way to make new friends and share our love and culture than through food, right? Our friends have come to enjoy our food and gatherings so much that are always asking us for our recipes. That inspired us to start a cooking blog called "May I have that recipe" where we share recipes we've created inspired by our multicultural background.