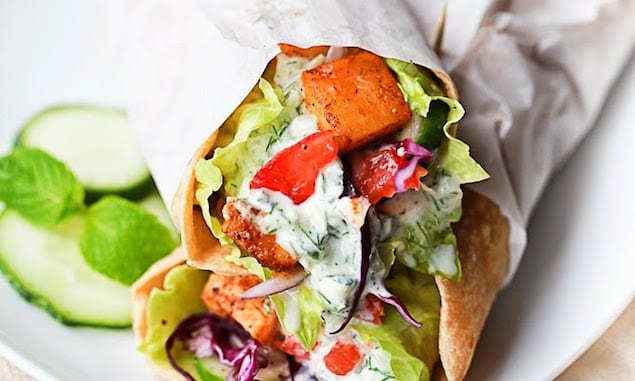 A meatless gyro with tzatziki can be just as satisfying when made with paneer, a cubed cottage cheese. Toss in a beautiful blend of spices for a flavorful, vegetarian wrap.
By Nandita Nataraj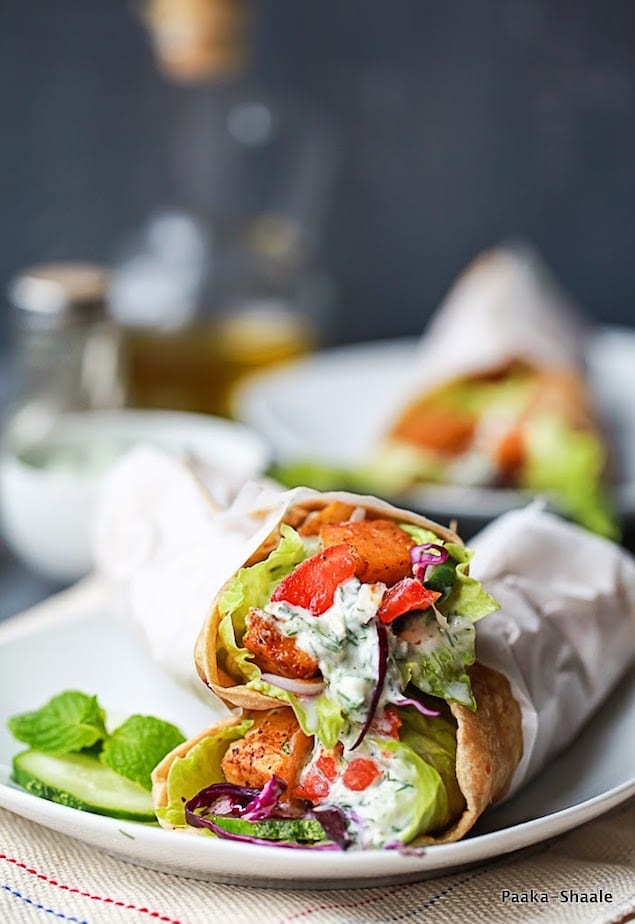 Ohhhh these wraps are good!!! By good, I mean they are finger licking good. This recipe for the vegetarian version of the Greek gyros is adapted from the book called exciting vegetarian cuisine around the world by Asha Khatau. Although the recipe seemed great, I could not help but make a few changes to the recipe to suit my plate and my pantry requirements. Traditionally the gyro is made with meat that is cooked in a vertical spit. The cooked meat is then sandwiched between lettuce and vegetables and then topped with tzatziki. The salad and the meat are then placed in pita bread. But in this vegetarian version, the meat is replaced with Paneer or cottage cheese which is marinated in a mixture of olive oil, garlic and Greek seasoning blend. Since I couldn't find Pita bread nearby, I decided to wrap them in whole wheat rotis.
The end result was just fantastic. The cottage cheese was soft and juicy with the marinated seasoning and then there were these crunchy vegetables from the salad. The tzatziki complimented the flavors beautifully. What's more?? I would definitely make this version of Gyros again and again. Do give this a try and let me know what you think.

Vegetarian Gyros
A meatless gyro with tzatziki can be just as satisfying when made with paneer cheese. Toss in a beautiful blend of spices for a flavorful, vegetarian wrap.
Cuisine:
Greek, Vegetarian
Ingredients
Whole wheat tortillas or rotis- 4 large
Lettuce leaves- 4-6
Onion- 1 med, thinly sliced
Tomato- 1 large, chopped fine
Cucumber- 1med, thinly sliced
Tzatziki- 1 cup
Cottage cheese- 200gms, cubed
Greek style seasoning- ¾tsp (recipe follows)
Garlic- 2 cloves, crushed
Vinegar- 1tsp
Olive oil- 1tbsp
Salt and pepper to taste
For the seasoning blend:
Paprika powder- ¾tbsp
Cinnamon powder- a pinch
Nutmeg powder- a pinch
Onion powder- ½tbsp
Cumin powder- ¼tsp
Mixed herbs- ½tsp
Salt- ½tsp
Freshly ground black Pepper- 1tsp
Instructions
Seasoning Blend
Combine all the ingredients and blend them in a blender or spice grinder to a fine powder and store in an air tight container.
Place the cottage cheese in a bowl, and sprinkle half a table spoon of the seasoning mix, crushed garlic, vinegar and olive oil. Mix well set aside for an hour.
Cook the mixture over medium heat till a little dry. Remove from heat and set aside.
Gyros
Heat the tortillas or rotis slightly on a hot girdle and place it on a work surface. Place a lettuce leaf in the center of the tortillas and place 3-4 slices of cucumber on the lettuce.
Put some sliced onions, chopped tomatoes and sprinkle some slat and pepper.
Spoon a table spoon of cottage cheese mixture over the sale and top it with tzatziki.
Roll up the tortilla into a cone and secure it with a tooth pick.
Serve immediately with tzatziki on the side
Nandita Nataraj
Nandita was born, bred and spread in India, but right now lives in Tanzania where her quest for simple and exotic pleasures of food led to the creation of the blog Paaka-Shaale. She believes that food is not just a means to feed a body. But it is also meant to appeal the mind and satiate the soul.