A wonderful recipe for melt-in-the-mouth chocolate delights. Naturally gluten free, vegan, and raw, they're simple and so delicious.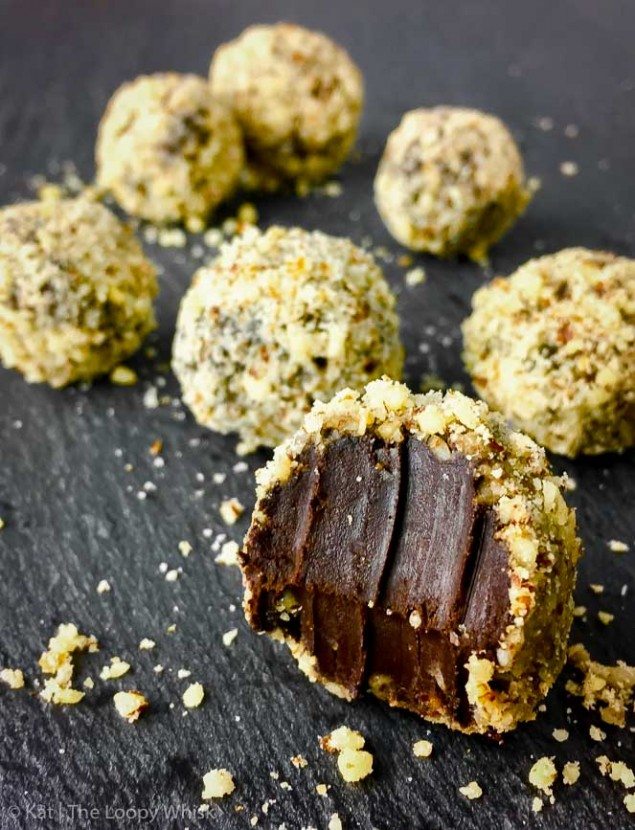 So, Christmas and New Years has come an gone. Now we need recipes that are perfectly comforting for the winter ahead.
Whether you will be hosting or attending a winter party, spare a thought for your vegan friends. Too often, they have to resort to nibbling on decoratively cut up veggies, fruit, or some questionable store-bought snacks. Which is really not fair if the rest is enthusiastically stuffing their faces with a wide selection of canapes, cookies, and chocolate delicacies. (And there's only so much hummus one can take.) Instead, surprise them with these raw vegan chocolate truffles that are also refined sugar- and gluten-free. And easy and quick to make. But just a heads-up: make enough for everyone, not just the vegans. Because these beauties are out of this world! A-and, you'll get extra bragging points because you'll be able to tell everyone how you've made them from scratch. And I don't mean from 'I-have-melted-chocolate' scratch. I mean from scratch scratch.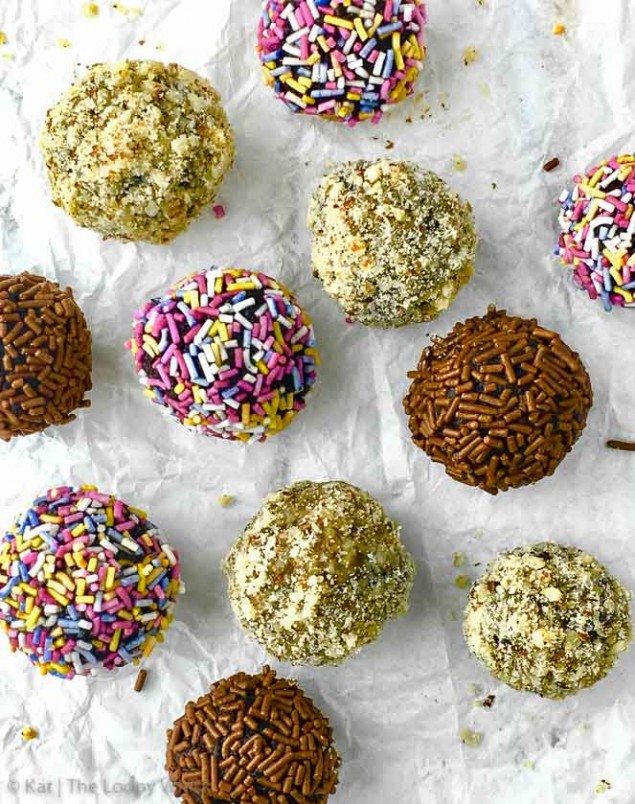 You see, there's no actual chocolate involved in these chocolate truffles. Confused? Thinking I've lost my marbles? I haven't, pinky promise. You see, these raw vegan chocolate truffles require only 5 ingredients: coconut oil, salt, honey, cocoa powder, and water. That's it.
We'll be melting coconut oil over gentle heat (the smells, oh, the smells!), mixing in a pinch of salt (for what is chocolate without a pinch of salt, I ask you), and adding honey. Now, check with your vegan friends, but I'm fairly sure there's a heated debate going on about whether or not honey is vegan. If your vegan friends are on the of-course-it-isn't-vegan-what's-wrong-with-you-I'm-beginning-to-question-our-friendship side, use agave syrup. There, friendship saved and my good deed of the day done. We'll whisk the mixture to evenly distribute the salt and honey or agave syrup, and then add cocoa powder. Then we'll whisk and whisk and whisk and end up with this silky smooth melted chocolate that will make your mouth water and your fingers itch to have a taste. By dipping in a finger. Duh. We're way too cool for spoons.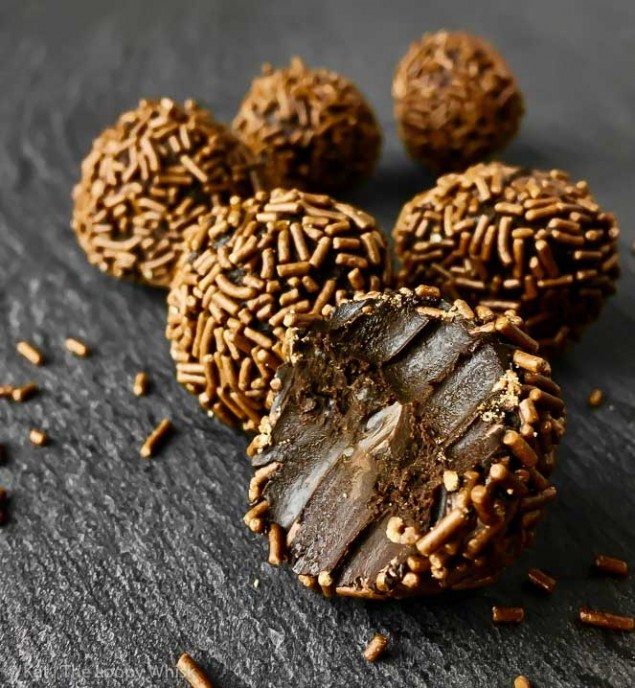 See Also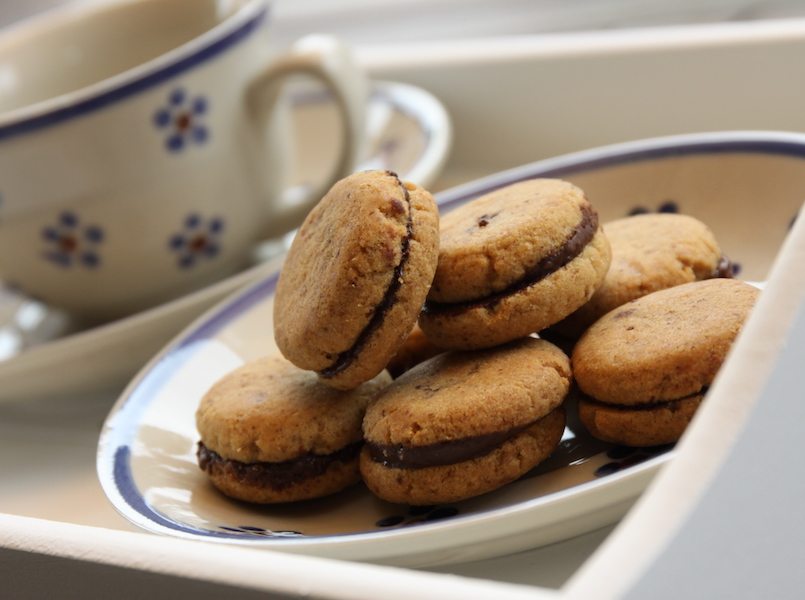 Now comes the magic part. The abracadabra ingredient? Cold water. We'll whisk the chocolate concoction white adding the cold water, 1/2 tsp at a time. And you'll notice how the chocolate begins thickening and then it will look like it's splitting and it won't look at all appetizing and then you'll be leaving mean comments on this post and making me cry chocolate tears of utter devastation. Sorry, got carried away there. Oops. Anyway, if it looks like the whole mixture is splitting, it's precisely the way it's supposed to be. Really. Really really. Just cover the bowl with cling film, put it into the freezer and breathe. Deep breaths now. I guarantee your vegan friends will still love you at the end of this chocolate undertaking.
After about half an hour in the freezer, the chocolate is set and see – I told you it's gonna be OK! It has set into this delightfully dense but silky smooth melt-in-your-mouth chocolate block. All that remains to be done is to shape the chocolate into individual truffles, and roll them in whatever your heart desires. Dessicated coconut? Ground hazelnuts? Cocoa powder? The world's your oyster (but oysters are not a suitable topping). But whatever you choose, keep it vegan-friendly.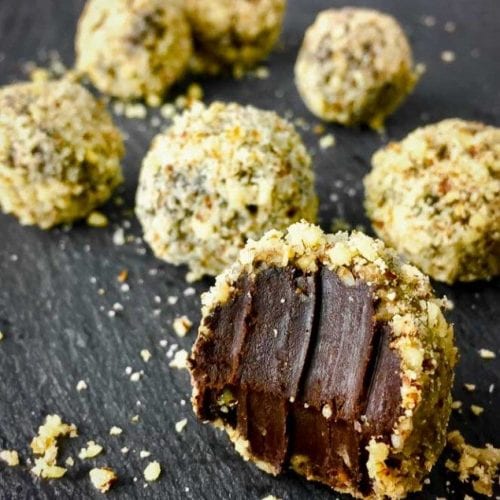 Katarina Cermelj
Course
Chocolate, Dessert
Ingredients
For truffles:
½

cup

coconut oil

¼

tsp

fine sea salt

¼

cup

clear honey

Note 1

1

cup

cocoa powder

6½

tsp

cold water
Optional add-ins (Note 2):
¼

tsp

cayenne pepper

1

tsp

vanilla extract

¼

tsp

peppermint extract
Possible toppings:
dessicated coconut

ground hazelnuts

cocoa powder

sprinkes

vegan
Instructions
Melt coconut oil in a pot on low heat, then transfer it to a bowl.

Add salt and honey, and whisk until evenly distributed in coconut oil.

Add cocoa powder and whisk thoroughly.

While constantly whisking, add cold water, ½ tsp at a time. (Note 3)

Cover the bowl with cling film and put into the freezer for about 30 minutes or until the chocolate mixture sets solid.

Take the chocolate mixture out of the freezer. It should be solid, but malleable.

Spoon about 1 tbsp of the chocolate mixture and form it into a round truffle with your hands.

Roll each truffle in the desired topping.

The truffles keep well in the fridge or in a cool dry place for about a week an a half. They can be kept in the freezer for up to a month. (But only if you forget all about them, otherwise... yeah, bye bye truffles.)
Notes
Note 1: If you or your vegan friends are on the honey-is-not-vegan side, use agave syrup.
Note 2: These are suggestions if you don't want just "plain old" chocolate truffles. Not that chocolate could ever be plain. But to spice things up, play around with flavours – the possibilities are pretty much endless!
Note 3: The chocolate mixture will at this stage look as though it has split. It's supposed to look that way – no cause for concern!
Katarina Cermelj
Katarina is a Chemistry PhD student at the University of Oxford. At least by day – by night she transforms into a food blogger, baking up a storm, taking way too many close-up photos, and writing up blog posts for "The Loopy Whisk" (click on 'website' below to take a look!). Her recipe repertoire ranges from buttery, sugary goodness to raw vegan gluten- and refined sugar-free treats. But they are all joined by a common thread – an emphasis on easy and (mostly) quick recipes that are above all else about flavour. Oh, and she talks (writes) a lot.