When laying the cookies on the baking tray, let's just say that you "accidentally" leave some of this batter in the bowl to taste because it's that good.
By Sami Berger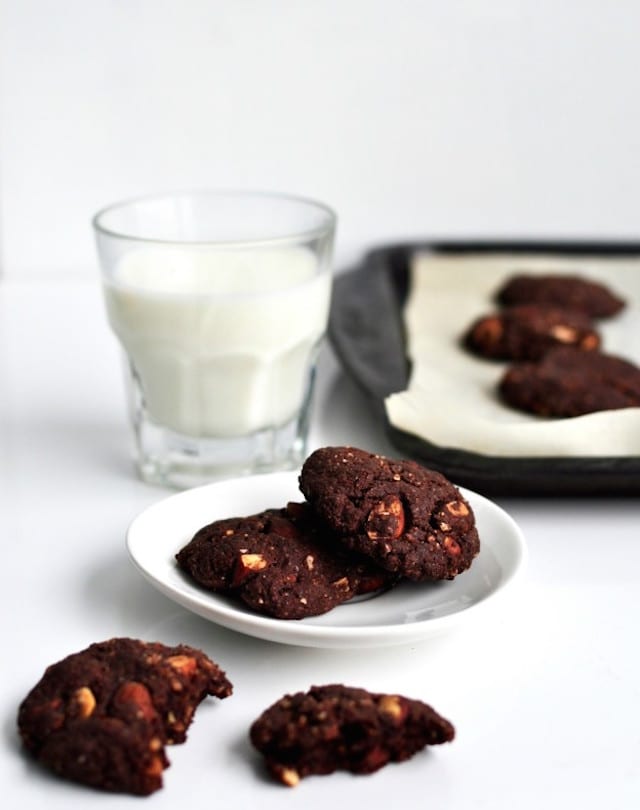 The other day I was looking for a super healthy cookie recipe and I found this recipe, which was great as a snack, but it did not resemble a cookie in the slightest. It was more of an oat bar. While I appreciated that there were tons of whole, hearty ingredients in them, they didn't taste like a dessert at all and would never satisfy my mid-afternoon sweet tooth (in retrospect, I think that the "cookie" referred more to the shape of the bar than anything else). Although, on a side note, I did find it hilarious that my boyfriend was enjoying crumbling them into his breakfast cereal until I told him there were beans in them, at which point he was less keen on the "bean cookies". Needless to say, I was still on the lookout for a healthy-ish cookie. I eventually came across a version of these vegan chocolate almond cookies on My Darling Lemon Thyme. Of course, the chocolate and almond combination immediately caught my eye: they are a match made in heaven. On top of that, I liked how the only non-vegan ingredient in the original recipe was an egg, which is pretty easy to replace. Even though I'm not vegan, I like to have a few vegan desserts in my arsenal to share with friends that are or bring to potlucks.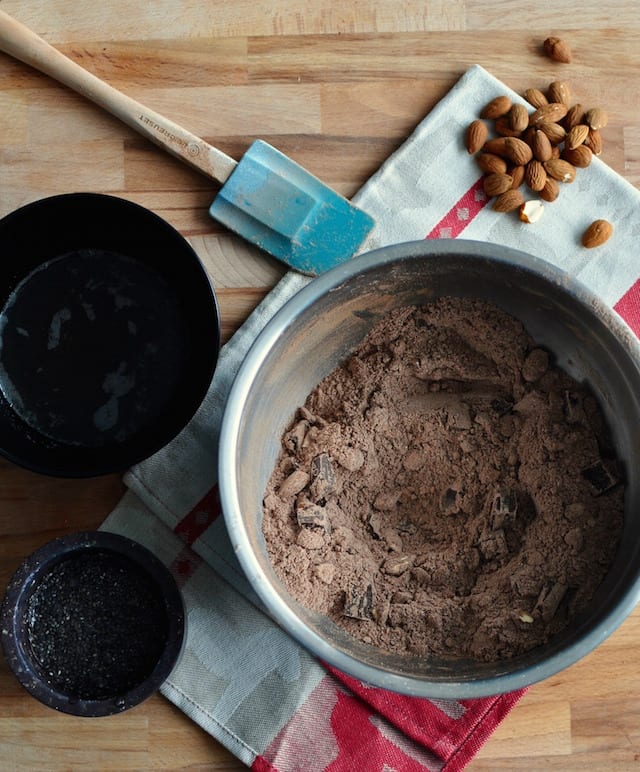 These cookies are certainly not as wholesome as the "bean cookies" (I wouldn't be crumbling these in my cereal!) but I think the ingredients are a good balance between being sort of healthy and unhealthy enough that these actually still taste like legitimate cookies. I actually think this was one of the best raw cookie dough batters I have ever tasted. I definitely encourage you to eat any of the extra 'scraps' while you're forming the dough to be baked. My favourite part are the roasted almonds and chocolate chunks that stud the chewy cookies. The smell coming from the almonds after I roasted them in the oven was absolutely heavenly. I don't roast my nuts often enough but it's so easy in this case because you are already pre-heating your oven to bake the cookies. These are best eaten pretty quickly (within one or two days) so I just left a few out for us to snack on and put the rest in the freezer for another time. I love having cookies in the freezer for when the craving hits and these cookies are particularly delicious when they are eaten frozen. Of course, if you're not like me and like your cookies unfrozen, you can just let them thaw on the counter for a mid afternoon snack or warm them up in a toaster oven.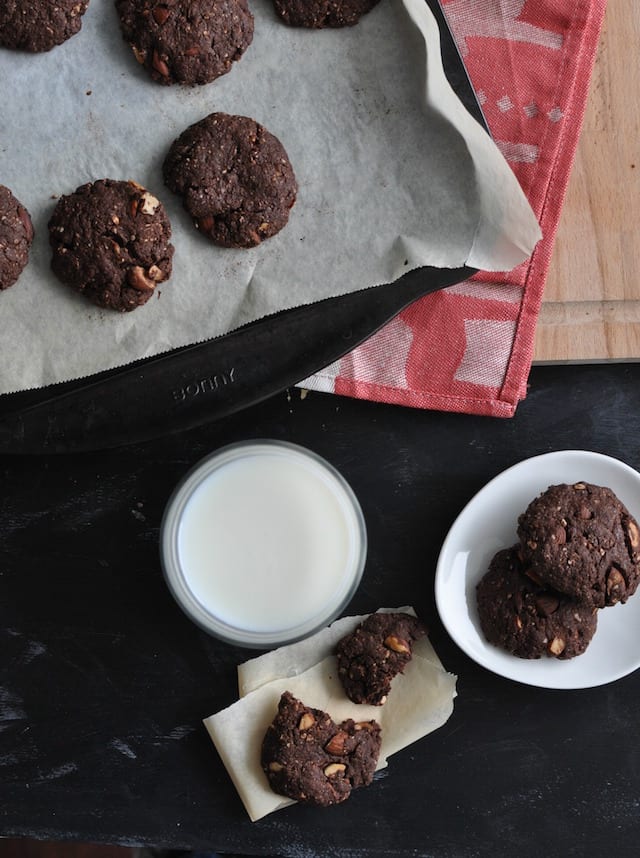 See Also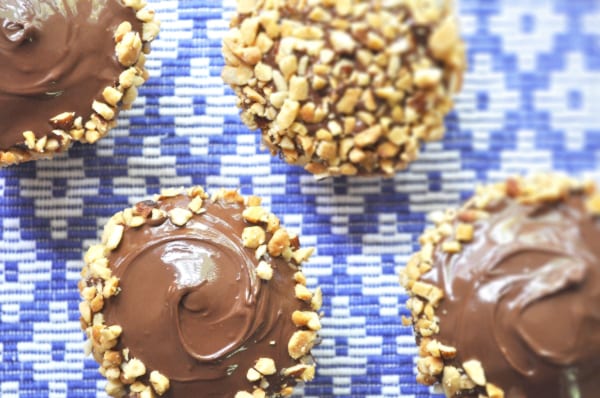 If you decide to make these, I have a couple of tips to keep in mind. Make sure to flatten out your cookies before you bake them (into the shape of a cookie) because they don't flatten out in the oven. Also, as always, it's sort of difficult to tell when chocolate cookies are done because they are already brown. I cooked mine for exactly 10 minutes and that was fine. You definitely don't want to overbake these, you don't want them to dry out. When I took mine out of the oven they still felt soft to the touch but the bottom felt like it was set. Overall, these cookies are super easy to pull together and perfect to have around the house.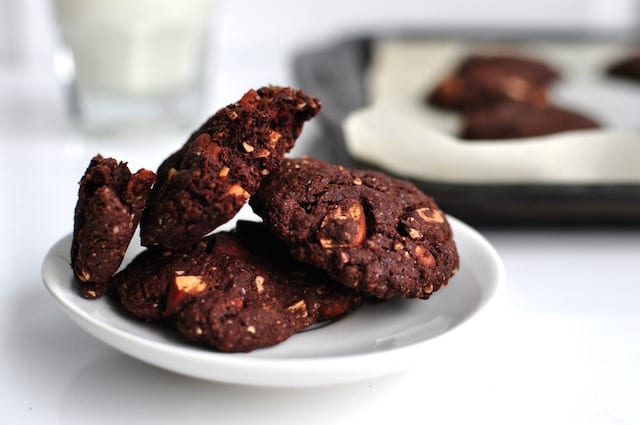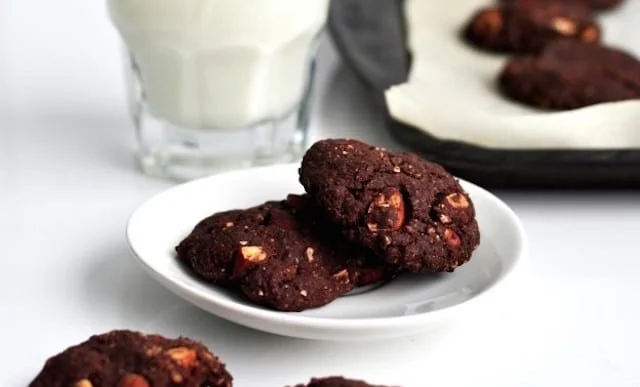 Vegan Chocolate and Almond Cookies
Sami Berger
Ingredients
1

tablespoon

chia seeds

lightly crushed

3

tablespoons

water

1/2

cup

55g almonds, ground

3/4

cup

85g all purpose flour

1/2

cup

55g cocoa powder

1/4

cup

35g coconut sugar

1/4

cup

55g granulated sugar

1

teaspoon

baking powder

1

teaspoon

ground cinnamon

1/8

teaspoon

salt

1/2

cup

55g roasted almonds, roughly chopped

1/2

cup

80g, dark chocolate, roughly chopped

1/4

cup

melted coconut oil

1

teaspoon

vanilla extract

1-2

tablespoons

almond milk
Instructions
Preheat oven to 350F

If you're roasting your own almonds, put them in the oven for about 10 minutes, until they start to darken and become fragrant.

In a small bowl, mix together the chia seeds and water. Set aside so that the mixture turns into a gel.

In a large bowl, whisk together ground almonds, all purpose flour, cocoa powder, coconut sugar, granulated sugar, baking powder, cinnamon and salt.

Mix toasted almonds and chocolate into dry ingredients.

In a small bowl, mix together coconut oil, vanilla extract and chia gel.

Mix wet ingredients into dry ingredients.

Add 1-2 tablespoons of almond milk until the mixture is fully moist and will stick together (but not super wet or sticky).

Roll 2 tablespoons of the dough into a ball and flatten into a cookie shape (the cookies don't flatten in the oven). Continue until you run out of dough (you should get about 16 cookies). Place cookies on a parchment lined baking tray.

Bake cookies for about 10, until just cooked through. They should still feel soft but if you lift one up, the bottom should be fully set.

If you're roasting your own almonds, preheat oven to 350F and bake them for about 10 minutes. They should smell really fragrant.

If you're making your own almond meal, grind almonds into a food processor until finely ground but don't over process or it will turn into almond butter!

Make sure your chocolate is 100% vegan if that's a concern for you.

If you're not eating these cookies right away, I highly recommend that you store them in a plastic bag in the freezer. They freeze wonderfully and they are the type of cookie that are delicious to eat when they are still a bit frozen (if you like that sort of thing).

Let the cookies cool on the baking tray.

Store in an airtight container for a few days or, if you want them to keep longer, store them in the freezer.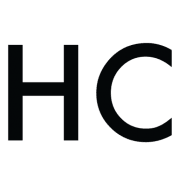 Sami Berger
Sami Berger is the author of My Second Breakfast, a mostly healthy, mostly vegetarian blog. Inspired by her travels and life in a new city, My Second Breakfast is a space to tell stories and experiment with sometimes new, sometimes familiar and most importantly, always delicious, flavours.