Vada – Fried Lentil Savory Dumplings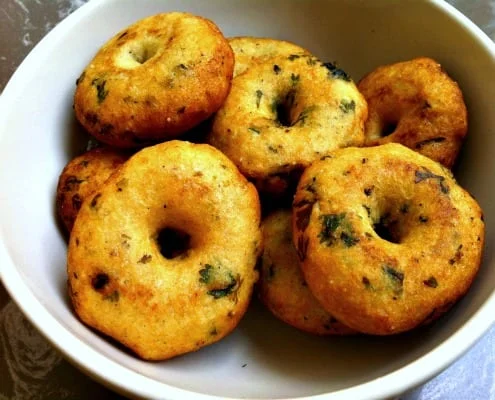 These savory little fried dumplings from Suchitra Vaidyaram are absolutely delicious.
By Suchitra Vaidyaram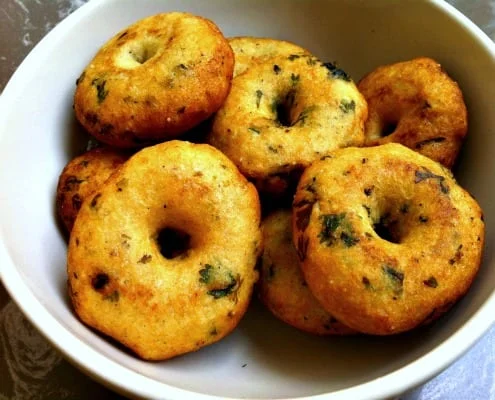 So, all sweet and no spice makes me a sad gal…I am partial to savory items than sweet. A typical south Indian starter is the fried lentil savory dumplings. Also known as vada, it is versatile and can be accompanied with almost anything – even yoghurt. It resembles a doughnut and can be made with different variety of lentils. Shaping the doughnut is a bit tricky – thanks to the sticky dough. The texture of the dough makes it tough to shape it in a nice round doughnut shape. The work around is to keep your hands watery so that the dough doesn't stick to your hands when you shape the dumplings. Once you shape the dough, you need to immediately drop in hot oil to make sure it doesn't stick to your hands. You can mix onions or chopped cabbage to the dough and give it an extra veggie flavor. If you struggle with the shape (which i did, till I practiced to get it right) simply roll the dough into small balls and fry them.
Vada - Fried Lentil Savory Dumplings
Absolutely yum, savory lentils dumplings
Author:
Suchitra Vaidyaram
Ingredients
Urad dal ( 1 cup)- white gram/lentils
2 tsp rice
chopped curry leaves (2 -3 leaves/optional)
chopped coriander leaves (1 tbsp)
salt according to taste
black peppercorns (1/2 tsp)
1 green chilli
Instructions
Soak urad dal (lentils) with rice in water for an hour.
Drain the water completely after an hour and blend it in a mixer to a smooth dough by adding green chillies, pepper, salt.
The batter should be firm and not watery.
Avoid using water when blending in the mixer.
Once batter is ready, add chopped curry and coriander leaves and blend it well.
Heat oil in a wok.
When the oil is hot, shape batter like a doughnut with hole in middle and fry it to golden brown on both sides.
Enjoy it piping hot with coconut chutney!
Suchitra Vaidyaram
Suchitra is passionate about cooking flavorful food and loves fusion cooking. She records her recipes on the blog Flavors, which focuses on simple and easy to cook recipes.