What is a macaroni and cheese cake? It's simply one of our favorite foods baked and presented in an impressive way. We're in!
This Macaroni and Cheese Cake is one of the two recipes I made for the kykNET program Kook en Geniet that will
be broadcast this Wednesday evening at 8pm.
Kook en Geniet is probably South Africa's most iconic cookbook, first published in 1951 and has sold more than one million copies since then. kykNET commissioned a show looking at how the book has influenced and still influences people from various fields of the food world. I share my episode with my friend Isabella Niehaus and our episode looks at the world of food photography and blogging.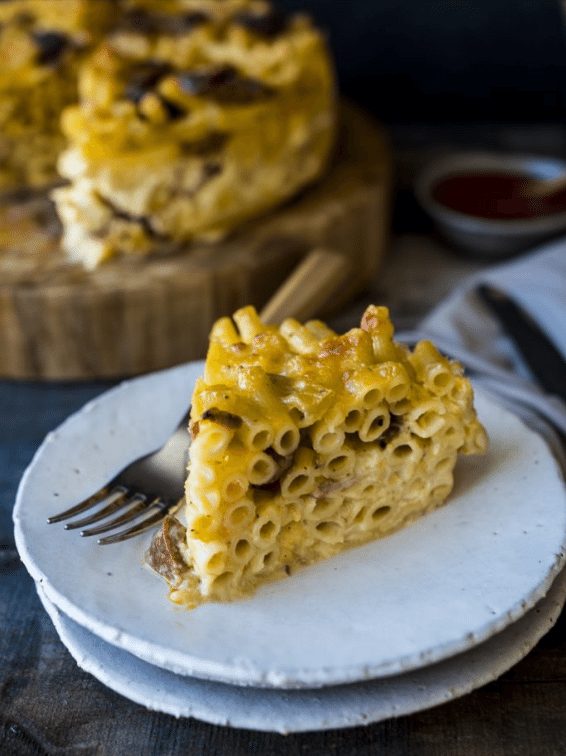 I grew up with Macaroni and Cheese made with an egg custard (a version that unfortunately no longer appears in the book) rather than a cheese sauce and I used that as inspiration for this dish. And as I seemingly am unable to leave a recipe in its original state, I thought that baking the macaroni and cheese in a cake tin would make for an impressive way of serving it.
As impressive as it looks, the dish can be a bit of a mission to make. Especially if your loose bottomed cake tins are not 100% watertight, which the majority seem to be. Until I was introduced to these leak proof Pushpan cake tins last week that I think might solve that problem. But as luck would have it there seem to be no stock anywhere at the moment.
It is an egg custard that is much thinner than a cake batter so it will leak through the base of the tin while baking so the best way to solve that is to line the bottom of the cake tin with at least 2 sheets of baking paper.
Then you will need to preheat a pizza stone or baking sheet for about 20 minutes at a very high temperature and place the cake tin directly on the super hot sheet or stone ensuring that the custard starts setting from the bottom immediately.
There might be a bit of custard leaking from the tin but it sets quickly ensuring that not much more comes out
while baking.
See Also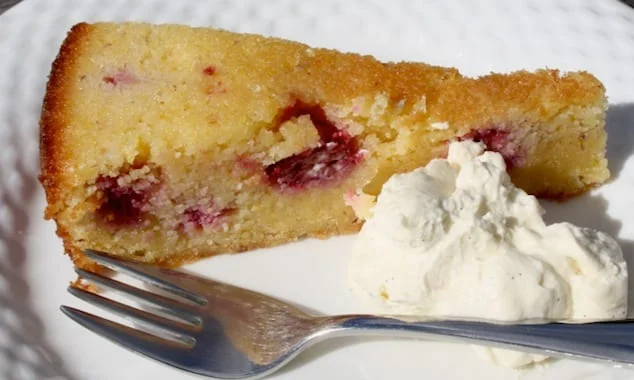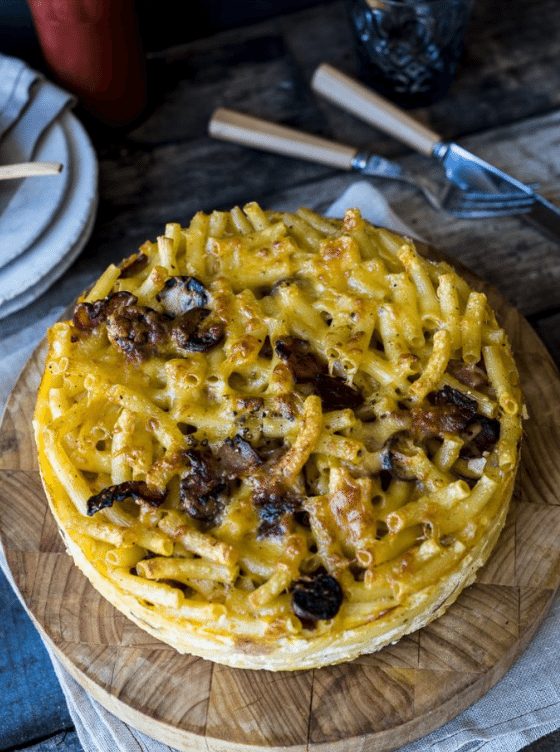 I made the cake extra delicious by adding some chorizo and bacon for more flavour but you can omit that. Cool the cake down to room temperature, wrap in foil and it will good enough to take with you on a picnic. And make sure to serve it with a good dollop of All Gold tomato sauce, just the way I have eaten it all my life. (You can of course replace the custard with a rich cheese sauce and bake it in a tin). Enjoy!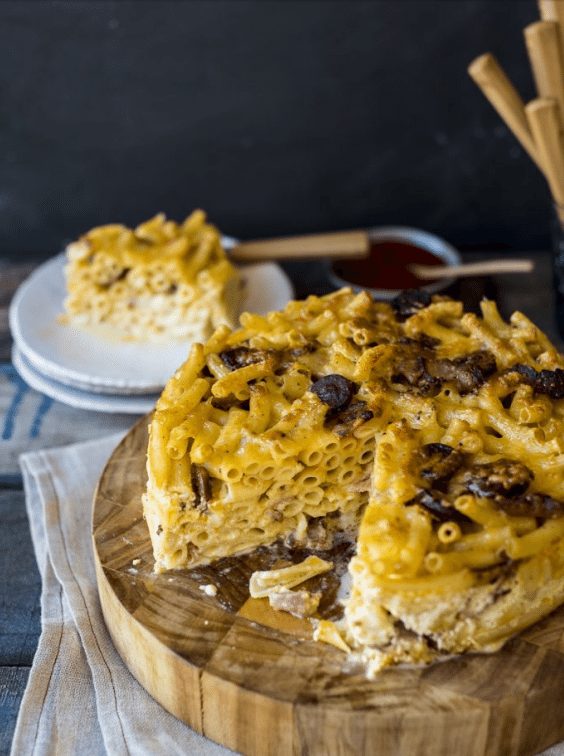 Print
Ultimate Comfort Food: Macaroni and Cheese Cake
400 g

dried macaroni
Oil for drizzling and frying

200 g

chorizo (sliced)

250 g

streaky bacon (chopped)

1

L milk

5

large eggs

5

ml mustard powder

5

ml salt

5

ml ground black pepper

250 g

grated Kasselshoop Cheddar Cheese

75 g

parmesan cheese (grated)
Instructions
Preheat oven to 240 degrees and heat a pizza stone as per manufacturer instructions or a
baking sheet large enough to hold a 22cm loose bottomed cake tin for 20 minutes until very
hot
Boil the macaroni in salted water for 5 minutes less than the packet instructions
Drain, drizzle with a bit of oil and set aside
Heat some oil in a pan and fry the chorizo until the fat has rendered and the chorizo is
crispy
Remove the sausage and fry the bacon in the fat until crispy
Remove from the pan and set aside with all the rendered fat
Line the base of a 22cm loose bottomed cake tin with 2 layers of baking paper, letting the
paper stick out from the rim.
Grease the sides of the cake tin
Whisk the milk, eggs and seasoning
Mix the macaroni, chorizo, bacon and most of the cheese (leave some cheese to sprinkle
on top)
Spoon the macaroni into the cake tin, pressing down firmly as you spoon the mixture into
the tin
Remove the pizza stone or baking sheet from the oven and turn the temperature down to
degrees C
Place the cake tin on the hot stone or sheet and slowly pour the milk mixture over the
macaroni
Bake for 30 minutes or until the egg mixture has set (loosely cover with foil if the top
browns too much)
Remove from the oven and let the cake stand for about 5 minutes
Use a knife to gently loosen the edges and remove from the cake tin
Remove the baking paper, place on a serving plate and serve
Hein van Tonder
Hein is a Gourmet Hunter and Food Writer and Photographer in the beautiful city of Cape Town, South Africa. He has always loved food and photography is a relative new hobby. He uses his blog heinstirred.com to combine his love for photography with his other love, eating. He has fully embraced the food media world with his styling, photography and words being seen on various digital and traditional platforms.