PARTNER POST — TrySwedish Thursdays is a culinary collaboration between TrySwedish, West Sweden, Gothenburg and Västerbottensost cheese. Discover the edible delights of the land.
Street food of Gothenburg is on an exciting path to feed the region's hungry eaters who now have a variety of awesome and inexpensive local eateries to choose from.
By SKAFFERI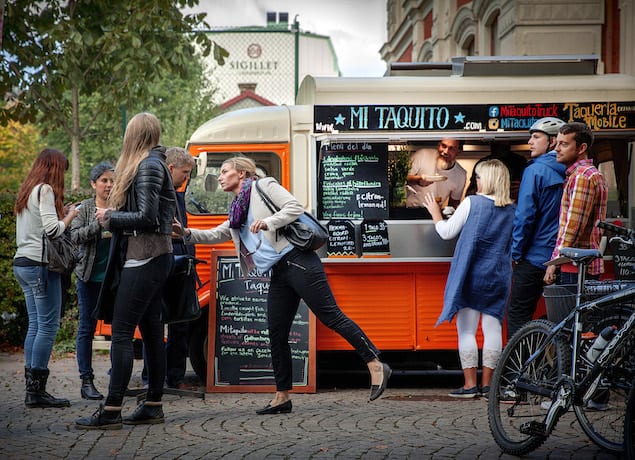 The trend for food trucks, like much else, comes from the USA, where Brooklyn hipsters introduced moving eateries as part of the boom in new restaurants. The new creativity in fast food across a variety of cuisines has attracted well known chefs to get behind the wheel and deliver thought out meals to the streets.
Now it's Gothenburg's turn. Variety and high quality are key ingredients of this kind of street meal, with everything from sausage and mash with a side of Peruvian-style ceviche to prime rib burgers with hand-made Mexican tacos. Behind the truck cabs you'll find ambitious chefs and serious food enthusiasts who aim to provide easy access to the art of fine food. They're reaching out with well-prepared meals using organic and seasonal ingredients.
The efforts to bring good street food to Gothenburg have not gone unnoticed, but first the ambition had to be channelled into a palatable format. To kick start the creation of opportunities for really great fast food and get everyone working in the same direction, they needed leadership. Torbjörn Kvarefelt and Sam Friberg, project managers at Business Region Göteborg worked closely with community licensing departments and their vision to provide a great diversity of locally produced and environmentally friendly street food.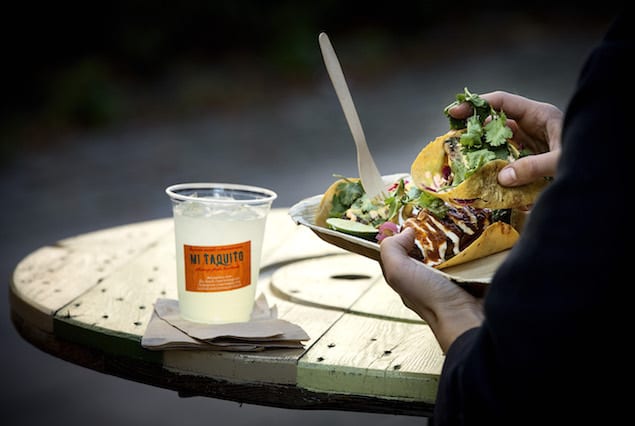 "We have all worked hard to develop the locations and just the very idea of food trucks. It took a few months, but it has been the fastest political and strategic management scheme ever delivered in Gothenburg", says Sam.
The result was that ten wagons received a provisional fourteen-month trial period to prove themselves.
"Next year, if everything goes well there may be more food trucks in Gothenburg", adds Torbjörn. Food trucks located in different places in the city, such as Gustav Adolfs Torg, Kungstorget, and Lindholmen. These and other locations can be found by clicking here.
In addition to the trucks, look out for Fhoods, a different kind of eatery in a container unit on Esperantoplatsen. Teo Landahl says that this similar, but different, concept of his has room in the market alongside mobile trucks. The gray, white, and dark blue container has been sprayed with graffiti. It's a fast food place with attitude that perhaps belies the carefully selected ingredients that it uses within. Fhoods cooks with organic meat from a small nearby farm and locally produced cheeses from Sivans dairy, in Varaslätten. The cheeses end up served on the morning sandwiches and the meats can also be purchased to take home. Slow-cooked meat from Västergötland becomes delicious sausages in the small kitchen.
"Don't judge us by appearance, is our message. The quality of our food should speak for itself. We have also chosen to work with different chefs so we are not tied to one particular cuisine", says Teo, "There's no set menu, but we do use ingredients that have to travel as short a distance as possible."
Kasper Aase, who runs Fhood alongside Teo, has made a commitment to being environmental sustainable and says that Fhoods wants to source everything as locally as possible.
"We are constantly striving to work organically and sustainably. My brother-in-law is a farmer and we buy whole beef cattle from him", says Kasper.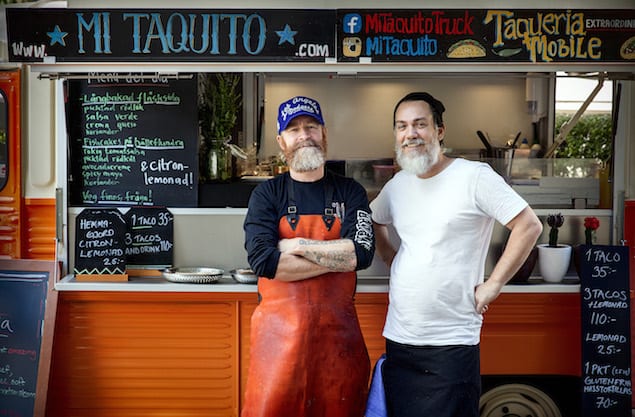 For those in search of new taste sensations, there are handmade tacos at Mi Taquitos. Kristoffer Holm offers soft tacos with different fillings of fish, vegetables, or meat. His slow-braised brisket comes from the same organic meat supplier as Fhoods and is flavored with home-grown coriander and spicy salsas. Kristoffer also likes to feature fish that has been caught in the area.
"I have a small crop of vegetables and herbs in Mölndal and I make everything from scratch. I've always liked Mexican food. It's so colorful and complex and most people don't realize how fresh good Mexican food can be," comments Kristoffer.
Mi Taquito is one of the trucks with a definite retro touch that lights up the street with is bright orange color.
"It's a Citroen Hy van that used to be around everywhere in France and it's one of London's most common food truck vehicles", says Kristoffer
See Also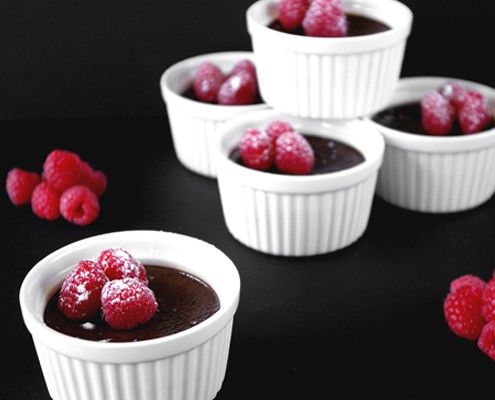 The chefs behind Spria have the same commitment to being organic as Mi Taquito and Fhoods. The three friends driving Spira wanted to create slow food — really good home prepared food, but served fast. For Rasmus Strand, Mats-Peter Kristiansen and Fredrik Robertsson, it seemed obvious and natural to choose the best ingredients. Even the name of their truck, 'Spira', means natural growth.
"We want to convey a feeling of being natural, alive, vigorous. We want to get across that our meat comes from animals that have been reared well and have had a good life", explains Rasmus. "For us Spira chefs, the food truck is not just a fun thing. We want to bring a new kind of food sense to Gothenburg."
Besides his job on the food truck, Rasmus works at Restaurant Vann in Brastad. This restaurant is certified by A Taste of West Sweden (find more deliciously certified restaurants in Sweden here) for its sustainability policies and use of local ingredients. Rasmus and his colleagues have a commitment to regional produce and just want to bring clear, powerful, and pure tastes to their customers.
"There are not enough good lunch places in Gothenburg. We can be a positive addition here, offering Swedish ingredients with flavors from around the world. And our accessibility is another great advantage that is important", comments Fredrik.
Hot sandwiches on warm, crusty bread, filled with slow braised chicken, pickled vegetables and a touch of fresh mayonnaise or house-smoked sustainably sourced cod. These are just a few examples of what to expect from the chefs on the Spira truck.
"I'm very positive and think that food trucks are of their time and here to stay", adds Rasmus.
Images by Stefan Edetoft
Find out more at www.goteborg.com and www.westsweden.com.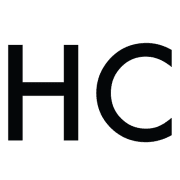 Honest Cooking
The Honest Cooking editorial team handpicks inspiring culinary stories to share with you that we think are beautiful. We strive to create an inspiring place for culinary exploration, salivating recipes, interesting personalities and stories.