With a chocolate cookie layer, chocolate mousse and whipped cream, this ethereal, layered chocolate cream torte dessert is rich and creamy. Plus, it's stunning to look at too.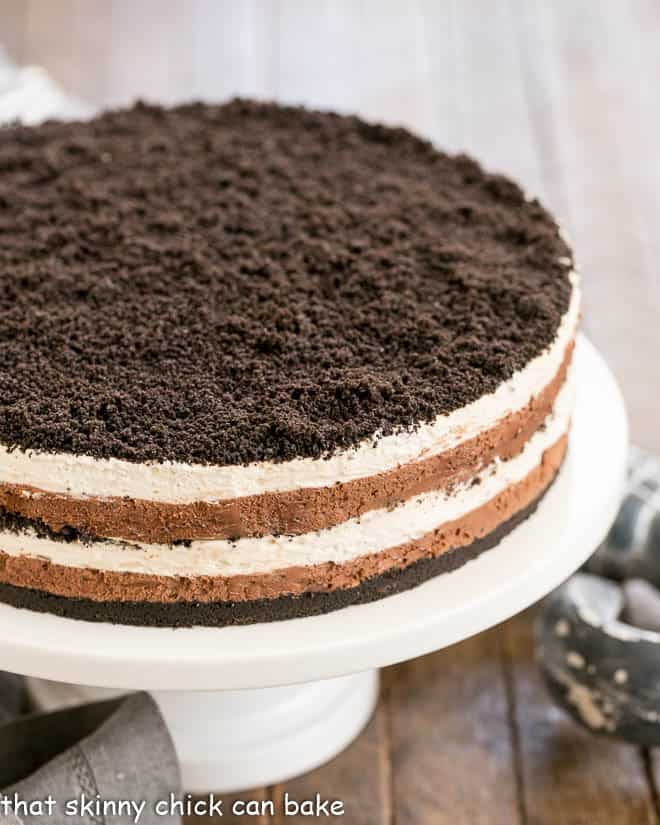 The inspiration for this luscious Layered Chocolate Cream Torte was found in an old Bon Appetit recipe printed off in 1999. Of course, there were many tweaks to be made to this chocolate torte. The "mocha" part of the original recipe would put the hubby into a tizzy, so a majority of the instant coffee powder was removed, along with the touch of cinnamon.
This chocolate torte had so many key components that were ideal for a holiday dessert. chocolate cookie crust, Italian meringue, chocolate mousse, and whipped cream. Focusing on the chocolate instead of the mocha made it perfect for my crew!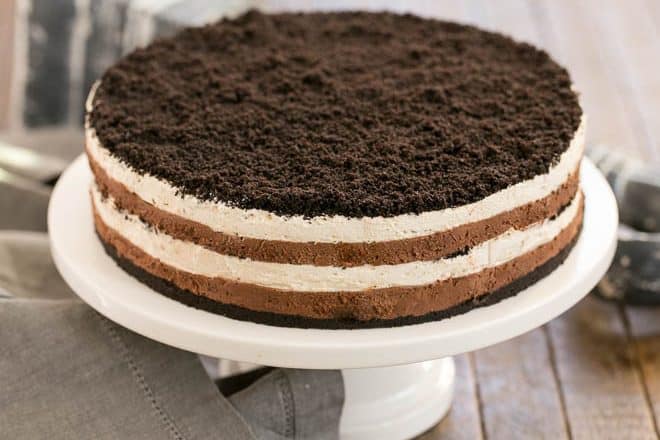 What Is a Torte?
Good question as I was wondering the same thing. In my opinion, this could easily be called a chocolate mousse cake, but instead it received the torte moniker.
One source calls a torte a sweet cake or tart. OK, I'd say this layered chocolate cream torte qualifies as a sweet cake. Another (Wikipedia) gave more specifics: A torte is a rich, usually multilayered, cake that is filled with whipped cream, buttercreams, mousses, jams, or fruits. Tortes are commonly baked in a springform pan. It's rich, multilayered with whipped cream and mousse. Again, I think this dessert is officially a torte or cake, though probably not a tart.
Tips
Before you start, separate the eggs and let the egg whites sit at room temperature to take the chill off. Egg whites whip best when at room temperature.
PRO-Tip: Pop the bowl for whipping the cream into the freezer. This extra step will help stabilize your whipped cream.
Use chocolate bars, like Ghirardelli, for your semisweet chocolate. They will melt much smoother than chocolate chips.
PRO-Tip: Adding coffee or espresso powder to chocolate is a wonderful way to intensify the chocolate flavor. Plus, if you add enough, you will have a mocha dessert. Refer to the Epicurious link at the bottom if you'd like more mocha flavoring.
Make sure you have a good candy thermometer to make your sugar syrup. You can test it's accuracy by placing it in pan of boiling water. It should read 100º C or 212º F.
Slowly adding this sugar syrup while beating the egg whites make the "uncooked" egg whites safe to eat.
Use an offset spatula to smooth the layers. You can also use this tool to run around the perimeter of the cake before releasing it from the springform pan.
If you love mocha desserts, head over to Epicurious to see my inspiration, this Layered Mocha Cream Torte!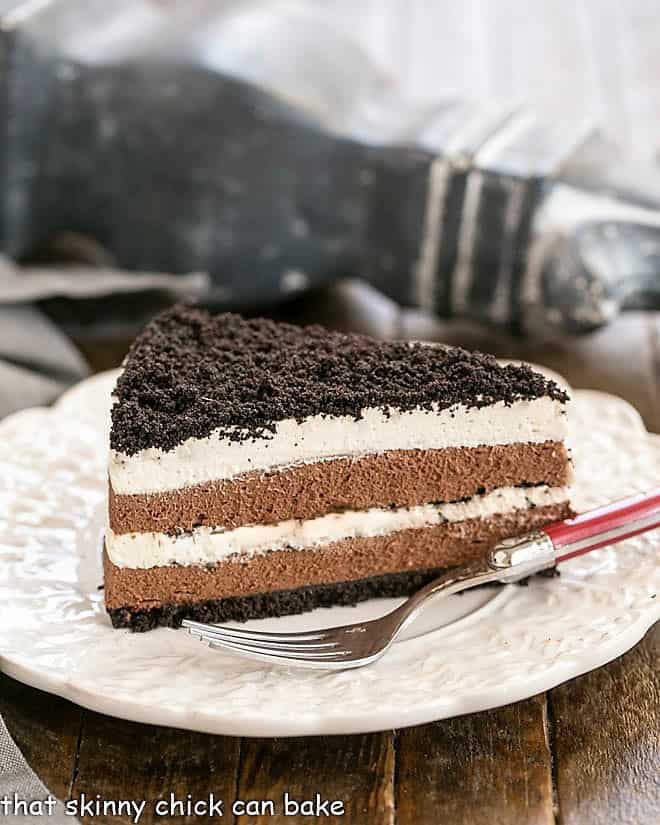 If your a fan of all things mousse, check out my Chocolate Mousse Torte recipe, Peanut Butter Chocolate Mousse Torte recipe, and Tunnel of Mousse Cake recipe. This Oreo Brookie Mousse Cake recipe looks extraordinary as do these Butterfinger Mousse Cheesecakes recipe!
Click HERE for the crust recipe.
Print

Triple Layer Chocolate Cream Torte
---
Author:

Liz Berg

Total Time:

35 minutes

Yield:

12

servings

1

x
Crust
Click the link above for the recipe.
Fillings:
12 ounces

semisweet chocolate (chopped)

6 tablespoons

3/4 stick butter, cut into pieces

1/2 teaspoon

instant coffee powder

1/2 cup

sugar

3 tablespoons

water

5

egg whites

2 3/4 cups

whipping cream

1/4 cup

powdered sugar

1 teaspoon

vanilla
---
Instructions
Preheat oven to 350°. Add cookies to food processor. Process until crumbs form. Set aside 3/4 cup of the crumbs. Add melted butter to remaining crumb mixture and process until well combined Press mixture onto bottom of a 9-inch springform pan Bake crust for 10 minutes, then cool on a wire rack.
Add chocolate, butter and coffee powder to a large microwave safe bowl. Microwave for 30 second increments, stopping and stirring until melted and smooth. Set chocolate mixture aside while preparing meringue.
Stir 1/2 cup sugar and 3 tablespoons water in small saucepan over low heat until sugar dissolves. Increase heat and boil syrup without stirring until candy thermometer registers 240°, about 4 minutes. Using a stand or hand mixer beat whites in large bowl to soft peaks.
Gradually beat the hot syrup into whites. Continue beating until medium-stiff peaks form, about 3 minutes. Fold 1/3 of meringue into the lukewarm chocolate mixture to lighten. Fold in the remaining meringue. Set chocolate meringue aside.
Place cream, powdered sugar and vanilla in a large chilled bowl, and beat until firm peaks form. Fold 1 1/2 cups of the whipped cream into chocolate meringue, forming the chocolate mousse.
Spoon half of the chocolate mousse over the bottom of crust and spread evenly with an offset spatula. Sprinkle 3 tablespoons reserved crumbs over the mousse. Spoon half of the remaining whipped cream over crumbs, and spread evenly. Sprinkle with 3 tablespoons crumbs. Repeat layering with remaining mousse, crumbs, whipped cream and crumbs.
Cover and refrigerate until set, about 4 hours. Run knife around pan sides to loosen torte. Remove pan sides and serve.
Notes
Recipe adapted from Bon Appetit.
Prep Time:

30 minutes

Cook Time:

5 minutes

Category:

Dessert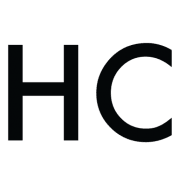 Liz Berg
My mom was an amazing cook, but she wasn't much of a baker. When my sisters and I yearned for a sweet treat, I turned to our trusty BH&G cookbook and zeroed in on the dessert tabs. My love of baking began in my childhood kitchen. I married a chocoholic and together we had 3 children with plenty of sweet teeth. I started my blog in 2010 to chronicle my baking journey.