A yellow cake marbled with blueberries, a blueberry jam filling and a topping of fresh blueberries. This triple blueberry cake is stunning and will become a family favorite.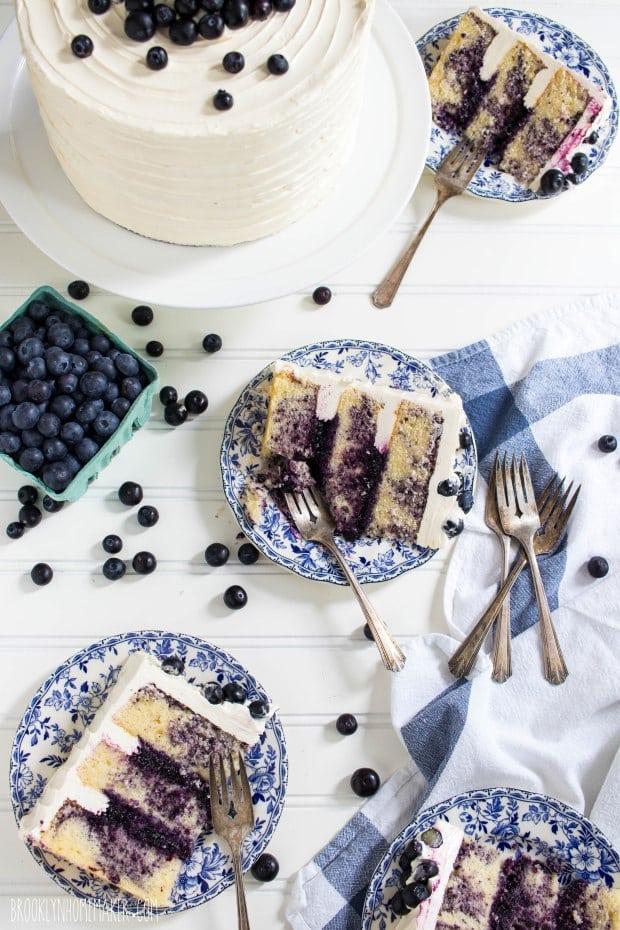 Only about a month after my own birthday though, another special occasion came up that was a huge deal and really called for a seriously fancy ass cake.
Last week my grandfather turned 90 years old!!!
To celebrate, we had a little reunion with 4 generations of grandpa's family and it could not have been a more perfect day. It was so great to see everyone, especially some cousins I hadn't seen in maybe a decade or more. There was even a sidewalk snail race thanks to the tupperware full of snails my little nephew found in my sister's garden the day before.
Of course, it being my family, we definitely overdid it with the food. We did a pot-luck style bbq with all the traditional sides; bratwurst, hot dogs and burgers, German potato salad, baked beans, pasta salad, veggies, cheese and crackers, deviled eggs, watermelon and a fruit tray. My grandma spent the better part of the day going around telling everyone to eat more because we'd never get through everything. I brought my favorite coleslaw, and of course, I was in charge of dessert.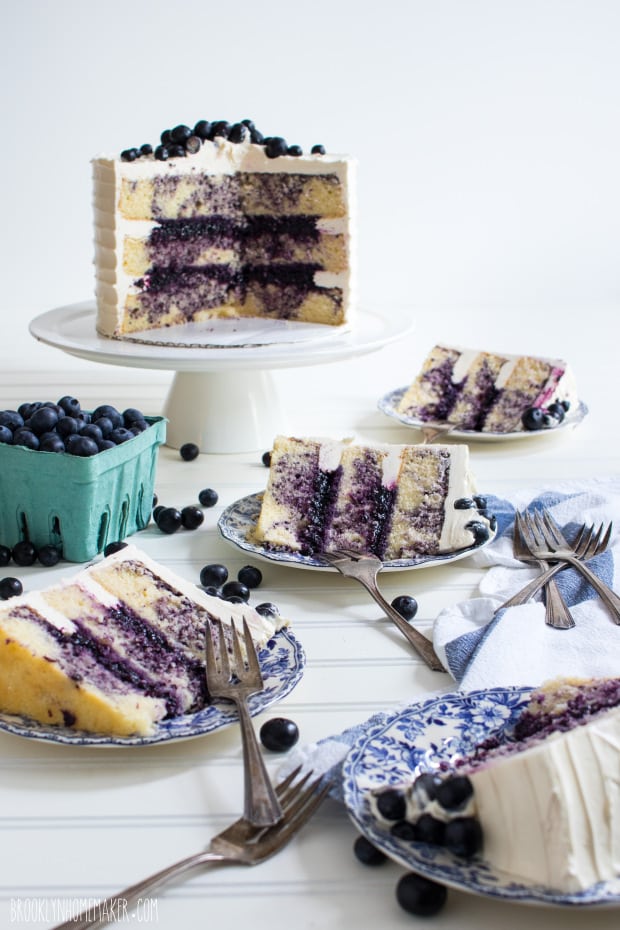 To be honest, I can't even imagine living to 90 years old, especially looking as great and remaining as active as grandpa is at his age.
A few years ago he had to give up on the gigantic strawberry patch he used to have because he couldn't bend down to pick them all, but since then he's planted a couple dozen blueberry bushes, all different varieties so they ripen at different points in the summer, and now blueberries are his favorite!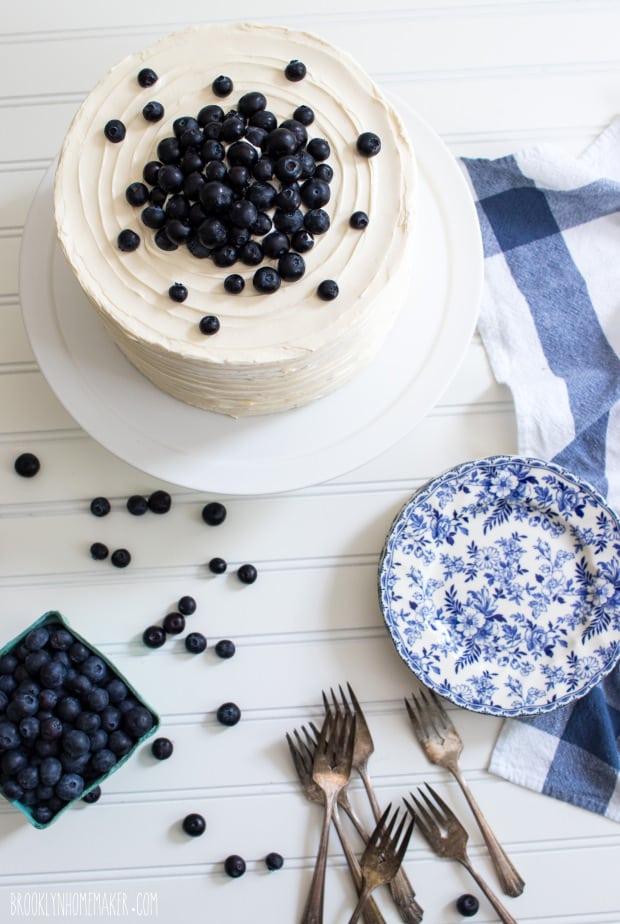 So, I knew blueberry cake was the way to go for grandpa's 90th!
Grandpa loves blueberry pie, so I made a fresh blueberry jam/pie filling to use between the layers of cake, and then for a brighter, fresher blueberry flavor, I decided to use freeze dried blueberries in the actual cake recipe. When you use freeze dried fruit, it retains much of the freshness of actual fresh fruit, but it's completely dry so it doesn't water down your batter. I ground the berries into a powder in the food processor and then mixed that into part of the batter, swirling that in to the remaining plain batter like marble cake.
At first I considered adding lemon zest to the icing, but opted for simple vanilla to avoid competing with the blueberry flavor. Last but not least, the cake was topped with a mound of fresh blueberries, both for flavor, and so that people could tell it was a berry cake even though the icing was solid white.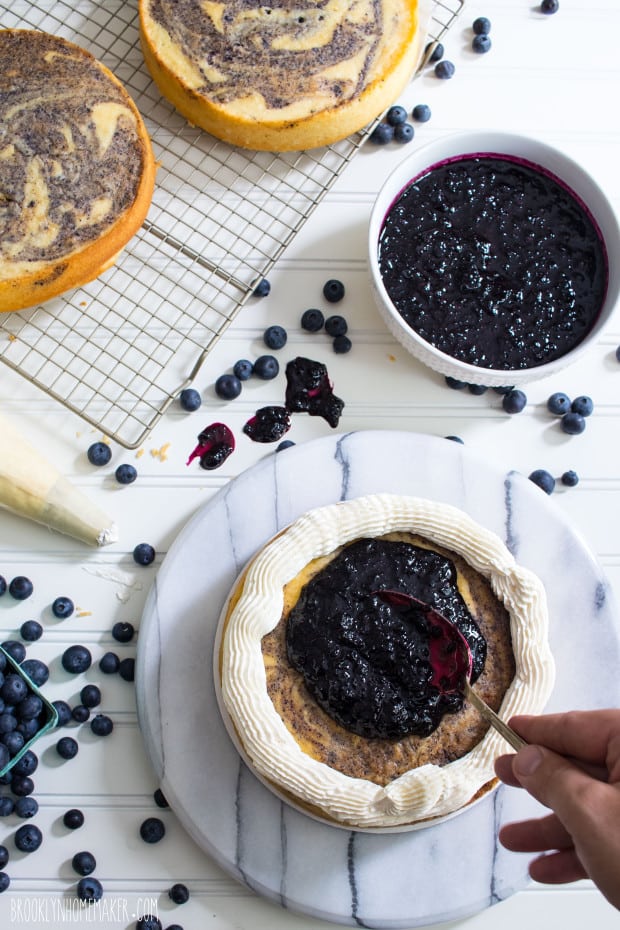 The cake was a HUGE hit. Usually a quiet, stoic German man, complements don't come super easily from my grandpa, but he must have come over to compliment and thank me for this cake at least 5 times. Nice and moist and not to sweet. His cousin even came over to shake my hand because he liked it so much!
This cake is SUPER blueberry-y. The freeze dried blueberries really come through, and just like grandpa said, the cake is moist and tender and just sweet enough. The blueberry filling tastes just like blueberry pie filling or homemade jam, and the vanilla Swiss meringue buttercream is delicately sweet, smooth and silky, and definitely lets the blueberry filling shine without anything competing with it.
If you love blueberries, you HAVE to make this cake y'all!
Tux Loerzel
Tux is a food blogger, photographer, dog lover, husband, and avid baker living in Bushwick, Brooklyn. Originally from upstate New York, he inherited his love of cooking and baking from his mother and grandmother. With the encouragement of good friends and several glasses of wine, he began his food writing and blogging adventure in the fall of 2013. Learn more about Tux at his blog Brooklyn Homemaker