Far too often, tres leches cakes are cloyingly sweet, but the cornmeal adds a much needed balance that catapults tres leches into the upper echelons of dessert enjoyment. Top with maraschino inspired popcorn for more corn and great flavor.
By Graham Blackall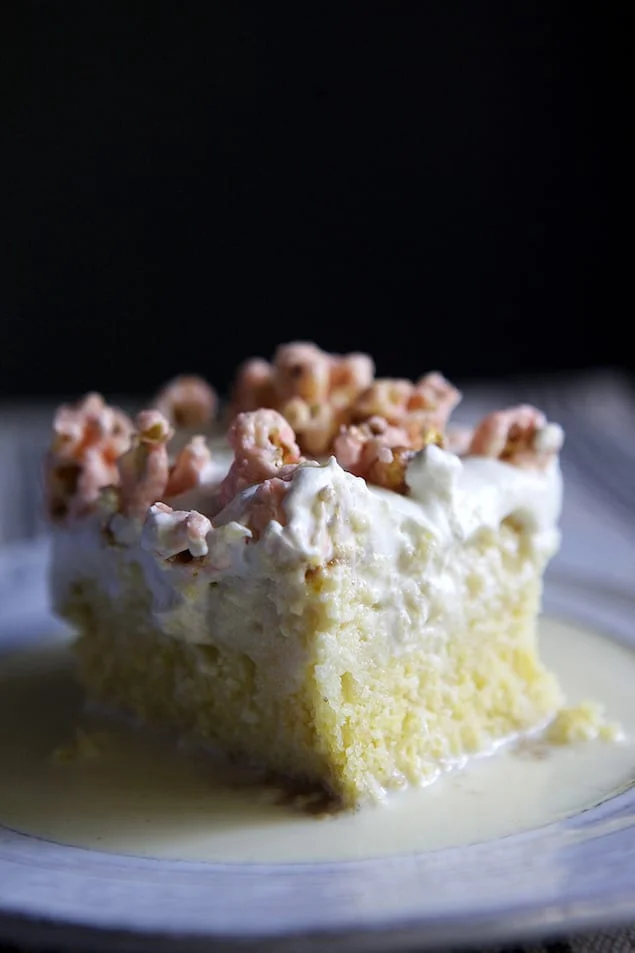 I've been surrounded by corn lately.
No really, I poured corn kernels all over myself in a "corn crib" a few weeks ago and I swear I found a piece of corn lodged in between my car seats or just casually chilling in my shoe every other day.
I decided to make cornbread this weekend. Things took a turn for the sweeter side really quickly and before I knew it, I was brainstorming how to deploy my cornbread into desserts.
Cornbread trifles? Nah, Molly made those. Cornbread bread pudding? That's already been done. Then it hit me, cornbread tres leches has the potential to warrant the reaction of a handful of 100 emojis and, despite it being a bit reachy, doesn't it just make sense? Tres leches is Mexican. Corn plays a huge role in Mexican cuisine. Graham Blackall is a genius. (Joking!) So I did it. And it's kinda the best tres leches that I've ever had. Far too often, I find tres leches to be cloyingly sweet, but the cornmeal adds a much needed balance that catapults tres leches into the upper echelons of dessert enjoyment.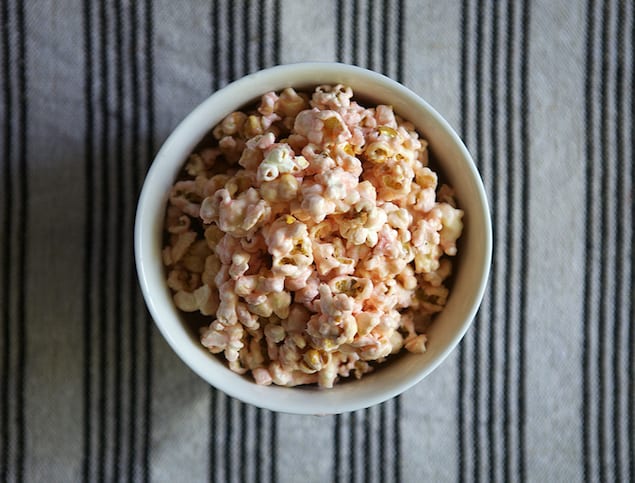 I know what you're thinking right now. "Uhm…. popcorn?" To be honest, there's really not more reason than me want to be as corny as possible. (Get it?) In all seriousness, I've always been a tad bit disgusted when people cover their tres leches in cool whip and maraschino cherries. Even though I'm the epitome of dessert trashiness at times, imitation whipped cream and cherries straight from a jar is just a little too uninspired for me. To sustain the utmost level of corniness in this dessert, I decided to top the cake with a marshmallow whipped cream and white chocolate-cherry glazed popcorn.
See Also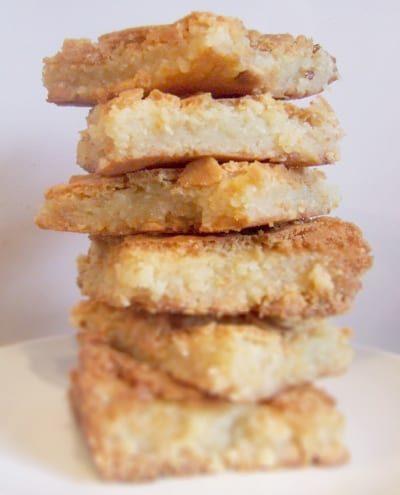 Off kilter, maybe. Delicious? Oh yes.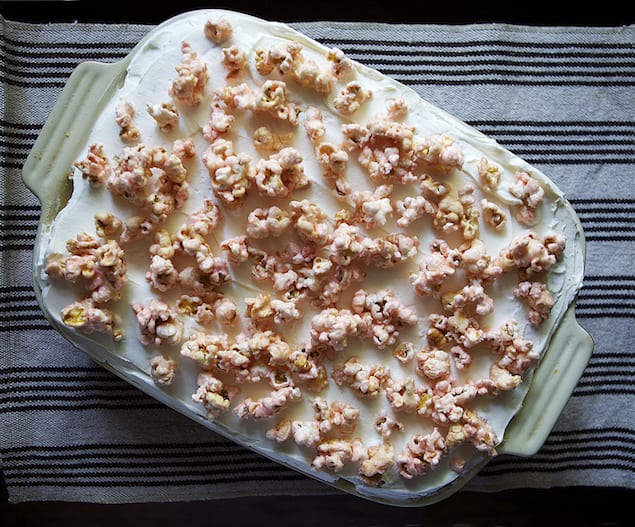 Print
Tres Leches Cornbread Cake with White Chocolate Cherry Popcorn
Tres leches cake is sweet, but cornmeal adds needed balance that catapults it into upper echelons of dessert. Top with maraschino popcorn for great flavor. The cornbread cake is adapted from Nicole at Daily Dish Recipes. The popcorn recipe is inspired by Jessica at How Sweet It Is.
Author:

Graham Blackall

Category:

Baking, Dessert

Cuisine:

Latin Fusion
CORNBREAD TRES LECHES
2

14oz. cans sweetened condensed milk

3/4 cup

evaporated milk

2 cups

heavy cream
a dash of cinnamon

1 cup

yellow cornmeal

3 cups

all-purpose flour

1 1/3 cup

sugar

2 tablespoons

baking powder

1 1/2 teaspoons

salt

2/3 cup

vegetable oil

1/3 cup

unsalted butter, melted

2 tablespoons

honey or agave

4

eggs, beaten

2 1/2 cups

whole milk
MARSHMALLOW WHIPPED CREAM
1 1/2 cups

heavy cream

1

7oz. container marshmallow cream
WHITE CHOCOLATE CHERRY POPCORN
5 cups

popcorn (from a bag or popped yourself, just don't use movie theatre butter lol)

1/2 cup

white chocolate

3/4 cup

powdered sugar

1 tsp

. vanilla paste or extract

1 tablespoon

milk

2 tablespoons

maraschino cherry syrup (from the jar)
Instructions
CORNBREAD TRES LECHES
In a large bowl, combine the condensed milk, evaporated milk, heavy cream, and cinnamon. Whisk the mixture until completely smooth. Remove 1 1/2 cups of the mixture and refrigerate; you'll use this for plating when you serve the tres leches. Set the rest of the liquid mixture aside; this will be used to soak the cornbread.
Preheat oven to 350F and grease and flour a 9×13 baking dish.
In a large mixing bowl, whisk together the cornmeal, flour, sugar, baking powder, and salt. Once combined, add in the oil, melted butter, honey, eggs, & milk and stir. Pour the mixture into the prepared pan and bake for 45 minutes.
Using a skewer or straw, poke holes throughout the warm cornbread. Pour half of the milk mixture from earlier over the cornbread. Once the bread is soaked, pour the remainder of the milk mixture on the cake and refrigerate for at least 4 hours, preferably overnight. (The longer the flavors can mingle, the better!)
When you're ready to serve, whip up a batch of the whipped cream and top the tres leches with it and the cherry popcorn. Before plating the tres leches, pour a layer of the milk mixture that you set aside in the refrigerator on the plate for extra triple milky goodness.
MARSHMALLOW WHIPPED CREAM
Using a hand mixer or a stand mixer fitted with the whisk attachment, whip the cream until soft peaks form. Add in the marshmallow cream and whip until fully combined.
WHITE CHOCOLATE CHERRY POPCORN
Place the popcorn in a large mixing bowl.
Melt the white chocolate over a double broiler or in the microwave. If using microwave, make sure to heat the chocolate in 30 second intervals, stirring after each time. Pour over the popcorn.
In a small bowl, combine the powdered sugar, vanilla, milk, and cherry syrup and mix until a glaze forms. Pour over the popcorn.
Mix the popcorn until all pieces are thoroughly coated. Transfer the mixture to a wax paper-lined baking tray and place in the freezer for about 30 minutes to set the chocolate before removing to serve
Graham Blackall
Graham Blackall is a 20 year old food photographer and full-time college student from New Orleans, LA. Graham's blog, Glazed & Confused, focuses on his love for baking through a series of recipes inspired by pop culture and New Orleans cuisine.