Piemonte Cooking – Torta alle Nocciole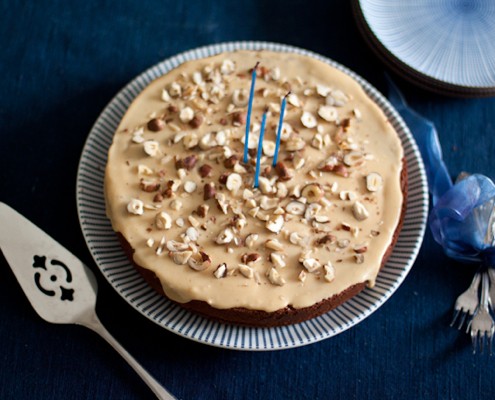 Humble and unassuming but utterly delicious and even indulgent, this is the kind of cake that grandmothers of the Langhe area of Piemonte make specially for their grandchildren.
By Emiko Davies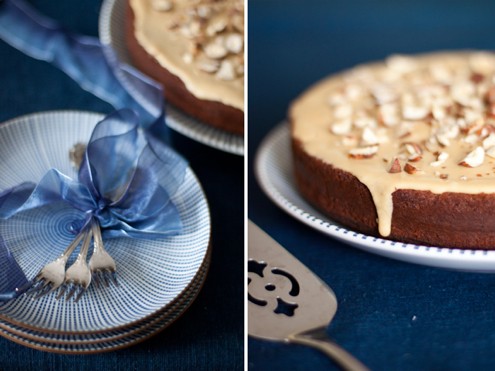 This is a very traditional cake, made dense with the local hazelnuts. The Langhe area is food and wine lover's heaven with a landscape that is reminiscent of te well-trodden Tuscany, but more condensed and with a stunning backdrop of the Alps.
On our last visit there we celebrated a friend's birthday in a trattoria in Grinzane Cavour called Nonna Genia, named after the cookbook that Slow Food founder Carlo Petrini describes as "the most complete and exhaustive cookbook of the cuisine of the Langhe."
I bought the book immediately. As wonderful as a historical account as it is for its genuine dishes that record the home-cooked cuisine of the area, it is a collection of the recipes of a bygone era dedicated to the writer's (Luciano de Giacomi) grandmother, Eugenia. First published in 1982, it is a book that keeps alive the country recipes of grandmothers that are normally passed on only by keen granddaughters or daughters who have watched and listened and learned, a ritual that is all too quickly disappearing.
Nonna Genia's hazelnut cake is a classic recipe. It's been adapted here with the addition of espresso and rum. This moist cake is perfect to eat on its own, but it can be served with a simple drizzle of honey, a ganache of melted chocolate and cream or a simple espresso icing.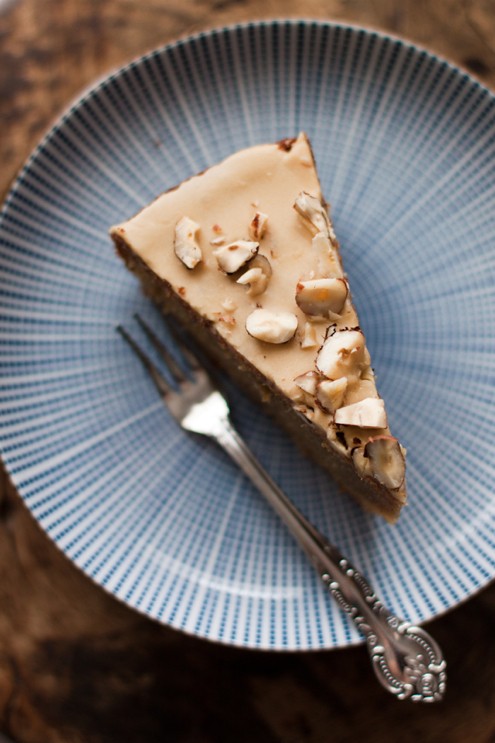 A deliciously moist hazelnut cake traditionally served plain but beautiful also with a chocolate ganache or espresso icing.
Author:
Emiko Davies based on a traditional Piedmonte recipe
Ingredients
200 g/ 7 oz of shelled hazelnuts, toasted
150 g/ 5.2 oz of flour
3 eggs
200 g/ 7 oz sugar
125 g/ 4.4 oz of butter
125 ml/ 4.4 oz of strong coffee
125 ml/ 4.4 oz of whole milk
1 tablespoon of olive oil
2 tablespoons of rum or marsala (optional)
1 ½ tablespoons of baking powder
Instructions
Preheat the oven to 180°C or 350 F.
Pulverise the toasted hazelnuts until very fine. Combine with the flour and baking powder.
In a food processor or with beaters, beat the butter and sugar together until smooth and creamy. Add the eggs one by one until well combined. Incorporate with the dry ingredients and mix well. Add the milk, coffee, olive oil and rum and mix until just combined.
Pour into a greased and floured cake tin (10 inch or 26cm diameter) with a removable bottom. Bake for about 35 minutes or until golden brown and springy. Allow to cool and serve as desired.
Emiko Davies
Emiko Davies is a food writer, photographer and illustrator who Amanda Hesser calls the "Renaissance Woman for the Internet Era". She lived in Florence, Italy, for seven years where she nurtured her love of regional Italian cuisine and now calls Australia's food capital, Melbourne, her home.