PARTNER POST: Let Pomì's premium quality, Italian tomatoes bring the fresh and healthful taste of Italy to your cooking, no matter the cuisine.
Dive into a bowl of tomato and spinach tofu curry, a warm and comforting dish that can be served with rice or naan.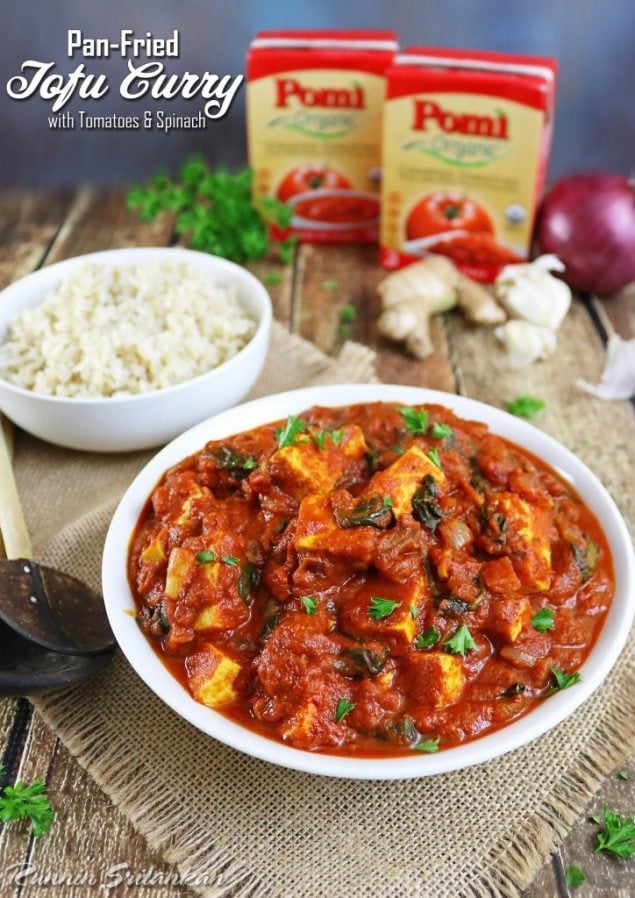 Tomatoes have this ability to stir up quite the debate in my home. You see, my daughter insists they are a fruit despite of the 1893 Supreme Court mandate that declared them a vegetable. And that's just the warm-up segue of our debate. With the French calling them "The Apple of Love" and the German's calling them "The Apple of Paradise", I assumed tomatoes originated in Europe, but my daughter used Google to back up her argument that South Americans were the ones who first feasted on them.
And then there's all that confusion about where and how to store them. My daughter agrees with those people that insist that tomatoes be refrigerated while others say they must be left on a counter – next to an apple – to help them ripen.
When it comes to tomatoes, all I can say with certainty is that they are simply delicious! And, they are one of nature's delicacies that are better for us cooked than raw, as heating them helps our bodies absorb the lycopene in them more easily. Over the years I have come to depend heavily on good quality packaged tomatoes to help me make simple yet tasty curries, soups and sauces.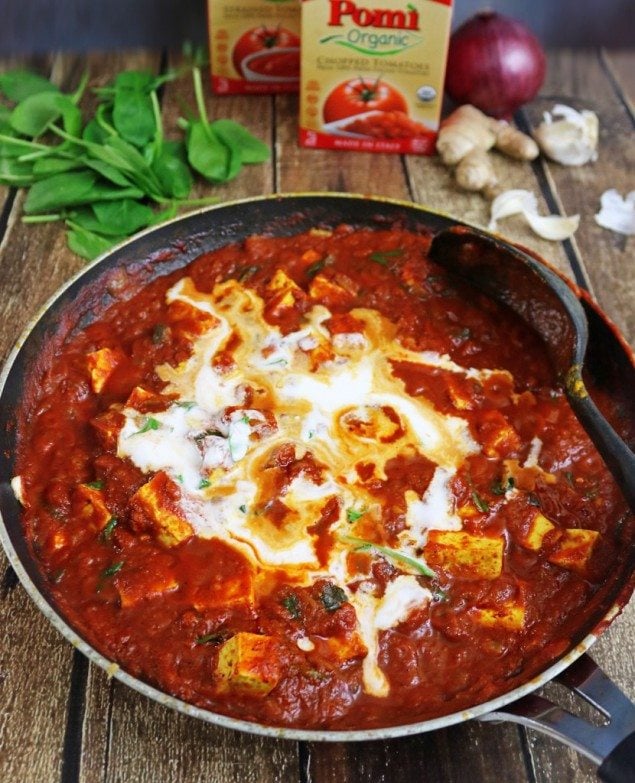 Pomì began selling their Italian tomatoes in carton packages in 1984 in Parma, Italy. Now, thirty years later, they are a trusted brand for all those who seek premium quality, Italian tomatoes. Pomì sells their tomatoes in sealed, BPA-free, ready-to-use-anytime, stay-fresh packages, at local grocery stores like Publix. By the way, Pomì even has a new organic line of chopped or strained tomatoes.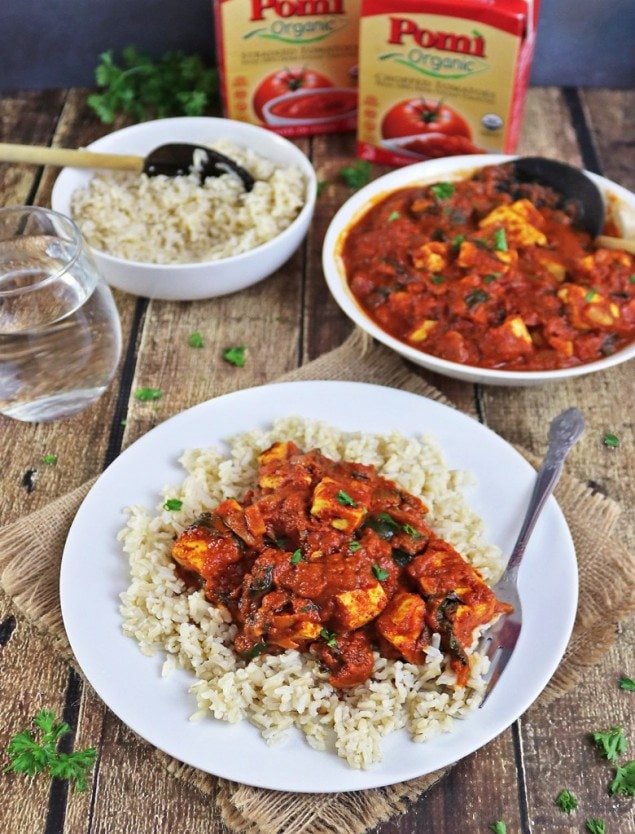 Recently I have been trying to come up with simple and easy curries my daughter can make when she's off in college next year. I try to use ingredients that can be found at any local grocery store to make curries that are tasty as well as healthy. While making this Pan Fried Tofu Curry with Tomatoes And Spinach, I relied heavily on the combination of Pomì Organic strained and chopped tomatoes along with the three staples of my mom's curries: onions, garlic and ginger. This Pan Fried Tofu Curry with Tomatoes And Spinach is not loaded down with a ton of other spices and only calls on a smidge of turmeric, coriander and smoked paprika to rack up major taste points. My daughter made some brown rice to accompany this curry, but naan or even pasta would go so well with it as the "curry" part of it is so thick! And, I must say, I served this curry and all debating ceased!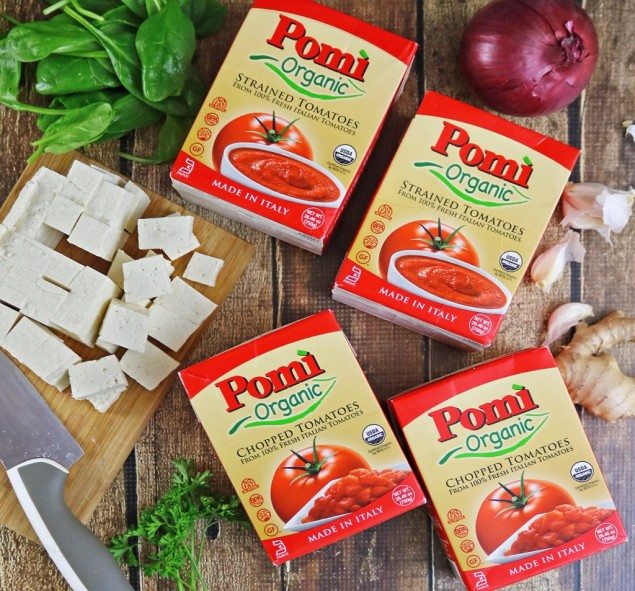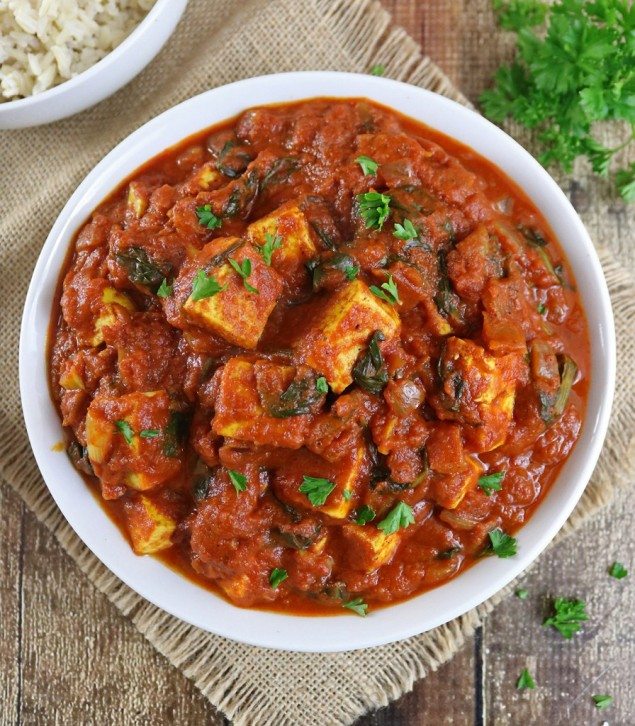 Looking for more great tomato recipes? Click here for Pomì's cookbook loaded with healthy recipes.
Print
Author:

Shashi Charles

Prep Time:

5 minutes

Cook Time:

27 minutes

Total Time:

32 minutes

Yield:

4

to

6

servings

1

x
Category:

Main
2 tablespoons

olive oil

1

red onion chopped

3

cloves garlic chopped

1 teaspoon

freshly grated ginger

1

block extra firm tofu – drained (I wrapped it in paper towels and cubed)

1

carton (or

3 cups

Pomì strained tomatoes)

1 cup

Pomì chopped tomatoes

1 teaspoon

smoked paprika

1 teaspoon

coriander powder

1/2 teaspoon

turmeric
Salt and pepper to taste (I used 1/2 teaspoon salt and 1 teaspoon pepper)

2 cups

fresh spinach

1/2 cup

coconut milk
parsley for garnish
Instructions
Add olive oil, onion, garlic and ginger to a pan over medium heat and sauté till onions are tender – about 10 minutes
Move onions/garlic/ginger to the sides of the pan and add cubed tofu
Let tofu cook about 4-5 minutes, then flip and cook 4-5 minutes on other side (you could cook the block of tofu and then cube it, but it's just easier for me to cube it first and use a spatula and flip the cubes till they are golden)
Add in the turmeric, smoked paprika and coriander and stir well
Then add in the Pomì strained tomatoes and the Pomì chopped tomatoes
Add in the spinach and salt and pepper and let simmer uncovered for 12-15 minutes till thickened
Add in the coconut milk, stir well and let simmer another 2 minutes
Garnish with parsley and serve warm with rice, naan or pasta and enjoy
Shashi Charles
I am a healthy food lover - and tricking my loved ones into eating their veggies disguised as treats is my specialty! I am also a graphic designer by day and blogger by night and a mom 24/7!