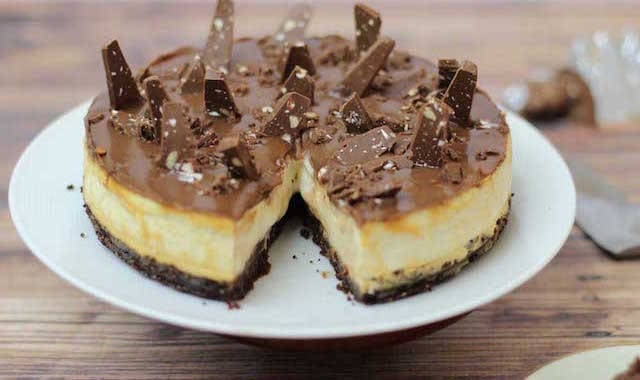 A chocolate crust, a creamy vanilla middle, and a topping with crunchy, honeycomb and nutty milk chocolate makes for a wow-worthy dessert.
By Tania Cusack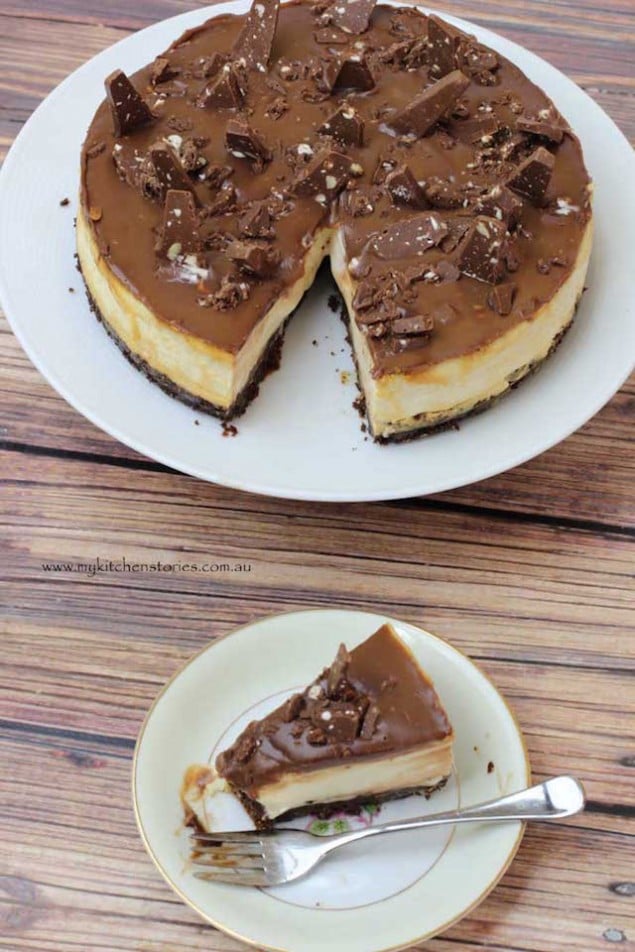 Do you like Toblerone?
They are an iconic chocolate full of crunchy little bits of honeycomb and nut and I can find myself eating a triangle or two if there is one around. Here at our house they are very exciting because if we have one, and I am talking about one of those great big 400 gm ones, it means that we are extra happy because it means our favourite relative from New Zealand is visiting.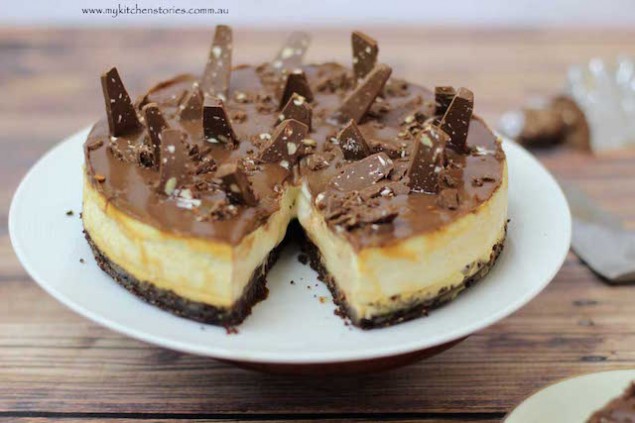 This time after her visit, I stole most of the bar to make this cheesecake. I am not sure exactly why I so desperately wanted to make a Toblerone Cheesecake but I did.
There are lots of ways to make cheesecakes. You certainly don't need to bake them for the best result, but I find I like a baked cheesecake so much more than a chilled one. There are some helpful hints for a perfect cheesecake here.
Making this cheesecake actually made me wonder just a little bit about the Toblerone chocolate because they have been around for a really long time. I remember them being very popular when I was a kid. It turns out Toblerone was created by Theodor Tobler (1876–1941) and his cousin Emil Baumann in Bern, Switzerland in 1908! So they have been around for a very long time. They developed a unique milk chocolate with nougat, almonds and honey. The triangular shape of the Matterhorn in the town where they lived, was believed to be the inspiration for the triangular shape.

Toblerone Bar Cheesecake
A chocolate crust, a creamy vanilla middle, and a topping with crunchy, honeycomb and nutty milk chocolate makes for a wow-worthy dessert.
Recipe Type:
Dessert, Baking
Ingredients
Oven temperature 180 C/350 F to start. 1 x 23 cm or 20 cm springform tin, lined with paper.
Biscuit base
1 packet of Chocolate ripple biscuits (250 gm- 8 oz) or plain chocolate shortbread biscuits
½ cup of almond meal ( for extra crunch)
100 gm (3.5 oz) melted butter
Filling
500 gm (1 lb) of Philly cream cheese (room temperature)
1 cup (250 ml- 8.45 oz) cream ( I used thickened- 35% butterfat)
1 vanilla bean
3 large eggs
3 tablespoons caster sugar ( 50 g)
Toblerone Topping
250 gm Toblerone (Use 50 gm bars or a large 400 gm one)
100 ml cream (3.5 oz)
50 gm to decorate
Instructions
Crush the biscuits with the almond meal and add the melted butter. Press into a lined springform tin. Bake for 10 minutes.
Take out of the oven and cool.
Turn the oven to 160 C / 320 F (if your oven is hot or fan forced reduce to 150 C/300 F)
Put the cream cheese, eggs, cream, vanilla and sugar into a food processor and blitz till smooth. pour into the base and bake for 40 minutes. Check the centre by shaking gently. The cheesecake should be just slightly wobbly. If it needs a little longer bake in 10 minute increments till just done (the timing depends on the depth of the cheesecake). It should never brown or split.
Cool and preferably chill overnight.
Separate the Toblerone leaving about about 50 gm to decorate the top of the cheesecake. Slice each piece in half keeping the triangles in tact.
Break up the Toblerone and pour over the warmed cream and stir till melted. Don't make the cream too hot as it will melt the nougat.
Pour this chocolate mixture over the cheesecake. Decorate with the Toblerone pieces and chill till set.
Tania Cusack
After completing Culinary School in Sydney, Tania travelled the world working as a Chef in restaurants, doing catering and cooking on road for a travel company in Europe and the US. Once back at home, the birth of her son meant a change, and during his small years, she enjoyed jobs in wholesale food, buying Artisan food products, testing and recipe writing as sales and educational tools. Tania is now back to what she loves, working as an in house Chef for a large retailer, conducting Cooking Classes and writing recipes for her blog.