Ruby Moukli can't get past the idea that there should be maple syrup involved in the British classic Toad in the Hole.
By Ruby Moukli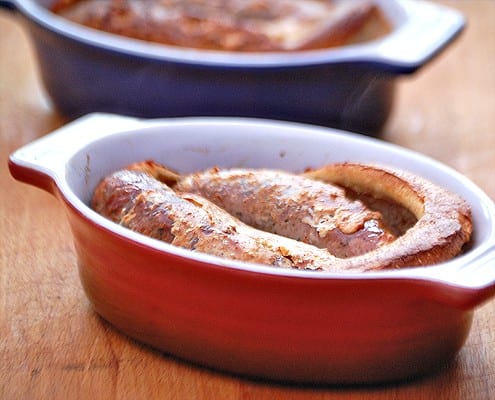 You're going to have to blame it on Dickens. This year being the 200th anniversary of his birth, I decided to re-read some of my favourites, and finally catch up on a few I'd previously let slip by. So when it came time to name this post, well, you can see how I didn't really have much choice.
The toads in question are, of course, 'in the hole'. This is one of those wonderfully simple yet amusingly-named tradtional dishes for which the British are known. Toad in the Hole is basically sausage cooked in Yorkshire pudding. It is traditionally served for dinner, with greens and gravy.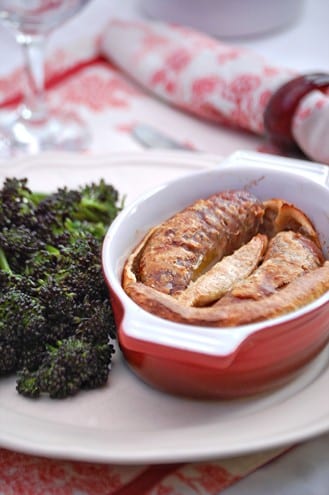 So I made Toad in the Hole, served it with purple-sprouting broccoli and onion gravy, and it was lovely and everyone was quite happy with it. Except me. I liked it, sure, but I had a niggly feeling that there was a better way to eat it. This, I think, was my American roots rearing their brazen heads. You see, I couldn't get past the idea that there should be maple syrup involved.
So, the next time I made it, I served the toad for breakfast, drizzled with maple-flavoured agave syrup and eggs sunny side up. Oh my.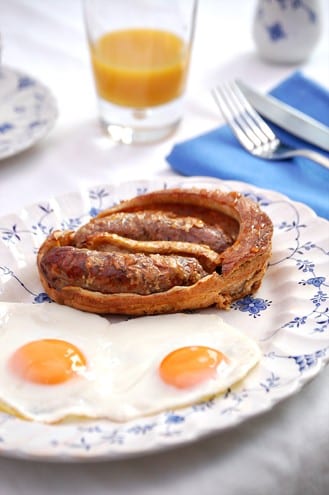 Now, at the top of the post I told you I had no choice as regards the title. Actually, there were other contenders, even if they didn't warrant serious consideration. In fact, I was visited all night by the ghosts of literary giants past and present, as they each pitched me their ideas.
Huxley's 'Brave New Toad' almost swayed me, fitting as it was. But the alliteration was missing. Kerouac threw his hat in the ring with 'On the Toad'. Sorry Jack, but are you on drugs? (Don't answer that.) McEwan wanted 'Atoadment' (seriously?) and Frost chimed in with 'The Toad Not Taken'. Umm, good but both of the toads in question were definitely 'taken'.
However I may paraphrase from Frost's masterpiece for the end of my story because, although both dishes were hits, I do have a firm favourite. And it is the one that does not conform to tradition, that does not appear on dining tables across Britain and would likely be rejected by most Brits as being vaguely bizarre. Definitely the 'toad less tasted', the breakfast toad, was the star of this story:
I shall be telling this with a sigh
Somewhere ages and ages hence
Two toads diverged in a kitchen, and I—
I chose the one less tasted (Oh My),
And that has made all the difference.
Ingredients
¾ cups (100 g) wholemeal flour
¾ cups (100 g) spelt flour
½ tsp salt
4 eggs
2½ cups (1 pint or 600 ml) milk
2 Tbsp vegetable oil
8 good quality sausages (I used Wendover Royals, a local specialty)
Instructions
Preheat oven to 220 C / 425 F / Gas Mark 7
Sift flours into large bowl, add salt, eggs and milk and whisk until smooth. Set aside.
Use oil to generously grease your roasting pan (not forgetting the sides, and leaving excess oil in the pan too), then add the sausages.
Bake for 10 minutes, until sausages are starting to brown.
Remove roasting pan from the oven, quickly pour the batter over the sausages and return the pan to the oven for a further 40 minutes, or until nicely puffed and golden brown.
Serve right away, either with greens and gravy for dinner or, as I recommend, with maple syrup and eggs for breakfast.
Notes
1. The traditional recipe calls for plain (white) flour, so choose that if it's what you prefer. 2. Pork sausages are normally used, but if you're eating Halal or Kosher, choose a lamb sausage or even beef sausage with relatively high fat content. 3. I make Toad in the Hole in individual serving sizes, allocating 2 sausages per person and dividing the batter between 4 small baking dishes. The recipe works well either way, although you'll need a bit more oil to adequately grease all the pans.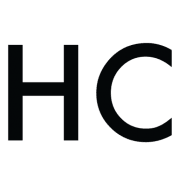 Ruby Rasa
Curious about her British mother's seemingly bizarre love of cheese & onion sandwiches, Ruby moved to England and discovered an island full of people eating them. She now lives among them, works as a freelance writer and photographer and yes, occasionally enjoys a good cheese & onion.