PARTNER POST- Create the perfect fall cheese board spread with Castello's selection of expertly crafted cheeses. Find inspiration here.
Easily create the perfect Thanksgiving cheese board complete with roasted quince, a perfect pair to creamy brie cheese.
Simplify your holiday gatherings with a beautiful Thanksgiving Cheese Board. With little or no cooking required they can be assembled in a few minutes with very little fuss. Start with what's in season and let this inspire you. This could be fall leaves or branches, your favorite bowls or cutting boards, fall fruit or winter squash. Gather up and set a few things aside and when you are ready to assemble, the board will come together quickly and easily. The great thing about a cheese board is you can assemble it a couple of hours ahead, leaving you time to get ready for the party.
Here, persimmons, pomegranate, figs, pears and Honey Roasted Quince compliment a delicious selection of cheeses. When selecting cheese I always try to include a variety something blue, something creamy, something aged and something tame. Of course you can add more, but really 3-4 good cheeses are enough. Castello's Creamy Blue Cheese and decadent Double Cream Truffle Brie are both deliciously balanced and full of flavor. They also offer an aged Harvarti which I really enjoy.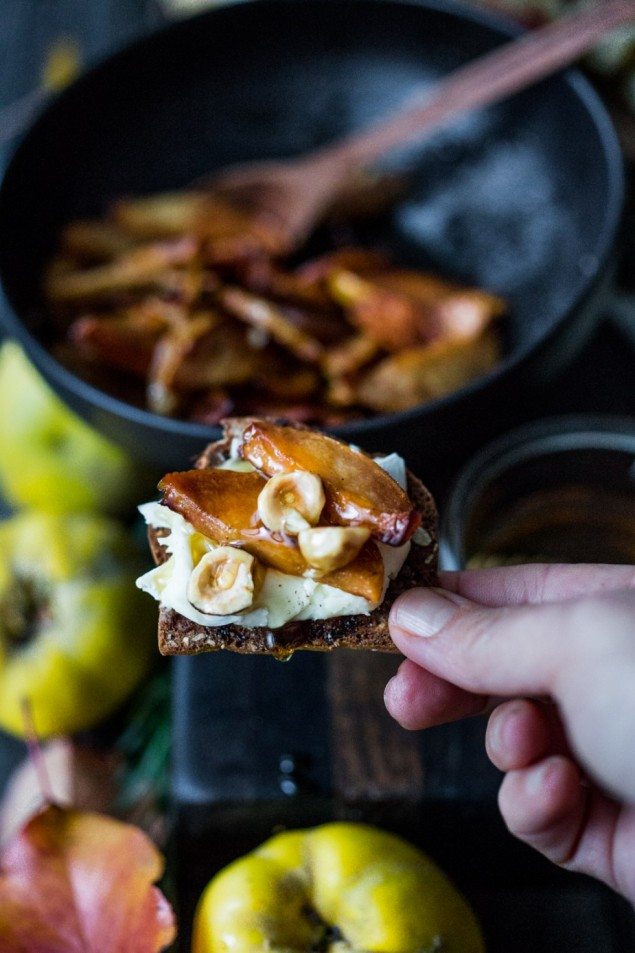 Add something salty or savory like buttery olives or cured meats, and a bit of texture, like spiced or roasted nuts and seeds. Marcona almonds and Peppered Maple Pecans are some of my personal favorites.
Next add something sweet like honey – always a good option- as well as fruit preserves, jam or chutney. If feeling so inclined this is where you could add your own homemade touches – like olive tapenade, fig jam, apple butter or these delicious honey roasted quince with hazelnuts.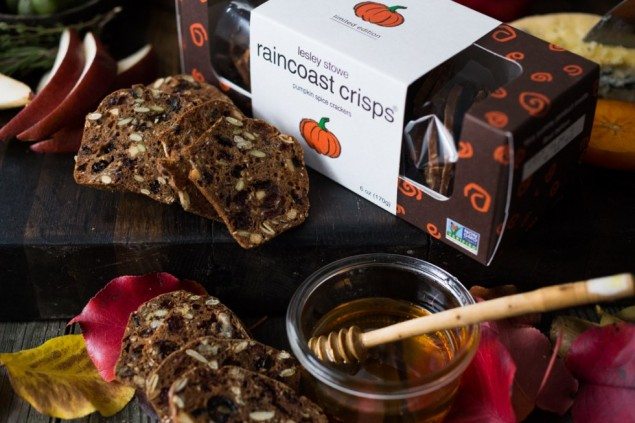 Don't forget good crackers … like these Leslie Stowe Raincoast Crackers, crispy and flavorful and packed full of fruit and nuts. They taste as good as they look.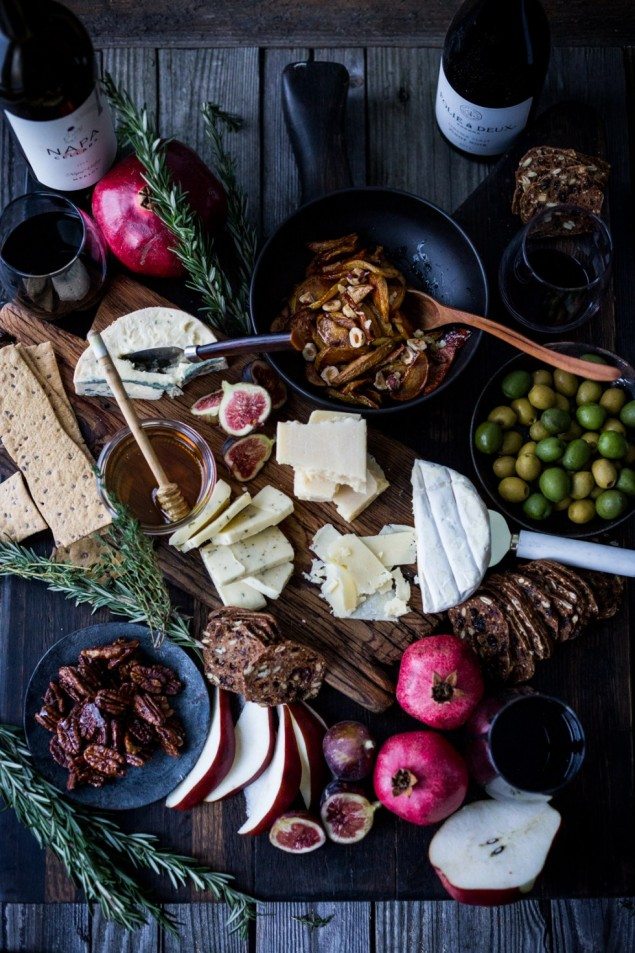 Crispy nutty cracker + Creamy brie + roasted quince + honey + toasted nut = THE PERFECT BITE!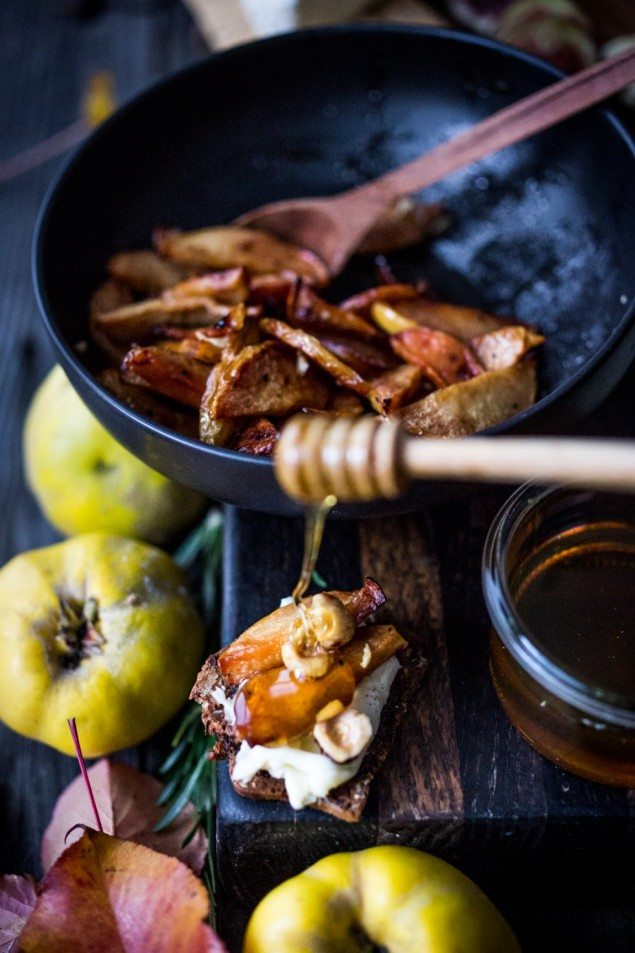 And of course every good cheese board, needs good wine. Today I'm serving up two – a Cab and a Pinot Noir from Folie a Deux. So tasty.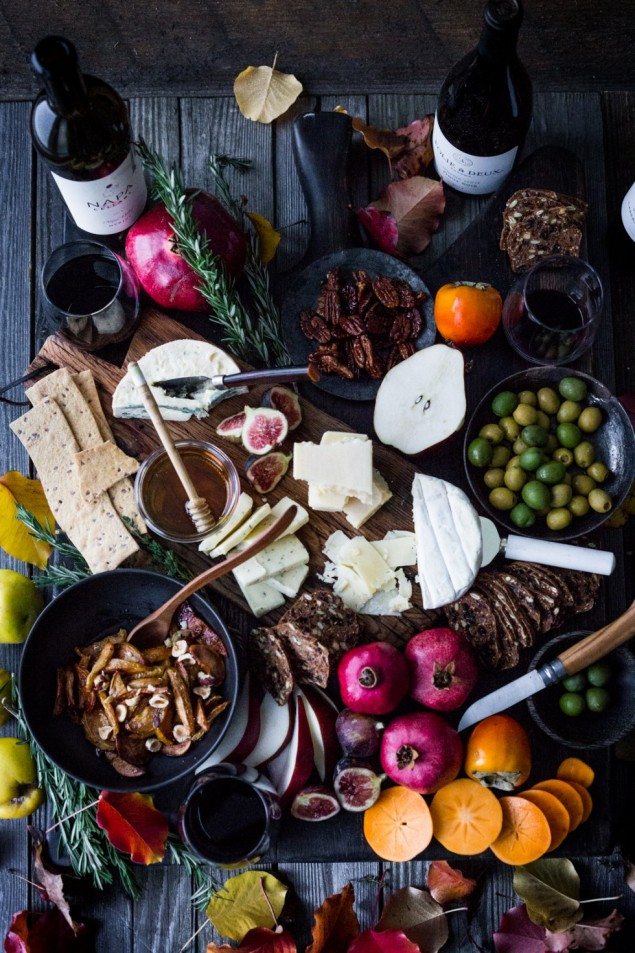 A friend let me harvest a basketful of quince from his tree last week – and let me tell you….the smell! Soooooo incredible! The sweet almost tropical aroma filled our house for days.
See Also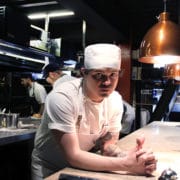 Kind of an old-fashioned fruit – fuzzy, oddly shaped and a little knobby -quince are related to both apples and pears. But know that they must be cooked before they are eaten. Raw, they are extremely unpalatable. Often they are turned into quince paste or jam, or poached for desserts. Their skin has a lot of natural pectin.
But we've been roasting them, skin and all…
Sliced, roasted and drizzled with honey they are the perfect accompaniment to cheese, or even meats.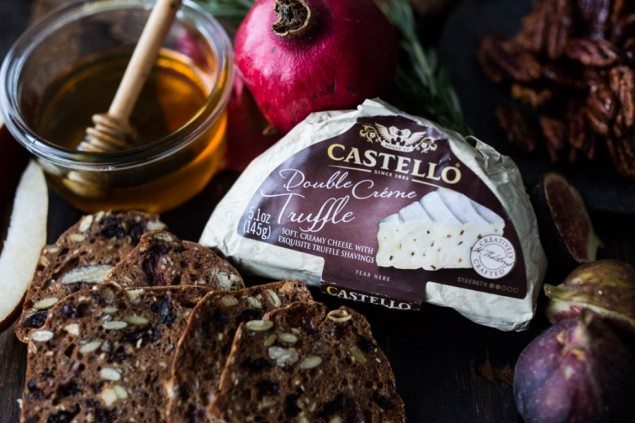 Looking for more great ideas for your cheeseboard? Check out the video below and follow this link for the written recipe!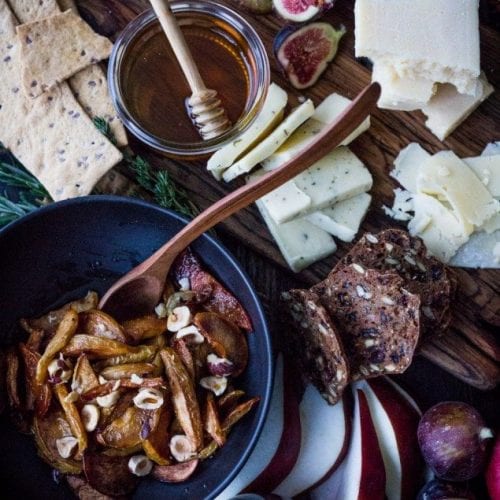 Sylvia Fountaine
Ingredients
1 - 1½

lbs

cheese

3-5 varieties - one blue veined, one creamy brie, one aged, one "tame"

2

or more kinds of seasonal fruits - persimmons

pear, apple, figs, pomegranate, blood oranges,

1

cup

olives- try castlevetranos

1

cup

toasted or spiced nuts- try marcona almonds Coupons

½

cup

honey or jam or preserves

fresh rosemary

sage or thyme sprigs

Crackers or bread
Honey Roasted Quince
4

quince

1

tablespoon

oil

3

tablespoons

honey

¼

cup

crushed toasted hazelnuts
Instructions
To make Honey Roasted Quince:
Preheat oven to 400 F

Slice quince into ¼ inch thick wedges (no need to peel) and toss with oil. Spread out on a parchment lined baking sheet. Sprinkle with a pinch of salt and pepper and place in the oven for 30 minutes, stirring once, halfway through. After 30 minutes, drizzle with honey, stir, and return to the oven for 10 more minutes, turning the heat off. Place in a bowl and top with crushed toasted hazelnuts. Place on the cheese board.

To assemble Cheese Board-

Gather a few bowls, one large cutting board or several small ones- you can also layer these. Arrange bowls on or around cutting boards, and fill with nuts, honey, preserves, olives, roasted quince. Arrange cheeses. Tuck in cut fruit in the gaps and add sprigs of fresh herbs or surround the boards with colorful fall leaves. Add crackers and utensils. Play around and have fun- it's kind of like decorating.
Sylvia Fountaine
Caterer and chef of Feast Catering Co., my blog Feasting at Home is where I share wholesome, seasonal recipes we cook at home.