White wines and summer go together beautifully. There's nothing like a chilled glass of the stuff on a hot day.
By Clare Goggin Sivits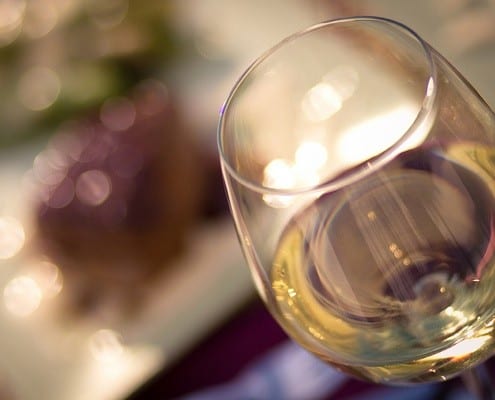 You may not be very familiar with many South American white wines but we think some of them are perfect for warm weather days. It seems as though we're not the only ones to think that either. During our People's Voice Wine Awards, this category of wines has become pretty popular.
The awards program, which has just entered its fifth week, has delivered some interesting results, especially when it comes to our South American whites. Let's take a look at the current top 5 leaders but keep in mind you still have time to vote for your favorites.
Photo courtesy of NoDomain.cc via Flickr/CC
1. Graffigna Centenario Reserve Pinot Grigio San Juan
A light yellow wine with a hint of green, this lovely white wine from Argentina's Tulum Valley smells of jasmine and white fruits and when you taste it, you'll note those fruit flavors really pop. The care taken in the production of this wine, which you can find for around $13, is evident in the harmonious flavors. The grapes were picked in the cool temperatures of the morning and handled delicately as part of the process.
Pairing Suggestion: Crispy Chicken with Lemon, Parsley and Extra Virgin Olive Oil
The Torrontes grape is popular in Argentina. The highly aromatic varietal delivers an exotic note to this wine which is typically priced around $10. But unlike most Argentine Torrontes, this one comes from the La Rioja region where it can grow in a far more moderate climate. This combination results in a drier version than many other wines from this grape. It also has a citrus flavor accented by French oak and a crisp finish.
Pairing Suggestion: Ham-Apple-Cheddar Quesadillas
Hailing from Chile's Central Valley, this straw yellow selection Aromas of citrus fruit and even melon lead into the flavor that also carries citrus fruit, including apricot. It's a very smooth Chardonnay with a pleasant finish coming from one of the most significant wine producing regions in Chile. You can usually pick up a bottle of this wine for under $10.
Pairing Suggestion: Over-Stuffed Chicken with Almonds
Another Chardonnay from Chile, this one comes from the country's Casablanca Valley, a coastal region producing wines that thrive in cooler temperatures, including Chardonnay. This particular entry starts with a complex and aromatic nose and the flavor is characterized by tropical fruits. On average, the wine sells for around $11.
Pairing Suggestion: Saffron-Scented Couscous with Pine Nuts
5. Caliterra Sauvignon Blanc Reserva
Another wine out of Chile's Central Valley, this one is produced in an area called Curico Valley. The Sauvignon Blanc Reserva is a pale yellow color and displays aromas of tropical fruit, including guava and tangerine. On the tongue, most drinkers note mineral flavors along with the expected flavors of fruit. On average, liquor stores price this wine at around $12.
Pairing Suggestion: Broiled Miso-Marinated Halibut
Do you think we're missing one of your favorites? Visit Snooth.com and vote or nominate the one you think is the best!