Ilene Ross takes us on a hog-tour through a West Virginian pig farm
By Ilene Ross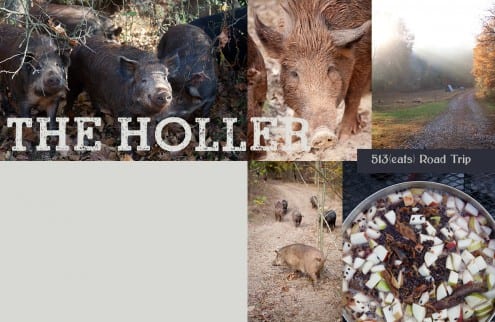 "Stay with your tour group!" Warned Dr. Chuck Talbot, only half joking.  Following a hearty, round the campfire breakfast of eggs, homemade biscuits, and of course, bacon and sausage, Gina and I – along with a group of chefs, butchers, and food purveyors from New York – were following Talbot on a walking tour of Black Oak Holler, Talbot's 267 acre West Virginia pig farm where he, wife Nadine Perry, and business partner Nicholas Heckett breed and raise a unique cross-breed of feral and domestic hog. Their goal, by combining the breed characteristics of the Ossabaw and Eurasian Wild Boar, with those of the Farmers' Hybrid/Large Black, is to be able to maximize the flavor characteristics required for their own "Appalachian Charcuterie" rivaling those found in Italy and Spain. In order to accomplish this, the pigs, once weaned, are first raised on pasture and field crops, and then turned loose and allowed to roam the forest freely to forage on acorns and other woodland fruits – otherwise known as mast – which greatly increases the fat content and flavor of the meat.
So it was this, "roaming freely through the woods" aspect which could lead to some areas of potential danger, as Dr.Talbot had cautioned all who were attending this elite weekend adventure of hiking, camping, butchering, and eating, in a most delicately worded Facebook message prior to arrival. The message alluded to such dangers as actual wild boars that were looking to breed with Talbot's pigs, and overprotective sows with litters, aka "Land Sharks", the second most dangerous animal on a farm. The first – in case you were wondering – is the bull. Talbot ended his message with a friendly, "Don't want to scare anyone, just make noise and carry a big stick." Wild Boars? Land Sharks? We would most definitely not be leaving our tour group.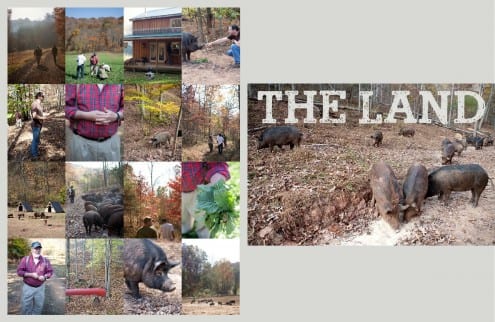 Twice a day during their six week stint in the woods, the pigs are called down from the hills into a clearing for a supplemental feeding of barley. This not only ensures that they're adequately fed; it serves as the perfect time for a head count, and to keep up the bond between farmer and animal. Some of the pigs have absolutely no interest in the barley whatsoever, happily ignoring humans and chomping away at acorns here and there. "They're crunching; they're busy," explains Talbot. "Pigs are what they eat, and the American diet for pigs of corn and soy produces pork that is too bland. The flavor is in the fat."
Hiking the land with Talbot, a renowned expert in the field of hog genetics, was for Adam Danforth, a butcher and writer from Brooklyn, who had traveled by van with the rest of the New York group, part of the draw of the trip. "Chuck is a brilliant individual, and just being around him is inspiring. I had read 'Pig Perfect: Encounters with Remarkable Swine', (Peter Kaminsky's 2005 book on which Talbot served as researcher) and I had talked to Nic [Heckett] but never met him; I wanted to meet and spend time with them both. I just want to glean whatever information I can about raising animals." For Ian Kapitan, Executive Chef of New York's Alobar, the weekend is all about continuing to close the gap between chefs, farmers, and the food he puts on people's plates. Says Kapitan, "I had done huge food factory type restaurants with commodity meats and vegetables, and I was tired of it. There was no connection."  Chef Yvon de Tassigny of Brooklyn restaurants Fette Sau and St. Anselm agrees. "We don't use any commodity animals. They're all hormone free and naturally raised. More and more we've been using heritage breeds. It's very important to me to see who raises these animals and to see that they're free to roam around and eat what's out there instead of just corn and soy or garbage."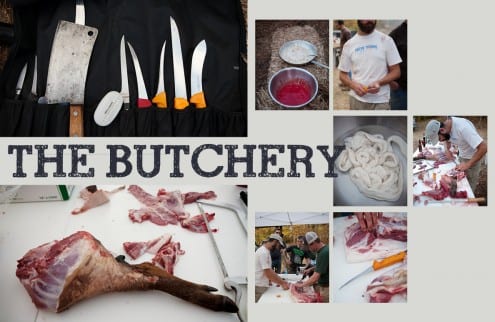 In Fergus Henderson's 2004 book, "The Whole Beast: Nose to Tail Eating", the author declares, "If you're going to kill the animal it seems only polite to use the whole thing," and these days, most respectful chefs-including those in our group-consider this de rigueur when preparing meat in their restaurant kitchens, with some even bringing in whole animals to butcher on premises. In addition to reverence, this type of cooking promotes creativity with the use of some less popular cuts. Chef Kapitan also sees it as the ideal way to "know the traceability of the animals and to ensure what they've been raised on."
With so many proficient butchers in our bunch, ideas flew quickly with Danforth taking the lead when it came time to prepare the meat for dinner. "There are so many unique ways to break down these animals and I find it incredibly fascinating based on cultures and tradition. I would really like to spend some time in Spain and study their techniques."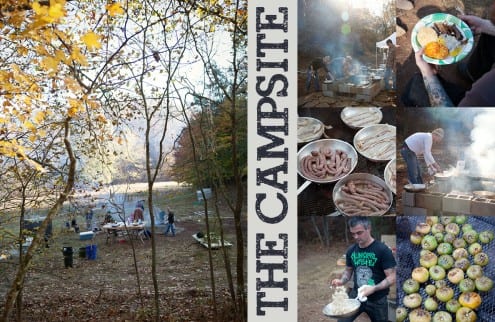 Get a group of ravenous, innovative chefs together around a giant fire pit, throw in some extraordinary fresh pork, and stand back. Exciting things are going to happen. Everyone swiftly pitched in to prepare the evening meal while Cincinnati's own Chef/Master Sommelier Steve Geddes spoiled the group with exceptional wines. Everyone took the opportunity to experiment with the unique cuts of meat and, utilizing the experience of some of the other chefs, de Tassigny even tried his hand at a traditional blood sausage. Lest we leave hungry, resident Chef Jay Denham and Cincinnati's Justin Dean had put a whole other hog on the smoker that morning and Chef Bob Perry had arrived from Lexington with a truck full of the season's best produce and jars of his homemade Ubatuba peppers. We would be eating well that evening.
While the meal was being prepared, I had the chance to talk to Ben del Corro, Sales Manager and a chef at Fossil Farms in New Jersey. Fossil Farms sources unique proteins from sustainable small family farms for restaurants and the public. Del Corro shared with me his perspective on making the choice between this type of food and meat from a commodity producer. "Being in food sales, I want to be able to tell my customers exactly where their food comes from and have complete transparency. In a city like New York, it's easy to get lost and not know where things come from. You just have to taste a product like this and you know that it's a different breed, a different caliber. This is why we deal with small farms. There's no other way to get food this way. This breed of pig raised this way, under these conditions, by these people, in this environment. The French call it terroir. We call it regional food."
We finished the day as it had begun, around the campfire. We shared food, drink, and stories. Although the pork we were eating was far above par, Dr. Talbot reminded me that he considers the project an experiment and a constant work in progress. He laughs, "It's a bit like Jurassic Park. I'm not sure of many people doing this, and I'm not sure who would do this."
photography by Gina Weathersby