How about a serving of Europe's smoothest ice cream in perfectly paired flavors, served freshly made to order?
By Mia Irene Kristensen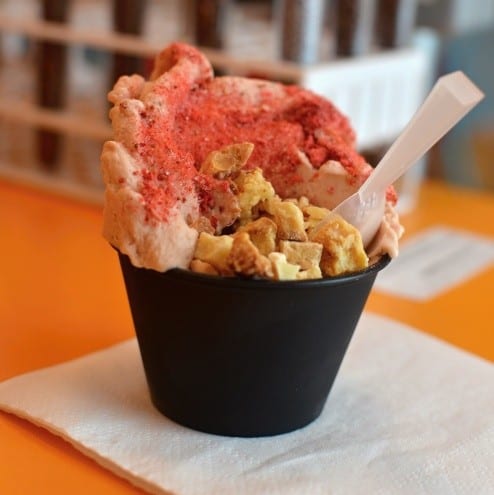 How about a serving of Europe's smoothest ice cream in perfectly paired flavors, served freshly made to order? It almost sounds too good to actually be true. Nonetheless, this is what I was presented with at the ice cream parlour The Chin Chin Laboratorists in Camden Lock Market, London.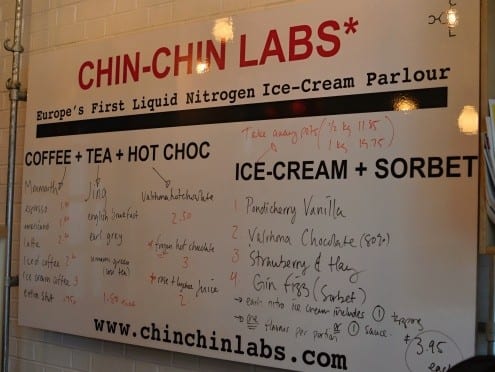 Science, gourmet or the rare combination?
From the outside many people would probably walk by the small store, either thinking "more Camden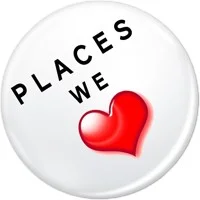 Crap" or "Who decided to put a lab i my local market?". Ahrash Akbari-Kalhur and his wife, Nyisha Weber, have kept their ice cream parlour in very simple decor, which fits the base of their concept – the use of liquid nitrogen in the making of their tasty ice cream!
Lab equipment like test tubes, flasks and beakers are filled with everything from custard-base and fizz powder to popping candy and fleur de sel caramel and the concept is as simple as the decor. Choose your ice cream base and add a desired topping.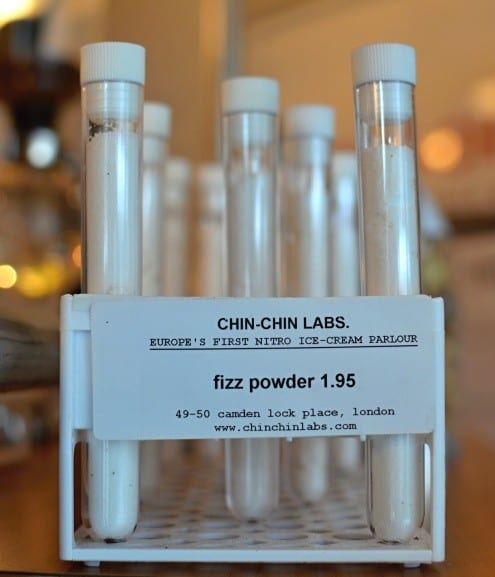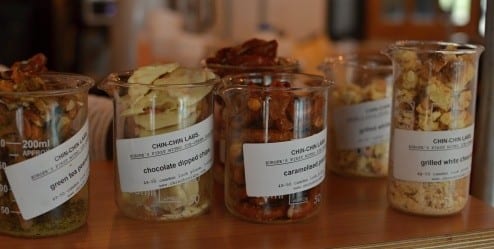 Smooth ice cream with beautiful flavors
There is normally a long queue in front of the small shop. but this sunny tuesday there is surprisingly nobody in line. I have 4 varieties to choose from; Pondicherry Vanilla, Valhrona Chocolate (80%), Strawberry and Hay and the last one being Gin Fizz sorbet. So what to pick, when faced with a decision like that? You go for at least two! – I tried the chocolate (who will ever avoid that one!) and the strawberry and hay, going at £3.95 (1 ice-cream + 1 topping/sauce). Both where the smoothes ice cream I've ever tried, but very different in flavor intensity. The chocolate variety was based on heavy Valhrona chocolate and extremely fudgy and intense. The fleur de sel caramel was stunning together with the heavy chocolate and the serving size ended up being almost too much. That treat really filled my hunger for chocolate at least for the rest of the day.
The strawberry and hay is a summertime favorite – very creamy, light and almost mild, with a little dust of freeze dried strawberries. The hay-note wasn't overwhelming but just reminded me about the summertime activity of self-picking strawberries in the fields filled with hay to protect the sensitive berries. The grilled white chocolate was a bit too sweet for my palate, but the crunch of it was lovely in combination with the creamy texture of the ice cream. There is no doubt that the ingredients for ice creams like this has to be of a very high quality and looking around in the production area in the back of the shop, I'm absolutely sure that the young couple know what makes the perfect ice cream base – either being a sorbet syrup, custard or pure cream.  The flavors change whenever they invent a new flavor combination, sometimes weekly, sometimes daily, featuring flavorings like "Purple Grape Soda", "Basil", "Deep Fried Apple Donut" and "Green Grass".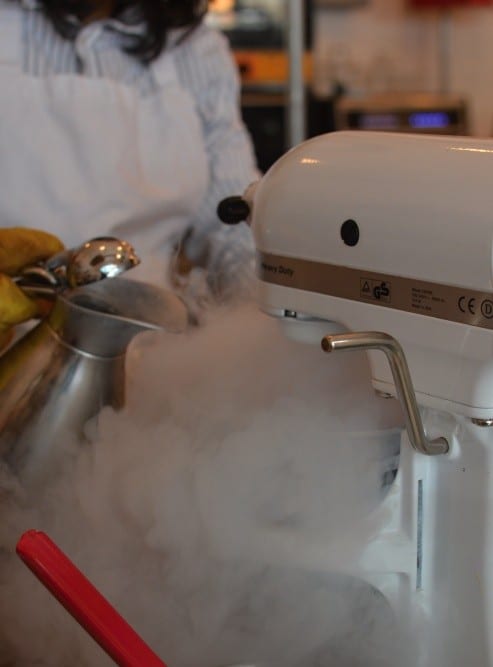 Liquid nitrogen is the secret
The liquid nitrogen really does its job on both custard, syrups, cream and even the hot chocolate, nothing can resist freezing when hit by the -196C degrees. The low temperature makes the water in the ice cream base freeze immediately, only developing tiny water crystals – leading to the appetizing texture and the freshest ice cream, you can get hold of.
Curious about the liquid nitrogen method for ice cream making?
The use of liquid nitrogen is not an easy accessible way of producing ice cream and at the moment this type of ice cream is only served in fancy restaurants. The British scientist Peter Barham was one of the main characters in getting the method into restaurant kitchens around the world about 100years after its discovery, because the method was easy, effective and leading to ice cream better than any served before!
It was exactly these servings performed by top chefs that inspired  Ahrash Akbari-Kalhur to open the small ice cream parlour at Camden Market and make this incredible ice cream available for consumers. And thank god for that… I'm definitely coming back for more!
My recommendation
Of course you should try one of the ice cream varieties, but I prefer to go with a crunchy topping for the soft ice cream. Caramelcoated Pretzels was lovely, both crunchy and salted – a beautiful contrast!
If  the weather is not "suitable" for ice cream, go for a frozen hot chocolate. Similar to an Affogato, but made with hot Valhrona chocolatemilk poured over vanilla ice cream, lastly being frozen in the top by a small splash liquid nitrogen – A true master piece!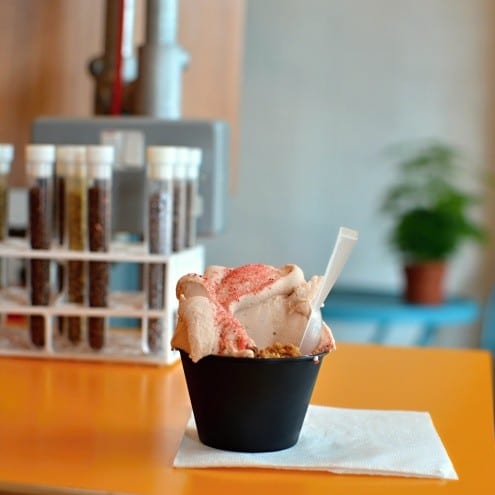 The Chin Chin Laboratorists
Camden Lock Place, London, nw1 8af
nitro@chinchinlabs.com 
Mia Irene Kristensen
Mia Irene Kristensen is a passionate food blogger, creative recipe developer and Master Student in Food Science and Technology. When not braising and baking, she runs the companies CPH Good Food and TASTE CPH. This keeps her in touch with her creative side and passion for cooking, as she is constantly working on new projects, developing recipes, hosting cooking classes and food walks, and lastly trying to teach the public a tiny bit of the science that goes on in their pot and pans.