Marissa Sertich attended the Bumbu Bali Cooking School and came back with this report.
By Marissa Sertich
Heinz von Holzen appeared in full motion, advancing at a pace far too zealous for six o'clock in the morning.   Greeting us with motorcycle helmet in hand and hair just long enough where it begins to curl around the ears, he exuded the aura of a man on a mission.
Heinz is the chef and owner of the restaurant Bumbu Bali in Nusa Dua on the southeast coast of Bali.  Several of us were gathered there at six in the morning because we were about to embark on a culinary adventure and participate in Heinz's Balinese Cooking School.  His enthusiasm for Balinese cuisine is infectious.  You'd never guess he'd been conducting the same cooking class every week since 1997 – except, perhaps, by its flawless orchestration.
The class begins with a trip to village market and also, the jimbaran fish market, which is located directly on the beach.   There, we were given a tour of the local ingredients, from snake fruit to fresh turmeric.  We were also given an explanation of how to recognize fresh fish –believe it or not, simply because the fish has been plucked from the ocean only hours before, does not mean it's good quality.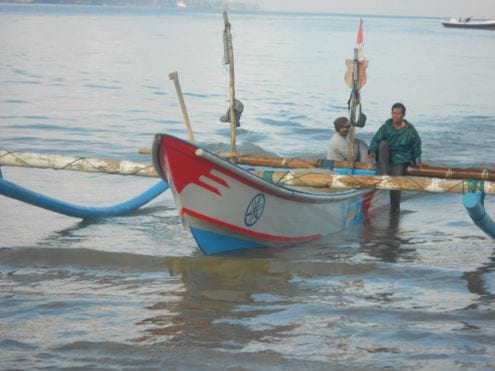 True – it seems peculiar being led through authentic Balinese cuisine by a Swiss-Born Chef, but his restaurant is one of the only where Balinese cuisine can be found.  Because it is cooked almost exclusively in the home, true Balinese food is virtually unknown by visitors.  Throughout Bali you see fried rice, fried noodles, satays and suckling pig, but none of these reflect the daily flavors of Bali.
Throughout the class there are also a series of very direct pop-quizzes.  How do you know if a chicken will lay a brown or a white egg?  How many different types of salt are there?  How many times do you turn a steak?   Citing culinary experts like Harold McGee and Heston Blumenthal, it is clear that Heinz is driven by never-ending culinary curiosity.  Each class even comes with a fourteen-page handout full of food science, ingredient information and history.
After the trip to the market, it's breakfast time and then time to start cooking.   The setting for the class is Rumah Bali, Heinz's picturesque bed and breakfast with fully equipped alfresco event facilities.  Thatched roofed pavilions and a traditionally crafted "village" setting make you feel as if you are truly cooking in paradise.
The class is demonstration-based with many opportunities to volunteer.  You grind a variety of Balinese spice blends and also elegantly wrap highly seasoned foods in banana leaf bundles.  Throughout the day, the bright flavors of lemon grass and kaffir lime hit your nose, followed by the burn of red chilies and mild sweetness of garlic.  The richness of coconut cream and the acidity of dark palm sugar swirl in a combination leaving every pupil's spoon poised and ready for more.
Heinz von Holzen conducts the class with poise, humor, unique viewpoints and a true compassion for the people of Bali and their cuisine.  Heinz can be seen with his cooking classes at six in the morning and then can be seen again at his restaurant until closing time.   Something very quiet and very magical is happening at Bumbu Bali – It is the clearly dedicated work by Heinz and the staff at Bumbu and Rumah Bali, true attention being paid to ingredients, and the warm feeling of welcome and hospitality that seems to come naturally to the Balinese people. Heinz von Holzen's vision is an inspiration to cooks, hospitality professionals, foodie-types, and entrepreneurs alike.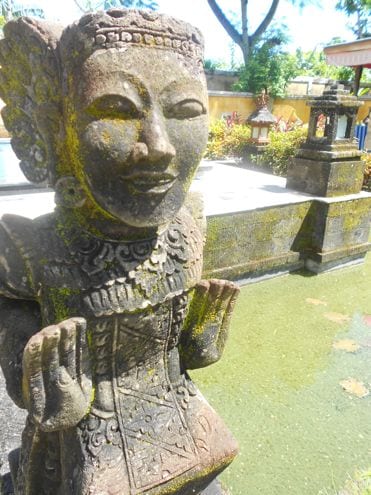 Marissa Sertich
Marissa Sertich Velie is a New York based pastry chef and graduate of the Culinary Institute of America. She passionately documents her adventures of baking and eating her way through the fascinating (and sometimes nutty) underbelly of the American pie. Velie has a Master's degree in Food Studies from NYU.