Make your salad exciting with crispy Thai chicken, fresh herbs, and a bright lime dressing.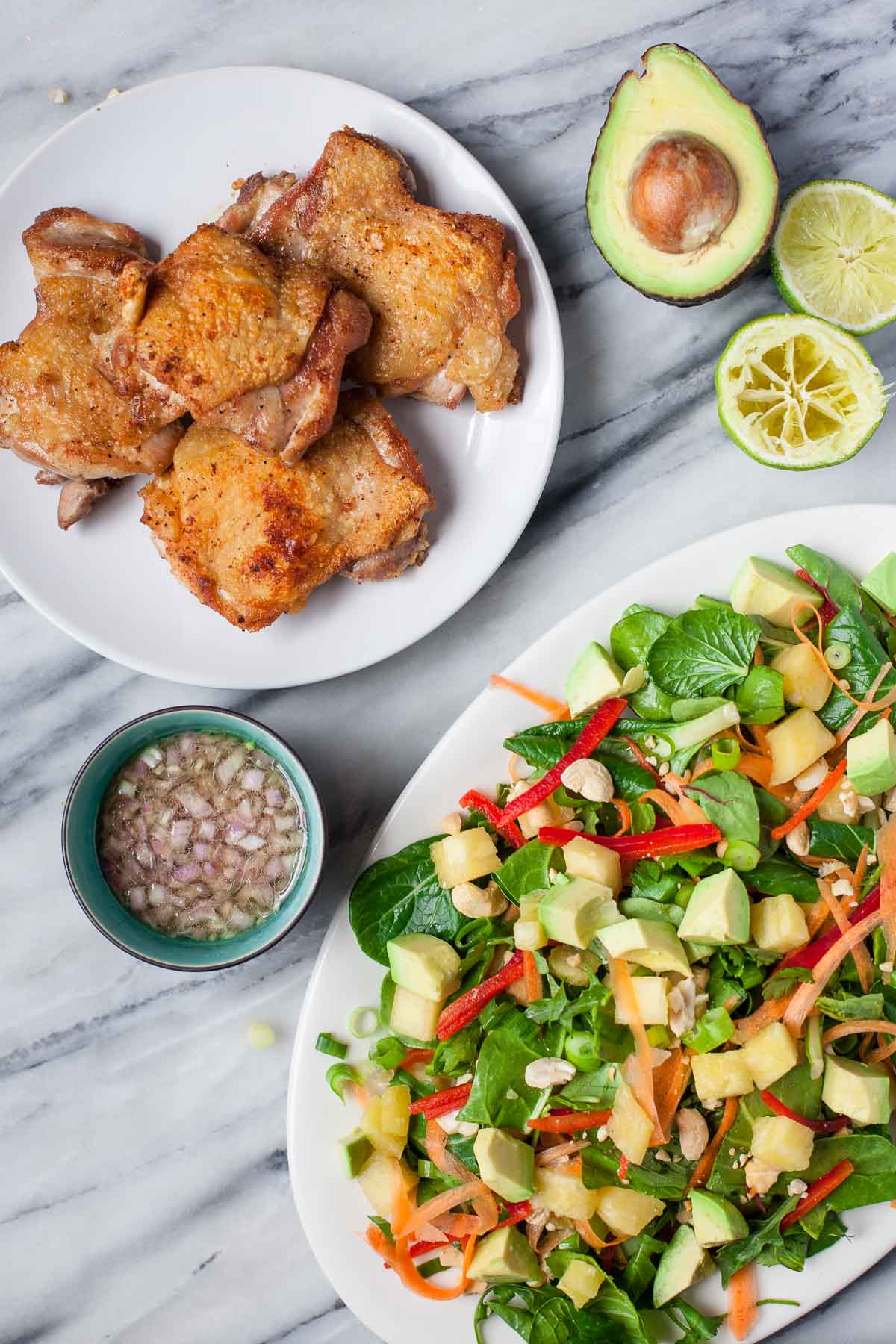 This crispy chicken Thai salad is super refreshing thanks to a light but flavorful lime dressing and plenty of fresh herbs. The chicken is amazing on its own, but transcendent when paired with the crunch and tang of the salad.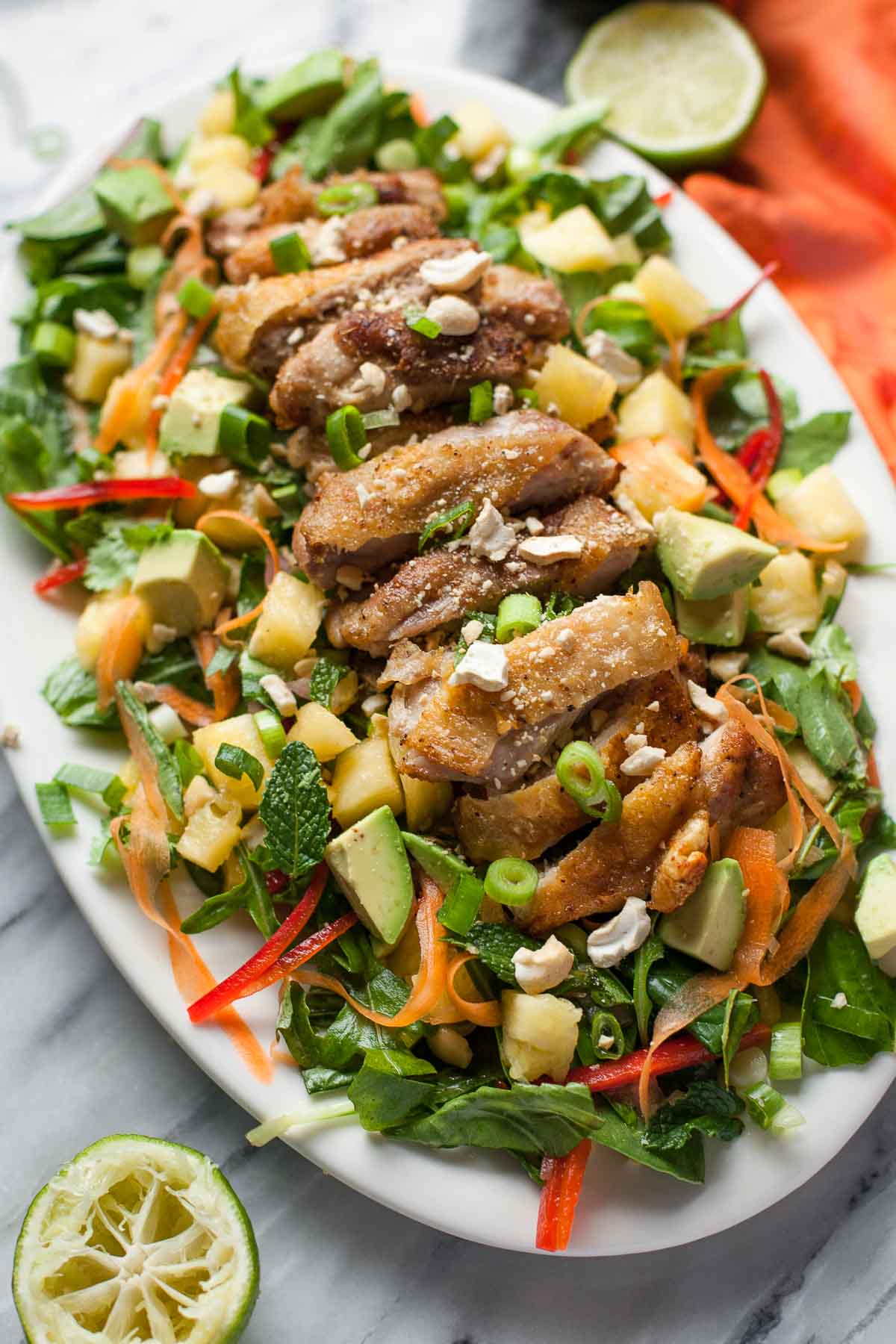 Here's the formula I've discovered for making salads that I don't hate: some kind of greens, preferably fresh from the farm + something sweet (usually fruit) + something crunchy (often nuts) + something creamy like avocado or cheese + plenty of pops of color + a flavorful dressing that's just tart enough. And if said salad is meant to be an entire meal, add in a good dose of protein.
This crispy chicken Thai salad has all of that covered. I used mix greens for the base and added in plenty of fresh herbs. Cilantro, basil, and mint make this salad unique from the get-go. Thai basil is great if you can find it, but I used Italian basil when I made the salad for these photos and it works really well, too. For our "something sweet", we have pineapple. The crunchy base is covered a few times over with the red bell pepper matchsticks, the toasted cashews, the sliced scallions, and the crispy chicken skin. Avocado provides the creaminess factor, and almost everything here provides a great pop of color.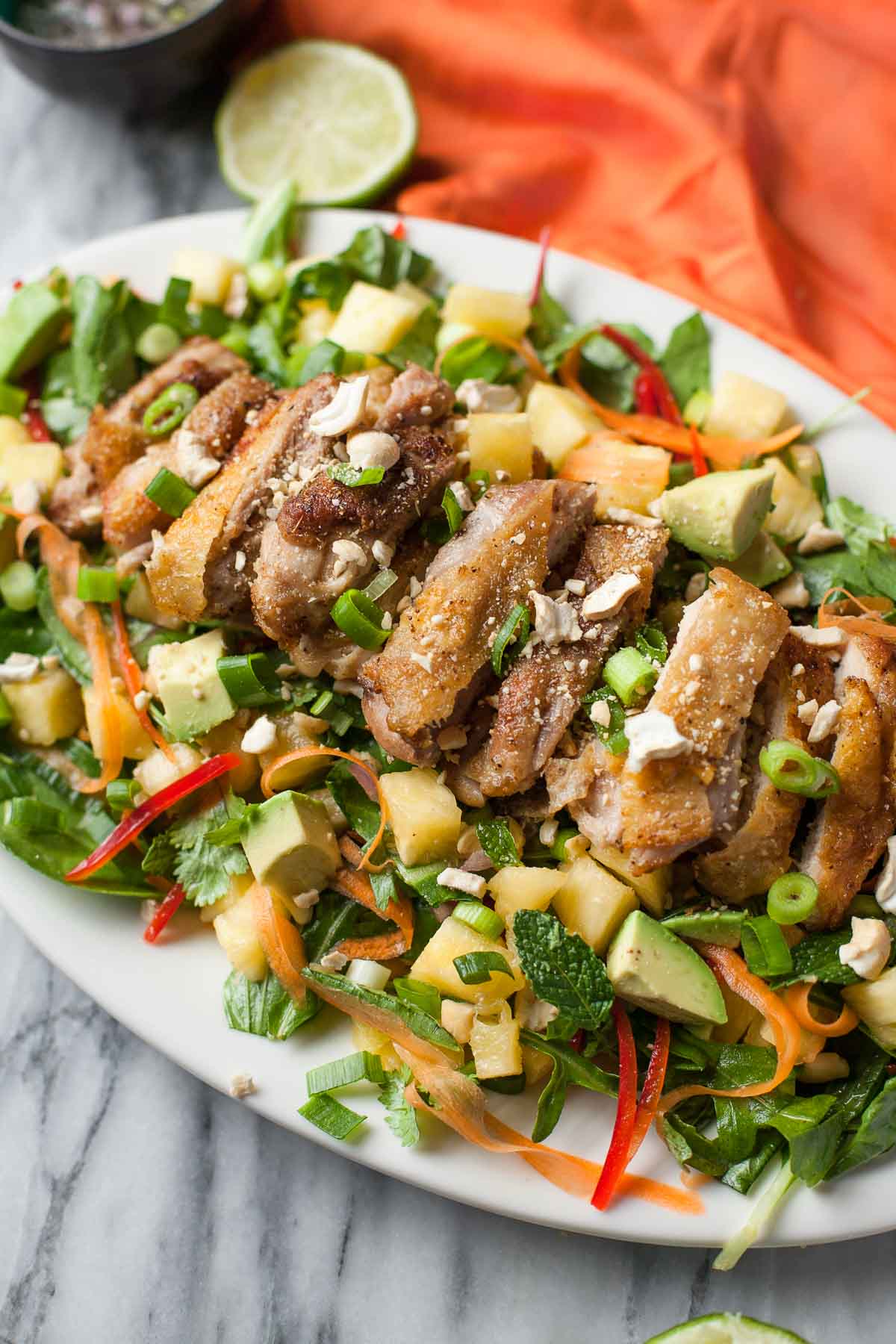 See Also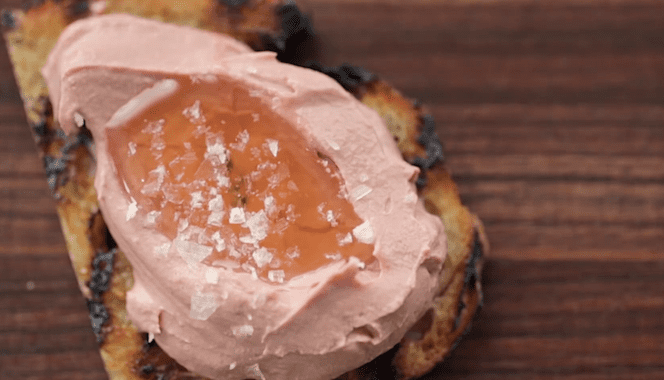 And the dressing for this salad is one of my favorite parts: it's lighter and more refreshing than most dressings because it only has a little bit of oil. I usually follow a 3:1 ratio of oil to vinegar when making salad dressing, but totally broke the mold with this one. It's mostly fresh lime juice, with a tablespoon of honey, some fish sauce, and just the tiniest bit of oil. Minced shallots mellow a bit as they sit in the limey mixture, so they provide just the right amount of savory goodness. The dressing is light and tastes quintessentially Thai to me–it ties all of the elements of the salad together perfectly. You won't taste any fishiness here, so don't worry. The fish sauce just adds an umami flavor that will make everyone who eats this ask what makes the dressing SO good.
And for protein we have crispy chicken, adapted from a Nom Nom Paleo recipe, which may be my favorite discovery since going paleo.
Print
Author:

Becky Winkler

Prep Time:

20 minutes

Cook Time:

15 minutes

Total Time:

35 minutes

Yield:

6

servings

1

x
Category:

Main
For the dressing:
2 tablespoons

lime juice

1 tablespoon

honey

2 teaspoons

Red Boat fish sauce

1 teaspoon

avocado or olive oil

2 tablespoons

minced shallot
For the crispy chicken:
1 teaspoon

ground coriander

½ teaspoon

freshly ground black pepper

½ teaspoon

ground ginger

¼ teaspoon

garlic powder

6

skin-on chicken thighs (deboned*)
Sea salt

1 teaspoon

avocado oil
For the salad:
3 ounces

mixed baby greens

1/3 cup

lightly packed fresh basil leaves (torn if large)

1/3 cup

lightly packed fresh cilantro sprigs (roughly chopped)

2 tablespoons

lightly packed mint leaves

2

medium carrots (peeled into strips using a vegetable peeler)

1

red bell pepper (stemmed, deseeded, and julienned)

3

scallions (trimmed and thinly sliced)

2/3 cup

cashews (chopped and toasted**)

8 ounces

fresh pineapple (chopped into small chunks (about

1½ cups

))

1

avocado (peeled, deseeded, and chopped into small chunks)
Instructions
In a small bowl, whisk together the dressing ingredients. Cover and refrigerate until you're ready to serve the salad.
Season the chicken thighs with salt. Heat a large cast iron skillet over medium high heat, then add the ghee or avocado oil. Add the chicken thighs, skin side down. In a small bowl, mix the black pepper, ginger, coriander, and garlic powder. Sprinkle the spices on the meaty side of the chicken. Allow the thighs to cook for 8-10 minutes, until the skin is deep golden brown, rotating the pieces halfway through so they brown evenly. Turn the chicken over and cook for 5 minutes on the second side, or until the chicken is cooked through. Transfer the chicken to a cooling rack, rest for five minutes, then slice into strips.
Toss all the salad ingredients with dressing to taste, top with the sliced crispy chicken, and serve immediately.
Notes
*Use kitchen shears to cut the bone out yourself, or ask your butcher to do it. Make sure to leave the skin on!
**I toast cashews in a dry skillet over medium heat until they turn light golden brown. Transfer them to a plate and let them cool before adding them to the salad.
Becky Winkler
Becky Winkler is an enthusiastic eater who shares paleo and gluten-free recipes on her blog, A Calculated Whisk. She enjoys chopping chocolate, salting dessert, searing short ribs, and taking pictures. In her other life, she's a grad student in Boston.