From an authentic bagel to a foldable slice of pizza and all the fine dining spots in between, here are the foods that must be taste when in The Big Apple.
By Chris Cockren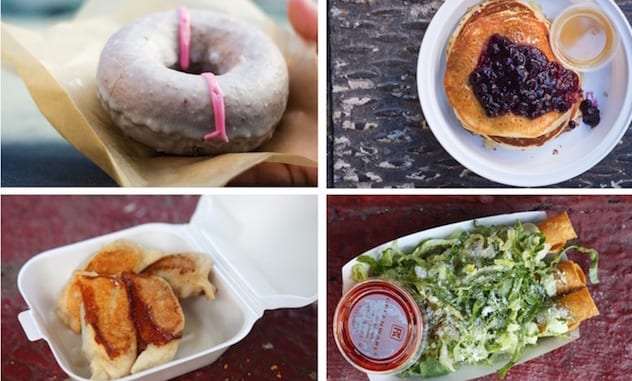 Food. It's on my mind pretty much more than anything else throughout my waking (and most likely sleeping) moments. #thisiswhyimfat
We talk food almost every single day. New restaurants to try. Recipes ideas. Our recent successes and failures in the kitchen. Current conversation is mostly about our new kitchen toys (sous vide machine), eating ramen in NYC, and wanting to recreate said ramen at home.
And that got me thinking about all the great food I've been blessed with consuming (and thus carrying around on my waistline… and arms, legs, and double chin) in and around NYC.
So it's about time I shared with you The Top 10 Foods You Have To Eat In NYC. And I'm sorry I didn't do it sooner.
NYC is my home. It's my stomping ground. Why haven't I told you about what you absolutely, hands down, HAVE to eat when you're visiting The Big Apple?! Obviously it was a gross oversight.
So if you're planning a visit to NYC, skip the crappy tourist traps. Don't even think about entering a chain restaurant in Times Square. I mean, really… why would you travel all the way to NYC to eat at Fridays… or Olive Garden. That's dumb.
Instead, treat yourself to The Top 10 Foods You Have To Eat in NYC. Because really, your vacation is worth it.
PIZZA.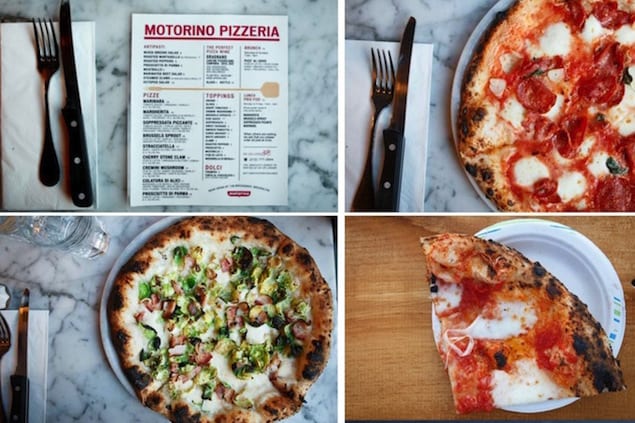 No, I'm not talking Sbarros. Put that crap down. I still don't understand how they are able to stay open in a city where even the worst pizzerias have slices that are at least 342 times better than that.
NYC is home to some of the best pizza in the country. Period.
Motorino Pizza – this East Village joint serves up some really great artisanal, Neapolitan-style pizzas with the perfect amount of char. I really love their Margherita and Brussels Sprout pies.
Roberta's Pizza – this super popular (and dare I say hipster) pizzeria does some serious wood-fired pizzas within a really cool atmosphere…. and they aren't just pizzas. There's a full kitchen menu as well.
Lucali – it sure isn't cheap ($24 for a pie), but this thin-crust pizza Brooklyn pizzeria has a huge following.
Artichoke Basille's Pizza – with a few locations throughout the city, this is a great place to grab a hearty slice of their artichoke pizza. It's ridiculously hearty and filling, with artichoke hearts, spinach, cream sauce, mozzarella and pecorino romano cheese.
Co. – owned by bread and pizza guru Jim Lahey (i.e. the guy who revolutionized at-home bread baking with his no knead bread recipe), Co serves up his pizza at communal tables in the heart of Chelsea.
Otto – Mario Batali's casual pizzeria and wine bar, the place is a great spot to grab a relatively inexpensivedinner. The pastas (taccozzette con stracotto) and antipasti (eggplant caponatina and cheese/meat platters) are also quite enjoyable, as is the super creamy gelato (go for the olive oil gelato).
John's Pizza – although I've never been to this iconic Bleeker Street pizza joint, they are famous for their signature brick-oven pies.
BAGELS.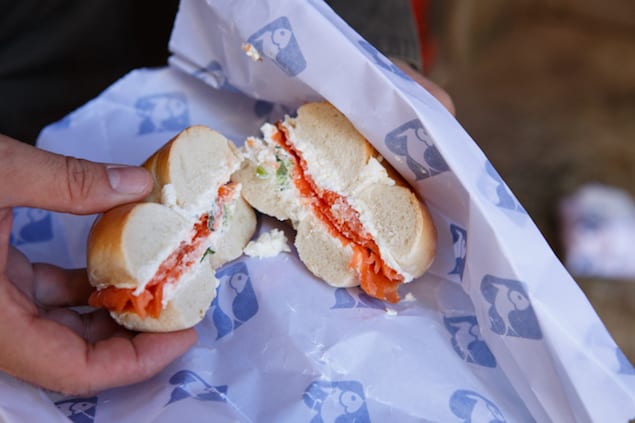 Some people say it's the water that makes New York's bagels so gosh darn amazing. Maybe. But NYC is home to some of the world's finest bagels, and makes for one heck of a breakfast. I'm completely blessed. I've lived in NY my entire life, so I never met a terrible bagel until I traveled outside of the state. I couldn't get back home fast enough.
Russ & Daughters – the bagels are actually just okay, but you are here for their lox sandwiches (with scallion cream cheese). Russ & Daughters is a super famous Lower East Side establishment that's been in business for 100 years. That's a long time to be on the top in NYC. And expect a line… there is always a well-deserved wait for these sandwiches.
Absolute Bagels and Murray's Bagels are both great choices for iconic NYC bagels. The crust is firm and crunchy, and the interior is dense and chewy. They are made by hand and shaped by hand, unlike the sad-tasting mass produced ones that so many of you are stuck eating.
BURGERS + SANDWICHES.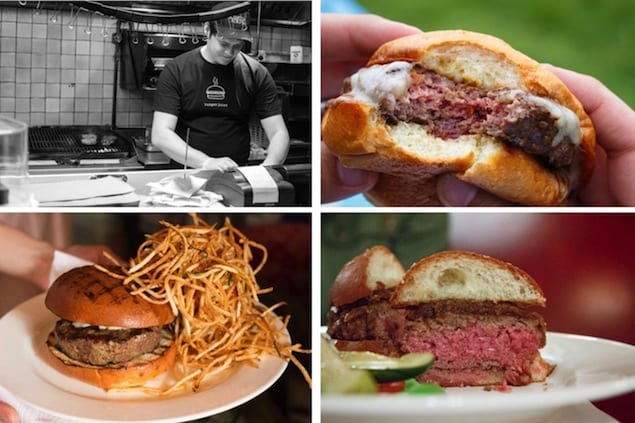 Burgers. How I love thee. And apparently NYC loves them too. Here's some places you can snag one worth your money…
Minetta Tavern – you're here for the Black Label Burger. Yes, it's almost $30. Yes, it's worth it. My wife Asheley isn't even a burger fan and she's all about this burger. It's brisket, short rib, skirt steak, and dry-aged ribeye. Yea…. Just be forewarned, you'll probably need a reservation. It gets mighty busy up in here.
The Spotted Pig – Chef April Bloomfield's crazy popular gastropub has an all-star menu, and her burger doesn't disappoint. And get ready for a pile of highly addictive shoestring fries. It's kinda impossible to stop eating them.
Umami Burger – the first NYC outpost of the popular California chain, Umami Burger serves up my favorite mid-priced burger in the city. Go for the Truffle Burger. Trust me.
Shake Shack – an NYC icon, this fast food joint (with many locations) is a must for locals and tourists. Get the Shack Stack, which is a burger topped with a cheese-stuffed fried mushroom. And don't you dare even try to leave without getting a Concrete, which is made with their super thick, creamy, and rich custard. Just do yourself a favor and skip the shakes… they are mediocre at best.
Burger Joint – two locations and a cult-like following. These classic no-frills burgers will definitely hit the spot.
Bareburger – you feeling a bit adventurous? Wanna try an organic elk, bison, or even ostrich burger? This is your place. They have a bunch of locations and the chocolate peanut butter shake is a must.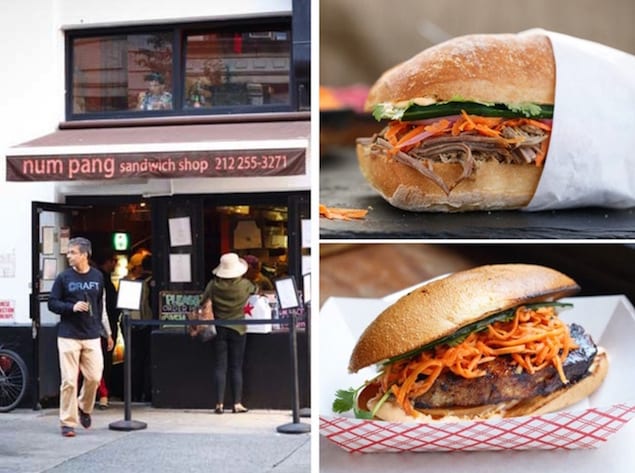 Numpang – these sandwiches will change your life. I'm serious. The mini-baguette is perfect, and the pickled carrots, fresh cucumber, and spicy mayo make for perfect toppings for whatever sandwich you choose. I'm a fan of their Duroc Pulled Pork, but really, everything is great.
Taim – home to the best falafel in NYC, Taim has an incredible falafel sandwich. It's my buddy Tyler's favorite sandwich in the city.
Katz – an iconic NYC establishment that is popular with tourists and locals alike, Katz Deli serves up monstrous pastrami sandwiches.
Momofuku Ssam Bar – a different type of sandwich, Momofuku Ssam Bar has the most amazing Steamed Pork Buns I've ever tasted. The pillowy buns are stuffed with a generous slice of moist, meaty pork belly, quick pickled cucumbers, and some sort of house-made hoisin sauce. And while you are there, feel free to try a bunch of their other great small plates. Then, head across the street to Momofuku Milk Bar for some whimsical sweet treats (go for the Crack Pie or Cereal Milk Ice Cream).
RAMEN.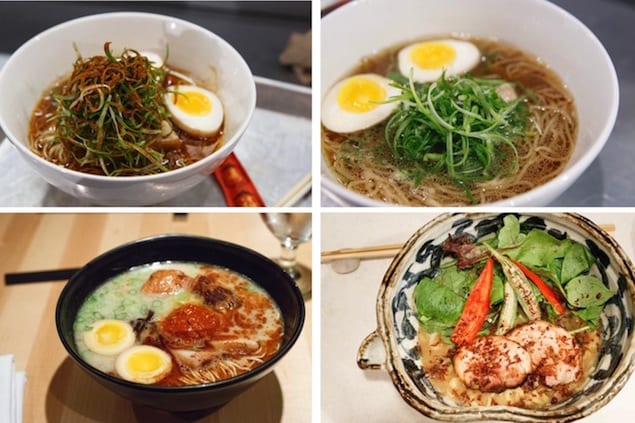 No, we aren't talking about that 10 for a $1 Cup O' Noodles garbage that you stocked your college dorm with. The real deal ramen is taking New Yorkers by storm. It's quickly becoming the #1 "trendy" thing to eat…. ramen shops are popping up all over the place. Asheley and I can't get enough of this stuff.
Ivan Ramen – you wouldn't think a Jew from Long Island would end up becoming one of the world's leading experts on ramen. After his creative and unique ramen blew up big time in Tokyo, Ivan Orkin brought his ramen to NYC in two locations. It's darn good. And looking for something different? Try one of his mazemens, which is less brothy than the traditional ramen.
Ippudo Ramen – a more classic, traditional approach to ramen, Ippudo serves up perfect bowls of the stuff every time. I love the spicy one.
Chuko Ramen – two of Morimoto's chefs branched off to create this Brookln ramen spot. And it's good. The end.
Yuji Ramen – another Brooklyn ramen spot, Yuji Ramen has this phenomenal bacon and egg ramen. The bacon is super smoky, and the perfectly poached egg creates a lucious, velvety sauce that coats the noodles. It's not traditional in the least, and I couldn't care less. It's the epitome of delcious. If you want to check out their other restaurant, it's called Okonomi.
Momofuku Noodle Bar – although not my favorite bowl of ramen in the city, it's still a great option if you are in the East Village. They have pork buns here as well, which makes it worth considering :)
Bassanova Ramen – in a little basement space in Chinatown, Bassanova Ramen has an inventive Green Curry Ramen that is quite tasty. My first visit here was much better than my second (the noodles were overcooked and the pork was skimpy), but that broth is mighty tasty.
FOOD TRUCKS.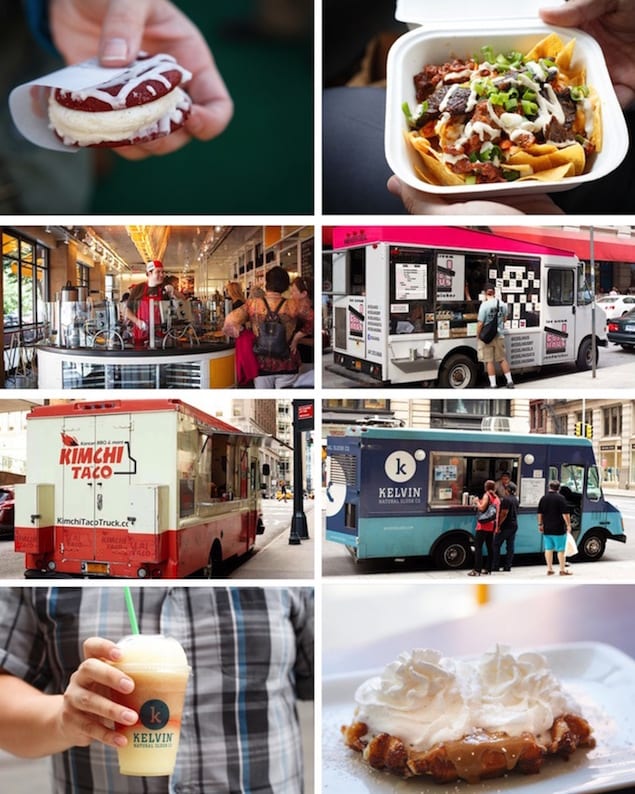 I'm all about food trucks. LOVE food trucks. And NYC is home to some really great ones…
Wafels + Dinges – looking for the real deal Belgian waffles? Not the garbage that we've come to think is real deal. Like, legit chewy, sugary Belgian liege wafels… these are it. And make sure you get yours topped with speculoos. It's amaze-balls.
Kelvin Slush – pretty much the slushie perfected for adults. It's my go-to on hot summer days, and I'll search this truck out to get my fix. I go for the Arnold Palmer (1/2 iced tea, 1/2 lemonade) with a shot of some sort of fruit mix-in.
Kimchi Taco – quite possibly my favorite savory food truck, Kimchi Taco blends Korean and Mexican flavors. I'm a huge fan of the Kimchi Nachos. Just go for it. It's the best $4 you've ever spent.
Coolhaus – custom ice cream sandwiches made to order. The end. I'm a sucker for their potato chip cookies stuffed with brown butter candied bacon ice cream.
Korilla – another great truck that blends Korean and Mexican flavors. These guys actually were on Tyler Florence's food truck show on the Food Network… but they got kicked off for apparently cheating. Oops.
Schnitzel and Things – these guys do schnitzel up right. Boom.
TACOS.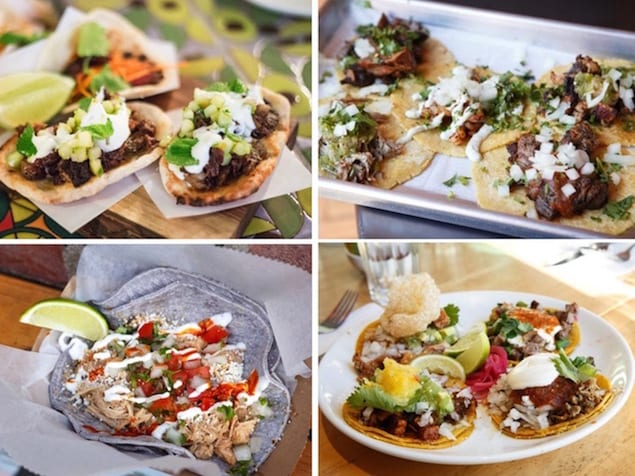 For a while, critics laughed at NYC tacos. They've got nothing on California. Well that's all changed. NYC is now home to some legit taco options. Case in point?
Brooklyn Taco – located inside the Essex Street Market, these guys have a great Chipotle Chicken Taco.
Salvation Taco – although a bit on the pricey side, April Bloomfield's Midtown taco restaurant (especially the lamb on mini naan "tortillas") totally hit the spot. The place has a fun vibe as well.
Mission Cantina – Danny Bowien's (yes, the Danny Bowien of the amazing Mission Chinese Food) lower east side restaurant serves up a great selection of tacos, burritos, and more.
Otto's Tacos – the East Village taqueria serves up some delicious mini tacos. The corn tortillas are made right in front of you are are quite plump (in a good way). The fillings are all legit. Yes, I've tried them all :)
Dos Toros – this taqueria has a few locations throughout the city. I'm a fan of their carne asada tacos. Super cool? They melt a slice of cheese into the tortilla. One of life's little pleasures. Make sure to top it with guacamole, and if you are going to go for their spiciest hot sauce, don't say I didn't warn you.
Calexico Cart – this place started as a cart and grew into a permanent restaurant location in the lower east side. They have a full menu of lots of different stuff, so go crazy.
Taquitoria – three guys that worked at Iron Chef Marc Forgione's restaurant branched off to create this lower east side gem. It's the ultimate comfort food, especially after a few drinks. All the fillings are really fantastic (and they even have a vegan black bean option that is legit), and definitely top it cheesy (cheese sauce, sour cream, and pickled jalapeno relish).
Suenos – if you happen upon this Chelsea restaurant, you need to get their appetizer Shredded Mini Tacos. They are awesome.
BARBECUE.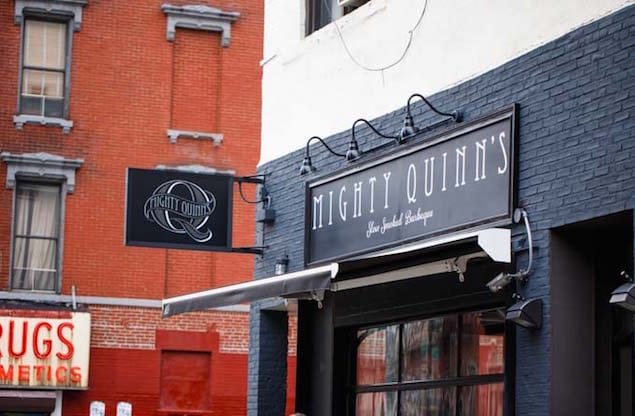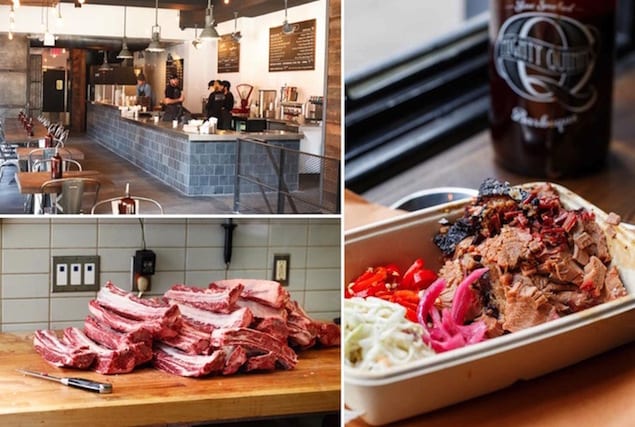 When it comes to great 'cue, I'm sure a list of cities come to mind… none of which are NYC. I mean, really? NYC for barbecue?! Heck to the yes.
Mighty Quinn's – this East Village joint knows brisket. It's mighty good (see what I did there… Mighty Quinn's, mighty good… never mind). The brisket is super moist, juicy, and tender, and comes with your choice of pickled vegetables (I always ask for them all).
Delaney Barbecue – if you're in Brooklyn with a hankering for brisket, this is your place. It's pretty darn amazing and might even make you shed a tear of joy.
Hometown Bar-B-Que – although I've never been to their Brooklyn restaurant, I did try their grub at a 'cue festival this past year. Guys, their beef rib was ridiculous. Like, unbelievably good.
Blue Smoke – a standard in the NYC bbq world, this is a great place to enjoy some 'cue. They just got a new pitmaster and I'm anxious to try out all their new offerings. If you go at the right time of year, there might be blueberry crisp on the menu. If there is, you NEED to get it.
DESSERTS.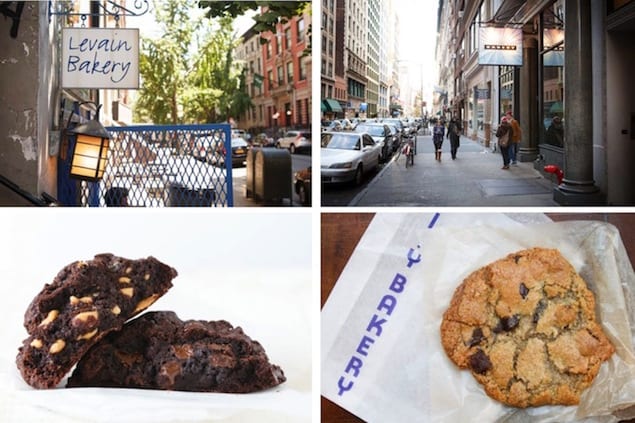 I'm a HUGE fan of sweets. I'm pretty sure cookies, cupcakes, and ice cream should all be there own food groups.
LeVain Bakery – if you are looking for the city's best cookie, you've found it. The things are massive and will cost you $4 a pop, but it's money well spent. Get the chocolate peanut butter or the double chocolate chip. And do yourself a favor and get a glass of milk as well. You're gonna need it. One is definitely enough to share, but to avoid a relationship-ending fight about who gets the last bite, I would recommend just splurging on 2.
Molly's – I don't like using the world "cute", but this Greenwich Village cupcake shop totally is. You can enjoy your cupcake on one of the few swings they have lining their counter, or grab a board game and sit at a table to relax. The cupcakes are totally legit as well. I'm a fan of their peach cobbler, ron bennington (chocolate pb), and… oh gosh, they are all amazing!
Two Little Red Hens – if you are hanging around the Upper East Side for some reason, check out this little bakery. They have great red velvet and Brooklyn blackout cupcakes.
Sugar Sweet Sunshine – gosh, I'm going to do it. I'm going to use the word "cute" again, but this time with a bit of a hipster edge. This Lower East Side bakery is everything you could want in a neighborhood hangout. The cupcakes are simple but perfect (and cheap at only $2 a pop). I'm a fan of the Strawberry Cupcake with PB Buttercream. The pudding is also really fantastic here… try the schmapple: vanilla pudding base jam-packed with apple, vanilla cake, toasted walnuts, and caramel whipped cream. Yup.
City Bakery – this iconic NYC establishment has some amazing hot chocolate. The marshmallows are made in-house and are a necessary add-on. And while you are here, grab yourself a chocolate chip cookie. Because really, what's hot chocolate without a cookie on the side?
Beard Papa – this Japanese company on the Upper West Side knows cream puffs. And they know them darn well. The perfectly light, airy, and crisp puffs are filled to order with a super luscious and flavorful vanilla custard. Check out their rotating flavor of the day as well. The green tea is quite enjoyable.
Jacques Torres Chocolate – if you are looking for great chocolate, Jacques Torres is your man. He has a few outposts around the city and there is something to satisfy any chocolate craving. In the summer, make sure to check out one of his gigantic ice cream sandwiches.
La Maison du Chocolat – the French know chocolate, plain and simple. This Upper East Side chocolate boutique (notice I say boutique… this shizz is fancy) boasts absolutely stunning pieces of chocolate. It's my favorite chocolate place to splurge a bit and is a great place to get gifts for that special someone you have no idea what to get. Ooooo, and you must try their hot chocolate in the winter. Yes, it's like $7 for a little shot glass of the stuff, but it's the best shot you'll ever taste.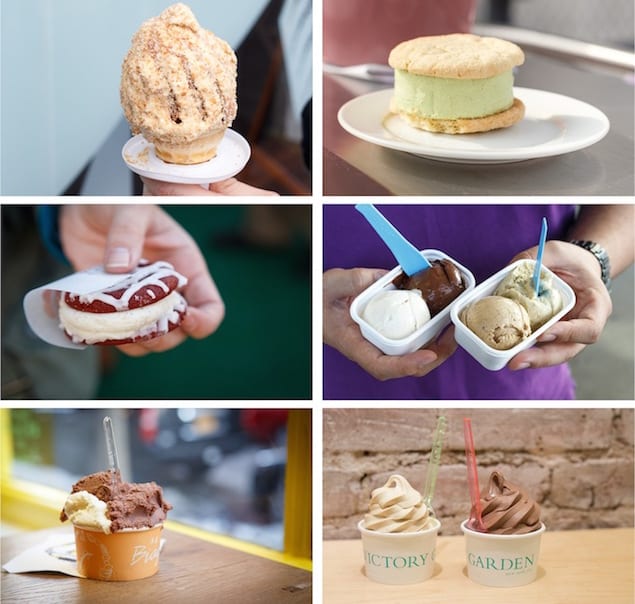 Il Laboratorio Del Gelato– these guys. Oh my gosh. Their gelato is life-changing. Head to this Lower East Side gelato shop for the best ever dark chocolate gelato, and while you are there, get a bit crazy and sample some of their other whimsical offerings. The avocado gelato is surprisingly delicious. If you have a craving for sorbet, it's pretty darn great here as well.
Big Gay Ice Cream – think Mr. Softee gone rogue. That's this place (East Village and also West Village). Try the Salty Pimp (vanilla cone with dulce de leche, sea salt, and chocolate dip) or the Bea Arthur (vanilla cone, dulce de leche, and nilla wafers). And remember to get your cone lined with either biscoff (recommended), pb, or nutella.
Morgenstern's Ice Cream – I just discovered this Lower East Side gem a few days ago. Think old fashioned ice cream parlor… but new. Reinvented. The flavors are crazy unique (When we went we tried and loved the Salted Caramel Pretzel, Raw Milk, Salt and Pepper Pinenut, and Angel Food Vanilla). The toppings, stored in glass apothecary jars (way cool), are equally amazing. The caramel was some of the best I've tasted.
Coolhaus – be on the lookout for this food truck. These guys do custom made-to-order ice cream sandwiches. The cookies are fresh, and the ice cream flavors are rad. Brown Butter with Candied Bacon ice cream, anyone? Heck yea.
Otto – a great place for a casual meal, this Mario Batali pizza/pasta restaurant with wine bar also has fantastic gelato. The olive oil gelato is pretty amazeballs.
Osteria Morini – Michael White's restaurant is a really fantastic dinner option. My wife and I have eaten here on several occasions and it never disappoints. Their gelato is totally on point, as well.
AB Biagi – this little SoHo gelato shop is a great little neighborhood place. Antonio Biagi loves making gelato, and that love definitely comes through in his product. He has both Italian and Brazilian roots, so his flavors reflect that unique cultural heritage. Also be on the lookout for fantastic vegan gelato options here!
Victory Garden – say it with me… goat milk ice cream. Yup, this Greenwich Village place serves up amazing goat milk soft serve. The salted caramel is where it's at.
FINE DINING.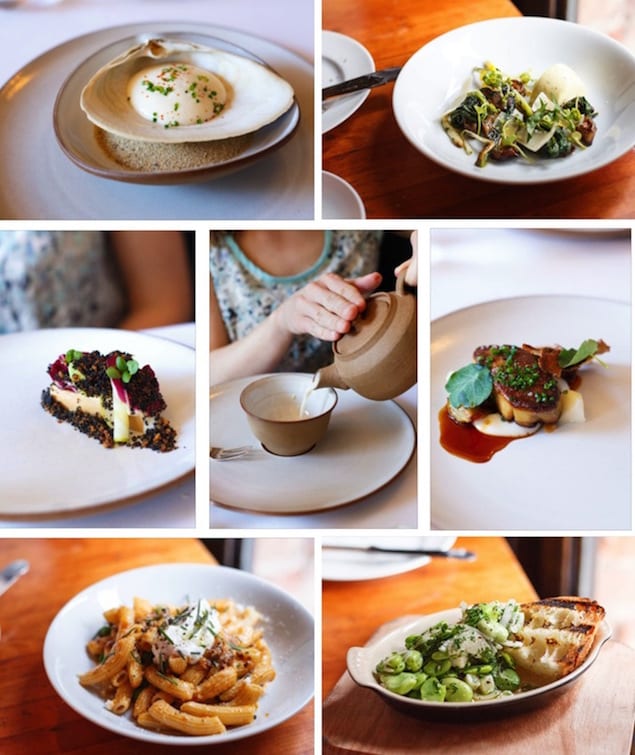 People. You are in NYC. Home of some of the best chefs in all the world. Seriously. We're talking Michelin Stars, James Beard winners, famous TV chef personalities, culinary pioneers….
It's time to treat yourself. Don't settle for whatever is closest to your hotel or that restaurant that has a $9.99 steak special. Mommy and Daddy are getting dressed up* and going out tonight!
*there actually really isn't a dress code in most NYC restaurants. You'll see people in suits. You'll see people in jeans and a polo. That's how we roll.
There are MANY, I repeat, MANY amazing restaurants in NYC. I'm going to list just a tiny few of them that I've had great meals at below…
Hearth – if you asked me what my current favorite restaurant is, I would probably say Hearth. I don't know what it is about this place in the East Village, but I love it. Chef Marco Canora creates an atmosphere that feels like a cozy neighborhood restaurant, while serving up seasonal Italian food that continually rocks my socks. The price is also quite manageable ($86 will get you a complete tasting menu, although you can also order a la carte).
Blue Hill – Chef Dan Barber is a culinary legend. He was one of the pioneers in the farm-to-table movement, and his Michelin-starred restaurant is a total worth it splurge.
Gramercy Tavern – this Michelin-starred restaurant is a NYC icon in fine dining. I've been told that if you go during lunch, they have a secret off-the-menu burger that's amazing. I need to try that burger!
Eleven Madison Park – one of only a few NYC restaurants to have a 3-Michelin Star rating, the tasting-only menu at Eleven Madison Park is a great way to celebrate something (or someone) special. The space, which is directly across the street from Madison Park, is absolutely stunning. And get ready for some top notch service.
Barbuto – Chef Jonathan Waxman is a very well-known chef in his own right, and also was mentor to Chef Bobby Flay back in the day. His restaurant, located in the Meatpacking District, serves up one of the best roast chicken dishes you will ever taste. Seriously. And the pasta? Oh man… amazing.
You a fan of celebrity chefs? You might want to try one of these restaurants from one of the many TV chef personalities that set up home in NYC….
Morimoto – Iron Chef Morimoto's Chelsea restaurant has a great menu of sushi and seafood.
Gato or Bar Americain – Iron Chef Bobby Flay's two NYC restaurants.
Craft – This is Tom Colicchio's (head judge on Top Chef) joint.
Marc Forgione – Iron Chef Marc Forgione
Babbo or Del Posto – Mario Batali
The Lambs Club or The National – Iron Chef Geoffrey Zakarian
Looking for a really cool atmosphere where people get dressed to impress and the food is pretty great as well? Check out Stanton Social or Beauty + Essex. Run by Chef Chris Santos (a judge on Chopped), these Lower East Side restaurants feature awesome cocktails and a great menu of small plates meant to share. For an extra thrill, Beauty + Essex is actually located behind a pawn shop (and you have to walk through the shop to get to the restaurant). Ladies, head down to the basement restrooms, where you will be greeted by free champagne.
OTHER MUST EATS.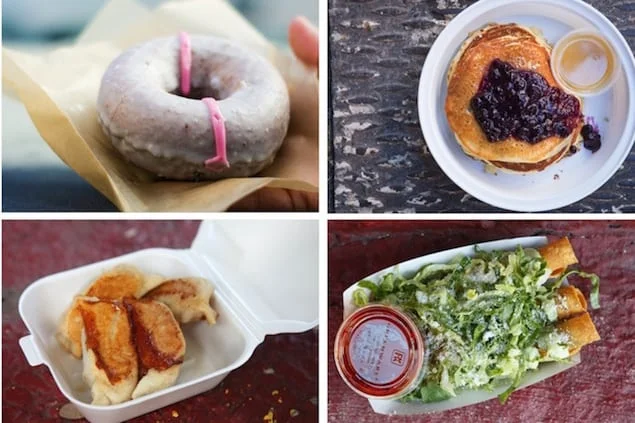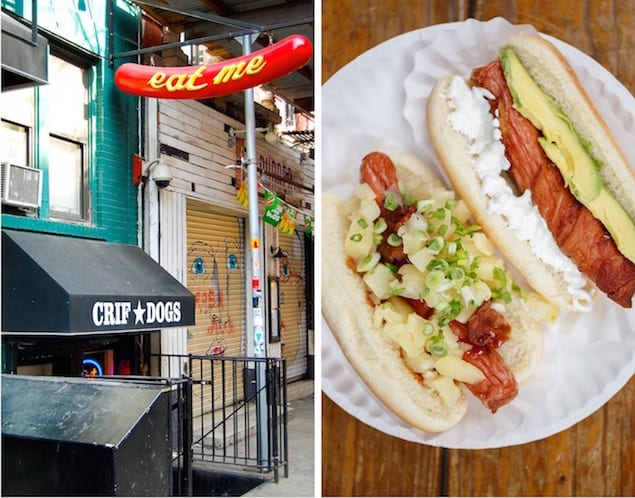 Crif Dog – Sure, you could get a dirty water dog from one of those over-priced street vendors… or you could get one of these artisan beauties from Crif Dog. I'm a fan of the Chihuahua Dog (bacon wrapped hot dog with avocado and sour cream) and the Tsunami Dog (bacon wrapped hot dog with pineapple, scallions, and teriyaki sauce).
Clinton Street Baking Company – there is always a wait at this Lower East Side restaurant. With only a handful of seats and hoards of hungry tourists and locals, this place serves up the best pancakes I've ever had in my entire life. I know what you are thinking… they are just pancakes. How good can they be? The answer… they are that good.
Doughnut Plant – you haven't tasted doughnut perfection until you've tried a doughnut from this place. With two locations (Lower East Side and Chelsea), there's no excuse not to go. Try the PB+J, Tres Leches, or Creme Brulee. Or heck… they are all fantastic. No preservatives in these bad boys, so best to eat immediately.
C.C. Prosperity Dumpling – if you are looking for fantastic cheap eats, this is your place. You can feed your whole extended family for $14. Their pork dumplings are 4 for $1 and the sesame pancakes are $1 each. It's some of the best cheap eats in the city, and it's so darn good.
Xi'an Famous Foods – this place does noodles like nobody's business. There are a bunch of them throughout the city.
Chris Cockren
Chris is a New York based food blogger that loves bringing friends and family together through food. On his blog, Shared Appetite, Chris chronicles his culinary adventures of eating his way in and around NYC, as well as cooking and entertaining at home.