Joan Nova is served a great salad at a Palm Beach bistro, and decides to try and recreate it at home.
Text And Photo By Joan Nova
gen·e·sis/Noun: The origin or mode of formation of something.
People are always interested in recipe development…the how and why of how a dish came to be. I find it fascinating.
I have to give credit for the origin of "braised asparagus and leek salad" to Buccán, an upscale bistro in Palm Beach, which is where I first tasted this vegetable combination. And the thought of it lingered with me.
When I was planning a menu for a tapas-style dinner party, I decided this salad would be a unique and perfect base for the first course…and it was. (Note the usage of the word 'base'.)
Since I had no idea what went into the Chef's recipe (besides asparagus and leeks), I did the FOODalogue thing…I took the germ of an idea and started building on it. And, lucky me, white asparagus were in season.
Print
Braised Leek + Asparagus Salad
The beauty of this dish is the unexpected flavors and textures. Great for a different kind salad, vegetable side or first course.
white asparagus (or green)
leek
chicken broth
olive oil

1

lemon, juiced

2

cloves of garlic (whole + remove before serving)
splash of white Vermouth
salt, pepper, bay leaf
Instructions
Break off asparagus ends and peel.
Cut off top 2/3 (most tender part).
Save ends for soup.
Shave stalks or julienne.
Ditto inner most part of leek.
Add some julienned green of the leek for color.
Braise in liquid of chicken broth, olive oil and lemon juice seasoned by salt, pepper, bay leaf, a couple of cloves of garlic (whole/remove) and a splash of white Vermouth.
Cook for about 8 minutes till tender.
Serve room temperature.
Taste Test: This is a combination and method that I don't think I would have come by on my own, but I cannot express how well the 2 vegetables marry and how delicious the braising made them. The texture was interesting and unexpected — and it was surprisingly flavorful. Nothing more was required on the plate, but…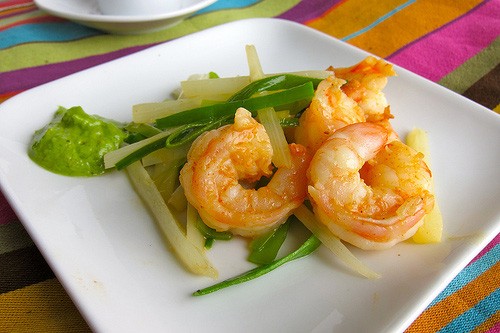 Remember I said it was a "base" for the first course?
I served it with:
Shrimp Ajillo (shrimp marinated in olive oil, a little s+p, a lot of smoked paprika and minced garlic).
Fennel Gazpacho
Parsley Romesco* (parsley, almonds, olive, S+P, garlic, lemon juice, drizzle of honey).
*totally superfluous I must admit.
Joan Nova
Joan Nova is the publisher of FOODalogue: Meandering Meals, Musings + Travel which melds her lifelong passions for food, travel, photography and publishing. Her culinary style is bold and colorful with finishing touches that take each dish to the next level. She is an active participant in many online food organizations.