August 2nd is Ice Cream Sandwich Day, so we have to celebrate with stacks that are a bit more than just two cookies filled with vanilla ice cream. Originating from a push card in New York City in 1899, today the ice cream sandwich comes in all shapes and sizes. Check out these fun renditions so you can chill out with a sweet treat.
By Annelise McAuliffe
One of our favorite things about ice cream sandwiches is that you get to choose how involved you want the process to be. Going for gourmet? Make your own ice cream to fill the homemade creation, whether that is a cookie or croissant. Looking for something easy to beat the heat quickly? Head to your favorite donut shop for a dozen, grab a gallon of your best ice cream, and you are set to create a dessert in no time.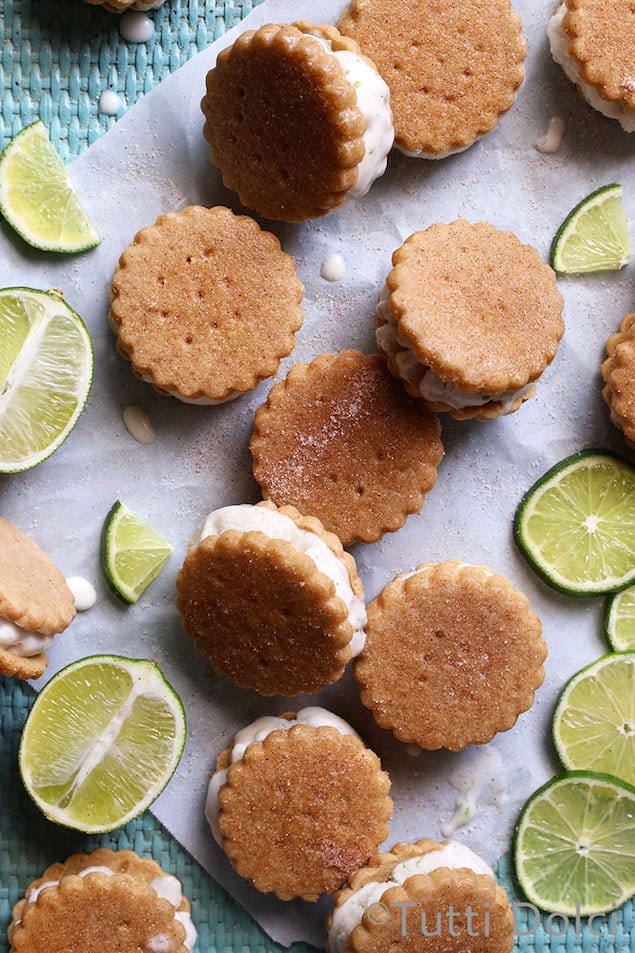 www.tutti-dolci.com
Key Lime Pie Ice Cream Sandwiches
Cinnamon graham cracker cookies hold a cool secret, coconut key lime ice cream. Add rum or vodka to the ice cream for a fun spiked treat. Find the recipe here.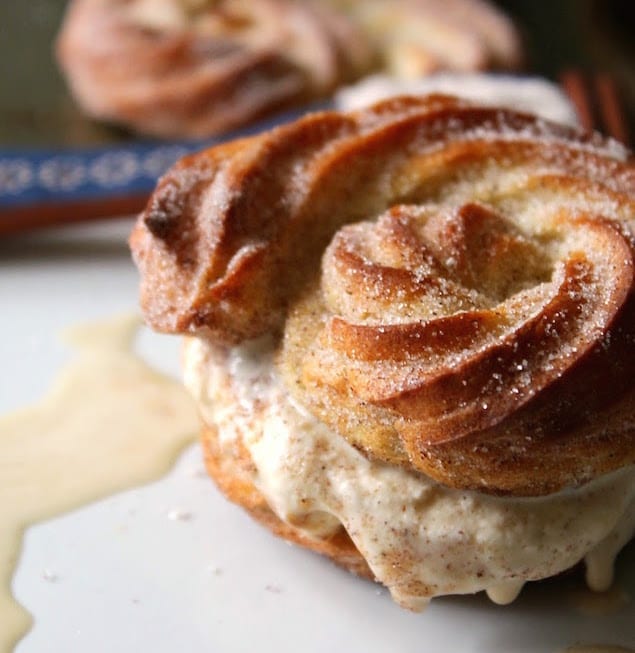 Churro Ice Cream Sandwich
In this ice cream sandwich formation, crispy churros are baked in cinnamon sugar and filled with creamy, cool dulce de leche ice cream for a awesome seasonal treat. Find the recipe here.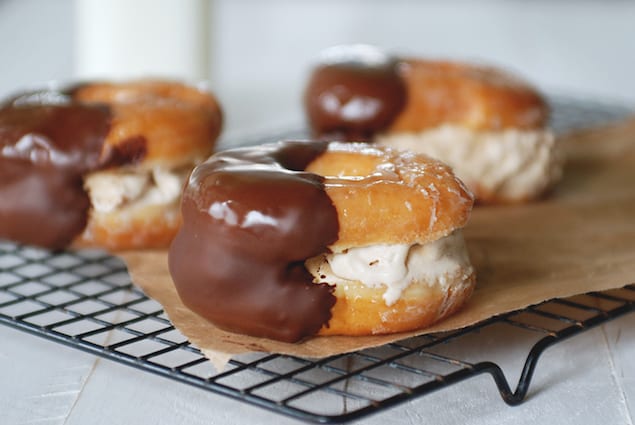 www.themerrythought.com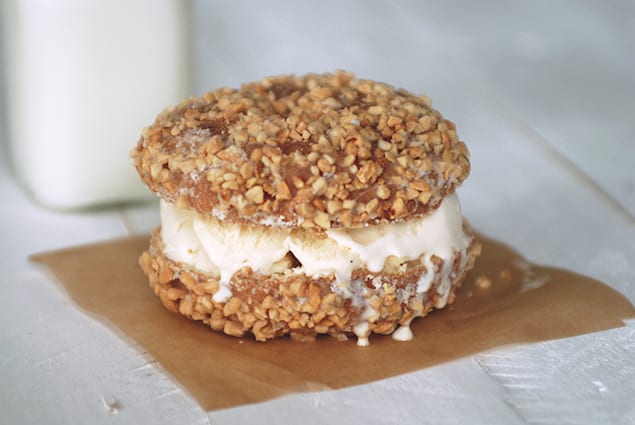 www.themerrythought.com
Donut Ice Cream Sandwiches
Donut ice cream sandwiches look complex, but are so easy to make. Grab a vanilla glazed donut and fill with coffee ice cream before dipping in chocolate. Or, take a chocolate donut and stuff it with mint chocolate chip ice cream. Our favorite? A peanut donut with vanilla ice cream. Find the recipe and flavor ideas here.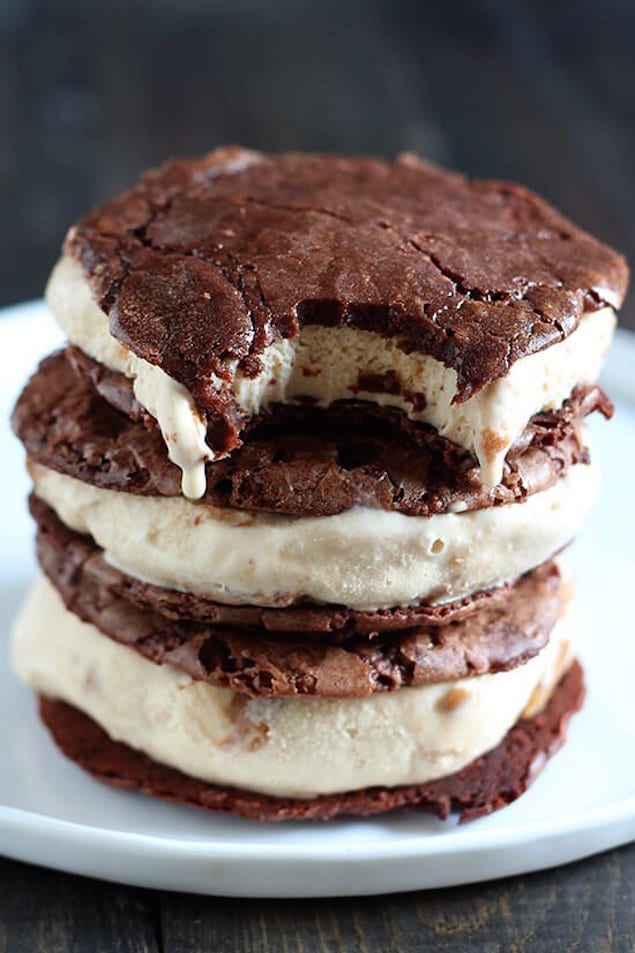 www.handletheheat.com
Brownie Ice Cream Sandwiches
A basic, thin, chewy brownie is the key to the success of these frozen sandwiches. Rich with chocolate, the brownies are paired with a homemade cookie butter ice cream for pure delight. Find the recipe here.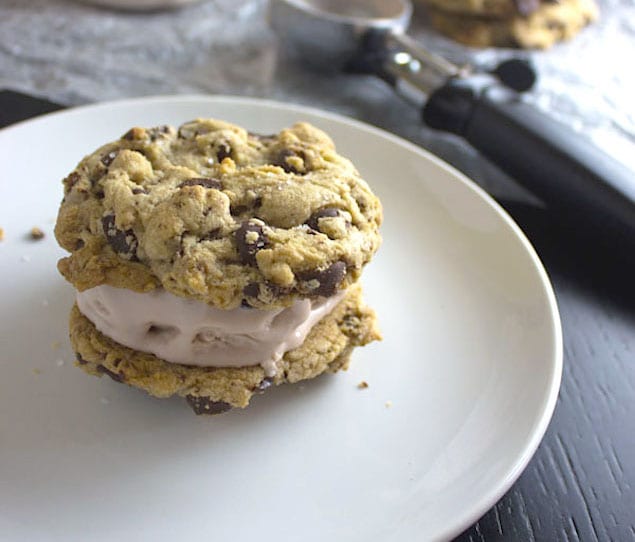 Wine Ice Cream Sandwiches
Wine-spiked ice cream sits between salted chocolate chip cookies for the perfect cool dose of chocolate and wine to satisfy a sweet tooth. Find the recipe here.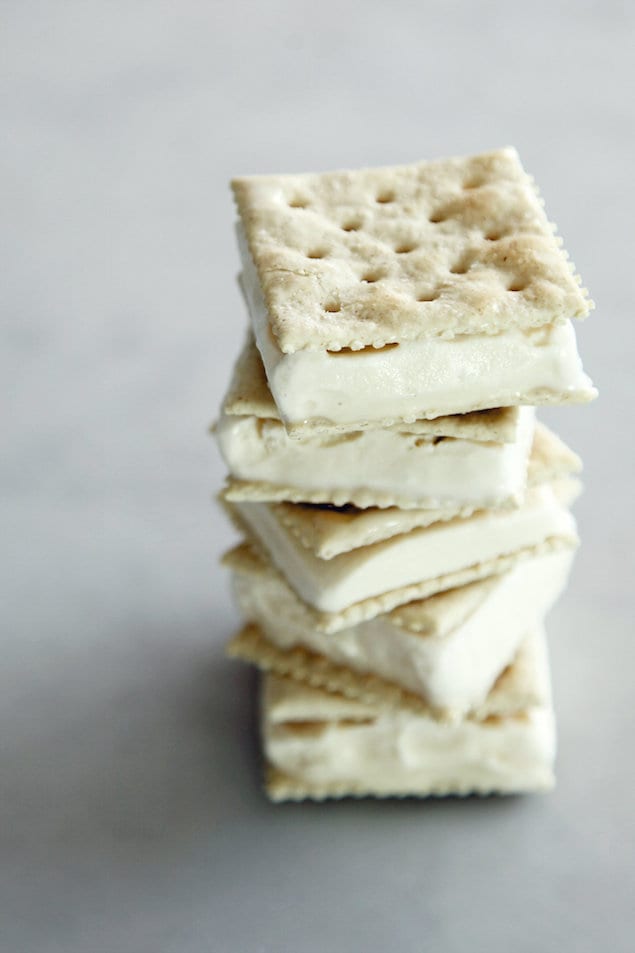 Nicole Perry
Saltine Cracker Ice Cream Sandwiches
Does this sound crazy to you? Hear us out, not only is it super simple to make one of the treats, but the salty cracker is an amazing balance to a sweet frozen filling. Try it with a caramel ice cream for the iconic salted caramel taste. Find the recipe here.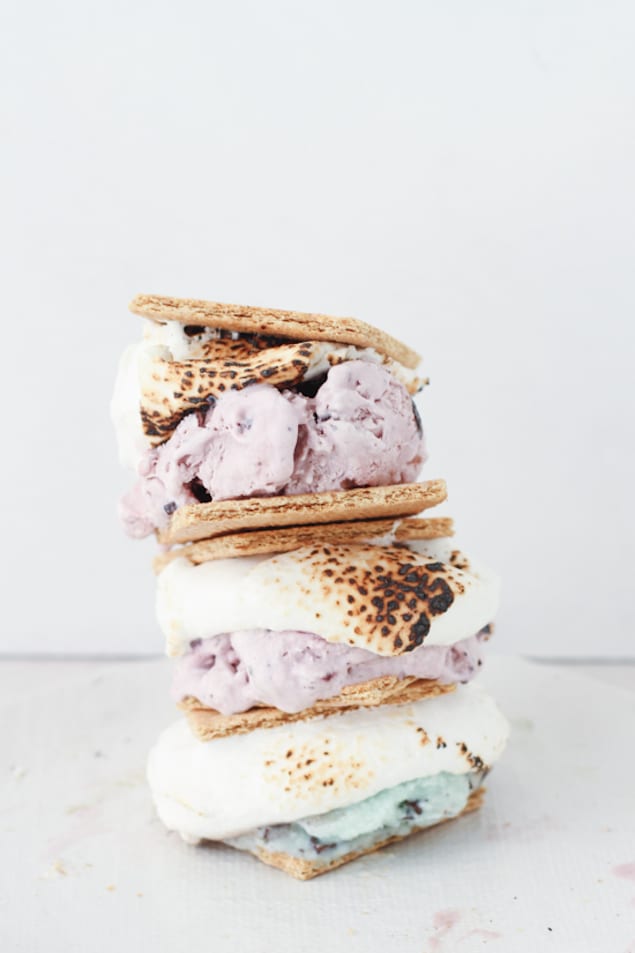 www.papernstitchblog.com
Ice Cream Sandwiches with Toasted Marshmallows
Make a s'more as you normally would, toasting a jumbo marshmallow and slabbing it on top of your choice of chocolate. But before you close it up with the final graham cracker, add a scoop of your favorite ice cream and watch blissfully as it begins to thaw over the warm 'mallow. Find the recipe here.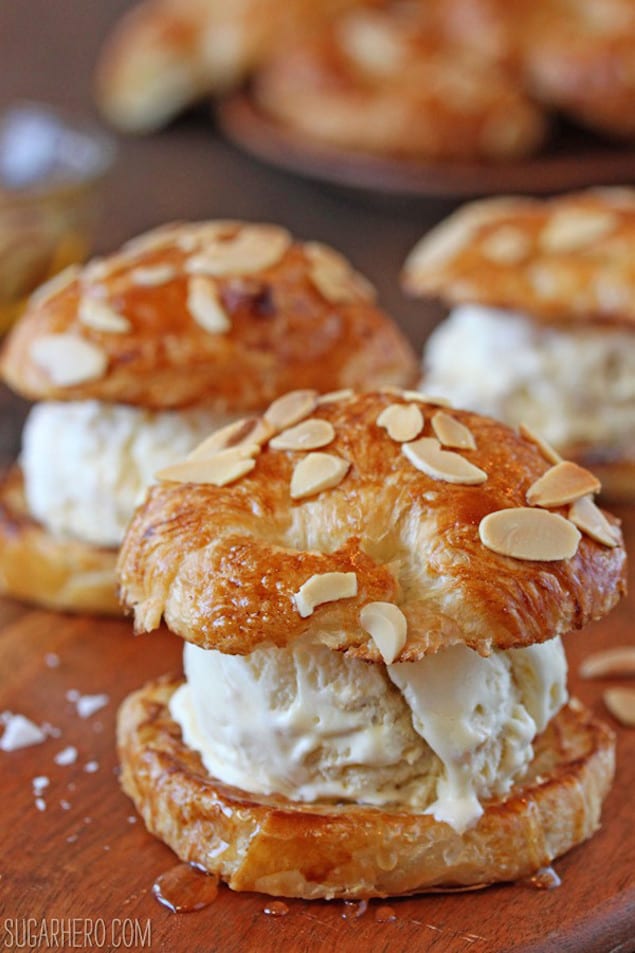 www.sugarhero.com
Croissant Ice Cream Sandwich
Croissants are already a buttery, flakey dream come true, so adding a salted honey ice cream in the center could only increase its desirability. Add one more drizzle of honey for good measure and you are set for sure sweet success. Find the recipe here.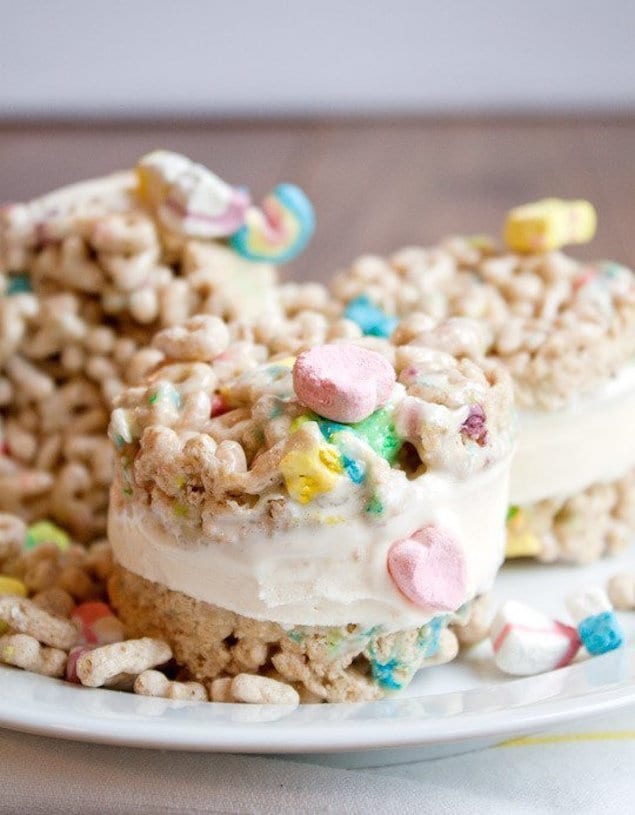 Leela Cyd Ross l styling: Kirsten Neiman
Cereal Ice Cream Sandwiches
Make a Rice Krispie treat, a Lucky Charm treat, or any cereal treat you like and use that as your ice cream sandwich "bread". In most cases, the cereal is sweet enough so stick to vanilla or chocolate ice creams. Find the recipe here.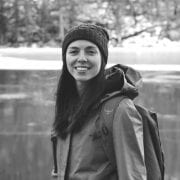 Annelise McAuliffe
Mandatory family outings to the Detroit farmers' market and nightly home-cooked meals cultivated Annelise's respect and curiosity for food. A graduate of The Culinary Institute of America, she spends her free time in New York City recipe testing, eating breakfast all day, and dreaming up international culinary adventures.