Sweet tea teams up with savory, crispy fried chicken for the perfect southern duo that is truly delicious.
By Jocelyn Delk Adams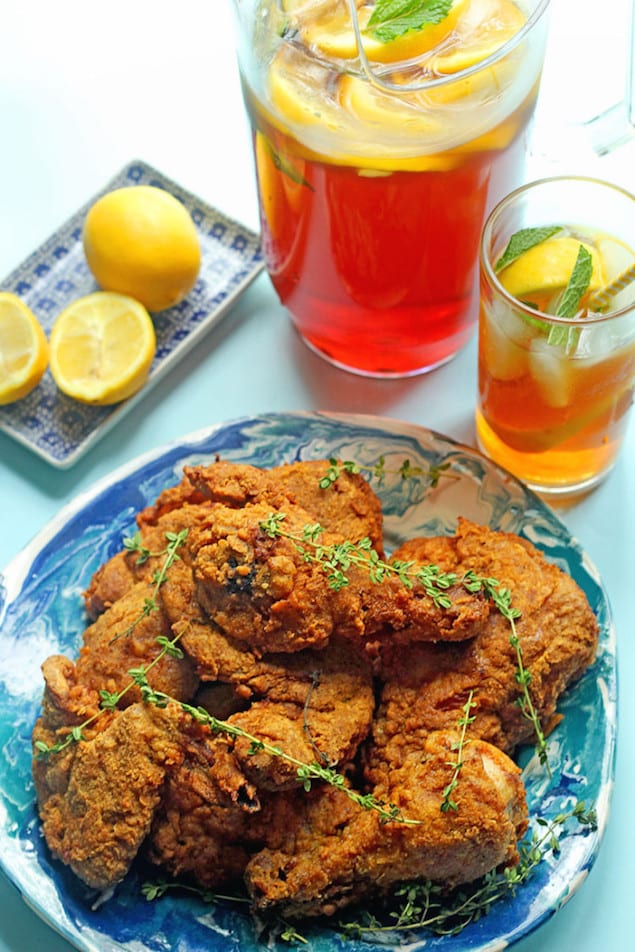 Sweet tea and fried chicken go together in more ways than one. I have found that if homemade fried chicken is on the supper table in my family, sweet tea isn't too far behind. In fact, Sunday Suppers more times than not included fried chicken and sweet tea. Nothing makes you feel warmer in your bones or spirit than this comforting combo.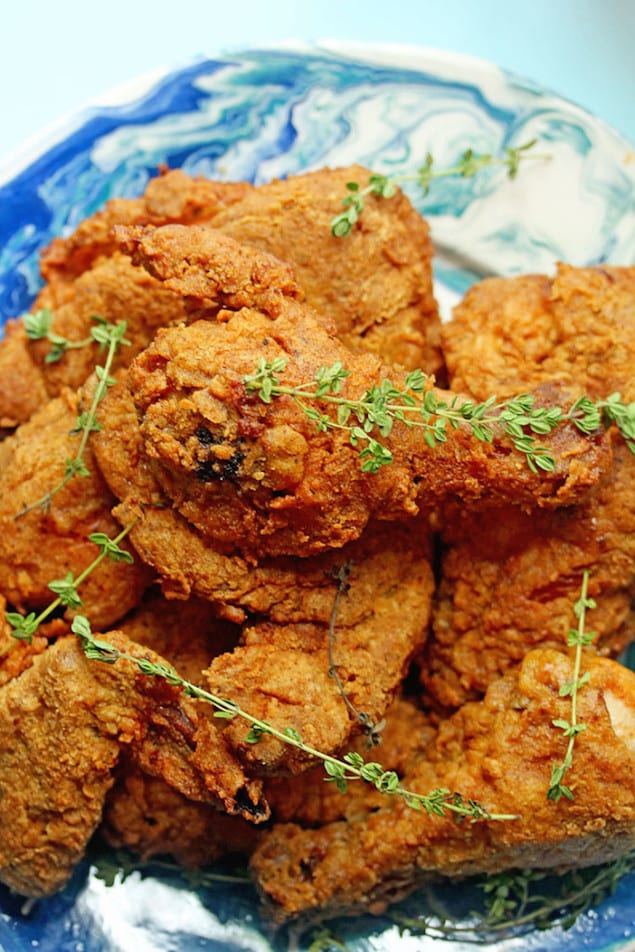 I hardly ever have left over sweet tea but this time I doubled my tea recipe, adding half to a pitcher in the fridge and adding the other half to a bowl to brine some chicken. I used my favorite seasoned flour mixture from my traditional recipe to make this recipe. I brined the chicken for 48 hours because I wanted the sweet tea to totally seep into the fiber of the meat. The sweetness was unbelievable in contrast to the salty flavor of my seasoned flour. Sweet and salty is an amazing combo, and in fried chicken it takes on a life of its own.

Sweet Tea Marinated and Fried Chicken
Sweet tea teams up with savory, crispy fried chicken for the perfect southern duo that is truly delicious.
Author:
Jocelyn Delk Adams
Serves:
8-10 chicken pieces
Ingredients
For the Tea:
5 cups water
5-6 bags tea
¾ cup white sugar
⅓ cup fresh lemon juice
For the Chicken:
8-10 chicken pieces
3 large eggs
2½ cups all-purpose flour
3 tablespoons plus 2 teaspoons seasoned salt
3 tablespoons cornstarch
2 teaspoons paprika
½ teaspoon cayenne pepper
2 teaspoons black pepper
½ teaspoon garlic powder
1 tablespoon onion powder
Instructions
For the Tea:
Heat water in a medium sized pot until boiling.
Turn off heat and add tea bags. Let tea steep for 20-30 minutes then remove bags.
Stir in sugar and lemon juice until completely dissolved then let tea come to room temperature.
Add tea to large bowl then submerge chicken pieces in tea. Refrigerate for 24-48 hours depending on level of sweetness you want your chicken to have.
For the Chicken:
In a medium sized bowl, whisk together eggs and set aside.
Add flour, seasoned salt, cornstarch, paprika, cayenne pepper, black pepper, garlic powder and onion powder to a paper bag and shake to mix well.
Dip each piece of chicken into egg wash coating both sides then dip into seasoned flour thoroughly coating each piece. Then add piece to baking sheet to rest.
Finish coating all chicken and let sit for 10-15 minutes until coating has set.
While coating sets, add 1-1/2 inches of oil to a cast iron skillet or heavy bottom skillet and heat over medium high heat. Also turn on oven to 275 degrees.
This is my test for knowing when the oil is ready: Big Mama always tossed a tiny bit of flour in the oil and if it began to fry and sizzle, the oil was ready.
Fry four pieces at a time on each side starting with dark meat since it takes longer. Make sure you don't overcrowd the pan.
After each side has turned slightly golden, put the top on the skillet to steam the inside of the chicken ensuring doneness. After a couple of minutes, remove the top and continue to fry until the crust is crispy again and completely golden brown.
Remove chicken from oil and place on paper towels or rack to drain. Place chicken on a baking sheet covered with parchment and add to warmed oven while finishing the other chicken pieces.
Fry the remaining chicken pieces and drain and add to oven. Add the remaining chicken to the oven.
Serve when ready.
Jocelyn Delk Adams
Jocelyn Delk Adams is the founder of Grandbaby Cakes, a food blog inspired by her grandmother devoted to classic desserts and savory recipes, modern trends and showcasing the pastry field in an accessible way. She is a brand ambassador and writer for top brands such as Pillsbury, Better Homes and Gardens, Parade Magazine, Safest Choice Eggs, KitchenAid, Dixie Crystals Sugar, Jif Peanut Butter, and many more. In the short span of 2 years, Grandbaby Cakes has been featured in Better Homes and Gardens, Ebony Magazine, The New York Times Online, Refinery 29, Cupcakes and Cashmere, The Kitchn, Fox News, WCIU, Chicago Social Magazine, the Chicago Sun-Times and Splash Magazine, among others. She is currently writing her first cookbook which will be published in Fall of 2015, and is the founder of A Charitable Confection, an annual anti-violence dessert fundraiser featuring the top bakeries in Chicago. Jocelyn hopes Grandbaby Cakes will inspire a new generation of dessert enthusiasts to learn to bake and not feel guilty about enjoying dessert.