Manuela Zangara prepares a wonderful, and very realistic looking, sweet sushi buffet.
By Manuela Zangara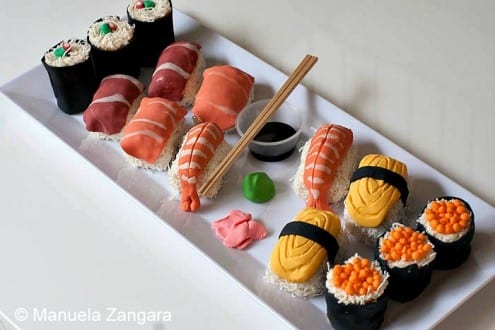 I have been wanting to make sweet sushi for a while now, I always thought that it looked great. My daughter's birthday party was the perfect occasion as it was a "sea themed" party. I have to say that this was probably the most successful dish of the buffet as it did look quite real and impressive, even if I say so myself. It was also the dish that I was the most satisfied with and the one I had the most fun making and planning for. When I first thought of it, I thought I would decorate it with candies. I have seen some sweet sushi around the web and the majority of them used candies as toppings. I looked around Sydney for what would look good on the sushi, but I could not find almost anything.
In the end, I only got some yogurt sticks to use for the California rolls to make crab sticks and decided to make the rest by myself using fondant. I am very glad I did, because I think the final result looked much more real that many other recipes I have seen. It did require a little extra work, but it was worth it. Deciding what sushi to make was another big one… there are so many kinds that it can be a bit overwhelming. In the end I decided to make the most common ones and settled for ikura, tamago, tuna, salmon and prawn nigiri and California rolls.
This dish is much easier to prepare than you may think. I used mini Swiss rolls as a base, shredded coconut for rice and very thin rolled fondant for nori. The decoration is all up to you… by using fondant you can make anything you like. I served it with wasabi and pickled ginger (both made with fondant) and chocolate sauce instead of soy sauce. Have fun creating your own sweet sushi platter and don't forget the chopsticks.
Ingredients:
Mini Swiss rolls
Icing
Shredded coconut
Coloured Fondant
Yogurt sticks
– Cut the mini Swiss rolls in the dimension of the different types of sushi. I made ikura (salmon roe), tamago (omelette), tuna, salmon and prawn nigiri and California rolls.
– Spread some icing on the parts that are going to be visible and that will have to be covered with "rice". Then coat them with the shredded coconut: there you have the base of your sushi (rice).
Then prepare the toppings with coloured fondant.
– For the salmon, tuna and prawn I used a single colour as a base and inserted some thin strips of white to make it look like the flesh of the fish. I then rolled/shaped them like slices of fish and prawns.
– I made tamagoyaki with yellow fondant and I made concentric marks on it using a toothpick to make it look more real.
– To make the ikura I simply rolled tiny balls of orange fondant.
– For the California rolls, I used some green fondant for the cucumber/avocado and a piece of yogurt stick to make the crab stick.
– Roll some black/very dark green fondant very thin and cut it in strips to make nori and then wrap it around the California rolls and the ikura nigiri. Also cut a small strip for each of the tamago nigiri you make.
Now you are ready to assemble your sushi.
I served it with some home-made chocolate sauce as soy sauce and some pickled ginger and wasabi made with fondant. And chopsticks, of course!
Manuela Zangara
Manuela, the creator of Manu's Menu, was born and brought up in Milan (Italy) by Sicilian parents. After moving to Australia, Manuela decided to create a blog to share her passion for food and to spread the concept of authentic Italian home cooking through step by step tutorials.