Filled with oats, dried fruits, nuts, and beautiful spices, these baked apples are a cozy autumn dream come true.
By Sheryl Aronow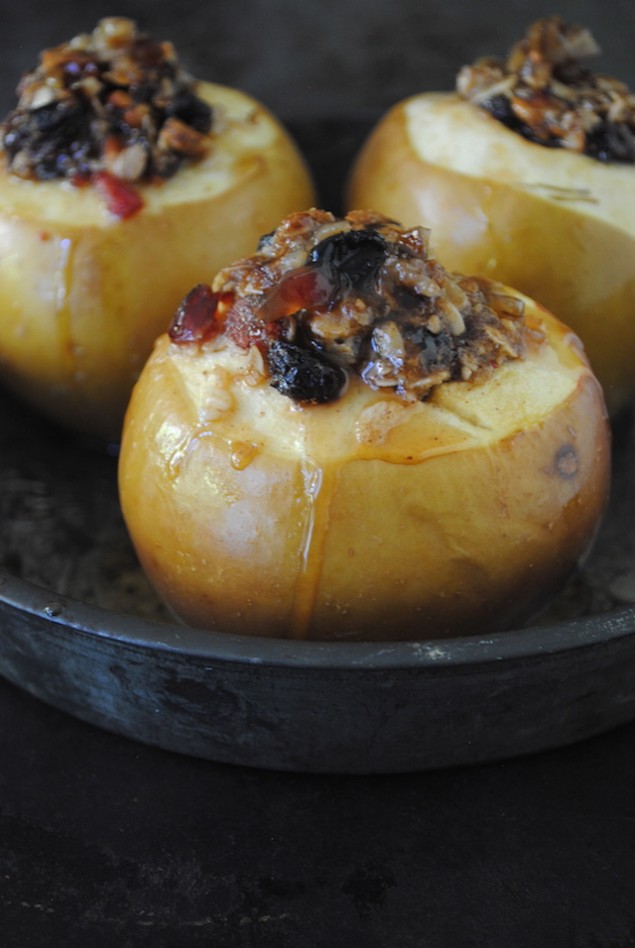 I was remembering back on a trip we took one autumn to western Washington State several years ago. Coming from Southern California where in September the hillsides become crispy and brown, I was quite taken by the almost prehistoric forests that seem to be everywhere. The surroundings were lush and green, and the air was clean and crisp even in the early fall. And apples…there seemed to be apples everywhere we went.
One particularly misty afternoon we stopped at a small roadside cafe owned by an elderly woman and her son who also had an apple stand next to their restaurant. They insisted that after lunch we try their baked apples for dessert.
I can only equate those apples to a thick, cozy Ralph Lauren cable knit sweater that engulfed you in its warmth and simpleness. The apple dessert was stuffed with an earthy filling of oats, fruits and nuts and then drizzled with an apple cider reduction that I would have licked up off the plate if no one was watching. But, people were watching.
Anyway, when I returned from the trip that autumn, I tried to duplicate the old woman's version in my own home.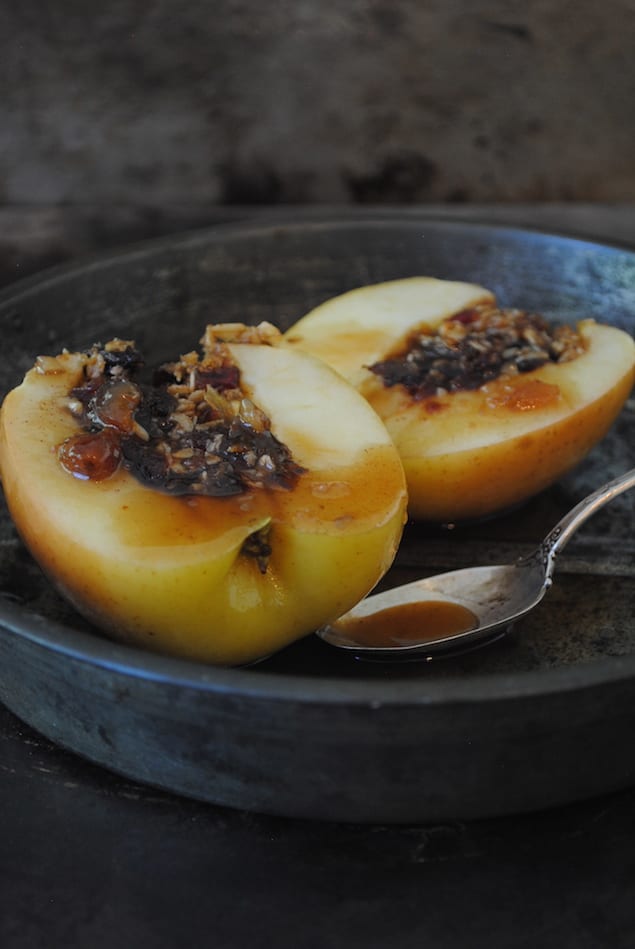 Sweet Stuffed Apples
Filled with oats, dried fruits, nuts, and beautiful spices, these baked apples are a cozy autumn dream come true.
Recipe Type:
Dessert, Baking
Ingredients
½ cup rolled oats
½ cup brown sugar
3 tablespoons dried cherries, chopped
3 tablespoons raisins (golden, dark, or both)
3 tablespoons dried cranberries
3 tablespoons pecans, chopped
1 teaspoon cinnamon
pinch nutmeg
pinch ginger
pinch allspice
¼ cup (1/2 stick) cold butter, cut into small cubes
3 tablespoons lemon juice
1 teaspoon maple syrup
1 cup apple cider
Instructions
Preheat oven to 350 degrees F. Using an apple corer (or a sharp pairing knife), take out the core of each apple, but do not go all the way through to the bottom. Using the small end of a melon baller scoop out the remaining seeds and core in the apple creating a well to stuff the topping inside.
Using a vegetable peeler, peel off the skin around the top of the apple (see photo below). Brush the tops of the apples with the lemon juice to keep them from oxidizing. Place the apples in a 8? x 8? baking dish.
Drizzle ¼ teaspoon of maple syrup into the bottom of each apple.
Place the first 10 ingredients into a medium size bowl and whisk together. Add in the cubes of butter, and using your fingers, work the butter into the dry mixture creating a paste. Stuff the topping into each apple pressing it down into the bottom of the apple. Place a pat of butter on top of each apple.
Add the 1 cup of cider to the bottom of the baking dish and place into a 350 degree oven for 40-50 minutes. The apples are done when you can easily pierce them with a sharp knife.
Transfer the apples to another dish and pour the liquid from the dish into a small pot and bring to a steady simmer.
Simmer for about 15-20 minutes until the liquid reduces and becomes syrupy.
The apples can be served warm or can be refrigerated. Use the syrup to drizzle over the apples.
Sheryl Aronow
Sheryl is a Los Angeles based foodblogger and culinary school graduate who continues to teach baking classes in the LA area. As the name of her blog "Mama's Gotta Bake" may indicate, she has a passion for good, old comfort food and strives to fulfill her mission to bake a cake a day just to make the world a little bit sweeter.