This beautifully-spiced sumac lamb is best served with a simple tomato-cucumber salad, pita and hummus for a beautiful Middle Eastern feast.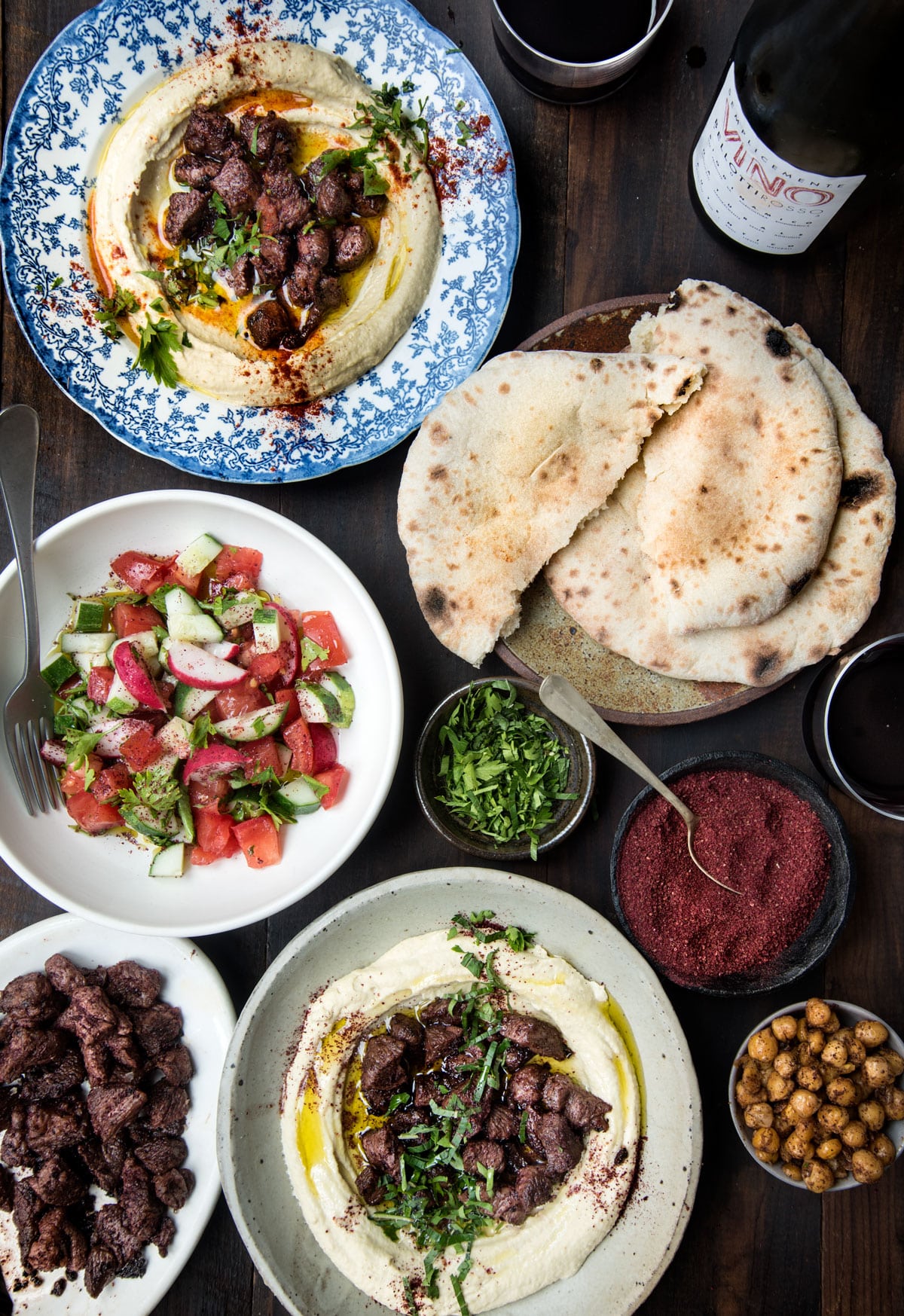 A bit of a Middle Eastern feast today…
Once I tried Michael Solomonov's hummus (Israeli-Philadelphia based chef of Zahav), I've realized that not all hummus is created equal. His hummus is so light, fluffy, and ultra smooth. Ever since, I've been on a quest to produce the creamiest hummus possible. I've tried several brands of dried chickpeas, removing the chickpea skins after cooking (a bit of a chore), but I think what it may all come down to is the quality of the tahini. I've noticed that some tahini is thick and grainy, while others are ethereal smooth. Also, running the food processor for several minutes and adding ice-cold water, until light and fluffy is key. My quest continues.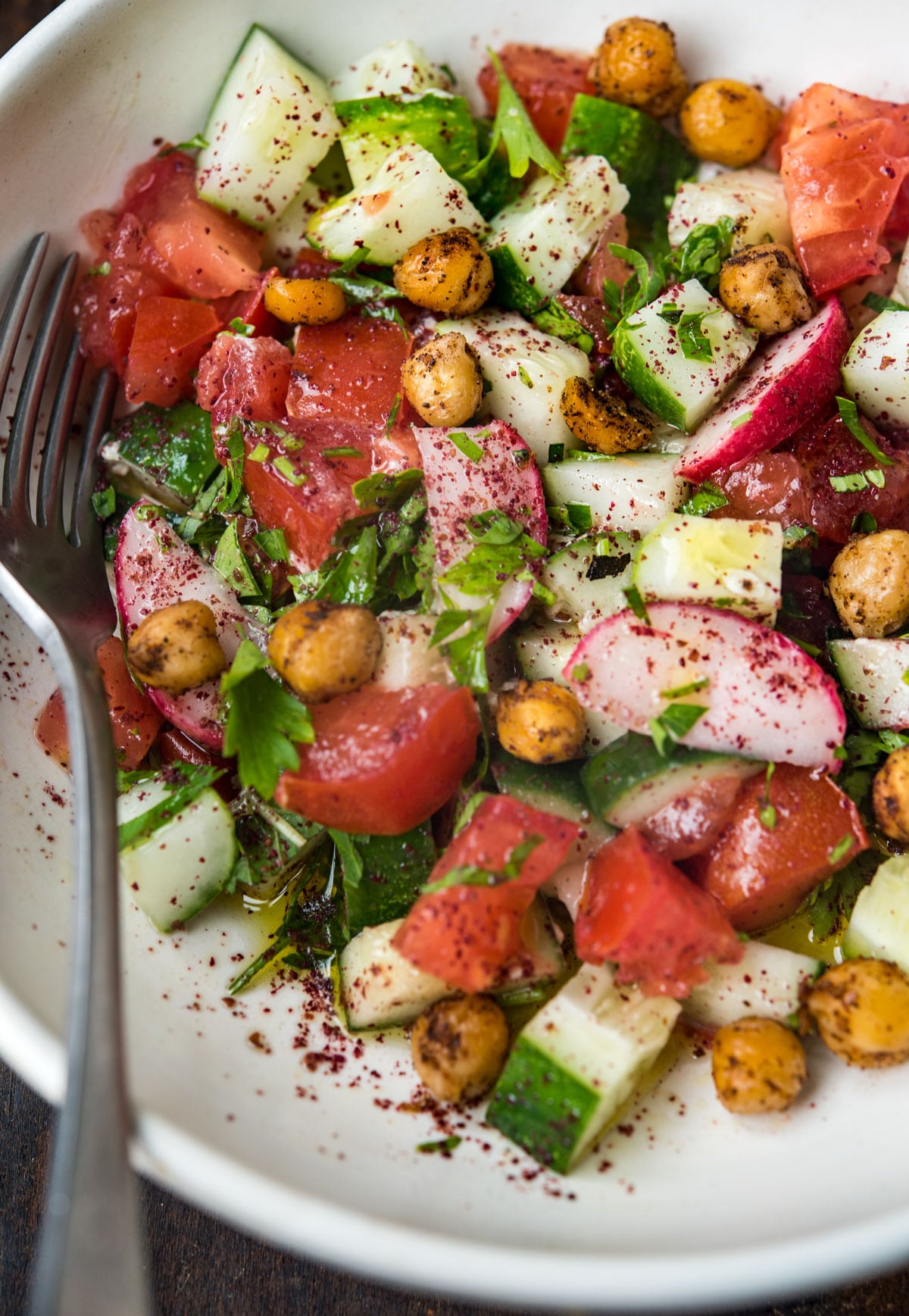 Then there's sumac. Native to the Middle East and Mediterranean, sumac is the fruit of the shrub (Rhus coriaria). It produces deep red-dark purple berries, which are dried and ground into a coarse powder. Ground sumac is a versatile spice with a tangy lemony flavor, although less tart than lemon juice.
Sumac is used in spice rubs, marinades and dressings, and is also served as a condiment. Along with sesame seeds and dried thyme, it's one of the main ingredients in the spice mix za'atar, which is used to flavour meat and vegetables, or mixed with oil to make a paste that's spread on bread before baking. It pairs well with chicken, fish and seafood, lamb, vegetables, legumes chickpeas (including hummus) and lentils. For a delicious marinade or dressing, mix it with yoghurt and other herbs and spices such as chile, coriander, cumin, paprika and parsley.
I came across this preparation for sumac-spiced lamb shoulder from Maureen Abood (Rose Water & Orange Blossoms). It's quick and easy and delicious. The lamb, cubed and marinated in lemon, olive oil, garlic and sumac, and then quickly cooked in a pan until nicely browned on the outside and tender. It makes a tasty topping over creamy whipped hummus. Served with a simple salad of tomato, cucumber, radish, fresh herbs, a drizzle of olive oil, salt and sumac, spicy zhoug (a spicy, green, herb sauce), crispy-spiced chickpeas, and pita.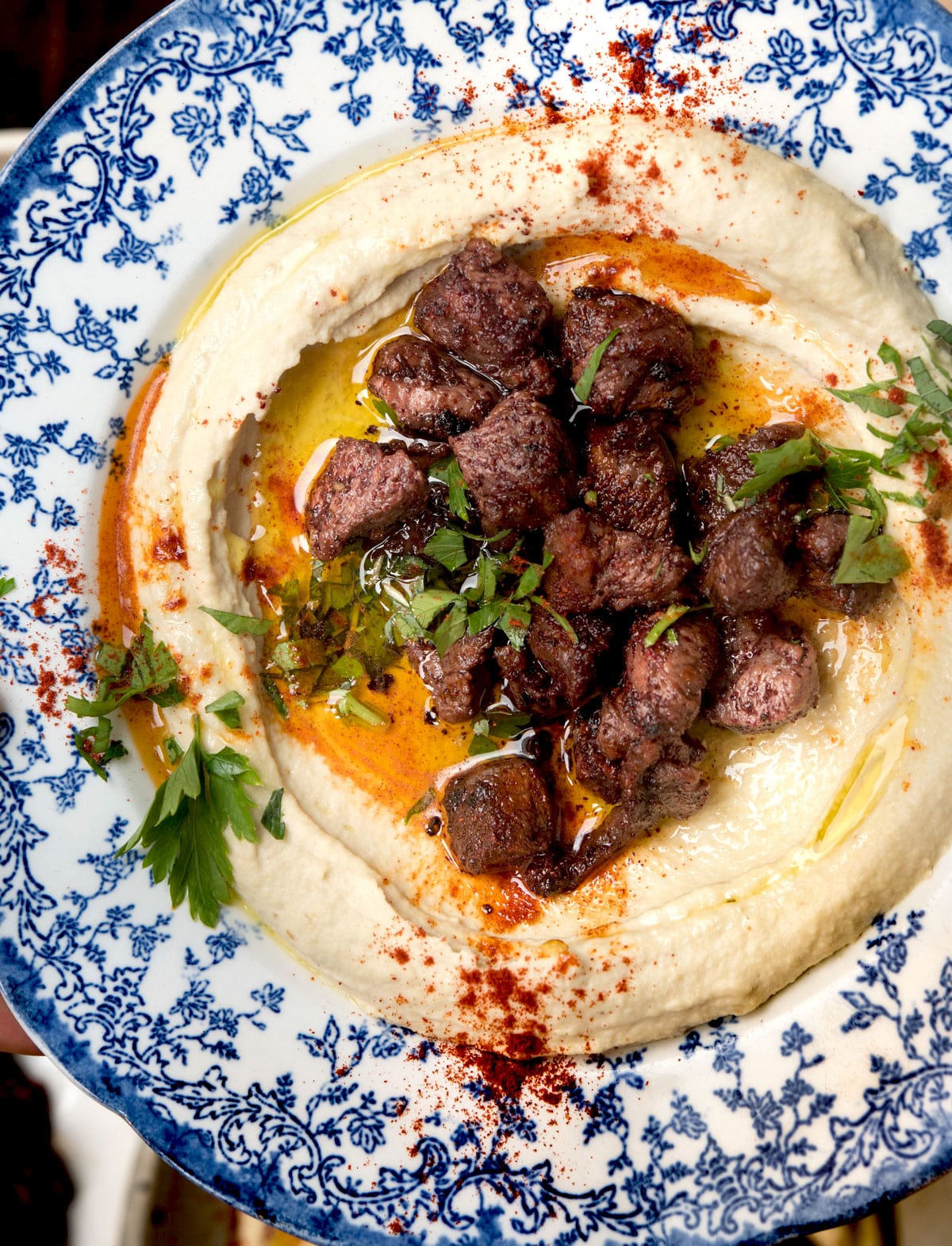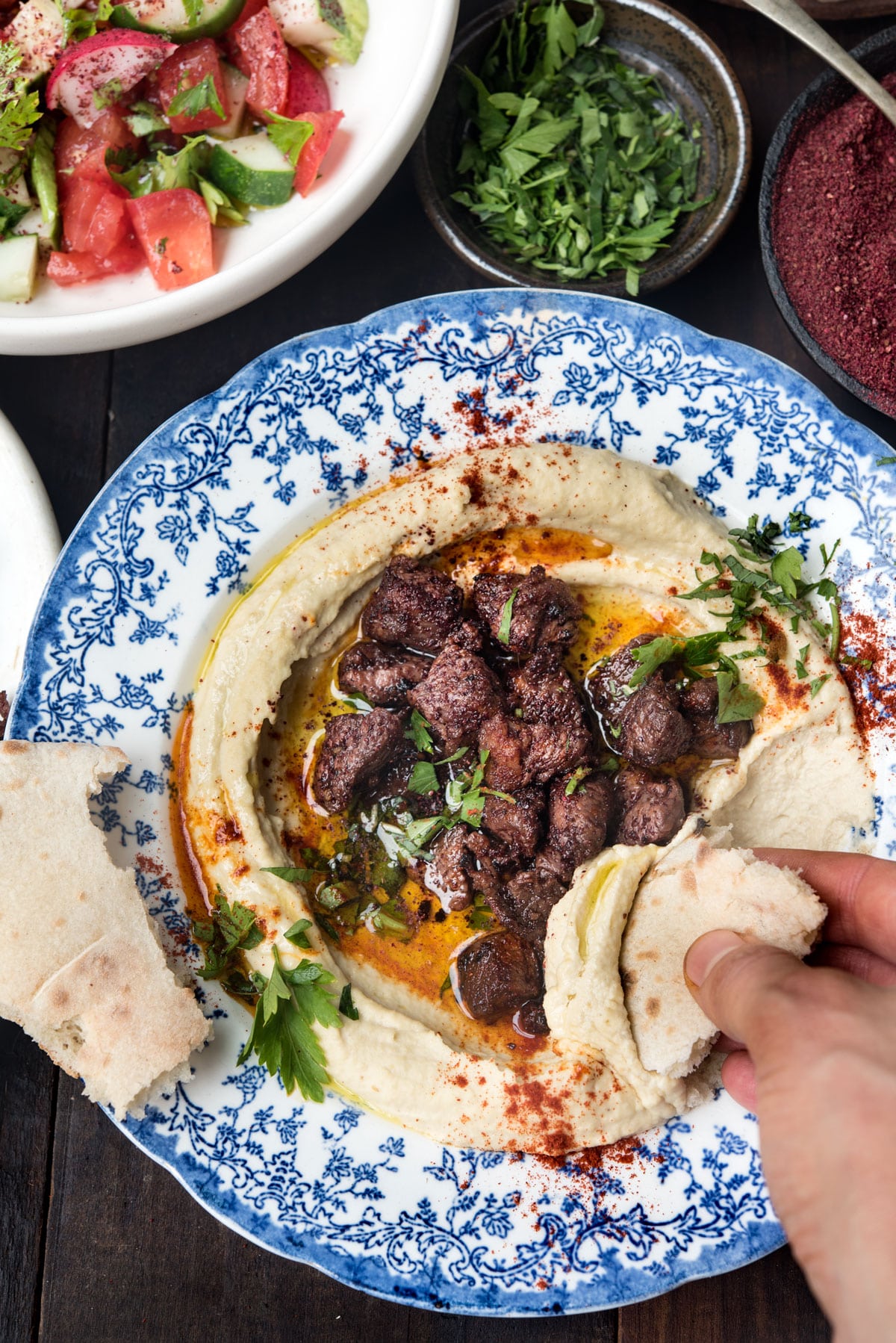 Click here for the perfect whipped hummus recipe.
Print

Hummus with Sumac-Spiced Spring Lamb
---
1

pound boneless lamb shoulder
Juice of

1

lemon

2

garlic cloves minced

1 teaspoon

kosher salt (or more as needed)

2 tablespoons

ground sumac (plus extra for garnish)

2 tablespoons

extra-virgin olive oil (plus more for serving)

1 tablespoon

salted butter

1/4 teaspoon

ground cinnamon

2 1/2 cups

Whipped Hummus (recipe link above)
A few sprigs flat-leaf parsley (coarsely chopped)
Fresh mint (sliced into thin ribbons)
Pita for serving
---
Instructions
Cut the meat into bite-size pieces, trimming off and discarding any excess fat.
Combine the lemon juice, garlic, salt, 1 tablespoon of the sumac and 1 tablespoon of olive oil in a large mixing bowl. Add the lamb and toss to coat evenly. Marinate for 30 minutes at room temperature.
Drain the meat, discarding the marinade, then pat it lightly with paper towels.
Heat 1 tablespoon of olive oil and 1 tablespoon of butter in a large, heavy skillet over medium-high heat.
Once the butter has melted and become foamy, add the marinated lamb and stir to coat.
Increase the heat to high; cook about 10 minutes, stirring often, until the meat is well browned on all sides, with crisped edges, and cooked through. Season with 1 tablespoon of the sumac and cinnamon. Taste, and adjust the seasoning as needed. Remove from the heat.
When ready to serve, divide the hummus among individual salad-size plates, using the back of a spoon to spread each portion into a 4-inch round, turning the plate as you go. Create a well at the center of each portion, then fill it with a big spoonful of the lamb. Garnish each serving with parsley, a generous drizzle of oil and a sprinkle of sumac. Serve right away with pita for scooping.
Linda Schneider
Linda Schneider is the blogger behind Wild Greens and Sardines, an homage to her love for all things food and [Mediterranean] travel. What she enjoys most is seasonal, farm-to-table recipes that highlight local ingredients, farmers, and food artisans. She loves going to local farmers' markets, seeing what's in season, and sharing recipes with others.