This eggless strawberry swirl bundt cake is made with a hint of fennel and is true strawberry indulgence. A fluffy fennel sponge cake, a strawberry jam swirl and a delicious glaze. Perfection.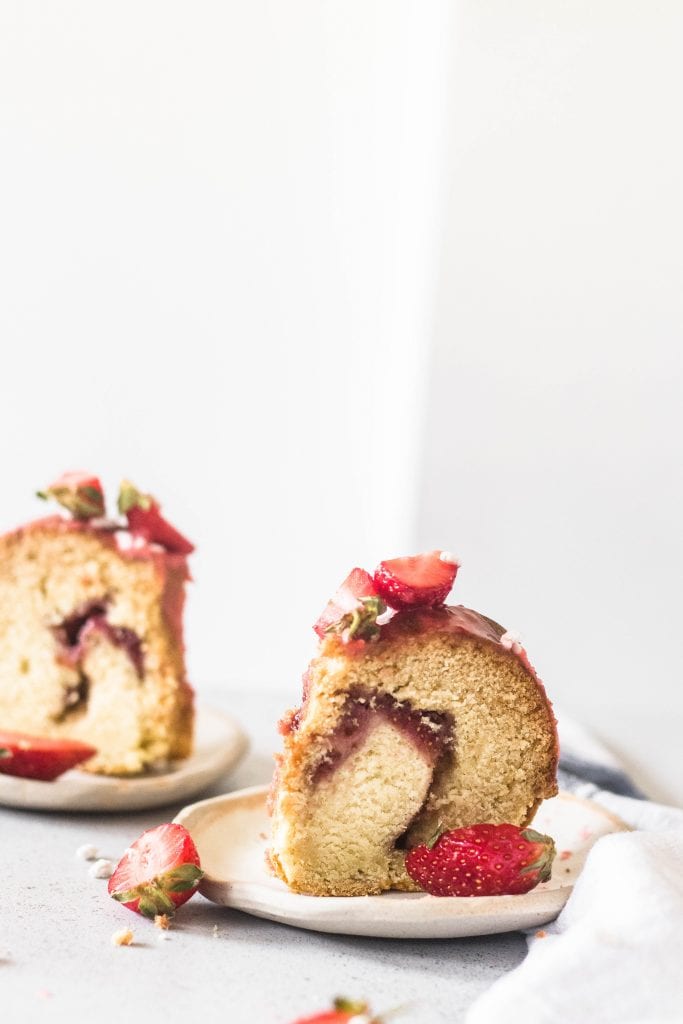 To make this deliciously fluffy bundt cake we first begin with the fennel flavoured sponge cake. The batter is extremely light and airy. One bite into the cake and you wouldn't be able to guess that it's actually eggless. You may be skeptical of using fennel seed powder in this cake but trust me, the flavour works wonders.
The fennel seed powder has a subtle aniseed note and a natural sweetness that complements the tartness of the strawberries. Together, they make magic happen. Every bite of this fennel seed scented sponge is soft and fluffy. There is a sweet tanginess from the strawberry jam swirl hidden in the centre of this eggless sponge cake.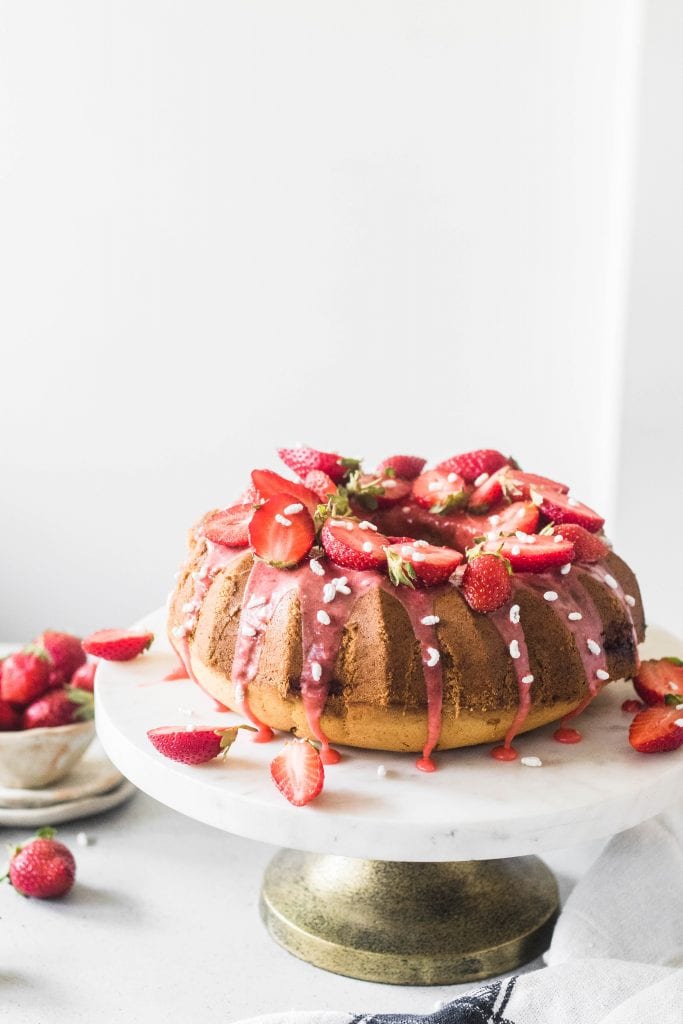 The strawberry glaze adds a supremely fresh element to this cake. It wakes the cake up with its fresh taste as the strawberries are freshly pureed and mixed with icing sugar. The cake sponge itself isn't very sweet so this deliciously refreshing glaze adds the perfect amount of sweetness to balance the flavours.
You could pass the puree through a sieve if you so wish, however, I love keeping it as natural as I can. The seeds and tiny minuscule chunks of strawberries in the puree somehow add a rustic charm to this cake, of which I am a huge fan!
When you look at this eggless fennel strawberry swirl bundt cake from the outside, you see a simple fluffy pillowy sponge cake dressed in that stunningly fresh strawberry glaze. However, the real surprise is hiding in the center of the cake. As you cut into your first slice and look inside, you'll see a beautiful sweet tart strawberry jam running through the center.
See Also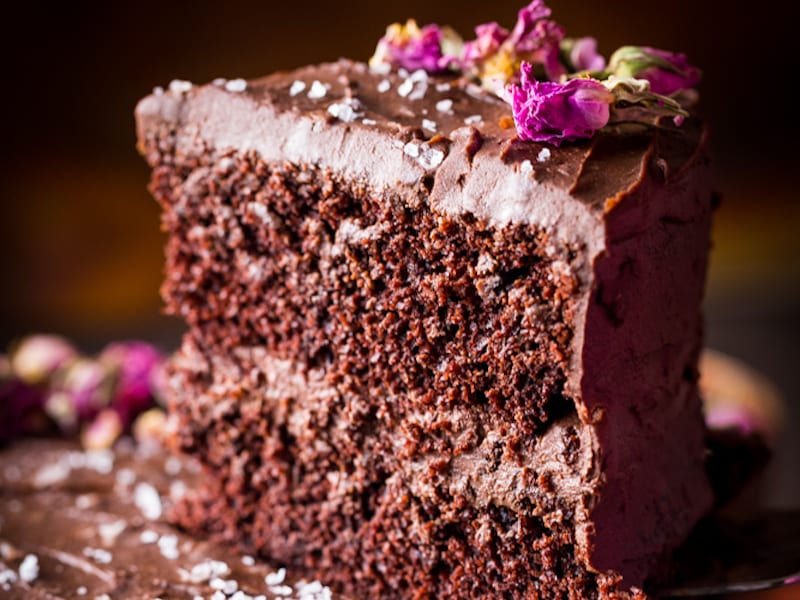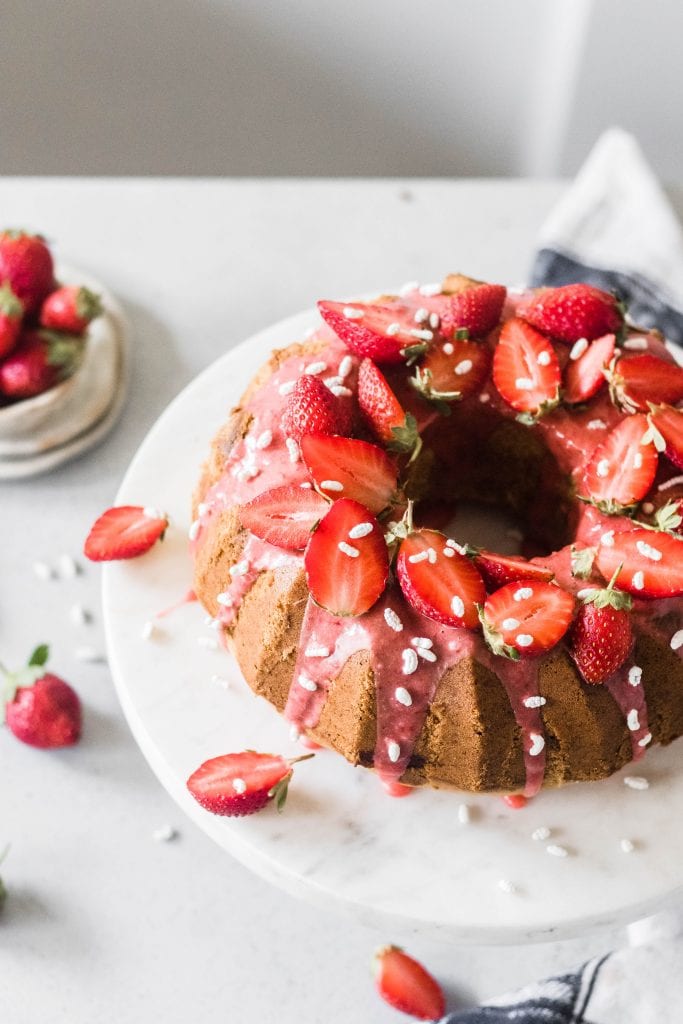 Click HERE for the strawberry glaze recipe.
Print
Strawberry Swirl Bundt Cake
Author:

Samina Patel

Category:

Cake
For the Cake Batter:
300 grams

all purpose flour

200 grams

caster sugar

40 grams

corn flour

1

+

1/4

th teaspoon baking powder

1 tablespoon

fennel (saunf powder)

100 grams

salted butter

300 grams

whole milk

2 teaspoons

vinegar

1 teaspoon

baking soda

100 grams

strawberry jam
For the Strawberry Glaze:
Click the link above for the recipe.
For decoration:
Strawberry halves
Candied fennel seeds (optional)
Instructions
Preheat oven to 160 C / 320 F
In the bowl of a stand mixer with a sieve placed over it, add all purpose flour, corn flour, baking powder and caster sugar. Sift the ingredients.
Using paddle attachment, mix on low until combined.
Add the fennel powder and mix again.
Add the softened salted butter and mix on low until the mix resembles breadcrumbs.
Use your spatula to scrape the sides and bottom of the bowl.
Mix again for about 30 seconds until well combined.
Add the milk in a slow and steady stream along the sides of the bowl and mix on low for 1 minute.
Scrape sides and bottom of the bowl with a spatula and mix on medium for 1 minute.
In a small bowl containing vinegar, add baking soda.
It will fizzle up, add this quickly to the cake batter and mix on medium speed for about 30 seconds. Do not overwork the batter.
Pour about 75% of the batter into a well greased bundt tin.
Add the strawberry jam and use a skewer to swirl the jam.
Pour the rest of the cake batter over the jam and use a spatula to smooth it out so no jam streaks are visible.
Bake in the oven at 160 C / 320 F for 30 – 35 mins or until a skewer / knife inserted in the centre of the cake emerges clean.
Let it cool on kitchen counter for 1 hour.
Run a knife or spatula along the sides of the tin and invert onto a wire rack to cool completely.
To make the glaze, add the icing sugar a little by little into freshly pureed strawberries until the glaze looks thick and luscious.
Let it sit at room temperature for about 10 – 15 minutes.
Pour generously over the cooled cake and top with halved strawberries and candied fennel seeds.
Serve
Notes
You can even use electric beaters and a large metal bowl to make the cake batter if you don't have a stand mixer. If you don't have a bundt tin, use an 8 or 9 inch cake tin to make this cake. Grease generous and line the bottom with parchment paper.
Samina Patel
Just a simple girl with a fancy camera and a well greased cake tin.