Homemade ricotta fills a simple tart shell before being topped with sweet summer berries and a tangy balsamic glaze.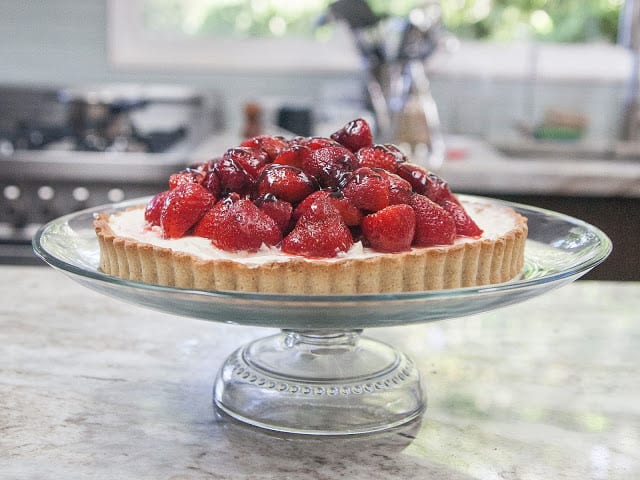 I grew up with a liking for a lot of stuff that other kids my age wanted no part of. Why? My mom shopped the sales. Pigs feet one dollar a pound? She'd buy em, we'd eat them. Vegetables not many people were interested in became my favorite. The one thing this frugal shopping left me with was a taste for sales of any sort. So when our local Whole Foods announced a sale of organic strawberries 2 lbs for 3 bucks, of course I was there. What a deal! I started thinking about things I might do with the berries. Should I make jam, shortcakes again, ice cream?
This recipe for a strawberry ricotta tart started out as a recipe I saw for a regular strawberry tart made with mascarpone cheese, strawberries, and port wine. I thought why not make it a bit lighter with ricotta, and instead of Port wine, (which I didn't have). I'd use Strawberry Balsamic Vinegar from Sonoma Harvest. I used my special blend of gluten-free flour for the crust, but you can use any type of gluten-free flour, or regular flour if there are no allergies involved.
I made the ricotta myself which is pretty dang easy. It's also easy to just pick up a carton. If you'd like to make your own ricotta my recipe is here.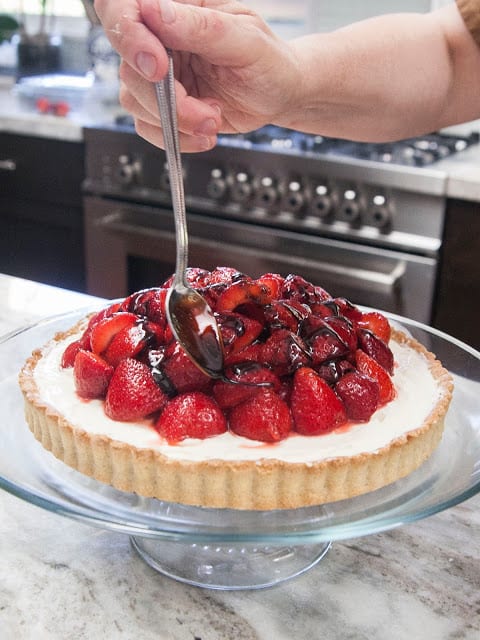 Strawberry Ricotta Tart with Balsamic Glaze
Homemade ricotta fills a simple tart shell before being topped with sweet summer berries and a tangy balsamic glaze.
Recipe Type:
Dessert, Dolci
Ingredients
For the Tart:
1¼ cups of flour, (regular or gluten free) plus a bit more for dusting
3 Tbs sugar
¼ tsp salt
7 Tbs unsalted butter chopped up
1 egg yolk
½ tsp vanilla extract
½ tsp fresh lemon juice
3 Tbs ice water
For The Filling:
1½ lbs cleaned trimmed and halved strawberries
⅓ cup sugar
2 cups of ricotta (16 oz) If you are using my recipe (link above) for ricotta double it to have enough for this recipe
¼ cup powdered sugar
1 tsp fresh lemon juice
½ tsp grated fresh lemon zest
¾ tsp vanilla extract
1 10 inch tart pan with a removable bottom,
pie weights or dried beans or rice
Instructions
Preheat the oven 375 degrees, with the rack in the middle.
Blend your flour, sugar, butter, and salt in a bowl with a pastry blender, or do as I do and mix it together with a couple of pulses of a food processor. (much easier)
Blend it until you have a mealy mix. Set it aside
In a small bowl mix together the egg yolk, vanilla, lemon juice and ice water.
Drizzle this mixture over the flour mixture and pulse it until you have dough.
Knead the dough on a lightly floured surface for about 5 times.
Shape it into a 5 inch disc and put it in the center of your tart pan.
Cover it with plastic wrap, and then using your fingers, push and spread the dough around the bottom and sides of the pan until they're covered.
Take a fork and prick the dough all over with a fork through the plastic wrap, then stick the whole thing in the freezer to firm up for 10 minutes.
Take the tart shell out, peel off the plastic wrap and line the tart shell with aluminum foil.
Fill it with pie weights or beans.
Bake the tart until the sides are set and the edges are pale golden. This takes about 20 minutes.
Carefully take the foil and pie weights out of the tart and pop it back into the oven until it's a deep golden color, another 20 minutes more.
Cool the tart in the pan for about 45 minutes and remove the ring.
Stir the strawberries together in a bowl with the granulated sugar and let it sit for about 30 minutes, then strain the juice out of the berries.