This is a warm, cozy way to start the day, with a nice contrast from the creamy and mushy oatmeal to crunchy nuts and of course the sweet strawberries.
By Katherine Sacks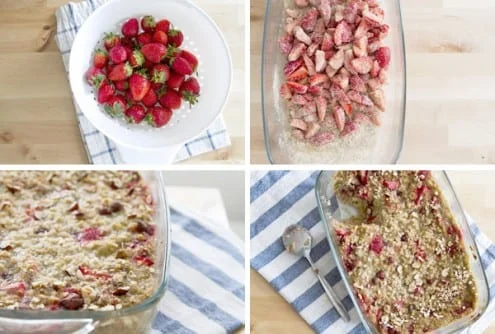 My visting friend and I really loved eating this recipe for breakfast all week—although it has thankfully stopped snowing in Berlin, May has been damp, cold, and rainy.
Strawberry-Rhubarb Baked Oatmeal
This is a warm, cozy way to start the day, with a nice contrast from the creamy and mushy oatmeal to crunchy nuts and of course the sweet strawberries.
Author:
Katherine Sacks, adapted from Edible Perspective and Mainly Green
Ingredients
For the Soaked Grains:
2 cups gluten-free rolled oats
½ cup millet
½ cup amaranth
1 cup hazelnuts
4 cups warm water
1 tablespoon apple cider vinegar
For the Baked Oatmeal:
2 tablespoons unrefined coconut oil, plus additional for greasing pan
2 cups diced strawberries
¼ cup hazelnut meal
2 tablespoons ground flax meal
¼ cup sugar
1 teaspoon baking powder
½ teaspoon cinnamon
½ teaspoon salt
1 cup rhubarb purée
1½ cups water
2 tablespoons pure maple syrup
For the Topping:
¼ cup gluten-free rolled oats
¼ cup sugar
¼ cup hazelnuts, chopped
1 teaspoon cinnamon
Instructions
Soaked Grains
Combine the oats, millet, amaranth, and hazelnuts in a baking pan. Cover with warm water and stir in apple cider vinegar. Let sit 24 hours. Drain mixture in a fine mesh strainer and rinse gently. Preheat an oven to 175°F. Place mixture on a sheet tray and dry in oven for 1 to 2 hours.
Baked oatmeal and topping
Preheat your oven to 350°F and grease a 9×13 pan with coconut oil.
Place the diced strawberries in the baking dish. Combine the hazelnut meal, flax meal, sugar, baking powder, cinnamon, and salt. Toss strawberries with the dry mixture then add the Soaked Grains. If you skip soaking the grains, just add the dry 2 cups gluten-free rolled oats, ½ cup millet, ½ cup amaranth, and 1 cup hazelnuts in this step and add an additional ½ cup water to the next step.
Combine the rhubarb, water, maple syrup, and 2 tablespoons coconut oil. Pour the wet mixture carefully over the whole pan, poking holes into the dry mixture to combine everything without stirring.
Bake for 40 minutes. While baking, combine the oats, sugar, hazelnuts, and cinnamon for the Topping. Sprinkle the oatmeal with topping and continue baking for an additional 20 minutes, or until the sides set up and start pulling away from the pan. The oatmeal will continue to set as it cools. Cool for 10 minutes before serving.
Katherine Sacks
Katherine Sacks is a Berlin-based freelance writer and recipe developer specializing in travel, food, lifestyle, and health topics. A graduate of Drexel University's culinary arts department and Northwestern University's Medill School of Journalism, Katherine combines seven years of restaurant experience with her reporting and editing background. Her work has appeared in Chicago magazine, the Chicago-Sun Times, and FoodandWine.com, among other publications. She also contributes to culinary trade publication StarChefs.com, Forbes Travel Guide, and Snooth Eats, and blogs at LaVitaCucinare.com.